The study of [1] considers the effect on the sintering process caused by charge flow stabilization during charge loading operations in the sintering machines. This article presents the results of a study concerning the formation of a rational sinter charge layer profile, consisting in an equalization of the vertical sintering rate along the width of the sintering machines. By introducing this measure at the Magnitogorsk Iron & Steel Works (MMK) sinter plant No. 5, it was possible to achieve a 3.2–3.5% increase in the productivity of sintering machines.
Access options
Buy single article
Instant access to the full article PDF.
USD 39.95
Price excludes VAT (USA)
Tax calculation will be finalised during checkout.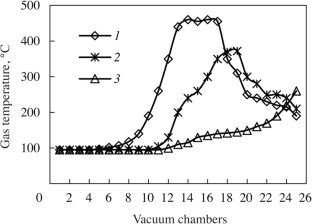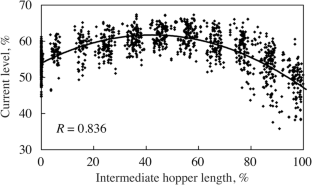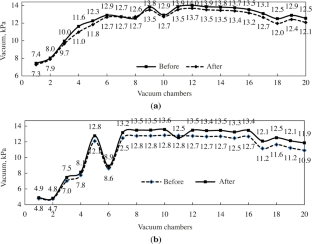 References
Yu. A. Frolov, D. M. Chukin, A. A. Polinov, L. G. Emel'yanov, and M. A. Tsygalov, "Enhancement of charge loading operations in sintering machines at the sintering machines of Magnitogorsk Iron and Steel Works. Pt. 1. Charge flow stabilization during sinter machine loading," Metallurg [in Russian], No. 10, 11–18 (2021).

Yu. A. Frolov, G. N. Bezdezhskii, and B. M. Baranbaev, "The method of gas-dynamic calculation of the sintering machine network for reconstruction and design," Tsvetnaya Metallurgiya [in Russian], No. 8/9, 59–70 (2002).

Yu. A. Frolov, V. N. Bogatikov, G. E. Isaenko, et al., "The study of the sintering process using data from the new DCS for the AKM-312 sintering machine of the OJSC NLMK," Stal', No. 5, 24–29 (2010).

"Intensive Investigations," Report of Iron Making and Maintenance in Tobako Works, 1, 415 (1986).

L. I. Polotskii, Yu. A. Frolov, G. E. Isaenko, and A. N. Saprykin, "Optimization of the shuttle distributor for the charge loading unit in the sintering machine," Tr. Mezhdunar. Nauchn. Prakt. Konf. (11–14 Fevralya 2009 g. Ekaterinburg), UGTU-UPI, 187–192 (2009).

Yu. A. Frolov, L. I. Polotskii, G. E. Isaenko, et al., Pat. 2398896 RF. MPK S22I 1/14. Method of Charge Loading in the Sintering Machine, Appl. 08/04/2004, Publ. 02/10/2010, Bul. No. 25.

Yu. A. Frolov, A. Das, J. P. Moyalan, et al., "(RDCIS SAIL) Rational mix charging practice and fuel conservation in sintering process," Int., Symp. Moscow: Oct. 1995 (1995).

S. Mitra et al., "A process model for uniform transverse distribution in a sinter plant," Steel Time Int., 29, No. 5, 17–18 (2005).

VAI Brochure. Iron Ore Processing Technology, Voest-alpine, Industrieal langebau, 2004-01-1.
About this article
Cite this article
Frolov, Y.A., Chukin, D.M., Polinov, A.A. et al. Enhancement of Charge Loading Operations in the Sintering Machines of Magnitogorsk Iron & Steel Works. Part 2. Formation of the Rational Charge Layer Profile along the Width of the Sintering Machine. Metallurgist 66, 3–10 (2022). https://doi.org/10.1007/s11015-022-01295-1
Received:

Published:

Issue Date:

DOI: https://doi.org/10.1007/s11015-022-01295-1
Keywords
nonuniformity

sintering rate

layer height

sintering machine

charge

shuttle distributor

intermediate hopper

vacuum chamber

vacuum

ignition furnace