Prospects for developing the domestic raw material mineral base for producing aluminum and alumina are connected to a significant extent with the development of low-grade resources of natural and technogenic origin. There is considerable potential in unused tailings of apatite-nepheline ore flotation enrichment, natural aluminum silicate within the composition of urtite, ristschorrite and other alkaline rocks. Features are established for a change in indices for opening ore resources during pyrometallurgical treatment of a limestone-nepheline charge and subsequent leaching of sinter in relation to process temperature, nature and amount of raw material additions that make it possible to suggest a fundamental production scheme for inclusion into existing alumina production, i.e., the main raw material for electrolytic primary aluminum production.
This is a preview of subscription content, log in to check access.
Access options
Buy single article
Instant access to the full article PDF.
US$ 39.95
Price includes VAT for USA
Subscribe to journal
Immediate online access to all issues from 2019. Subscription will auto renew annually.
US$ 199
This is the net price. Taxes to be calculated in checkout.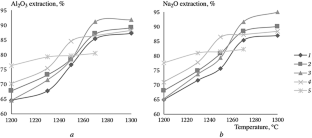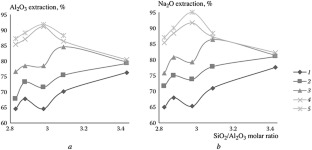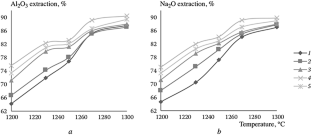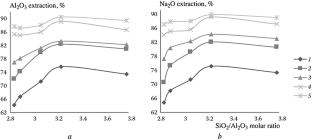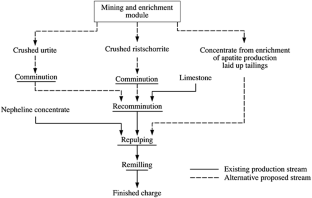 References
1.

A. V. Akimova, O. S. Berezner, N. V. Dudkin, et al., Aluminum Raw Material: State Report on State and Utilization of Mineral Raw Material Resources of the Russian Federation in 2011, Mineral Center of FGUNPP Aerogeologiya (2012), pp. 121–129.

2.

V. Ya. Abramov, A. I. Alekseev, and Kh. A. Badal'yants, Combined Processing of Nepheline-Apatite Resources, Metallurgiya, Moscow (1990).

3.

I. N. Kitler and Yu. A. Dainer, Nepheline – a Complex Aluminum Industry Raw Material, Metallurgizdat, Moscow (1962).

4.

V. T. McLemore, "Nepheline syenite," in: Industrial Minerals and Rocks (2003), pp. 653–670.

5.

V. M. Sizyakov, V. I. Korneev, and V. V. Andreev, Improvement in the Quality of Alumina and Associated Production with Combined Processing of Nepheline, Metallurgiya, Moscow (1986).

6.

A. Sh. Gershenkop, T. N. Mukhina, and A. V. Artem'ev, "Features of mineral composition of apatite-nepheline ores of the Olenii stream deposit and their effect on enrichment indices," Obogash. Rud, No. 3, 33–35 (2014).

7.

V. A. Tsukerman, V. S. Selin, and E. S. Goryacheskaya, "Combined treatment of Khibinsk apatite-nepheline ore: economic aspect," Obogash. Rud, No. 3, 41–46 (2015).

8.

S. B. Skaarup, Y. A. Gordeev, and V. V. Volkov, "Dry sintering of nepheline – a new more energy efficient technology," Light Met., 111–116 (2014).

9.

V. M. Sizyakiv, Yu. P. Nazarov, V. N. Brichkin, and E. V. Sizyakov, "Enrichment of laid-up apatite-nepheline ore flotation tailings," Obogash. Rud, No. 2, 33–40 (2016).

10.

L. V. Kozyreva, A. N. Korobeinikov, and Yu. B. Men'shikov, "New variety of ultra-potassium rock in the Khibiny massif, " in: News in Mineralogy of the Karelo-Kola Region, Izd. KarNTs AN SSSR (1990), pp. 116–119.

11.

E. S. Gorbunova, V. I. Zakharov, and A. R. Alishkin, "Chemical enrichment technology for combine processing of ristschorrites," Obogash. Rud, No. 4, 12–16 (2011).

12.

L. F. Bilenko, R. Ya. Dashkevich, A. I. Pivnev, and V. P. Logachev, Features of Limestone-Nepheline Charge Preparation of Aluminum Production, St. Petersburg (1993).

13.

V. M. Sizyakov, "Chemical technology features of sintering alkaline aluminosilicates and hydrochemical treatment of sinter cake," Zap. Gorn. Inst., 217, 102–112 (2016).

14.

G. A. Evdokimova, A. Sh. Gershenkop, N. P. Mozgova, and N. V. Fokina, "Biogenic destruction of aluminum-containing minerals on the example of nepheline and kyanite," Tsvet. Metally, No. 11, 13–16 (2011).
This work was carried out with financial support of the Russian Federation Ministry of Education and Science (State Contract No. 14.577.21.0127 of October 20, 2014. Unique research identifi er is RFMEFI57714X0127).
Additional information
Translated from Metallurg, No. 2, pp. 68–74, February, 2017.
About this article
Cite this article
Bazhin, V.Y., Brichkin, V.N., Sizyakov, V.M. et al. Pyrometallurgical Treatment of a Nepheline Charge Using Additives of Natural and Technogenic Origin. Metallurgist 61, 147–154 (2017). https://doi.org/10.1007/s11015-017-0468-y
Received:

Published:

Issue Date:
Keywords
pyrometallurgy

nepheline concentrate

limestone-nepheline charge

raw material additives

sintering

regimes

properties

experimental research