Results are presented from studies of the intensive radial injection of an air blast into a crucible to recycle electronic scrap. A relation is found to describe the effect of the blast and the unsubmerged air jet on mass transfer, and an empirical formula is obtained to calculate the unit air flow rate in the critical regime.
This is a preview of subscription content, log in to check access.
Access options
Buy single article
Instant access to the full article PDF.
US$ 39.95
Price includes VAT for USA
Subscribe to journal
Immediate online access to all issues from 2019. Subscription will auto renew annually.
US$ 199
This is the net price. Taxes to be calculated in checkout.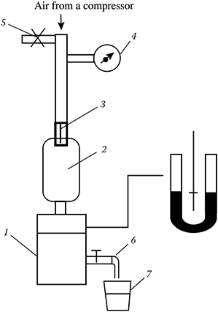 References
1.

L. M. Shalygin, "Effect of the conditions of blast delivery on the character of heat and mass transfer in a converter bath," Tsvetn. Met., No. 4, 27–30 (1998).

2.

L. M. Shalygin and G. V. Konovalov, "Structure of the heat balance, heat generation, and heat transfer in different types of autogenic metallurgical furnaces," Tsvetn. Met., No. 10, 17–25 (2003).

3.

L. M. Shalygin, G. V. Konovalov, and T. R. Kosovtseva, "Conditions of blast delivery to melts and development of methods to intensify the blast regime," Zapiski Gorn. Inst., 169, 231–237 (2006).

4.

S. A. Mirvaliev, A. N. Telyakov, V. V. Napsikov, et al., "Determination of the character of the regime for refining sulfide-bearing materials in a furnace that employs rotating gas jets," Zapiski Gorn. Inst., 192, 28–81 (2011).

5.

V. I. Baptizmanskii, Convector Processes in the Production of Sinter Cakes, Metallurgizdat, Moscow (1970), pp. 127–129.
Additional information
Translated from Metallurg, No. 1, pp. 60–63, January, 2015.
About this article
Cite this article
Telyakov, A.N., Shmidt, D.V. & Aleksandrova, T.A. Behavior of the Melt When Air is Supplied Through Spatially Oriented Lances During the Melting of Electronic Scrap. Metallurgist 59, 49–53 (2015). https://doi.org/10.1007/s11015-015-0059-8
Received:

Published:

Issue Date:
Keywords
melt

air flow rate

blast

electronic scrap

concentrates

silicon

melting

copper-nickel anode

lead