Abstract
Refugee men face unique mental health stressors in the pre- and post-migratory periods. However, there has been little in-depth research on the mental health of refugee men in Canada. Given this situation, the overall aim of this study is to explore the psycho-social experience of Sri Lankan Tamil refugee men in Canada. Particular objectives include better understanding any inter-relationship between war-trauma, migration, concepts of masculinity and mental health. The study employed a two-phase participatory action research design based on the grounded theory approach. Phase 1 involved an 8-month ethnography conducted in Sri Lanka. Phase 2 consisted of qualitative interviews with 33 Sri Lankan Tamil refugee men living in Canada. Consistent with grounded theory, analysis was conducted inductively and iteratively. Four specific themes emerged from the data (i) gendered helplessness of war: participants commonly reported ongoing negative rumination regarding experiences where they were unable to adequately protect loved ones from physical suffering or death; (ii) reduced capacity: participants frequently felt unable to fulfill culturally sanctioned duties, such as supporting their family, due to ongoing pre- and post-migratory stress; (iii) redundancy: many participants felt that they were useless in Canada, as they could not fulfill typical masculine social roles (e.g. provider) due to factors such as unemployment and underemployment; (iv) intimate criticism: some participants reported that their spouses would often attempt to 'shame' them into greater achievement by constantly reminding them of their 'failures'. Many found this distressing. These various failures culminated in a state that we label "depleted masculinity", which participants linked to emotional and behavioural problems. Participants reported that they actively tried to rebuild their masculine identity, for example by adopting leadership roles in community organizations, which fostered resiliency. Results suggest a need to review and rebuild masculine identity to support the mental health of refugee men.
Access options
Buy single article
Instant access to the full article PDF.
US$ 39.95
Tax calculation will be finalised during checkout.
Subscribe to journal
Immediate online access to all issues from 2019. Subscription will auto renew annually.
US$ 79
Tax calculation will be finalised during checkout.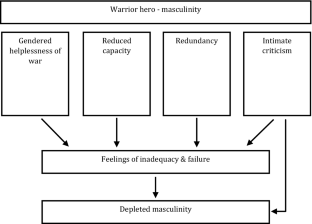 References
Affleck, W., Carmichael, V., & Whitley, R. (2018). Men's Mental Health: Social Determinants and Implications for Services. The Canadian Journal of Psychiatry. https://doi.org/10.1177/0706743718762388.

Affleck, W., Salvaduri, A., & Sikora, L. (2017). Underrepresentation of Men in Gender Based Humanitarian and Refugee Trauma Research: A Scoping Review. Intervention. https://doi.org/10.1097/wtf.0000000000000157

Amarasingam, A. (2013). A History of Tamil Diaspora Politics in Canada: Organisational Dynamics and Negotiated Order, 1978-2013. Colombo: International Centre for Ethnic Studies.

Beiser, M., Goodwill, A. M., Albanese, P., McShane, K., & Kanthasamy, P. (2015). Predictors of the Integration of Sri Lankan Tamil Refugees in Canada: Pre-migration Adversity, Mental Health, Personal Attributes, and Post-migration Experience. International Journal of Migration, Health and Social Care, 11(1), 29-44.

Beiser, M., Simich, L., Pandalangat, N., Nowakowski, M., & Tian, F. (2011). Stresses of passage, balms of resettlement, and posttraumatic stress disorder among Sri Lankan Tamils in Canada. The Canadian Journal of Psychiatry, 56(6), 333-340.

Bogic, M., Njoku, A., & Priebe, S. (2015). Long-term mental health of war-refugees: a systematic literature review. BMC international health and human rights, 15(1), 29.

Chopra,R., Osella, C. and Osella, F., eds. (2004) South Asian Masculinities: Context of Change, Sites of Continuity. Delhi: Women Unlimited.

Clothey, F. (1978). The Many Faces of Murukan: The History and Meaning of a South Indian God. New Delhi: Munshiram Manoharlal Publishers.

Connell, R. W. (1987). Gender and Power. Cambridge: Polity.

Connell, R. W. (1995). Masculinities. Cambridge: Polity.

Connell, R.W. (2005). Globalization, Imperialism, and Masculinities. In M. Kimmel, J. Hearn, and R.W. Connell, eds., Handbook on Studies of Men and Masculinities. London: Sage.

De Mel, N. (2007). Militarizing Sri Lanka: Popular Culture, Memory and Narrative in the Armed Conflict. New Delhi: Sage Publications India.

De Mel, N., Peiris, P., & Gomez, S. (2013). Broadening Gender: why Masculinities Matter: Attitudes, Practices and Gender-based Violence in Four Districts in Sri Lanka. Colombo: Care International Sri Lanka.

Dressler, W. W. (2017). Culture and the Individual: Theory and Method of Cultural Consonance. New York: Routledge.

Dressler, W. W., Balieiro, M. C., Ribeiro, R. P., & Dos Santos, J. E. (2007). Cultural Consonance and Psychological Distress: Examining the Associations in Multiple Cultural Domains. Culture, Medicine and Psychiatry, 31(2), 195-224.

Dressler, W. W., & Bindon, J. R. (2000). The Health Consequences of Cultural Consonance: Cultural Dimensions of Lifestyle, Social Support, and Arterial Blood Pressure in an African American Community. American Anthropologist, 102(2), 244-260.

Este D.C. & Tachble, A. (2009). Fatherhood in the Canadian Context: Perceptions and Experiences of Sudanese Refugee Men. Sex Roles, 60, 456-466.

Fragoso, J. M., & Kashubeck, S. (2000). Machismo, Gender Role Conflict, and Mental Health in Mexican American Men. Psychology of Men & Masculinity, 1(2), 87.

George, G. (2011). The Canadian Tamil Diaspora and the Politics of Multiculturalism. Identities, 18(5), 459-480.

Gilbert, P. (2016). Depression: The Evolution of Powerlessness. New York: Routledge.

Glaser, B. G. (1978). Theoretical Sensitivity: Advances in the Methodology of Grounded Theory. New York: Sociology Press.

Glaser B, Strauss A (1967) The Discovery of Grounded Theory. London: Weidenfield & Nicolson, pp. 1-19

Government of Canada 2013 Act, Canadian Multi-Culturalism. Revised Statutes of Canada. (1988, c. 31). Government of Canada's Justice Laws, http://laws-lois.justice.gc.ca/eng/acts/c-18.7/page-1.html.

Gross, V. 2008 Reconstructing Tamil Masculinities: Kāvaṭi and Viratam Among Sri Lankan Men in Montréal, Master's Thesis, McGill University.

Hammack, S. E., Cooper, M. A., & Lezak, K. R. (2012). Overlapping Neurobiology of Learned Helplessness and Conditioned Defeat: Implications for PTSD and Mood Disorders. Neuropharmacology, 62(2), 565-575.

Hellmann-Rajanayagam, D. (2005). And Heroes Die: Poetry of the Tamil Liberation Movement in Northern Sri Lanka. South Asia: Journal of South Asian Studies, 28(1), 112-153.

Hyndman, J., & De Alwis, M. (2003). Beyond Gender: Towards a Feminist Analysis of Humanitarianism and Development in Sri Lanka. Women's Studies Quarterly, 31(3/4), 212-226.

Jaji, R. (2009). Masculinity on Unstable Ground: Young Refugee Men in Nairobi, Kenya. Journal of Refugee Studies, 22(2), 177-194.

James, K. (2010). Violence Within Refugee Families: Intersecting Patriarchal Culture and the Refugee Experience. Australian and New Zealand Journal of Family Therapy, 31(3), 275-284.

Kirmayer, L. J. (2004). The Cultural Diversity of Healing: Meaning, Metaphor and Mechanism. British Medical Bulletin 69(1), 33-48.

Luhrmann, T.M. (2007). Social Defeat and the Culture of Chronicity: Or, Why Schizophrenia Does so Well Over There and so Badly Here. Culture, Medicine & Psychiatry, 31, 135-172.

Miller, K. E., & Rasmussen, A. (2017). The Mental Health of Civilians Displaced by Armed Conflict: An Ecological Model of Refugee Distress. Epidemiology and Psychiatric Sciences, 26(2), 129-138.

Murty, M. (2009). Representing Hindutva: Nation, Religion and Masculinity in Indian Popular Cinema, 1990 to 2003. Popular Communication, 7(4), 267-281.

Nghe, L. T., Mahalik, J. R., & Lowe, S. M. (2003). Examining Traditional Gender Roles, the Refugee Experience. Journal of Multicultural Counselling and Development, 31, 245–261.

O'Neil, J. M. (2008). Summarizing 25 Years of Research on Men's Gender Role Conflict: New Research Paradigms and Clinical Implications. The Counseling Psychologist, 36(3), 358-445

O'Neil, J. M., Helms, B. J., Gable, R. K., David, L., & Wrightsman, L. S. (1986). Gender-Role Conflict Scale: College Men's Fear of Femininity. Sex Roles, 14(5), 335-350.

Porter, M., & Haslam, N. (2005). Predisplacement and Postdisplacement Factors Associated with Mental Health of Refugees and Internally Displaced Persons: A Meta-analysis. JAMA, 294(5), 602-612.

Seligman, M. (1975) Helplessness: On Depression, Development and Death. New York: Scribner.

Somasundaram, D. (2010). Collective Trauma in the Vanni-A Qualitative Inquiry into the Mental Health of the Internally Displaced Due to the Civil War in Sri Lanka. International Journal of Mental Health Systems, 4(1), 22.

Somasundaram, D. (2014). Scarred Communities: Psychosocial Impact of Man-Made and Natural Disasters on Sri Lankan Society. New Delhi: SAGE Publications India.

Steel, Z., Chey, T., Silove, D., Marnane, C., Bryant, R. A., & Van Ommeren, M. (2009). Association of Torture and Other Potentially Traumatic Events with Mental Health Outcomes Among Populations Exposed to Mass Conflict and Displacement: A Systematic Review and Meta-analysis. JAMA, 302(5), 537-549.

Strauss, A., and J. Corbin 1998 Qualitative Research: Procedures and Techniques for Developing Grounded Theory.

Thirangagama, S. (2011). In My Mother's House: Civil War in Sri Lanka. Philadelphia: University of Pennsylvania Press.

Vitlae, A. & Ryde, J. (2016). Promoting Male Refugees' Mental Health After They Have Been Granted Leave to Remain (Refugee Status). International Journal of Mental Health Promotion, 18(2) 106-125.

Weerackody, C., and S. Fernando 2011 Mental Health and Well Being: Learning from Communities Affected by Conflict, Dislocation and Natural Disaster.

Whitley, R. (2011). Social Defeat or Social Resistance? Reaction to Fear of Crime and Violence Among People with Severe Mental Illness Living in Urban 'Recovery Communities'. Culture, Medicine & Psychiatry, 35:519-535.

Whitley, R., Kirmayer, L. J., & Groleau, D. (2006). Understanding Immigrants' Reluctance to Use Mental Health Services: A Qualitative Study from Montreal. The Canadian Journal of Psychiatry, 51(4), 205-209.

Whyte, W. F. E. (1991). Participatory Action Research. Thousand Oaks, CA: Sage Publications, Inc.
Funding
This study received funding from the Canadian Institute for Health Research (CIHR) Frederick Banting and Charles Best Doctoral Research Award #766578.
Ethics declarations
Conflict of interest
All the authors declare that they have no conflict of interest.
Ethical approval
All procedures performed in studies involving human participants were in accordance with the ethical standards of the institutional and/or national research committee and with the 1964 Helsinki declaration and its later amendments or comparable ethical standards.
Informed consent
Informed consent was obtained from all individual participants included in the study.
About this article
Cite this article
Affleck, W., Thamotharampillai, U., Jeyakumar, J. et al. "If One Does Not Fulfil His Duties, He Must Not Be a Man": Masculinity, Mental Health and Resilience Amongst Sri Lankan Tamil Refugee Men in Canada. Cult Med Psychiatry 42, 840–861 (2018). https://doi.org/10.1007/s11013-018-9592-9
Keywords
Refugee

Displaced

Refugee men

Mental health

Psychosocial

Sri Lanka