Abstract
In the current research we report data from two studies that examined rates and characteristics of sleep paralysis (SP) in the general population of Denmark and Egypt. In Study I, individuals from Denmark and Egypt did not differ in age whereas there were more males in the Egyptian sample (47 vs. 64 %); in Study II, individuals from Denmark and Egypt were comparable in terms of age and gender distribution. In Study I we found that significantly fewer individuals had experienced SP in Denmark [25 % (56/223)] than in Egypt [44 % (207/470)] p < .001. In Study II we found that individuals who had experienced at least one lifetime episode of SP from Denmark (n = 58) as compared to those from Egypt (n = 143) reported significantly fewer SP episodes in a lifetime relative to SP experiencers from Egypt (M = 6.0 vs. M = 19.4, p < .001). SP in the Egyptian sample was characterized by high rates of SP (as compared to in Denmark), frequent occurrences (three times that in the Denmark sample), prolonged immobility during SP, and great fear of dying from the experience. In addition, in Egypt, believing SP to be precipitated by the supernatural was associated with fear of the experience and longer SP immobility. Findings are discussed in the context of cultural elaboration and salience theories of SP.
Access options
Buy single article
Instant access to the full article PDF.
USD 39.95
Price excludes VAT (USA)
Tax calculation will be finalised during checkout.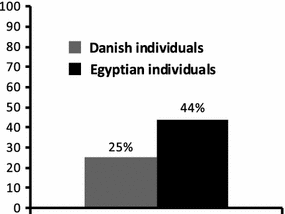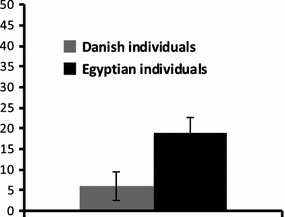 Notes
The suggestion that religion may be a source of distress as opposed to comfort only has been made by Guthrie (1993).

While we are not able to rule out that SP occurred as a symptom of narcolepsy given that this sleep disorder is very uncommon, the vast majority of SP cases reported in this study are bound to represent isolated sleep paralysis (ISP). For example, Ohayon et al. (2002) found in a large study of 18,980 randomly selected participants representative of the general population of five European countries (UK, Germany, Italy, Portugal and Spain) that .047% met a diagnosis of narcolepsy according to the International Classification of Sleep Disorders (ICSD).
References
Abdo, G. 2000 No God but God, Egypt and the Triumph of Islam. New York: Oxford University Press.

Adler, S.R. 2011 Sleep Paralysis: Nightmares, Nocebos, and the Mind-Body Connection. New Brunswick, NJ: Rutgers University Press.

Amer, M., and B. Jalal. 2012 Individual Psychotherapy/Counseling: Psychodynamic, Cognitive Behavioral and Humanistic-Experiential Models. In Counseling Muslims: Handbook of Mental Health Issues and Interventions. S. Ahmed, and M. Amer, eds., New York: Routledge.

Arikawa, H., D.I. Templer, R. Brown, W.G. Cannon, and S. Thomas-Dodson 1999 The Structure and Correlates of Kanashibari. Journal of Psychology 133: 369–375.

Awadalla, A., G. Al-Fayez, M. Harville, H. Arikawa, M.E. Tomeo, and D.I. Templer 2004 Comparative of Prevalence of Isolated Sleep Paralysis in Kuwaiti, Sudanese, and American college students. Psychological Reports 95: 317–322.

Bell, C.C., D.D. Dixie-Bell, and B. Thompson 1986 Further Studies on the Prevalence of Isolated Sleep Paralysis in Black Subjects. Journal of the National Medical Association 72: 331–334.

Bell, C.C., C.J. Hildreth, E.J. Jenkins, and C. Carter 1988 The Relationship of Isolated Sleep Paralysis and Panic Disorder to Hypertension, Journal of the National Medical Association 80: 289–294.

Bell, C.C., B. Shakoor, B. Thompson, D. Dew, E. Hughley, R. Mays, and K. Shorter-Gooden 1984 Prevalence of Isolated Sleep Paralysis in Black Subjects. Journal of the National Medical Association 76: 501–508.

Cheyne, J.A., I.R. Newby-Clark, and S.D. Rueffer 1999 Relations Among Hypnagogic and Hypnopompic Experiences Associated with Sleep Paralysis. Journal of Sleep Research 8: 313–317.

Friedman, S., and C. Paradis 2002 Panic Disorder in African-Americans: Symptomatology and Isolated Sleep Paralysis. Culture, Medicine and Psychiatry 26: 179–198. doi:10.1023/A:1016307515418.

Fukuda, K., R.D. Ogilvie, and T. Takeuchi 2000 Recognition of Sleep Paralysis Among Normal Adults in Canada and in Japan. Psychiatry & Clinical Neurosciences 54: 292–293.

Guthrie, S.E. 1993 Faces in the Clouds: A New Theory of Religion. Oxford: Oxford University Press.

Hinton, D.E., D.J. Hufford, and L.J. Kirmayer 2005a Culture and Sleep Paralysis. Transcultural Psychiatry 42: 5–10.

Hinton, D.E., V. Pich, D. Chhean, and M. H. Pollack 2005b "The ghost pushes you down": Sleep Paralysis-Type Panic Attacks in a Khmer Refugee Population. Transcultural Psychiatry 42: 46–78.

Hinton, D.E., V. Pich, D. Chhean, M.H. Pollack, R.J. McNally 2005c Sleep Paralysis Among Cambodian Refugees: Association with PTSD Diagnosis and Severity. Depression Anxiety 22: 47–51.

Hobson, J.A. 1995 Sleep. New York: Scientific American Library.

Hufford, D.J. 1982 The Terror that Comes in the Night. Philadelphia: University of Pennsylvania Press.

Hufford, D.J. 2005 Sleep Paralysis as Spiritual Experience. Transcultural Psychiatry 42: 11–45.

Jalal, B., J. Simons-Rudolph, B. Jalal, D.E. Hinton in press Explanations of Sleep Paralysis Among Egyptian College Students and the General Population in Egypt and Denmark. Transcultural Psychiatry.

Kandel, E.R., J.H. Schwartz, and T.M. Jessell 2000 Principles of Neural Science 4th Edition. New York: McGraw-Hill.

Lohmann, R.I. 2000 The Role of Dreams in Religious Enculturation among the Asabano of Papua New Guinea. Ethos 28: 75–102.

McCarty, D.E., and A.L. Chesson 2009 A Case of Sleep Paralysis with Hypnopompic Hallucinations. Journal of Clinical Sleep Medicine 5: 83–84.

McNally, R.J., and S.A. Clancy 2005 Sleep Paralysis, Sexual Abuse and Space Alien Abduction. Transcultural Psychiatry 42: 113–122.

Ness, R.C. 1978 Old Hag Phenomenon as Sleep Paralysis: A Biocultural Interpretation. Culture, Medicine, and Psychiatry 2: 15–39.

Neisser, U. 1976 Cognition and Reality. San Francisco, CA: Freeman.

Ohaeri J.U., A. Awadalla, V.A. Makanjuola, and B.M. Ohaeri 2004 Features of Isolated Sleep Paralysis Among Nigerians. East African Medical Journal 81: 509–519.

Ohayon, M.M., R.G. Priest, J. Zulley, S. Smirne, and T. Paiva 2002 Prevalence of Narcolepsy Symptomatology and Diagnosis in the European General Population. Neurology 58: 1826–1833.

Ohayon, M.M., and C.M. Shapiro 2000 Sleep Disturbances and Psychiatric Disorders Associated with Posttraumatic Stress Disorder in the General Population. Comprehensive Psychiatry 41: 469–478.

Otto M.W., N.M. Simon, M. Powers, D.E. Hinton, A.K. Zalta, and M.H. Pollack 2006 Rates of Isolated Sleep Paralysis in Outpatients with Anxiety Disorders. Anxiety Disorders 20: 687–693.

Paradis, C.M., and S. Friedman 2005 Sleep Paralysis in African Americans with Panic Disorder. Transcultural Psychiatry 42: 123–134.

Paradis, C.M., S. Friedman, M.L. Hatch 1997 Isolated Sleep Paralysis in African Americans with Panic Disorder. Cultural Diversity and Mental Health 3: 69–76.

Paradis, C., S. Friedman, D.E. Hinton, R.J. McNally, L.Z. Solomon, and K.A. Lyons 2009 The Assessment of the Phenomenology of Sleep Paralysis: The Unusual Sleep Experiences Questionnaire (USEQ). CNS Neuroscience & Therapeutics 15: 220–226.

Ramsawh, H.J., S.D. Raffa, K.S. White, and D.H. Barlow 2008 Risk Factors for Isolated Sleep Paralysis in an African American Sample: A Preliminary Study. Behavior Therapy 39: 386–397.

Schredl, M., and E. Doll 1998 Emotions in Diary Dreams. Consciousness Cognition 7: 634–646.

Sharpless, B., and J.B. Barber 2011 Lifetime Prevalence Rates of Sleep Paralysis: A Systematic Review. Sleep Medicine Reviews 15: 311–315.

Sharpless, B.A., K.S. McCarthy, D.L. Chambless, B.L. Milrod, S-R. Khalsa, and J. P. Barber 2010 Isolated Sleep Paralysis and Fearful Isolated Sleep Paralysis in Outpatients with Panic Attacks. Journal of Clinical Psychology 66: 1292–1306.

Simard, V., and T.A. Nielsen, (2005). Sleep Paralysis-Associated Sensed Presence as a Possible Manifestation of Social Anxiety. Dreaming 15: 245–260.

Spanos, N. P., S.A. McNulty, S.C. DuBreuil, M. Pires, and M.F. Burgess 1995 The Frequency and Correlates of Sleep Paralysis in a University Sample. Journal of Research in Personality 29: 285–305.

Yeung, A., Y. Xu, and D.F. Chang 2005 Prevalence and Illness Beliefs of Sleep Paralysis Among Chinese Psychiatric Patients in China and the United States. Transcultural Psychiatry 42: 135–143.

Wing, Y.K., H. Chiu, T. Leung, and J. Ng 1999. Sleep Paralysis in the Elderly. Journal of Sleep Research 8: 151–155.

Wing, Y.K., T. Lee, and C.N. Chen 1994 Sleep Paralysis in Chinese: Ghost Oppression Phenomenon in Hong Kong. American Sleep Disorders Association and Sleep Society 17: 609–613.

Zuckerman, P. 2008 Society without God: What the Least Religious Nations Can Tell Us about Contentment. New York: New York University Press.
About this article
Cite this article
Jalal, B., Hinton, D.E. Rates and Characteristics of Sleep Paralysis in the General Population of Denmark and Egypt. Cult Med Psychiatry 37, 534–548 (2013). https://doi.org/10.1007/s11013-013-9327-x
Published:

Issue Date:

DOI: https://doi.org/10.1007/s11013-013-9327-x
Keywords