Abstract
Given the ambiguity surrounding the source of the continuing trend toward earlier menarche observed in Westernized nations, several competing explanatory models have emerged regarding variation in pubertal timing. While a biomedical model proposes that predominantly constitutional characteristics shape the maturation timetable, an alternative framework derived from Life History Theory (LHT) evolutionary principles emphasizes the influence of psychosocial factors on development. Working with a sample of women 19–25 years of age (N = 103) drawn from two Southeastern U.S. colleges, we combined cultural consensus analysis with retrospective self-report regarding childhood stress and menarcheal timing to investigate whether reported developmental experiences align with cultural models regarding factors that should drive pubertal timing. Results suggest a robust cultural model consistent with a biomedical framework concentrating principally on constitutional characteristics. However, participants' personal developmental recollections support an association between higher childhood stress and earlier menarche. These findings support LHT predictions that early reproductive maturation is an evolutionary adaptive response to chronic childhood stress as well as clarify the extent to which cultural models of factors contributing to puberty concord with developmental experiences.
Access options
Buy single article
Instant access to the full article PDF.
US$ 39.95
Tax calculation will be finalised during checkout.
Subscribe to journal
Immediate online access to all issues from 2019. Subscription will auto renew annually.
US$ 79
Tax calculation will be finalised during checkout.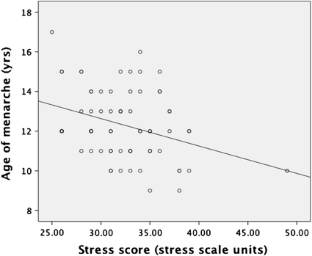 References
Adler, Nancy E., Elissa S. Epel, Grace Castellazzo, and Jeannette R. Ickovics 2000 Relationship of subjective and objective social status with psychological and physiological functioning: preliminary data in healthy white women. Health Psychology 19(6):586.

Annandale, Ellen 2002 The sociology of health and medicine, A critical introduction. Cambridge: Polity Press.

Ano, Gene G., and Erin B. Vasconcelles 2005 Religious coping and psychological adjustment to stress: A meta analysis. Journal of Clinical Psychology 61(4):461.

Bernard, H. Russell 2005 Research Methods in Anthropology: Qualitative and Quantitative Approaches, 4th ed. Lanham, MD: Altamira Press.

Chisholm, James S., Julie A. Quinlivan, Rodney W. Petersen, and David A. Coall 2005 Early stress predicts age at menarche and first birth, adult attachment, and expected lifespan. Human Nature 16(3):233.

Chisholm, James S. 1996 The evolutionary ecology of attachment organization. Human Nature 7(1):1.

D'Andrade, Roy G., and Claudia Strauss 1992 Human motives and cultural models. Cambridge: Cambridge University Press.

De Bellis, Michael D. 2001 Developmental traumatology: The psychobiological development of maltreated children and its implications for research, treatment, and policy. Development and Psychopathology 13(03):539.

DeCaro, Jason A., and Carol Worthman 2007 Cultural models, parent behavior, and young child experience in working American families. Parenting: Science and Practice 7(2):177.

Dressler, William W., Camila D. Borges, Mauro C. Balieiro, and Jose E. dos Santos 2005 Measuring cultural consonance: Examples with special reference to measurement theory in anthropology. Field Methods 17(4):331.

Ellis, Bruce J. 2004 Timing of pubertal maturation in girls: An integrated life history approach. Psychological Bulletin 130(6):920.

Ellis, Bruce J., John E. Bates, Kenneth A. Dodge, David M. Fergusson, L. John Horwood, Gregory S. Pettit, and Lianne Woodward 2003 Does father absence place daughters at special risk for early sexual activity and teenage pregnancy? Child Development 74(3):801.

Ellis, Bruce J., and Judy Garber 2000 Psychosocial antecedents of variation in girls' pubertal timing: Maternal depression, stepfather presence, and marital and family stress. Child Development 71(2):485.

Gluckman, Peter D., and Mark A. Hanson 2006 Evolution, development and timing of puberty. Trends in Endocrinology and Metabolism 17(1):7.

Hillard, Paula J. Adams 2008 Menstruation in adolescents: What's normal? Medscape Journal of Medicine 10(12): 295.

Howe, Mark L. 2007 Children's emotional false memories. Psychological Science 18(10):856.

James, Ian A., Katharina F. Reichelt, Mark H. Freeston, and Stephen B. Barton 2007 Schemas as memories: Implications for treatment. Journal of Cognitive Psychotherapy 21(1):51.

Kleider, Heather M., Kathy Pezdek, Stephen D. Goldinger, and Alice Kirk 2008 Schema-driven source misattribution errors: Remembering the expected from a witnessed event. Applied Cognitive Psychology 22(1):1-20.

Mishra, Gita D., Rachel Cooper, Sarah E. Tom, and Diana Kuh 2009 Early life circumstances and their impact on menarche and menopause. Women's Health 5(2):175.

Mitchell, Karen J., Marcia K. Johnson, and Mara Mather 2003 Source monitoring and suggestibility to misinformation: Adult age-related differences. Applied Cognitive Psychology 17(1):107.

Moffitt, Terrie E., Avshalom Caspi, Jay Belsky, and Phil A. Silva 1992 Childhood experience and the onset of menarche: A test of a sociobiological model. Child Development 63(1):47.

Neuner, Frank, Claudia Catani, Martina Ruf, Elisabeth Schauer, Maggie Schauer, and Thomas Elbert 2008 Narrative exposure therapy for the treatment of traumatized children and adolescents (KidNET): From neurocognitive theory to field intervention. Child and Adolescent Psychiatric Clinics of North America 17(3):641.

Newcomb, Michael D., George J. Huba, and Peter M. Bentler 1981 A multidimensional assessment of stressful life events among adolescents: Derivation and correlates. Journal of Health and Social Behavior 22:400.

Parent, Anne-Simone, Grete Teilmann, Anders Juul, Niels E. Skakkebaek, Jorma Toppari, and Jean-Pierre Bourguignon 2003 The timing of normal puberty and the age limits of sexual precocity: Variations around the world, secular trends, and changes after migration. Endocrine Reviews 24(5):668.

Reyes-García, Victoria, Clarence C. Gravlee, Thomas W. McDade, Tomas Huanca, William R. Leonard, and Susan Tanner 2010 Cultural consonance and body morphology: Estimates with longitudinal data from an Amazonian society. American Journal of Physical Anthropology 143(2):167.

Romney, A. Kimball, Susan C. Weller, and Wiliam H. Batchelder. 1984 Culture as consensus: A theory of culture and informant accuracy. American Anthropologist 88(2):313.

Russell, Robert L., and Paul Van den Broek 1992 Changing narrative schemas in psychotherapy. Psychotherapy: Theory, Research, Practice, Training 29(3):344.

Stice, Eric, Katherine Presnell, and Sarah Kate Bearman 2001 Relation of early menarche to depression, eating disorders, substance abuse, and comorbid psychopathology among adolescent girls. Developmental Psychology 37(5):608.

Surbey, Michele K. 1990 Family composition, stress, and the timing of human menarche. In Socioendocrinology of Primate Reproduction. Toni E. Ziegler and Fred B. Bercovitch, eds., p. 11. New York: Wiley-Liss.

Teilmann, Grete, Carsten B. Pedersen, Niels E. Skakkebaek, and Tina Kold Jensen 2006 Increased risk of precocious puberty in internationally adopted children in Denmark. Pediatrics 118(2):e391.

Tither, Jacqueline M., and Bruce J. Ellis 2008 Impact of fathers on daughters' age at menarche: A genetically and environmentally controlled sibling study. Developmental Psychology 44(5):1409.

Tremblay, Line, and Jean-Yves Frigon 2005 Precocious puberty in adolescent girls: A biomarker of later psychosocial adjustment problems. Child Psychiatry and Human Development 36(1):73.

Trickett, Penelope K., and Frank W. Putnam 1993 Impact of child sexual abuse on females: Toward a developmental, psychobiological integration. Psychological Science 4(2):81.

Van der Kolk, Bessel A., and Onno Van der Hart 1991 The intrusive past: The flexibility of memory and the engraving of trauma. American Imago 48(4):425.

Vihko, R., and D. Apter 1984 Endocrine characteristics of adolescent menstrual cycles: Impact of early menarche. Journal of Steroid Biochemistry 20(1):231.

Walvoord, Emily C. 2010 The timing of puberty: Is it changing? Does it matter? Journal of Adolescent Health 47(5):433.

Weller, Susan C. 2007 Cultural consensus theory: Applications and frequently asked questions. Field Methods 19(4):339.

Wierson, Michelle, Patricia J. Long, and Rex L. Forehand 1993 Toward a new understanding of early menarche: The role of environmental stress in pubertal timing. Adolescence 28(112):913.

Witztum, Eliezer, and Yehuda Goodman 1999 Narrative construction of distress and therapy: A model based on work with ultra- orthodox Jews. Transcultural Psychiatry 36(4):403.

Worthman, Carol M. 1999 Evolutionary perspectives on the onset of puberty. In Evolutionary Medicine. Wanda R. Trevathan, Euclid O. Smith, and James J. McKenna, eds., p. 135. New York: Oxford University Press.
Acknowledgments
Many thanks to Vernon Knight, Ph.D., Christopher Lynn, Ph.D., Allen Maxwell, Ph.D., Debra Nelson-Gardell, Ph.D., Kathryn Oths, Ph.D., and Milady Murphy, M.S., Ed.D., for their enormously helpful feedback and critique regarding this work. The present research was funded by a University of Alabama Graduate Council Research Fellowship.
Conflict of interest
The authors have no conflicts of interest.
About this article
Cite this article
Buzney, C.D., DeCaro, J.A. Explanatory Models of Female Pubertal Timing: Discordances Between Cultural Models of Maturation and the Recollection and Interpretation of Personal Developmental Experiences. Cult Med Psychiatry 36, 601–620 (2012). https://doi.org/10.1007/s11013-012-9277-8
Keywords
Adolescent development

Stress

Menarche

Cultural models

Life History Theory