Abstract
The challenge of hiring and retaining well-trained caregivers for the growing numbers of elders in need of care is a global concern. This study was designed to understand the views of direct care workers and included 15 nurse aides and med techs working in an assisted living and special care assisted living community for people with dementia. Each participant was provided with a digital camera and asked to take photographs "to show what caregiving means to you." Analysis is based on group discussions about the full set of photographs created by the direct care workers and individual written and oral narratives about four photographs chosen by each participant. The categories generated from these data represent the direct care workers' perceptions of the approaches to quality caregiving and the relationships involved in doing their jobs well. By focusing on the essential relationships and interactions, rather than primarily on the required care, we can begin to imagine the caregiving experience in terms of a communal rather than an institutional experience. We can then productively turn our focus to the people involved rather than emphasize their roles as providers or recipients of care.
Access options
Buy single article
Instant access to the full article PDF.
US$ 39.95
Tax calculation will be finalised during checkout.
Subscribe to journal
Immediate online access to all issues from 2019. Subscription will auto renew annually.
US$ 79
Tax calculation will be finalised during checkout.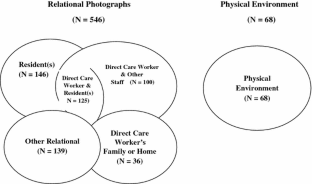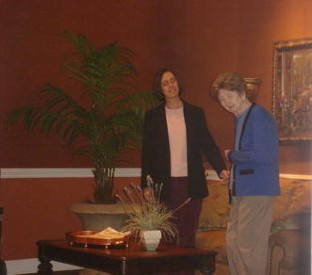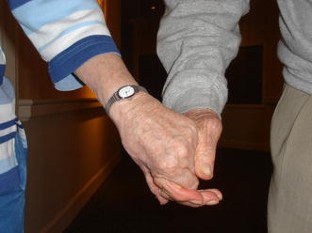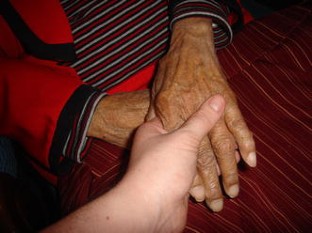 Notes
1.

Some of the participants worked both as Resident Assistants and med techs on different days or shifts, see Table 1.

2.

Greenbriar is a two-story, private-pay assisted living community and Safe Harbor is its 60-bed sister community around the corner where care is provided for people with dementia in need of "special care." Safe Harbor is one-story and divided into three units surrounding an inner Main Street.

3.

Five additional direct care workers were later interviewed and included in the larger study. Photographs and narratives were created by the fifteen original participants in the study.

4.

We have informed consent to include many residents of the two facilities in our research. The caregivers were directed to take photographs freely and that we would take care of the informed consent issues regarding use of the photographs. While all of the residents, staff and family members included in the full set of photographs have not given their informed consent, the photographs used as examples include only people for whom we have full consent.
References
Abu-Lughod, Lila 1993 Writing Women's Worlds: Bedouin Stories. Berkeley: University of California Press.

Anderson, James William 2002 A Psychological Perspective on the Relationship of William and Henry James. In Up Close and Personal: The Teaching and Learning of Narrative Research. Ruthellen Josselson, Amia Lieblich, and Dan P. McAdams, eds., pp. 177-197. Washington, DC: American Psychological Association.

Ball, Mary, Michael Lepore, Molly Perkins, Carole Hollingsworth, and Mark Sweatman 2009 "They are the reason I come to work": The Meaning of Resident-Staff Relationships in Assisted Living. Aging Studies 23: 37-47.

Berdes, Celia and John Eckert 2007 The Language of Caring: Nurse's Aides' Use of Family Metaphors Conveys Affective Care. The Gerontologist 47: 340-349.

Brannon, Diane, Teta Barry, Peter Kemper, Andrea Schreiner, and Joe Vasey 2007 Job Perceptions and Intent to Leave among Direct Care Workers: Evidence from the Better Jobs Better Care Demonstrations. The Gerontologist 47: 820-29.

Burgio, Louis, Alan Stevens, Kathryn Burgio, David Roth, Penelope Paul, and John Gerstle 2002 Teaching and Maintaining Behavior Management Skills in the Nursing Home. The Gerontologist 42: 487-96.

Castle, Nicholas, John Engberg, Ruth Anderson, and Aiju Men 2007 Job Satisfaction of Nurse Aides in Nursing Homes: Intent to Leave and Turnover. The Gerontologist 47: 193-204

Collier, John, and Malcolm Collier 1986 Visual Anthropology: Photography as a Research Method. Albuquerque, NM: University of New Mexico Press.

Davidson, Jennifer 2007 Personal Communication, January 24.

Davis, Boyd, and Charlene Pope 2010 Institutionalized Ghosting: Policy Contexts and Language Use in Erasing the Person with Alzheimer's. Language Policy 9: 29–44.

Diamond, Timothy 1992 Making Gray Gold: Narratives of Nursing Home Care. 1986. Reprint, Chicago: University of Chicago Press.

Emmison, Michael J., and Philip Smith 2000 Researching the Visual: Images, Objects, Contexts and Interactions in Social and Cultural Inquiry. London: Sage.

Foner, Nancy 1994 The Caregiving Dilemma: Work in an American Nursing Home. Berkeley: University of California Press.

Harrison, Faye V. 1995 Writing Against the Grain: Cultural Politics of Difference in the Work of Alice Walker. In Women Writing Culture. Ruth Behar and Deborah A. Gordon, eds., pp. 233-248. Berkeley: University of California Press.

Heisley, Deborah D. 2001 Visual Research: Current Bias and Future Direction. Advances in Consumer Research 28, 45-46.

Hernández, Jesús René Luna 2009 Photo-ethnography by People Living in Poverty Near the Northern Border of Mexico. Forum: Qualitative Social Research 10(2), Art. 35, http://www.qualitative-research.net/index.php/fqs/article/view/1310/2811.

Keith, Jennie 1982 Old people as people. Boston: Little Brown and Company.

Kemp, Candace, Mary Ball, Molly Perkins, Carole Hollingworth, and Michael Lepore 2009 "I get along with most of them": Direct Care Workers' Relationships with Residents' Families in Assisted Living. The Gerontologist 49: 223-235.

Ketelle, Diane 2010 The Ground They Walk On: Photography and Narrative Inquiry. The Qualitative Report 15: 547-568.

Kitwood, Tom 1993 Towards a Theory of Dementia Care: The Interpersonal Process. Ageing and Society 13 (1): 51-67.

Kitwood, Tom 1997 Dementia Reconsidered: The Person Comes First. Berkshire, UK: Open University Press.

Kitwood, Tom, and Sue Benson. (eds) 1995 The New Culture of Dementia Care. London: Hawker.

Kitwood, Tom, and Kathleen Bredin 1992 Towards a Theory of Dementia Care: Personhood and Well-being. Ageing and Society 12 (3): 269-287.

Kolb, Bettina 2008 Involving, Sharing, Analysing: Potential of the Participatory Photo Interview. Forum: Qualitative Social Research, 9(3) Art. 12, http://nbnresolving.de/urn:nbn:de:0114-fqs0803127.

McFall, Barbara, and Cindy Beacham. 2006 Ideal Design Programming with Photoethnographic Data and Systems Analysis. Journal of Interior Design 31(3), 21-34.

Maas, Meridean L., Janet P. Specht, Kathleen C. Buckwalter, Josephine Gittler and Kate Bechen 2008 Nursing Home Staffing and Training Recommendations for Promoting Older Adults' Quality of Care and Life. Part 2. Increasing Nurse Staffing and Training. Research in Gerontological Nursing 1: 134-152.

Oliffe, John L., and Joan L. Bottorff 2007 Further Than the Eye Can See? Photo Elicitation and Research with Men. Qualitative Health Research 17:850-858.

Pfefferle, Susan G., and Dana Beth Weinberg 2008 Certified Nurse Assistants Making Meaning of Direct Care. Qualitative Health Research 18: 952-61.

Pink, Sarah 2007 Doing Visual Ethnography: Images, Media and Representation in Research. UK: Sage Publications, Limited.

Pinney, Christopher 1992 The Parallel Histories of Anthropology and Photography. In Anthropology and Photography 1860-1920. Elizabeth Edwards, ed., pp. 74-95. New Haven, CT: Yale University Press.

Reed, Peter, and Sheryl Zimmerman 2010 The Importance of Relationships in Nursing Homes and Residential Care/Assisted Living Settings. Alzheimer's Care Today 11: 4-5.

Sabat, Steven R. 2006 Mind, Meaning, and Personhood in Dementia: the Effects of Positioning. In Dementia: Mind, Meaning and the Person. Julian C. Hughes, Stephen J. Louw, and Steven R. Sabat, eds., pp. 287-302. New York: Oxford University Press.

Shuster, Stef 2009 Resolving Feminist Dilemmas within Ethnography: A Case for Photoethnography. In Paper Presented at the Annual Meeting of the American Sociological Association Annual Meeting, Hilton San Francisco, San Francisco, CA Online. 2010-07-08 from http://www.allacademic.com/meta/p308644_index.html.

Shenk, Dena 2002 A Picture is Worth…: the Use of Photography in Gerontological Research. In Qualitative Gerontology, second edition. Graham Rowles and Nancy Schoenberg, eds., pp.241-262. New York, NY: Springer Publishing.

Shenk, Dena 2009 Moral Agency of Direct Care Workers and the People for Whom they Care. Journal of Aging, Humanities, and the Arts 3: 285-299.

Shenk, Dena, Etta Coleman, Portia Rezk, Brenda D. Bordeman, and Shayna Quilty 2007 Direct Care Workers Tell Their Stories: Using Video, Photographs and Narratives. Workshop at the North Carolina Conference on Aging, Winston-Salem, September 11.

Smith, Shawn Michelle 1998 On the Pleasures of Ruined Pictures. In Fiction and Social Research: By Fire and Ice. Anna Banks and Stephen P. Banks, eds., pp. 179-194. Walnut Creek, CA: Alta Mira Press.

Stacey, Clare L. 2005 Finding Dignity in Dirty Work: the Constraints and Rewards of Low-Wage Home Care Labour. Sociology of Health and Illness 27: 831-854.

Tellis-Nayak, V, and Mary Tellis-Nayak 1989 Quality of Care and the Burden of Two Cultures: When the World of the Nurse's Aide Enters the World of the Nursing Home. The Gerontologist 29(3): 307-13.

Wang, Caroline, and Mary Ann Burris 1994 Empowerment Through Photo Novella: Portraits of Participation. Health Education Quarterly 21:171-186.

Wang, Caroline, and Mary Ann Burris 1997 Photovoice: Concept, Methodology, and use of Participatory Needs Assessment. Health Education and Behavior 24: 369-387.

Willis, Deborah 1995 Women's Stories/Women's Photobiographies. In New American Feminist Photographies. Diane Neumaier, ed., pp. 84-92. Philadelphia: Temple University Press.
Acknowledgments
Thanks to my research assistants: Denise Bordeman, for her dedicated participation in the data collection and transcription and Jeena George for her assistance with data summary and qualitative analysis. I also thank the residents, family, and staff of Greenbriar and Safe Harbor, especially the skilled and dedicated direct care workers whose commitment to their work is portrayed here in their discussions of the photographs they created.
About this article
Cite this article
Shenk, D. Interactions and Relationships in Long Term Care: Photography and Narratives by Direct Care Workers. Cult Med Psychiatry 36, 535–556 (2012). https://doi.org/10.1007/s11013-012-9269-8
Keywords
Direct care workers

Caregiving

Photography

Narratives

Long term care