Abstract
Passage of the DSHEA in 1994 created a new "liminal" category for the FDA: dietary supplements are regulated as neither food nor drugs. However, there appears to be a significant disconnect between the "official" discourse surrounding dietary supplements and supplement users' actual practices. Despite this discrepancy, and the inadequacy of surveys to capture the dynamics of pharmaceutical practice, there is little ethnographic information available on the ways that Americans think about or use dietary supplements. We offer some preliminary observations from a pilot ethnographic study of Americans' use of dietary supplements in which we consider not only the reasons why people are using supplements, but how they are using them, and how their experimentation has been influenced by the information they seek and receive from a variety of sources. We illustrate how anthropological studies of supplement related practice can help us better understand Americans' attraction to and use of dietary supplements, and suggest that anthropology can contribute to a more balanced perspective on supplement use—one that moves the study of supplements beyond surveys and randomized controlled studies of efficacy to considerations of patterns of use in context, user expectations, and measures of perceived effectiveness.
Access options
Buy single article
Instant access to the full article PDF.
US$ 39.95
Tax calculation will be finalised during checkout.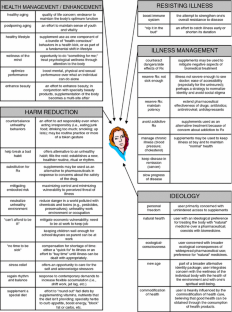 References
Athlete Octane 2006 Athlete Octane—Endurance Supplements for Athletes. Available at: http://www.athleteoctane.com/info/index.html; accessed January 3, 2006

Backett Kathryn 1992 Taboos and Excesses—Lay Health Moralities in Middle-Class Families. Sociology of Health and Illness 14(2):255–274

Barnes, Patricia M., E. Powell-Griner, K. McFann, R.L. Nahin 2004. Complementary and Alternative Medicine Use Among Adults: United States, 2002. Advance Data from Vital Health and Statistics 343

Barry M.J. 2002 Health Decision Aids to Facilitate Shared Decision Making in Office Practice. Annals of Internal Medicine 136(2):127–135

Baudrillard, Jean [1968] 1996 The System of Objects. J. Benedict trans. London: Verso Books

Baudrillard Jean [1970] 1997 Consumer Society: Myths and Structures G Ritzer, trans. London: Sage

Beck Ulrich 1992 Risk Society: Toward a New Modernity. Sage, London

Beck Ulrich 1996 World Risk Society as Cosmopolitan Society? Ecological Questions in a Framework of Manufactured Uncertainties. Theory Culture and Society 13(4):1–32

Beck Ulrich 1999 Subpolitics: Ecology and the Disintegration of Institutional Power. In World Risk Society, pp. 91–108. Cambridge: Polity Press.

Berman Jonathan D., Stephen E. Straus 2004 Implementing a Research Agenda for Complementary and Alternative Medicine. Annual Review of Medicine 55:239–254

Blendon Robert J., Des Roches C.M., Benson J.M., Brodie M., Altman D.E. 2001 Americans' Views on the Use and Regulation of Dietary Supplements. Archives of Internal Medicine 161(6):805–810

Castells Manuel 1996 The Rise of the Network Society. Blackwell, Cambridge, MA

Clarke A.E., J.K. Shim, L. Mamo, J.R. Fosket, and J.R. Fishman 2003 Biomedicalization: Technoscientific Transformations of Health, Illness, and US Biomedicine. American Sociological Review 68(2):161–194

Cone Richard, Emily Martin 2003 Corporeal Flows: The Immune System, Global Economies of Food, and New Implications for Health. In: Wilce J.M.J. (eds). Social and Cultural Lives of Immune Systems. Routledge, London/New York, pp. 232–266

Conrad Peter 1994 Wellness as Virtue—Morality and the Pursuit of Health. Culture, Medicine and Psychiatry 18(3):385–401

Cooper Crystale P., Darcie Yukimura 2002 Science Writers' Reactions to a Medical "Breakthrough" Story. Social Science and Medicine 54(12):1887–1896

Dean Mitchell 2002 Liberal Government and Authoritarianism. Economy and Society 31(1):37–61

De Angelis Catherine D., Phil B. Fontanarosa 2003 Drugs Alias Dietary Supplements. Journal of the American Medical Association 290(11):1519–1520

De Certeau, Michel [1974] 1984 The Practice of Everyday Life. S. Randall, trans. Berkeley: University of California Press

De Certeau, Michel, Luce Giard, and Pierre Mayol 1998 The Practice of Everyday Life, Vol. 2: Living and Cooking. T. J. Tomasik, trans. Minneapolis: University of Minneapolis Press

D'Houtaud A., Mark G. Field 1984. The Image of Health: Variations in Perception by Social Class in a French Population. Sociology of Health and Illness 6(1):30–60

Ecks Stefan 2005 Pharmaceutical Citizenship: Antidepressant Marketing and the Promise of Demarginalization in India. Anthropology and Medicine 12(3):239–254

Eraker Stephen A., Politser Peter 1982 How Decisions Are Reached—Physician And Patient. Annals of Internal Medicine 97(2):262–268

Evans-Pritchard E.E. 1937 Witchcraft, Oracles and Magic among the Azande. Clarendon Press, Oxford

Ewald Francois 1990 Norms, Discipline and the Law. Representations 30:138–161

Eysenbach G., Kohler C. 2002 How Do Consumers Search for and Appraise Health Information on the World Wide Web? Qualitative Study Using Focus Groups, Usability Tests, and In-Depth Interviews. British Medical Journal 324(7337):573–577

Foote-Ardah Carrie E. 2003 The Meaning of Complementary and Alternative Medicine Practices among People with HIV in the United States: Strategies for Managing Everyday Life. Sociology of Health and Illness 25(5):481–500

Foss, Brad 2003 Boomers Help Nutritional Supplement Biz. In Associated Press, December 3. Available at http://www.imakenews.com/bioanalogics/e_article000314130.cfm?x=b11,0,w, accessed April 17, 2006

Foucault Michel 1986 Care of the Self: The History of Sexuality, volume 3. R. Hurley, trans. New York: Random House

Fox, Susannah, and Deborah Fallows 2003 Internet Health Resources: Health Searches and Email Have Become More Commonplace, but There Is Room for Improvement in Searches and Overall Internet Access, pp. i–35. Washington, DC: Pew Internet & American Life Project

Fraser M. 2001 The Nature of Prozac. History of the Human Sciences 14(3):56–84

Fraser Nancy 2003 From Disciplining to Flexibilization? Rereading Foucault in the Shadow of Globalization. Constellations 10(2):160–171

FTC (Federal Trade Commission) 2001 Dietary Supplements: An Advertising Guide for Industry. Available at http://www.ftc.gov/bcp/conline/pubs/buspubs/dietsupp.htm, accessed April 17, 2006

Giddens Anthony 1990 The Consequences of Modernity. Polity Press, Cambridge

Giddens Anthony 1991 Modernity and Self-Identity: Self and Society in the Late Modern Age. Polity Press in association with Basil Blackwell, Cambridge

Giddens Anthony 1994 Beyond Left and Right: The Future of Radical Politics. Polity Press, Cambridge

Gieryn Thomas F. 1983 Boundary-Work and the Demarcation of Science from Non-Science—Strains and Interests in Professional Ideologies of Scientists. American Sociological Review 48(6):781–795

GlaxoSmithKline 2004 Remifemin Menopause—An Herbal Supplement for Menopause Symptoms. Available at: http://www.remifemin.com/ ;accessed June 28, 2004.

Good Mary-Jo D, Good B.J., Schaffer C., Lind S.E. 1990 American Oncology and the Discourse on Hope. Culture, Medicine and Psychiatry 14(1):59–79

Gould, S. J. 1990 Health Consciousness and Health Behavior—The Application of a New Health Consciousness Scale. American Journal of Preventive Medicine 6(4):228–237.

Haraway Donna J. 1991 The Biopolitics of Postmodern Bodies: Constitutions of Self in Immune System Discourse. In: Lindenbaum S., Lock M. (eds). Knowledge, Power and Practice: The Anthropology of Medicine and Everyday Life. University of California Press, Berkeley, pp. 365–409

Hardon Anita 1991 Confronting Ill Health: Medicines, Self-Care and the Poor in Manilla. Health Action Information Network, Quenzon City, Philippines

Harvey David 1989 The Condition of Postmodernity: An Enquiry into the Origins of Cultural Change. Blackwell, Oxford

Healy David 1997 The Anti-Depressant Era. Harvard University Press, Cambridge, MA

Healy David 2004 Shaping the Intimate: Influences on the Experience of Everyday Nerves. Social Studies of Science 34(2):219–245

Helman Cecil G. 1981 'Tonic,' 'Fuel' and 'Food': Social and Symbolic Aspects of the Long-Term Use of Psychotropic Drugs. Social Science Medicine 15B:521–533

Holzer, Boris, and Mads Sorensen 2001 Subpolitics and Subpoliticians. Available at: http://www.lrz- muenchen.de/∼bfh/papers/SFB_ap4-holzer_soerensen.pdf; accessed January 8, 2006

IOM 2002 Proposed Framework for Evaluating the Safety of Dietary Supplements. National Academies Press, Washington, DC

IOM 2005a Complementary and Alternative Medicine (CAM) in the United States. National Academies Press, Washington, DC

IOM 2005b. Dietary Supplements: A Framework for Evaluating Safety. National Academies Press. Washington DC

Jankowiak William, dan Bradburd 1996 Using Drug Foods to Capture and Enhance Labor Performance: A Cross-Cultural Perspective. Current Anthropology 37(4):717–720

Janzen John M. 1987 Therapy Management: Concept, Reality, Process. Medical Anthropology Quarterly 1(1):68–84

Kamat Vinay R., Mark Nichter 1998. Pharmacies, Self-Medication and Pharmaceutical Marketing in Bombay, India. Social Science and Medicine 47(6):779–794

Kaplan R.M., Ganiats T.G., Frosch D.L. 2004 Diagnostic and Treatment Decisions in US Healthcare. Journal of Health Psychology 9(1):29–40

Kaptchuk T.J., Eisenberg D.M. 1998 The Persuasive Appeal of Alternative Medicine. Annals of Internal Medicine 129(12):1061–1065

Kaufman David W., Kelly J.P., Rosenberg L., Anderson T.E., Mitchell A.A. 2002 Recent Patterns of Medication Use in the Ambulatory Adult Population of the United States—The Slone Survey. Journal of the American Medical Association 287(3):337–344

Kavanagh A.M., Broom D.H. 1998. Embodied Risk: My Body, Myself?. Social Science and Medicine 46(3):437–444

Keane Anne 1997. Too Hard to Swallow? The Palatability of Healthy Eating Advice. In: Caplan P. (eds). Food, Health and Identity. Routledge, London, pp. 172–192

Kirmayer Laurence 2002 Psychopharmacology in a Globalizing World: The Use of Antidepressants in Japan. Transcultural Psychiatry 39(3):295–322

Kirmayer Laurence 2003 Reflections on Embodiment. In: Wilce J.M.J. (eds). Social and Cultural Lives of Immune Systems. Routledge, London, pp. 282–302

Kramer Peter 1994 Listening to Prozac. Fourth Estate, London

Lakoff A. 2004 The Anxieties of Globalization: Antidepressant Sales and Economic Crisis in Argentina. Social Studies of Science 34(2):247–269

Living Essentials 2004 Prevent Hangover with a Remedy from Chaser. Available at: http://www.doublechaser.com/remedy.htm; accessed June 28, 2004.

Lock Margaret 1998 Breast Cancer: Reading the Omens. Anthropology Today 14(4):7–16

Maffesoli Michel 1996 The Time of the Tribes: A Decline of Individualism in Mass Society. Sage, London

Martin Emily 1990 Toward an Anthropology of Immunology—The Body as Nation State. Medical Anthropology Quarterly 4(4):410–426

Martin Emily 1992 The End of the Body. American Ethnologist 19(1):121–140

Martin Emily 1994a The Ethnography of Natural-Selection in the 1990s. Cultural Anthropology 9(3):383–397

Martin Emily 1994b Flexible Bodies: The Role of Immunity in American Culture from the Days of Polio to the Age of AIDS. Beacon Press, Boston

Mauss Marcel [1950] 1990 The Gift W D Halls trans. W. W. Norton, New York

Montagne Michael 1992 The Promotion of Medication of Personal and Social Problems. Journal of Drug Issues 22(2):389–406

Napier David 2003 The Age of Immunology: Conceiving a Future in an Alientating World. University of Chicago Press, Chicago

Nestle Marion 2002 Food Politics: How the Food Industry Influences Nutrition and Health. University of California Press, Berkeley

Nichter Mark 1981 Idioms of Distress: Alternatives in the Expression of Psychosocial Distress: A Case Study from South India. Culture, Medicine and Psychiatry 5:379–408

Nichter Mark 2002 The Social Relations of Therapy Management. In: Nichter M., Lock M.M. (eds). New Horizons in Medical Anthropology: Essays in Honour of Charles Leslie. Routledge, London, pp. 81–110

Nichter Mark 2003 Harm Reduction: A Core Concern for Medical Anthropology. In: Harthorn B.H., Oaks L. (eds). Risk, Culture, and Health Inequality: Shifting Perceptions of Danger and Blame. Praeger, Westport, CT, pp. 13–33

Nichter Mark 2006 Reducción del daño: una preocupación central para la anthropología medíca. Desacatos 20:109–132

Nichter Mark, Quintero Gilbert 1996 Pluralistic Therapy Systems: Why Do They Co-exist and How Are They Used?. In: Levinson D., Ember M. (eds). Encyclopedia of Cultural Anthropology. Henry Holt, New York, pp. 1–17

Nichter Mark, Nancy Vuckovic 1994 Agenda for an Anthropology of Pharmaceutical Practice. Social Science and Medicine 39(11):1509–1525

Novas C., Rose N. 2000 Genetic Risk and the Birth of the Somatic Individual. Economy and Society 29(4):485–513

Nowotny Helga 1993 Socially Distributed Knowledge: Five Spaces for Science to Meet the Public. Public Understanding of Science 2(4):307–319

Nowotny Helga 2000 Trangressive Competence: The Narrative of Expertise. European Journal of Social Theory 3(1):5–21

Nowotny Helga, Peter Scott, Michael Gibbons 2001 Re-thinking Science: Knowledge and the Public in an Age of Uncertainty. Polity Press, Cambridge

Nutrition Business Journal 2003 NBJ's Annual Industry Overview VIII. Nutrition Business Journal 8(5/6)

O'Malley P. 1996. Risk and Responsibility. In: Barry A., Osborne T., Rose N. (eds). Foucault and Political Reason. UCL Press, London, pp. 189–208

O'Malley P. 2000 Uncertain Subjects: Risks, Liberalism and Contract. Economy and Society 29(4):460–484

Public Law 103–417 1994 Dietary Supplement Health and Education Act of 1994

Reuters Business Insight 2003 Identifying the Health-Conscious Consumer: Targeting Strategies for Image-Conscious, Ethical Workaholics. Available at: http:www.mindbranch.com/catalog/product.jsp?code=R162-330&psrc=gsitemap; accessed November 14, 2004

Richter Rowena K. 2003 Herbal Medicine: Chaos in the Marketplace. Haworth Herbal Press, New York

Rose Nikolas 1996. Governing "Advanced" Liberal Democracies. In: Barry A., Osborne T., Rose N. (eds). Foucault and Political Reason. UCL Press, London, pp. 37–64

Rose Nikolas 1999 Powers of Freedom: Reframing Political Thought. Cambridge University Press, Cambridge

Rose Nikolas 2001 The Politics of Life Itself. Theory Culture and Society 18(6):1

Rose Nikolas 2003 Neurochemical Selves. Society 41(1):46–59

Rose Nikolas, Peter Miller 1992 Political Power beyond the State. British Journal of Sociology 43(2):173–205

Rose Nikolas, Mariana Valverde 1998 Governed by Law? Social and Legal Studies 7(4):541–551

Rossouw, Jaques E., Garnet L. Anderson, Ross L. Prentice et al. [Writing Group for the Women's Health Initiative Investigators] 2002 Risks and Benefits of Estrogen Plus Progestin in Healthy Postmenopausal Women: Principal Results from the Women's Health Initiative Randomized Controlled Trial. Journal of the American Medical Association 288(3):321–333

Schudson, Michael 1986 Advertising: Hit or Myth? Media and Values 37: available at http://www.medialit.org/reading_room/article216.html, last accessed May 16, 2006

Speedling E.J., Rose D.N. 1985 Building an Effective Doctor-Patient Relationship—From Patient Satisfaction to Patient Participation. Social Science and Medicine 21(2):115–120

Thompson C.J. 2004. Marketplace Mythology and Discourses of Power. Journal of Consumer Research 31(1):162–180

Thompson C.J., Troester M. 2002 Consumer Value Systems in the Age of Postmodern Fragmentation: The Case of the Natural Health Microculture. Journal of Consumer Research 28(4):550–571

Umberson D. 1992 Gender, Marital-Status and the Social-Control of Health Behavior. Social Science and Medicine 34(8):907–917

van der Geest Sjaak, Susan Reynolds Whyte (eds) 1988. The Context of Medicines in Developing Countries: Studies in Pharmaceutical Anthropology. Kluwer, Dordrecht

Vuckovic Nancy 1999 Fast Relief: Buying Time with Medications. Medical Anthropology Quarterly 13(1):51–68

Vuckovic Nancy, Mark Nichter 1997 Changing Patterns of Pharmaceutical Practice in the United States. Social Science and Medicine 44(9):1285–1302

Wagner P.J., Jester D., LeClair B., Taylor A.T., Woodward L., Lambert J. 1999. Taking the Edge Off—Why Patients Choose St. John's Wort. Journal of Family Practice 48(8):615–619

Wittel Andreas 2001 Toward a Network Sociality. Theory Culture and Society 18(6):51
About this article
Cite this article
Nichter, M., Thompson, J.J. For my wellness, not just my illness: North Americans' use of dietary supplements. Cult Med Psychiatry 30, 175–222 (2006). https://doi.org/10.1007/s11013-006-9016-0
Keywords
complementary and alternative medicine

dietary supplement use

health management/enhancement

illness management

North Americans

wellness