Abstract
Dysfunction of vascular smooth muscle cells (VSMCs) plays a critical role in the development of intracranial aneurysm (IA). Here, we explored the detailed role and mechanism of circular RNA (circRNA) LIF receptor subunit alpha (circLIFR, circ_0072309) in human umbilical artery smooth muscle cells (HUASMCs). CircLIFR, microRNA (miR)-1299 and kinase insert domain receptor (KDR) expression levels were evaluated by quantitative real-time polymerase chain reaction (qRT-PCR) and western blot assays. Cell proliferation was assessed by Cell Counting Kit-8 (CCK-8) and 5-Ethynyl-2'-Deoxyuridine (EdU) assays. Cell migration was gauged by wound-healing and transwell assays. Cell invasion and apoptosis were detected by transwell assay and flow cytometry, respectively. Direct relationship between miR-1299 and circLIFR or KDR was verified by dual-luciferase reporter and RNA immunoprecipitation (RIP) assays. CircLIFR and KDR were down-regulated and miR-1299 was up-regulated in the artery wall tissues and ASMCs of IA patients. Enforced expression of circLIFR enhanced HUASMC proliferation, migration, invasion, and impeded apoptosis. Mechanistically, circLIFR directly targeted miR-1299, and miR-1299 was a downstream mediator of circLIFR in regulating the proliferation, migration, invasion and apoptosis of HUASMCs. KDR was identified as a direct and functional target of miR-1299 in HUASMCs. Furthermore, circLIFR was a post-transcriptional regulator of KDR expression through miR-1299. Our findings suggest that circLIFR, an underexpressed circRNA in IA, can regulate the proliferation, migration, invasion and apoptosis of HUASMCs depending on the miR-1299/KDR axis.
Access options
Buy single article
Instant access to the full article PDF.
USD 39.95
Price includes VAT (USA)
Tax calculation will be finalised during checkout.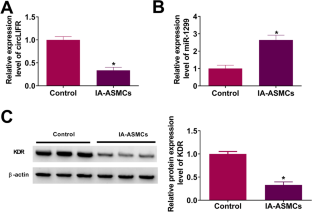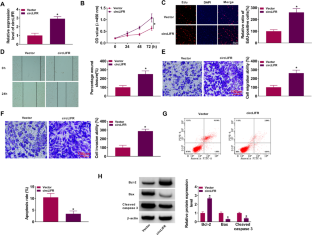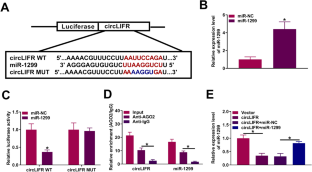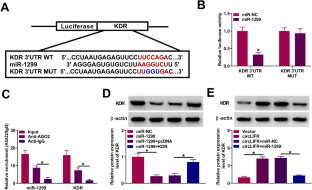 Data availability
The datasets generated during and/or analysed during the current study are available from the corresponding author on reasonable request.
References
Aoki T, Kataoka H, Nishimura M, Ishibashi R, Morishita R, Miyamoto S (2010) Ets-1 promotes the progression of cerebral aneurysm by inducing the expression of MCP-1 in vascular smooth muscle cells. Gene Ther 17:1117–1123. https://doi.org/10.1038/gt.2010.60

Chanakira A, Dutta R, Charboneau R, Barke R, Santilli SM, Roy S (2012) Hypoxia differentially regulates arterial and venous smooth muscle cell proliferation via PDGFR-β and VEGFR-2 expression. Am J Physiol Heart Circ Physiol 302:H1173–H1184. https://doi.org/10.1152/ajpheart.00411.2011

Chen T, Shao S, Li W, Liu Y, Cao Y (2019) The circular RNA hsa-circ-0072309 plays anti-tumour roles by sponging miR-100 through the deactivation of PI3K/AKT and mTOR pathways in the renal carcinoma cell lines. Artif Cells Nanomed Biotechnol 47:3638–3648. https://doi.org/10.1080/21691401.2019.1657873

Etminan N, Rinkel GJ (2016) Unruptured intracranial aneurysms: development, rupture and preventive management. Nat Rev Neurol 12:699–713. https://doi.org/10.1038/nrneurol.2016.150

Gareev IF, Safin SM (2019) The role of endogenous miRNAs in the development of cerebral aneurysms. Zhurnal Voprosy Neirokhirurgii Imeni N N Burdenko 83:112–118. https://doi.org/10.17116/neiro201983011112

Heumüller AW, Dimmeler S (2019) Circular RNA control of vascular smooth muscle cell functions. Circ Res 124:456–458. https://doi.org/10.1161/circresaha.118.314521

Hou WZ, Chen XL, Wu W, Hang CH (2017) MicroRNA-370-3p inhibits human vascular smooth muscle cell proliferation via targeting KDR/AKT signaling pathway in cerebral aneurysm. Eur Rev Med Pharmacol Sci 21:1080–1087

Huang Q, Huang QY, Sun Y, Wu S (2019) High-throughput data reveals novel circular RNAs via competitive endogenous RNA networks associated with human intracranial aneurysms. Med Sci Monit 25:4819–4830. https://doi.org/10.12659/msm.917081

Kristensen LS, Andersen MS, Stagsted LVW, Ebbesen KK, Hansen TB, Kjems J (2019) The biogenesis, biology and characterization of circular RNAs. Nat Rev Genet 20:675–691. https://doi.org/10.1038/s41576-019-0158-7

Li XG, Wang YB (2019) SRPK1 gene silencing promotes vascular smooth muscle cell proliferation and vascular remodeling via inhibition of the PI3K/Akt signaling pathway in a rat model of intracranial aneurysms. CNS Neuroscience & Therapeutics 25:233–244. https://doi.org/10.1111/cns.13043

Li Z, Zhao R, Fang X, Huang Q, Liu J (2017) Recombinant human SDF-1α administration accelerates aneurysm neck reendothelialization in rabbit saccular aneurysm after flow diverter treatment. Acta Biochim Biophys Sin Shanghai 49:246–253. https://doi.org/10.1093/abbs/gmx001

Liu D, Han L, Wu X, Yang X, Zhang Q, Jiang F (2014) Genome-wide microRNA changes in human intracranial aneurysms. BMC Neurol 14:188. https://doi.org/10.1186/s12883-014-0188-x

Liu X, Zhang Z, Ruan J, Pan Y, Magupalli VG, Wu H, Lieberman J (2016) Inflammasome-activated gasdermin D causes pyroptosis by forming membrane pores. Nature 535:153–158. https://doi.org/10.1038/nature18629

Manni S, Kisko K, Schleier T, Missimer J, Ballmer-Hofer K (2014) Functional and structural characterization of the kinase insert and the carboxy terminal domain in VEGF receptor 2 activation. FASEB J 28:4914–4923. https://doi.org/10.1096/fj.14-256206

Maumus-Robert S, Debette S, Bérard X, Mansiaux Y, Tubert-Bitter P, Pariente A (2020) Risk of intracranial aneurysm and dissection and fluoroquinolone use: a case-time-control study. Stroke 51:994–997. https://doi.org/10.1161/strokeaha.119.028490

Meeuwsen JAL, van't Hof FNG, van Rheenen W, GJE R, Veldink JH, Ruigrok YM (2017) Circulating microRNAs in patients with intracranial aneurysms. PLoS One 12:e0176558. https://doi.org/10.1371/journal.pone.0176558

Miyata T, Minami M, Kataoka H, Hayashi K, Ikedo T, Yang T, Yamamoto Y, Yokode M, Miyamoto S (2020) Osteoprotegerin prevents intracranial aneurysm progression by promoting collagen biosynthesis and vascular smooth muscle cell proliferation. J Am Heart Assoc 9:e015731. https://doi.org/10.1161/jaha.119.015731

Pang W, Huang F, Zhang X, Ye M, Huang Y, Huang X, Pang J, Cai C, Wang Z (2020) Circular RNA hsa_circ_0072309 inhibits non-small cell lung cancer progression by sponging miR-580-3p. Biosci Rep 40. https://doi.org/10.1042/bsr20194237

Rivetti di Val Cervo P, Lena AM, Nicoloso M, Rossi S, Mancini M, Zhou H, Saintigny G, Dellambra E, Odorisio T, Mahé C, Calin GA, Candi E, Melino G (2012) p63-microRNA feedback in keratinocyte senescence. Proc Natl Acad Sci U S A 109:1133–1138. https://doi.org/10.1073/pnas.1112257109

Roviello G, Ravelli A, Fiaschi AI, Cappelletti MR, Gobbi A, Senti C, Zanotti L, Polom K, Reynolds AR, Fox SB, Generali D (2016) Apatinib for the treatment of gastric cancer. Expert Review of Gastroenterology & Hepatology 10:887–892. https://doi.org/10.1080/17474124.2016.1209407

Shibuya M (2013) Vascular endothelial growth factor and its receptor system: physiological functions in angiogenesis and pathological roles in various diseases. J Biochem 153:13–19. https://doi.org/10.1093/jb/mvs136

Teng L, Chen Y, Chen H, He X, Wang J, Peng Y, Duan H, Li H, Lin D, Shao B (2017) Circular RNA hsa_circ_0021001 in peripheral blood: a potential novel biomarker in the screening of intracranial aneurysm. Oncotarget 8:107125–107133. https://doi.org/10.18632/oncotarget.22349

Wang Y, Wang Y, Li Y, Wang B, Miao Z, Liu X, Ma Y (2019) Decreased expression of circ_0020397 in intracranial aneurysms may be contributing to decreased vascular smooth muscle cell proliferation via increased expression of miR-138 and subsequent decreased KDR expression. Cell Adhes Migr 13:220–228. https://doi.org/10.1080/19336918.2019.1619432

Xie C, Zhang J, Chen YE (2011) MicroRNA and vascular smooth muscle cells. Vitam Horm 87:321–339. https://doi.org/10.1016/b978-0-12-386015-6.00034-2

Xu Y, Yao Y, Liu Y, Wang Z, Hu Z, Su Z, Li C, Wang H, Jiang X, Kang P, Sun D, Zhong X, Cui Y (2019) Elevation of circular RNA circ_0005230 facilitates cell growth and metastasis via sponging miR-1238 and miR-1299 in cholangiocarcinoma. Aging (Albany NY) 11:1907–1917. https://doi.org/10.18632/aging.101872

Yao JS, Zhai W, Fan Y, Lawton MT, Barbaro NM, Young WL, Yang GY (2007) Interleukin-6 upregulates expression of KDR and stimulates proliferation of human cerebrovascular smooth muscle cells. J Cereb Blood Flow Metab 27:510–520. https://doi.org/10.1038/sj.jcbfm.9600365

Yin K, Liu X (2021) Circ_0020397 regulates the viability of vascular smooth muscle cells by up-regulating GREM1 expression via miR-502-5p in intracranial aneurysm. Life Sci 265:118800. https://doi.org/10.1016/j.lfs.2020.118800

Yu Q, Dai J, Shu M (2020) Circular RNA-0072309 has antitumor influences in Hep3B cell line by targeting microRNA-665. Biofactors. https://doi.org/10.1002/biof.1618

Zhang L, Shao J, Zhou Y, Chen H, Qi H, Wang Y, Chen L, Zhu Y, Zhang M, Chen L, Du Y, Zhong M, Shi X, Li Q (2018) Inhibition of PDGF-BB-induced proliferation and migration in VSMCs by proanthocyanidin A2: involvement of KDR and Jak-2/STAT-3/cPLA(2) signaling pathways. Biomed Pharmacother 98:847–855. https://doi.org/10.1016/j.biopha.2018.01.010

Zhang FB, Du Y, Tian Y, Ji ZG, Yang PQ (2019) MiR-1299 functions as a tumor suppressor to inhibit the proliferation and metastasis of prostate cancer by targeting NEK2. Eur Rev Med Pharmacol Sci 23:530–538. https://doi.org/10.26355/eurrev_201901_16865

Zhu H, Wang G, Zhou X, Song X, Gao H, Ma C, Chang H, Li H, Liu FF, Lu J, Ma J (2016) miR-1299 suppresses cell proliferation of hepatocellular carcinoma (HCC) by targeting CDK6. Biomed Pharmacother 83:792–797. https://doi.org/10.1016/j.biopha.2016.07.037
Funding
The present study was supported by Key Natural Science Projects of Universities in Anhui Province (No. KJ2020A0970) and Young Talents Support Project in Anhui Provin- ce China (No. gxyqZD2020065).
Ethics declarations
Disclosure of interest
The authors declare that they have no financial conflicts of interest.
Additional information
Publisher's note
Springer Nature remains neutral with regard to jurisdictional claims in published maps and institutional affiliations.
Supplementary Information
About this article
Cite this article
Zhang, H., Zhang, B., Chen, C. et al. Circular RNA circLIFR regulates the proliferation, migration, invasion and apoptosis of human vascular smooth muscle cells via the miR-1299/KDR axis. Metab Brain Dis (2021). https://doi.org/10.1007/s11011-021-00853-x
Received:

Accepted:

Published:
Keywords
Intracranial aneurysm

circLIFR

miR-1299

KDR

HUASMCs