Abstract
Background
Long non-coding RNA (lncRNA) MEG3 regulates human cancers, while its role in Parkinson's disease (PD) is unknown. The present study explored the involvement of MEG3 in PD.
Methods
This study enrolled PD patients (n = 79) and healthy controls (n = 62) who were admitted to the Second Affiliated Hospital of Nanchang University from May 2016 to March 2018. RT-qPCR was performed to measure the expression of MEG3 and LRRK2. ROC curve analysis was performed for diagnostic analysis. Cell transfections were performed to analyze the interaction between MEG3 and LRRK2. Cell apoptosis and MTT assays were performed to evaluate the effect of cell transfections on cell apoptosis and viability.
Results
MEG3 was downregulated in PD patients compared to that in the healthy controls. ROC curve analysis showed altered expression of MEG3 in PD patients. MEG3 was also down-regulated in SH-SY5Y cells treated with MPP + . Overexpression of MEG3 increased the expression levels of leucine-rich repeat kinase 2 (LRRK2) in SH-SY5Y cells. In contrast, overexpression of LRRK2 showed no significant effects on MEG3. Overexpression of MEG3 improved the viability and inhibited the apoptosis of SH-SY5Y cells pretreated with MPP + .
Conclusions
In conclusion, lncRNA MEG3 is downregulated in PD and may affect the expression of LRRK2 to regulate cell viability and apoptosis involved in PD.
Access options
Buy single article
Instant access to the full article PDF.
USD 39.95
Price includes VAT (USA)
Tax calculation will be finalised during checkout.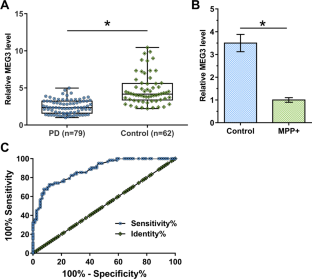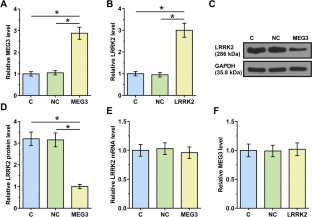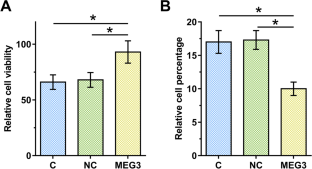 Data Availability
The data that support the findings of this study are available on request from the corresponding author.
The data are not publicly available due to their containing information that could compromise the privacy of research participants.
References
Armstrong RA (2011) Visual symptoms in Parkinson's disease. Parkinsons Dis 2011:908306. https://doi.org/10.4061/2011/908306

Corti O, Lesage S, Brice A (2011) What genetics tells us about the causes and mechanisms of Parkinson's disease. Physiol Rev 91(4):1161–1218. https://doi.org/10.1152/physrev.00022.2010

Cookson MR (2010) The role of leucine-rich repeat kinase 2 (LRRK2) in Parkinson's disease. Nat Rev Neurosci 11(12):791–797. https://doi.org/10.1038/nrn2935

Deng X, Dzamko N, Prescott A, Davies P, Liu Q, Yang Q et al (2011) Characterization of a selective inhibitor of the Parkinson's disease kinase LRRK2. Nat Chem Biol 7(4):203–205. https://doi.org/10.1038/nchembio.538

Esteller M (2011) Non-coding RNAs in human disease. Nat Rev Genet 12(12):861–874. https://doi.org/10.1038/nrg3074

Gong X, Wang H, Ye Y, Shu Y, Deng Y, He X et al (2016) miR-124 regulates cell apoptosis and autophagy in dopaminergic neurons and protects them by regulating AMPK/mTOR pathway in Parkinson's disease. Am J Transl Res 8(5):2127–2137

Guo Q, Qian Z, Yan D, Li L, Huang L (2016) LncRNA-MEG3 inhibits cell proliferation of endometrial carcinoma by repressing Notch signaling. Biomed Pharmacother 82:589–594. https://doi.org/10.1016/j.biopha.2016.02.049

Ito K, Eguchi Y, Imagawa Y, Akai S, Mochizuki H, Tsujimoto Y (2017) MPP+ induces necrostatin-1- and ferrostatin-1-sensitive necrotic death of neuronal SH-SY5Y cells. Cell Death Discov 3:17013. https://doi.org/10.1038/cddiscovery.2017.13

Jiao F, Wang Q, Zhang P, Bu L, Yan J, Tian B (2017) Expression signatures of long non-coding RNA in the substantia nigra of pre-symptomatic mouse model of Parkinson's disease. Behav Brain Res 331:123–130. https://doi.org/10.1016/j.bbr.2017.04.044

Lin D, Liang Y, Jing X, Chen Y, Lei M, Zeng Z et al (2018) Microarray analysis of an synthetic alpha-synuclein induced cellular model reveals the expression profile of long non-coding RNA in Parkinson's disease. Brain Res 1678:384–396. https://doi.org/10.1016/j.brainres.2017.11.007

Liu S, Cui B, Dai ZX, Shi PK, Wang ZH, Guo YY (2016) Long Non-coding RNA HOTAIR Promotes Parkinson's Disease Induced by MPTP Through up-regulating the Expression of LRRK2. Curr Neurovasc Res 13(2):115–120

Mattick JS (2001) Non-coding RNAs: the architects of eukaryotic complexity. EMBO Rep 2(11):986–991. https://doi.org/10.1093/embo-reports/kve230

Mercer TR, Dinger ME, Mattick JS (2009) Long non-coding RNAs: insights into functions. Nat Rev Genet 10(3):155–159. https://doi.org/10.1038/nrg2521

Qin R, Chen Z, Ding Y, Hao J, Hu J, Guo F (2013) Long non-coding RNA MEG3 inhibits the proliferation of cervical carcinoma cells through the induction of cell cycle arrest and apoptosis. Neoplasma 60(5):486–492. https://doi.org/10.4149/neo_2013_063

Qi P, Zhou XY, Du X (2016) Circulating long non-coding RNAs in cancer: current status and future perspectives. Mol Cancer 15(1):39. https://doi.org/10.1186/s12943-016-0524-4

Saez-Atienzar S, Bonet-Ponce L, Blesa JR, Romero FJ, Murphy MP, Jordan J et al (2014) The LRRK2 inhibitor GSK2578215A induces protective autophagy in SH-SY5Y cells: involvement of Drp-1-mediated mitochondrial fission and mitochondrial-derived ROS signaling. Cell Death Dis 5:e1368. https://doi.org/10.1038/cddis.2014.320

Spizzo R, Almeida MI, Colombatti A, Calin GA (2012) Long non-coding RNAs and cancer: a new frontier of translational research? Oncogene 31(43):4577–4587. https://doi.org/10.1038/onc.2011.621

Shi X, Sun M, Liu H, Yao Y, Song Y (2013) Long non-coding RNAs: a new frontier in the study of human diseases. Cancer Lett 339(2):159–166. https://doi.org/10.1016/j.canlet.2013.06.013

Taft RJ, Pang KC, Mercer TR, Dinger M, Mattick JS (2010) Non-coding RNAs: regulators of disease. J Pathol 220(2):126–139. https://doi.org/10.1002/path.2638

Wang S, Zhang X, Guo Y, Rong H, Liu T (2017) The long noncoding RNA HOTAIR promotes Parkinsons disease by upregulating LRRK2 expression. Oncotarget. 8(15):24449–56. https://doi.org/10.18632/oncotarget.15511

Wu Q, Xi DZ, Wang YH (2019) MicroRNA 599 regulates the development of Parkinsons disease through mediating LRRK2 expression. Eur Rev Med Pharmacol Sci. 23(2):724–31. https://doi.org/10.26355/eurrev_201901_16886
Funding
This research did not receive any specific grant from funding agencies in the public, commercial, or not-for-profit sectors.
Ethics declarations
Ethical approval and consent to participate
All patients signed the written informed consent. All producers were approved by the Second Affiliated Hospital of Nanchang University Ethics Committee. Procedures operated in this research were completed in keeping with the standards set out in the Announcement of Helsinki and laboratory guidelines of research in China.
Consent to publish
Not applicable.
All authors have read and approve the submission of the manuscript.
Competing interest
All other authors have no conflict of interest.
We declare that we do not have any commercial or associative interest that represents a conflict of interest in connection with the work submitted.
Additional information
Publisher's note
Springer Nature remains neutral with regard to jurisdictional claims in published maps and institutional affiliations.
Hui Huang and Suyue Zheng are co-first authors
About this article
Cite this article
Huang, H., Zheng, S. & Lu, M. Downregulation of lncRNA MEG3 is involved in Parkinson's disease. Metab Brain Dis 36, 2323–2328 (2021). https://doi.org/10.1007/s11011-021-00835-z
Received:

Accepted:

Published:

Issue Date:
Keywords
Parkinson's disease

lncRNA MEG3

Leucine-rich repeat kinase 2