Abstract
Hypothyroidism has been reported to be associated with cognitive decline. Considering the role of folic acid (FA) in cognitive performance, the present study was designed to investigate the effects of FA on hypothyroidism-induced cognitive impairment, oxidative damage, and alterations in acetylcholinesterase (AChE) activity in rat model of propylthiouracil (PTU)-induced hypothyroidism. In this study, PTU (0.05% in drinking water) and FA (5, 10, and 15 mg/kg, oral gavage) were administered for the rats during 7 weeks. Then, behavioral performance was tested using Morris water maze (MWM) and passive avoidance (PA) tasks. Finally, oxidative stress indicators and AChE activity were assayed in the brain tissues. The impairing effect of hypothyroidism on cognitive performance was markedly alleviated by FA especially at higher doses. In the MWM test, FA reduced escape latency and travelled distance, compared to the non-treated hypothyroid group. In the PA test, latency to enter dark chamber was significantly enhanced by FA compared to the non-treated hypothyroid group (p < 0.05–p < 0.001). Besides, FA attenuated AChE activity and malondialdehyde level but it increased activity of superoxide dismutase enzyme and total thiol content (p < 0.05–p < 0.001). In conclusion, our findings revealed that FA could improve learning and memory ability in hypothyroid rats. The observed protective effects may have been mediated through regulation of oxidative stress and AChE activity.
Access options
Buy single article
Instant access to the full article PDF.
US$ 39.95
Tax calculation will be finalised during checkout.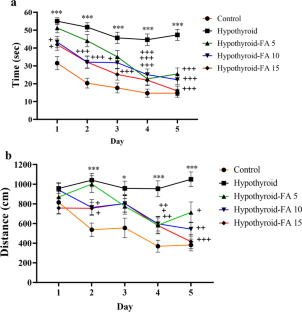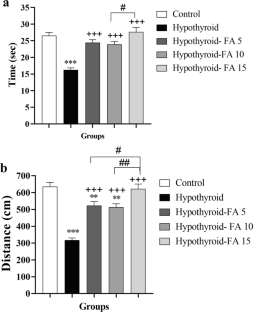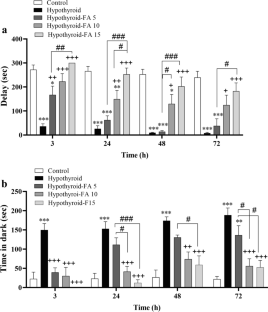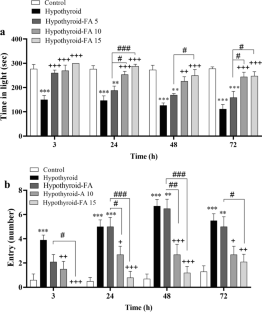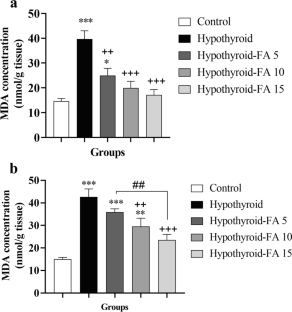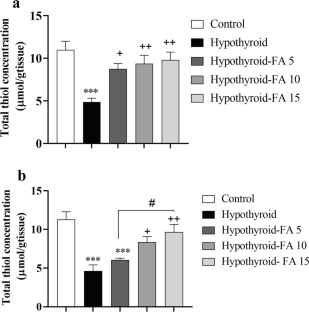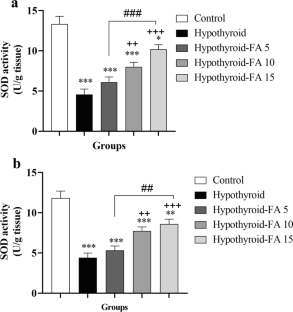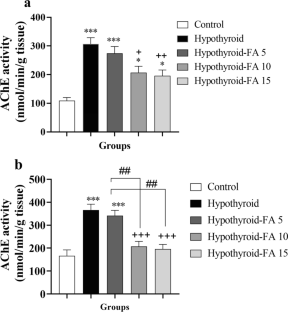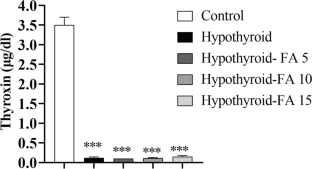 References
Aghamohammadi V, Gargari BP, Aliasgharzadeh A (2011) Effect of folic acid supplementation on homocysteine, serum total antioxidant capacity, and malondialdehyde in patients with type 2 diabetes mellitus. J Am Coll Nutr 30(3):210–215. https://doi.org/10.1080/07315724.2011.10719962

Annerbo S, Lökk J (2013) A clinical review of the association of thyroid stimulating hormone and cognitive impairment. ISRN Endocrinol 2013:856017. https://doi.org/10.1155/2013/856017

Asiaei F, Fazel A, Rajabzadeh AA, Hosseini M, Beheshti F, Seghatoleslam M (2017) Neuroprotective effects of Nigella sativa extract upon the hippocampus in PTU-induced hypothyroidism juvenile rats: a stereological study. Metab Brain Dis 32(5):1755–1765. https://doi.org/10.1007/s11011-017-0025-1

Baghcheghi Y, Beheshti F, Shafei MN, Salmani H, Sadeghnia HR, Soukhtanloo M, Anaeigoudari A, Hosseini M (2018a) The effects of vitamin E on brain derived neurotrophic factor, tissues oxidative damage and learning and memory of juvenile hypothyroid rats. Metab Brain Dis 33(3):713–724. https://doi.org/10.1007/s11011-017-0176-0

Baghcheghi Y, Hosseini M, Beheshti F, Salmani H, Anaeigoudari A (2018b) Thymoquinone reverses learning and memory impairments and brain tissue oxidative damage in hypothyroid juvenile rats. Arq Neuropsiquiatr 76(1):32–40. https://doi.org/10.1590/0004-282X20170182

Baghcheghi Y, Mansouri S, Beheshti F, Shafei MN, Salmani H, Reisi P, Anaeigoudari A, Bideskan AE, Hosseini M (2020) Neuroprotective and long term potentiation improving effects of vitamin E in juvenile hypothyroid rats. Int J Vitam Nutr Res 90(1–2):156–168. https://doi.org/10.1024/0300-9831/a000533

Bégin ME, Langlois MF, Lorrain D, Cunnane SC (2008) Thyroid function and cognition during aging. Curr Gerontol Geriatr Res 2008:474868. https://doi.org/10.1155/2008/474868

Beheshti F, Hosseini M, Shafei MN, Soukhtanloo M, Ghasemi S, Vafaee F, Zarepoor L (2017) The effects of Nigella sativa extract on hypothyroidism-associated learning and memory impairment during neonatal and juvenile growth in rats. Nutr Neurosci 20(1):49–59. https://doi.org/10.1179/1476830514Y.0000000144

Bernal J (2007) Thyroid hormone receptors in brain development and function. Nat Clin Pract Endocrinol Metab 3(3):249–259. https://doi.org/10.1038/ncpendmet0424

Beydoun MA, Beydoun HA, Kitner-Triolo MH, Kaufman JS, Evans MK, Zonderman AB (2013) Thyroid hormones are associated with cognitive function: moderation by sex, race, and depressive symptoms. J Clin Endocrinol Metab 98(8):3470–3481. https://doi.org/10.1210/jc.2013-1813

Budni J, Zomkowski AD, Engel D, Santos DB, dos Santos AA, Moretti M, Valvassori SS, Ornell F, Quevedo J, Farina M, Rodrigues AL (2012) Folic acid prevents depressive-like behavior and hippocampal antioxidant imbalance induced by restraint stress in mice. Exp Neurol 240:112–121. https://doi.org/10.1016/j.expneurol.2012.10.024

Calderón Guzmán D, Osnaya Brizuela N, Ortiz Herrera M, Juárez Olguín H, Valenzuela Peraza A, Hernández García E, Barragán Mejía G (2020) Folic acid increases levels of GHS in brain of rats with oxidative stress induced with 3-nitropropionic acid. Arch Physiol Biochem 126(1):1–6. https://doi.org/10.1080/13813455.2018.1484771

Chaalal A, Poirier R, Blum D, Laroche S, Enderlin V (2019) Thyroid hormone supplementation restores spatial memory, hippocampal markers of neuroinflammation, plasticity-related signaling molecules, and β-amyloid peptide load in hypothyroid rats. Mol Neurobiol 56(1):722–735. https://doi.org/10.1007/s12035-018-1111-z

Chakrabarti SK, Ghosh S, Banerjee S, Mukherjee S, Chowdhury S (2016) Oxidative stress in hypothyroid patients and the role of antioxidant supplementation. Indian J Endocrinol Metab 20(5):674–678. https://doi.org/10.4103/2230-8210.190555

Chan A, Tchantchou F, Graves V, Rozen R, Shea TB (2008) Dietary and genetic compromise in folate availability reduces acetylcholine, cognitive performance and increases aggression: critical role of S-adenosyl methionine. J Nutr Health Aging 12(4):252–261. https://doi.org/10.1007/BF02982630

Chen H, Liu S, Ji L, Wu T, Ji Y, Zhou Y, Zheng M, Zhang M, Xu W, Huang G (2016) Folic Acid supplementation mitigates alzheimer's disease by reducing inflammation: a randomized controlled trial. Mediators Inflamm 2016:5912146. https://doi.org/10.1155/2016/5912146

Cooke GE, Mullally S, Correia N, O'Mara SM, Gibney J (2014) Hippocampal volume is decreased in adults with hypothyroidism. Thyroid 24(3):433–440. https://doi.org/10.1089/thy.2013.0058

Crivello NA, Blusztajn JK, Joseph JA, Shukitt-Hale B, Smith DE (2010) Short-term nutritional folate deficiency in rats has a greater effect on choline and acetylcholine metabolism in the peripheral nervous system than in the brain, and this effect escalates with age. Nutr Res 30(10):722–730. https://doi.org/10.1016/j.nutres.2010.09.008

Dam K, Füchtemeier M, Farr TD, Boehm-Sturm P, Foddis M, Dirnagl U, Malysheva O, Caudill MA, Jadavji NM (2017) Increased homocysteine levels impair reference memory and reduce cortical levels of acetylcholine in a mouse model of vascular cognitive impairment. Behav Brain Res 15(321):201–208. https://doi.org/10.1016/j.bbr.2016.12.041

Ellman GL, Courtney KD, Andres VJr, Feather-Stone RM, (1961) A new and rapid colorimetric determination of acetylcholinesterase activity. Biochem Pharmacol 7:88–95. https://doi.org/10.1016/0006-2952(61)90145-9

Farrokhi E, Hosseini M, Beheshti F, Vafaee F, Hadjzadeh MA, Dastgheib SS (2014) Brain tissues oxidative damage as a possible mechanism of deleterious effects of propylthiouracil- induced hypothyroidism on learning and memory in neonatal and juvenile growth in rats. Basic Clin Neurosci 5(4):285–294

Fu A, Zhou R, Xu X (2014) The synthetic thyroid hormone, levothyroxine, protects cholinergic neurons in the hippocampus of naturally aged mice. Neural Regen Res 9(8):864–871. https://doi.org/10.4103/1673-5374.131602

Garcia A, Zanibbi K (2004) Homocysteine and cognitive function in elderly people. CMAJ 171(8):897–904. https://doi.org/10.1503/cmaj.1031586

Hosseini M, Dastghaib SS, Rafatpanah H, Hadjzadeh MA, Nahrevanian H, Farrokhi I (2010) Nitric oxide contributes to learning and memory deficits observed in hypothyroid rats during neonatal and juvenile growth. Clinics (sao Paulo) 65(11):1175–1181. https://doi.org/10.1590/s1807-59322010001100021

Ibrahim W, Tousson E, El-Masry T, Arafa N, Akela M (2012) The effect of folic acid as an antioxidant on the hypothalamic monoamines in experimentally induced hypothyroid rat. Toxicol Ind Health 28(3):253–261. https://doi.org/10.1177/0748233711410913

Khordad E, Alipour F, Beheshti F, Hosseini M, Rajabzadeh AA, Asiaei F, Seghatoleslam M (2018) Vitamin C prevents hypothyroidism associated neuronal damage in the hippocampus of neonatal and juvenile rats: a stereological study. J Chem Neuroanat 93:48–56. https://doi.org/10.1016/j.jchemneu.2017.11.011

Ma F, Wu T, Zhao J, Song A, Liu H, Xu W, Huang G (2016) Folic acid supplementation improves cognitive function by reducing the levels of peripheral inflammatory cytokines in elderly Chinese subjects with MCI. Sci Rep 6:37486. https://doi.org/10.1038/srep37486

Madesh M, Balasubramanian KA (1998) Microtiter plate assay for superoxide dismutase using MTT reduction by superoxide. Indian J Biochem Biophys 35(3):184–188

Majumdar S, Mukherjee S, Maiti A, Karmakar S, Das AS, Mukherjee M, Nanda A, Mitra C (2009) Folic acid or combination of folic acid and vitamin B(12) prevents short-term arsenic trioxide-induced systemic and mitochondrial dysfunction and DNA damage. Environ Toxicol 24(4):377–387. https://doi.org/10.1002/tox.20442

Masullo LF, Magalhães RA, Lemes RPG, de Almeida Filho TP, de Castro MF, Maia Filho PA, Cunha TOV, Quidute ARP, Fontenele EGP, Sun G, Martins MRA (2018) Levothyroxine replacement Improves oxidative status in primary hypothyroidism. Front Endocrinol (Lausanne) 9:655. https://doi.org/10.3389/fendo.2018.00655

Menegas S, Dal-Pont GC, Cararo JH, Varela RB, Aguiar-Geraldo JM, Possamai-Della T, Andersen ML, Quevedo J, Valvassori SS (2020) Efficacy of folic acid as an adjunct to lithium therapy on manic-like behaviors, oxidative stress and inflammatory parameters in an animal model of mania. Metab Brain Dis 35(2):413–425. https://doi.org/10.1007/s11011-019-00503-3.

Modaghegh MH, Ravari H, Haghighi MZ, Rajabnejad A (2016) Effect of folic acid therapy on homocysteine level in patients with atherosclerosis or Buerger's disease and in healthy individuals: A clinical trial. Electron Physician 8(10):3138-3143. .https://doi.org/10.19082/3138.

Réus GZ, Maciel AL, Abelaira HM, de Moura AB, de Souza TG, Dos Santos TR, Darabas AC, Parzianello M, Matos D, Abatti M, Vieira AC, Fucillini V, Michels M, Dal-Pizzol F, Quevedo J (2018) ω-3 and folic acid act against depressive-like behavior and oxidative damage in the brain of rats subjected to early- or late-life stress. Nutrition 53:120–133. https://doi.org/10.1016/j.nut.2018.03.006

Reynolds EH (2002) Folic acid, ageing, depression, and dementia. BMJ 324(7352):1512–1515. https://doi.org/10.1136/bmj.324.7352.1512

Shooshtari MK, Moazedi AA, Parham GA (2012) Memory and motor coordination improvement by folic acid supplementation in healthy adult male rats. Iran J Basic Med Sci 15(6):1173–1179

Singh R, Kanwar SS, Sood PK, Nehru B (2011) Beneficial effects of folic acid on enhancement of memory and antioxidant status in aged rat brain. Cell Mol Neurobiol 31(1):83–91. https://doi.org/10.1007/s10571-010-9557-1

Smith JW, Evans AT, Costall B, Smythe JW (2002) Thyroid hormones, brain function and cognition: a brief review. Neurosci Biobehav Rev 26(1):45–60. https://doi.org/10.1016/s0149-7634(01)00037-9

Venditti P, Di Meo S (2006) Thyroid hormone-induced oxidative stress. Cell Mol Life Sci 63(4):414–434. https://doi.org/10.1007/s00018-005-5457-9

Villanueva I, Alva-Sánchez C, Pacheco-Rosado J (2013) The role of thyroid hormones as inductors of oxidative stress and neurodegeneration. Oxid Med Cell Longev 2013:218145. https://doi.org/10.1155/2013/218145

Wang F, Zeng X, Zhu Y, Ning D, Liu J, Liu C, Jia X, Zhu D (2015) Effects of thyroxine and donepezil on hippocampal acetylcholine content, acetylcholinesterase activity, synaptotagmin-1 and SNAP-25 expression in hypothyroid adult rats. Mol Med Rep 11(2):775–782. https://doi.org/10.3892/mmr.2014.2825

Zhao Y, Huang G, Chen S, Gou Y, Dong Z, Zhang X (2016) Folic acid deficiency increases brain cell injury via autophagy enhancement after focal cerebral ischemia. J Nutr Biochem 38:41–49. https://doi.org/10.1016/j.jnutbio.2016.08.009
Acknowledgements
The authors appreciate the Vice Chancellor for Research and Technology, Mashhad University of Medical Sciences for financial support (NO: 991073).
Funding
This study was funded by Vice Chancellor for Research and Technology, Mashhad University of Medical Sciences with the following grant number: 991073.
Ethics declarations
Conflict of interest
The authors declare no conflict of interest.
Ethical approval
All procedures performed in this studies including animals were in accordance with the National Institutes of Health Guide for the Care and Use of Laboratory Animals and were approved by Ethical Committee of the Animal Research of Mashhad University of Medical Sciences (Ethical code: IR.MUMS.MEDICAL.REC.1399.639).
Data availability statement
The authors confirm that all data generated or analyzed during this study are included in this published article.
Additional information
Publisher's Note
Springer Nature remains neutral with regard to jurisdictional claims in published maps and institutional affiliations.
About this article
Cite this article
Amirahmadi, S., Hosseini, M., Ahmadabady, S. et al. Folic acid attenuated learning and memory impairment via inhibition of oxidative damage and acetylcholinesterase activity in hypothyroid rats. Metab Brain Dis (2021). https://doi.org/10.1007/s11011-021-00815-3
Received:

Accepted:

Published:
Keywords
Cholinergic dysfunction

Folic acid

Hypothyroidism

Learning and memory deficit

Oxidative injury