Abstract
In Wilson disease (WD), mutations in the gene encoding the ATP7B copper transport protein causes accumulation of copper especially in liver and brain. WD typically presents with hepatic and/or neuropsychiatric symptoms. Impaired cognition is a well-described feature in patients with neurological WD, while the reports on cognition in hepatic WD patients are fewer and less conclusive. We examined cognition in a cohort of WD patients with both phenotypes. In this cross-sectional pilot study, we investigated cognition in 28 stable Danish WD patients by the PortoSystemic Encephalopathy (PSE) and the Continuous Reaction Time (CRT) tests. Half of the patients were female, and their median age was 35.5 years (IQR 24.5). Their phenotype was hepatic in 14 (50%), neurologic in 10 (36%) and mixed in 4 (14%). The duration of treatment was > 2 year in all patients, and their condition was stable as judged by urinary copper excretion, liver enzymes, and clinical assessment. The hepatic patients did not show signs of liver failure. In total, 16 (57%) patients performed worse than normal in the PSE and/or the CRT tests. The two tests were correlated (rho = 0.60, p = 0.0007), but neither correlated with phenotype, MELD-, Child–Pugh score, 24 h-U-Cu, or treatment type. Measurable cognitive impairment was present in more than half of the stable WD patients independent of phenotype. Thus, our data questions the existence of a purely hepatic phenotype.
Access options
Buy single article
Instant access to the full article PDF.
US$ 39.95
Tax calculation will be finalised during checkout.
Subscribe to journal
Immediate online access to all issues from 2019. Subscription will auto renew annually.
US$ 79
Tax calculation will be finalised during checkout.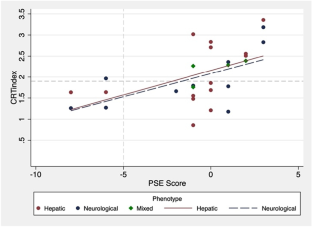 Data availability
The datasets used in the current study are available from the corresponding author on reasonable request.
Abbreviations
WD:

Wilson disease

PSE:

Portosystemic Encephalopathy test

CRT:

Continuous reaction time

MELD:

Model for End-stage Liver Disease
References
Björklund J et al (2018) High hepatic macrophage activation and low liver function in stable Wilson patients—a Danish cross-sectional study. Orphanet J Rare Dis 13(1):169

Colognesi M, Gabbia D, De Martin S (2020) Depression and cognitive impairment-extrahepatic manifestations of NAFLD and NASH. Biomedicines 8(7):229

Dezortova M et al (2020) Multiparametric quantitative brain MRI in neurological and hepatic forms of Wilson's disease. J Magn Reson Imaging 51(6):1829–1835

Elsass P (1986) Continuous reaction times in cerebral dysfunction. Acta Neurol Scand 73:225–246

Elsass P et al (1985) Discrimination between organic and hepatic encephalopathy by means of continuous reaction times. Liver 5(1):29–34

European Association for the Study of the Liver (2012) EASL clinical practice guidelines: Wilson's disease. J Hepatol 56(3):671–685

Favre E et al (2017) Cognitive abilities of children with neurological and liver forms of Wilson disease. J Pediatr Gastroenterol Nutr 64(3):436–439

Frota NA et al (2013) Cognitive impairment and magnetic resonance imaging correlations in Wilson's disease. Acta Neurol Scand 127(6):391–398

Grandis DJ et al (2017) Wilson's disease and cardiac myopathy. Am J Cardiol 120(11):2056–2060

Hegde S et al (2010) Cognitive profile and structural findings in Wilson's disease: a neuropsychological and MRI-based study. Neurol India 58(5):708–713

Iwański S et al (2015) Diverse attention deficits in patients with neurologically symptomatic and asymptomatic Wilson's disease. Neuropsychology 29(1):25–30

Kjærgaard K et al (2021) Cognitive dysfunction in non-alcoholic fatty liver disease-current knowledge, mechanisms and perspectives. J Clin Med 10(4):673

Lauridsen MM et al (2012) Gender and age effects on the continuous reaction times method in volunteers and patients with cirrhosis. Metab Brain Dis 27(4):559–565

Lauridsen MM et al (2013) The continuous reaction times method for diagnosing, grading, and monitoring minimal/covert hepatic encephalopathy. Metab Brain Dis 28(2):231–234

Litwin T et al (2018) Psychiatric manifestations in Wilson's disease: possibilities and difficulties for treatment. Ther Adv Psychopharmacol 8(7):199–211

Nabi E, Bajaj JS (2014) Useful tests for hepatic encephalopathy in clinical practice. Curr Gastroenterol Rep 16(1):362

Perry W, Hilsabeck RC, Hassanein TI (2008) Cognitive dysfunction in chronic hepatitis C: a review. Dig Dis Sci 53(2):307–321

San Martín-Valenzuela C et al (2020) Motor and cognitive performance in patients with liver cirrhosis with minimal hepatic encephalopathy. J Clin Med 9(7):2154

Schaefer M et al (2016) Wilson disease: health-related quality of life and risk for depression. Clin Res Hepatol Gastroenterol 40(3):349–356

Scheinberg IH et al (1987) Penicillamine may detoxify copper in Wilson's disease. The Lancet 330(8550):95

Seniów J et al (2002) Cognitive functioning in neurologically symptomatic and asymptomatic forms of Wilson's disease. Mov Disord 17(5):1077–1083

Tinaz S et al (2020) Structural and functional brain changes in hepatic and neurological Wilson disease. Brain Imaging Behav. https://doi.org/10.1007/s11682-020-00420-5

Weissenborn K et al (2001) Neuropsychological characterization of hepatic encephalopathy. J Hepatol 34:768–773

Wenisch E et al (2013) Cognitive profile in Wilson's disease: a case series of 31 patients. Rev Neurol (paris) 169(12):944–949

Yohannes AM et al (2017) Cognitive impairment in chronic obstructive pulmonary disease and chronic heart failure: a systematic review and meta-analysis of observational studies. J Am Med Dir Assoc 18(5):451.e1-451.e11

Yu XE et al (2019) MR imaging of the brain in neurologic wilson disease. AJNR Am J Neuroradiol 40(1):178–183
Funding
This study was supported with a grant from "The memorial foundation of manufacturer Vilhelm Pedersen and wife—and the Aarhus Wilson consortium". Design of the study and collection, analysis and interpretation of data as well as writing of the manuscript was independently performed by the research group. Research grants were obtained and accounted for in the Competing interest's section.
Ethics declarations
Ethics approval and consent to participate
The study was approved by The Central Denmark Region Committees on Health Research Ethics (50611) and approved by the Danish Data Protection Agency (1–16-02–614-15). The study was conducted in accordance with the Helsinki II declaration.
Consent for publication
Not applicable.
Competing interests
H.G.: research grants from Intercept, Abbvie, NOVO Nordisk Foundation, Arla, ADS AIPHIA Development Services AG, and "Savværksejer Jeppe Juhl og hustru Ovita Juhls mindelegat". Advisory board at Ipsen. Speaker Norgine.
Additional information
Publisher's note
Springer Nature remains neutral with regard to jurisdictional claims in published maps and institutional affiliations.
About this article
Cite this article
Kirk, F.T., Munk, D.E., Laursen, T.L. et al. Cognitive impairment in stable Wilson disease across phenotype. Metab Brain Dis 36, 2173–2177 (2021). https://doi.org/10.1007/s11011-021-00804-6
Received:

Accepted:

Published:

Issue Date:
Keywords
Wilson disease

Neurological phenotype

Hepatic phenotype

Portosystemic encephalopathy test

Continuous reaction test

Cognitive function