Abstract
It has been shown that following demyelination, Oligodendrocyte Progenitor Cells (OPCs) migrate to the lesion site and begin to proliferate, and differentiate. This study aimed to investigate the effects of Hydroxychloroquine (HCQ) on the expression of OLIG-2 and PDGFR-α markers during the myelination process. C57BL/6 mice were fed cuprizone pellets for 5 weeks to induce demyelination and return to a normal diet for 1 week to stimulate remyelination. During the Phase I all of the animals except CPZ and Vehicle groups were exposed to HCQ (2.5, 10, and 100 mg/kg) via drinking water. At the end of the study, animals were euthanized, perfused and the brain samples were assessed for myelination and immunohistochemistry evaluation. What is remarkable is the high rate of Olig2 + cells in the groups treated with 10 and 100 mg/kg HCQ in the demyelination phase and its decreasing trend in the remyelination phase. However, there was no significant difference between groups during phase I and Phase II based on the percentage of olig-2+/total cells in the corpus callosum region. The number of PDGFR-α+ cells in the group treated with 10 mg/kg HCQ was significant in the first phase (p value < 0.05). Considering that the 100 mg/kg HCQ group had the highest level of PDGFR-α as well as the highest level of myelin repair in LFB staining, it could be inferred that it was the most effective dose in inducing proliferation and migration of OPCs.
Access options
Buy single article
Instant access to the full article PDF.
US$ 39.95
Tax calculation will be finalised during checkout.
Subscribe to journal
Immediate online access to all issues from 2019. Subscription will auto renew annually.
US$ 79
Tax calculation will be finalised during checkout.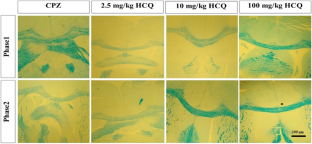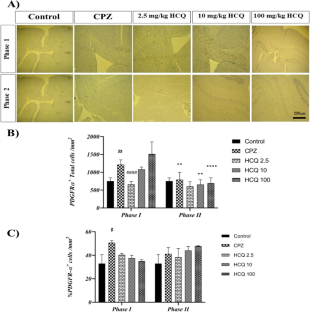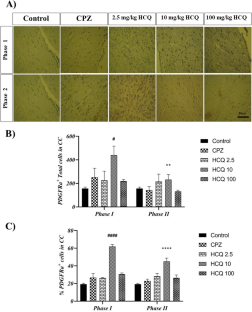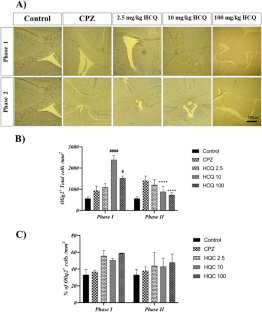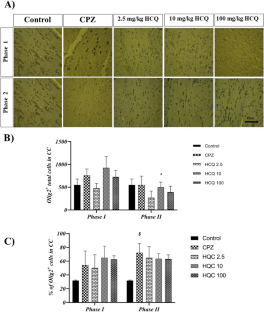 References
Aliomrani M, Sahraian MA, Shirkhanloo H, Sharifzadeh M, Khoshayand MR, Ghahremani MH (2016) Blood concentrations of cadmium and lead in multiple sclerosis patients from Iran. Iran J Pharm Res IJPR 15(4):825

Aliomrani M, Sahraian MA, Shirkhanloo H, Sharifzadeh M, Khoshayand MR, Ghahremani MH (2017) Correlation between heavy metal exposure and GSTM1 polymorphism in Iranian multiple sclerosis patients. Neurol Sci 38(7):1271–1278

Armstrong RC, Le TQ, Frost EE, Borke RC, Vana AC (2002) Absence of fibroblast growth factor 2 promotes oligodendroglial repopulation of demyelinated white matter. J Neurosci 22(19):8574–8585. https://doi.org/10.1523/JNEUROSCI.22-19-08574.2002

Arnett HA (2004) bHLH transcription factor olig1 is required to repair demyelinated lesions in the CNS. Science 306(5704):2111–2115. https://doi.org/10.1126/science.1103709

Baxi EG et al (2017) Lineage tracing reveals dynamic changes in oligodendrocyte precursor cells following cuprizone-induced demyelination. Glia 65(12):2087–2098. https://doi.org/10.1002/glia.23229

Belbasis L, Bellou V, Evangelou E, Ioannidis JPA, Tzoulaki I (2015) Environmental risk factors and multiple sclerosis: an umbrella review of systematic reviews and meta-analyses. Lancet Neurol 14(3):263–273. https://doi.org/10.1016/S1474-4422(14)70267-4

Blakemore WF, Franklin RJM (2008) Remyelination in experimental models of toxin-induced demyelination, pp 193–212

Brown D, Moezzi D, Dong Y, Koch M, Yong VW (2021) Combination of hydroxychloroquine and indapamide attenuates neurodegeneration in models relevant to multiple sclerosis. Neurotherapeutics 18(1):387–400

Emery B (2010) Regulation of oligodendrocyte differentiation and myelination. Science 330(6005):779–782

Faissner S et al (2018) Unexpected additive effects of minocycline and hydroxychloroquine in models of multiple sclerosis: prospective combination treatment for progressive disease? Mult Scler J 24(12):1543–1556

Ffrench C, Blaschuk KL, Frost EE (2000) No title the regulation of proliferation and differentiation in oligodendrocyte progenitor cells by alphaV integrins. Development 127(9):1961–1969

Ffrench C, Garcion E, Faissner A (2001) No title knockout mice reveal a contribution of the extracellular matrix molecule tenascin-C to neural precursor proliferation and migration. Development 128(13):2485–2496

Franklin RJM, Ffrench-Constant C (2008) Remyelination in the CNS: from biology to therapy. Nat Rev Neurosci 9(11):839–855. https://doi.org/10.1038/nrn2480

Franklin RJM, Goldman SA (2015) Glia disease and repair—remyelination. Cold Spring Harb Perspect Biol 7(7):a020594. https://doi.org/10.1101/cshperspect.a020594

Frohman CS, Racke EM, Raine MK (2006) No title multiple sclerosis—the plaque and its pathogenesis. N Engl J Med 354:942–955

Fyffe-Maricich SL, Karlo JC, Landreth GE, Miller RH (2011) The ERK2 mitogen-activated protein kinase regulates the timing of oligodendrocyte differentiation. J Neurosci 31(3):843–850. https://doi.org/10.1523/JNEUROSCI.3239-10.2011

Gage GJ, Kipke DR, Shain W (2012) Whole animal perfusion fixation for rodents. J vis Exp. https://doi.org/10.3791/3564

Goldenberg MM (2012) Multiple sclerosis review. Pharm Ther 37(3):175

Gustafsson L, Lindstrom B, Grahnen A, Alvan G (1987) Chloroquine excretion following malaria prophylaxis. Br J Clin Pharmacol 24(2):221–224. https://doi.org/10.1111/j.1365-2125.1987.tb03165.x

Jana M, Pahan K. Astrocytes, oligodendrocytes and schwann cells. In: Neuroimmune pharmacology, Springer, 2017, pp. 117–140.

Jia Y et al (2019) Cordycepin (3′-deoxyadenosine) promotes remyelination via suppression of neuroinflammation in a cuprizone-induced mouse model of demyelination. Int Immunopharmacol 75:105777. https://doi.org/10.1016/j.intimp.2019.105777

Kiernan BW, Götz B, Faissner A, Ffrench-Constant C (1996) Tenascin-C inhibits oligodendrocyte precursor cell migration by both adhesion-dependent and adhesion-independent mechanisms. Mol Cell Neurosci 7(4):322–335. https://doi.org/10.1006/mcne.1996.0024

Koch MW et al (2015) Hydroxychloroquine reduces microglial activity and attenuates experimental autoimmune encephalomyelitis. J Neurol Sci 358(1–2):131–137

Kuhlmann T, Miron V, Cuo Q, Wegner C, Antel J, Bruck W (2008) Differentiation block of oligodendroglial progenitor cells as a cause for remyelination failure in chronic multiple sclerosis. Brain 131(7):1749–1758. https://doi.org/10.1093/brain/awn096

Kuhn HG, Palmer TD, Fuchs E (2001) Adult neurogenesis: a compensatory mechanism for neuronal damage. Eur Arch Psychiatry Clin Neurosci 251(4):152–158. https://doi.org/10.1007/s004060170035

Laule C et al (2006) Myelin water imaging in multiple sclerosis: quantitative correlations with histopathology. Mult Scler J 12(6):747–753. https://doi.org/10.1177/1352458506070928

Mackenzie AH (1983) Dose refinements in long-term therapy of rheumatoid arthritis with antimalarials. Am J Med 75(1):40–45. https://doi.org/10.1016/0002-9343(83)91269-X

Mazloumfard F, Mirian M, Eftekhari S-M, Aliomrani M (2020) Hydroxychloroquine effects on miR-155–3p and miR-219 expression changes in animal model of multiple sclerosis. Metab Brain Dis 35:1–9

McKinnon RD, Matsui T, Dubois-Dalcq M, Aaronsont SA (1990) FGF modulates the PDGF-driven pathway of oligodendrocyte development. Neuron 5(5):603–614. https://doi.org/10.1016/0896-6273(90)90215-2

Miller RH, Fyffe-Maricich S, Caprariello AC. Animal models for the study of multiple sclerosis. In: Animal models for the study of human disease, Elsevier, 2017, pp. 967–988.

Milo R, Kahana E (2010) Multiple sclerosis: geoepidemiology, genetics and the environment. Autoimmun Rev 9(5):A387–A394. https://doi.org/10.1016/j.autrev.2009.11.010

Othman A, Frim DM, Polak P, Vujicic S, Arnason BGW, Boullerne AI (2011) Olig1 is expressed in human oligodendrocytes during maturation and regeneration. Glia 59(6):914–926. https://doi.org/10.1002/glia.21163

Ou Z et al (2016) Olig2-targeted G-protein-coupled receptor Gpr17 regulates oligodendrocyte survival in response to lysolecithin-induced demyelination. J Neurosci 36(41):10560–10573. https://doi.org/10.1523/JNEUROSCI.0898-16.2016

Paknejad B, Shirkhanloo H, Aliomrani M (2019) Is There any relevance between serum heavy metal concentration and BBB leakage in multiple sclerosis patients? Biol Trace Elem Res 190(2):289–294

Plantone D, Koudriavtseva T (2018) Current and future use of chloroquine and hydroxychloroquine in infectious, immune, neoplastic, and neurological diseases: a mini-review. Clin Drug Investig 38(8):653–671. https://doi.org/10.1007/s40261-018-0656-y

Praet J, Guglielmetti C, Berneman Z, Van der Linden A, Ponsaerts P (2014) Cellular and molecular neuropathology of the cuprizone mouse model: clinical relevance for multiple sclerosis. Neurosci Biobehav Rev 47:485–505. https://doi.org/10.1016/j.neubiorev.2014.10.004

Pringle N, Collarini EJ, Mosley MJ, Heldin CH, Westermark B, Richardson WD (1989) PDGF A chain homodimers drive proliferation of bipotential (O-2A) glial progenitor cells in the developing rat optic nerve. EMBO J 8(4):1049–1056. https://doi.org/10.1002/j.1460-2075.1989.tb03472.x

Procaccini C, De Rosa V, Pucino V, Formisano L, Matarese G (2015) Animal models of multiple sclerosis. Eur J Pharmacol 759:182–191. https://doi.org/10.1016/j.ejphar.2015.03.042

Rodriguez EG et al (2014) Oligodendroglia in cortical multiple sclerosis lesions decrease with disease progression, but regenerate after repeated experimental demyelination. Acta Neuropathol 128(2):231–246. https://doi.org/10.1007/s00401-014-1260-8

Sim FJ, Zhao C, Penderis J, Franklin RJM (2002) The age-related decrease in CNS remyelination efficiency is attributable to an impairment of both oligodendrocyte progenitor recruitment and differentiation. J Neurosci 22(7):2451–2459. https://doi.org/10.1523/JNEUROSCI.22-07-02451.2002

Tian Y, Yin H, Deng X, Tang B, Ren X, Jiang T (2018) CXCL12 induces migration of oligodendrocyte precursor cells through the CXCR4-activated MEK/ERK and PI3K/AKT pathways. Mol Med Rep 18(5):4374–4380

Tsiperson V et al (2015) Brain-derived neurotrophic factor deficiency restricts proliferation of oligodendrocyte progenitors following cuprizone-induced demyelination. ASN Neuro 7(1):175909141456687. https://doi.org/10.1177/1759091414566878

Wegener A et al (2015) Gain of Olig2 function in oligodendrocyte progenitors promotes remyelination. Brain 138(1):120–135. https://doi.org/10.1093/brain/awu375

Woodruff RH, Fruttiger M, Richardson WD, Franklin RJ (2004) Platelet-derived growth factor regulates oligodendrocyte progenitor numbers in adult CNS and their response following CNS demyelination. Mol Cell Neurosci 25(2):252–262. https://doi.org/10.1016/j.mcn.2003.10.014

Xie B et al (2020) The multi-targets mechanism of hydroxychloroquine in the treatment of systemic lupus erythematosus based on network pharmacology. Lupus 29(13):1704–1711

Zawadzka M et al (2010) CNS-resident glial progenitor/stem cells produce schwann cells as well as oligodendrocytes during repair of CNS demyelination. Cell Stem Cell 6(6):578–590. https://doi.org/10.1016/j.stem.2010.04.002

Zeldich E, Chen C-D, Avila R, Medicetty S, Abraham CR (2015) The anti-aging protein klotho enhances remyelination following cuprizone-induced demyelination. J Mol Neurosci 57(2):185–196. https://doi.org/10.1007/s12031-015-0598-2

Zhang Y et al (2012) Quetiapine enhances oligodendrocyte regeneration and myelin repair after cuprizone-induced demyelination. Schizophr Res 138(1):8–17. https://doi.org/10.1016/j.schres.2012.04.006

Zhu Y et al (2010) Control of oligodendrocyte generation and proliferation by Shp2 protein tyrosine phosphatase. Glia 58(12):1407–1414. https://doi.org/10.1002/glia.21016
Funding
This study was supported by a grant (Project No. 397640) from Isfahan Pharmaceutical Science Research Center, Isfahan University of Medical Sciences, Isfahan, Iran.
Ethics declarations
Conflict of interest
The authors declare that they have no conflict of interest.
Ethics approval
All procedures were approved by the Iran National Committee for Ethics in Biomedical Research (IR.MUI.RESEARCH.REC.1397.451) which was performed in accordance with the Guidelines for the Care and Use of Laboratory Animals.
Additional information
Publisher's Note
Springer Nature remains neutral with regard to jurisdictional claims in published maps and institutional affiliations.
About this article
Cite this article
Safaei, H.A., Eftekhari, S.M. & Aliomrani, M. Analysis of platelet-derived growth factor receptor A and oligodendrocyte transcription factor 2 markers following Hydroxychloroquine administration in animal induced multiple sclerosis model. Metab Brain Dis 36, 2101–2110 (2021). https://doi.org/10.1007/s11011-021-00802-8
Received:

Accepted:

Published:

Issue Date:
Keywords
Cuprizone

Hydroxychloroquine

PDGFR-α

Olig-2

OPC

Myelin

Immunohistochemistry