Abstract
Hypertension (HT) is one of the main causes of vascular dementia, lead to cognitive decline. Here, we investigated the relationship between cerebral microvessels, pericytes, extracellular matrix (ECM) accumulation, blood–brain barrier (BBB) breakdown, and memory impairment at mid-life in a chronic hypertension animal model. Spontaneously hypertensive rats (SHRs) (n = 20) are chosen for the model and age matched Wistar rats (n = 16) as controls. Changes in brain microvasculature and in vitro experiments are shown with immunofluorescence studies and cognition with open field, novel object recognition, and Y maze tests. There was a significant reduction in pericyte coverage in SHRs (p = 0.021), while the quantitative parameters of the cerebral microvascular network were not different between groups. On the other hand, parenchymal albumin leakage, as a Blood–brain barrier (BBB) breakdown marker, was prominent in SHRs (p = 0.023). Extracellular matrix (ECM) components, collagen type 1, 3 and 4 were significantly increased (accumulated) around microvasculature in SHRs (p = 0.011, p = 0.013, p = 0.037, respectively). Furthermore, in vitro experiments demonstrated that human brain vascular pericytes but not astrocytes and endothelial cells secreted type I collagen upon TGFβ1 exposure pointing out a possible role of pericytes in increased collagen accumulation around cerebral microvasculature due to HT. Furthermore, valsartan treatment decreased the amount of collagen type 1 secreted by pericytes after TGFβ1 exposure. At the time of evaluation, SHRs did not demonstrate cognitive decline and memory impairments. Our results showed that chronic HT causes ECM accumulation and BBB leakage before leading to memory impairments and therefore, pericytes could be a novel target for preventing vascular dementia.
Access options
Buy single article
Instant access to the full article PDF.
US$ 39.95
Tax calculation will be finalised during checkout.
Subscribe to journal
Immediate online access to all issues from 2019. Subscription will auto renew annually.
US$ 79
Tax calculation will be finalised during checkout.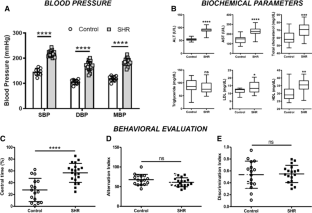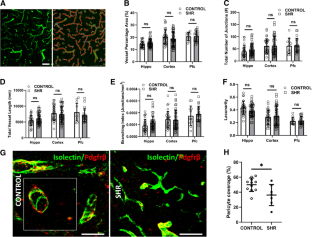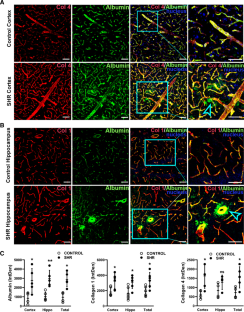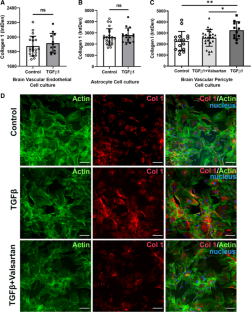 References
Agata J et al (2004) Angiotensin II receptor blocker prevents increased arterial stiffness in patients with essential hypertension. Circ J 68(12):1194–1198. https://doi.org/10.1253/circj.68.1194. Japan

Almutairi MMA et al (2016) Factors controlling permeability of the blood-brain barrier. Cell Mol Life Sci 73(1):57–77. https://doi.org/10.1007/s00018-015-2050-8. Switzerland

Antunes M, Biala G (2012) The novel object recognition memory: neurobiology, test procedure, and its modifications. Cogn Process 13(2):93–110. https://doi.org/10.1007/s10339-011-0430-z

Bailey EL et al (2011) Cerebral small vessel endothelial structural changes predate hypertension in stroke-prone spontaneously hypertensive rats: a blinded, controlled immunohistochemical study of 5- to 21-week-old rats. Neuropathol Appl Neurobiol 37(7):711–726. https://doi.org/10.1111/j.1365-2990.2011.01170.x. England

Bailey EL et al (2018) Effects of dietary salt on gene and protein expression in brain tissue of a model of sporadic small vessel disease. Clin Sci (London, England : 1979) 132(12):1315–1328. https://doi.org/10.1042/CS20171572

Bálint AR et al (2019) Aging impairs cerebrovascular reactivity at preserved resting cerebral arteriolar tone and vascular density in the laboratory rat. Front Aging Neurosci 11:301. https://doi.org/10.3389/fnagi.2019.00301

Barnes DE, Yaffe K (2011) The projected effect of risk factor reduction on Alzheimer's disease prevalence. Lancet Neurol 10(9):819–828. https://doi.org/10.1016/S1474-4422(11)70072-2

Benetos A et al (2002) Influence of age, risk factors, and cardiovascular and renal disease on arterial stiffness: clinical applications. Am J Hypertens 15(12):1101–1108. https://doi.org/10.1016/S0895-7061(02)03029-7

Birbrair A et al (2014) Type-1 pericytes accumulate after tissue injury and produce collagen in an organ-dependent manner. Stem Cell Res Ther 5(6):122. https://doi.org/10.1186/scrt512

Calzavara MB et al (2004) Role of anxiety levels in memory performance of spontaneously hypertensive rats. Behav Pharmacol 15(8):545–553. https://doi.org/10.1097/00008877-200412000-00003. England

Canfield AE et al (1990) Modulation of extracellular matrix biosynthesis by bovine retinal pericytes in vitro: effects of the substratum and cell density. J Cell Sci 96(Pt 1):159–169. England

de Leeuw F-E et al (2002) Hypertension and cerebral white matter lesions in a prospective cohort study. Brain 125(Pt 4):765–772. https://doi.org/10.1093/brain/awf077. England

dela Peña I et al (2015) Individual differences in novelty-seeking behavior in spontaneously hypertensive rats: enhanced sensitivity to the reinforcing effect of methylphenidate in the high novelty-preferring subpopulation. J Neurosci Methods 252(48):54. https://doi.org/10.1016/j.jneumeth.2014.08.019. Netherlands

Denver P et al (2019) A novel model of mixed vascular dementia incorporating hypertension in a rat model of alzheimer's disease. Front Physiol Switzerland 10:1269. https://doi.org/10.3389/fphys.2019.01269

Derhaschnig U et al (2002) Increased levels of transforming growth factor-beta1 in essential hypertension. Am J Hypertens 15(3):207–211. https://doi.org/10.1016/s0895-7061(01)02327-5. United States

Farkas E, Luiten PG (2001) Cerebral microvascular pathology in aging and Alzheimer's disease. Prog Neurobiol 64(6):575–611. https://doi.org/10.1016/s0301-0082(00)00068-x. England

Farkas E et al (2000) Are Alzheimer's disease, hypertension, and cerebrocapillary damage related? Neurobiol Aging 21(2):235–243. https://doi.org/10.1016/s0197-4580(00)00122-6. United States

Farkas E et al (2001) Calcium antagonists decrease capillary wall damage in aging hypertensive rat brain. Neurobiol Aging 22(2):299–309. https://doi.org/10.1016/s0197-4580(00)00225-6. United States

Göritz C et al (2011) A pericyte origin of spinal cord scar tissue. Science (New York, N.Y.) 333(6039):238–242. https://doi.org/10.1126/science.1203165. United States

Harvey A et al (2016) Vascular fibrosis in aging and hypertension: molecular mechanisms and clinical implications. Can J Cardiol 32(5):659–668. https://doi.org/10.1016/j.cjca.2016.02.070

Held F et al (2017) Vascular basement membrane alterations and beta-amyloid accumulations in an animal model of cerebral small vessel disease. Clin Sci (London, England : 1979) 131(10):1001–1013. https://doi.org/10.1042/CS20170004. England

Huang A et al (2020) Endogenous CCN5 participates in angiotensin II/TGF-β(1) networking of cardiac fibrosis in high angiotensin II-induced hypertensive heart failure. Front Pharmacol 11:1235. https://doi.org/10.3389/fphar.2020.01235

Hughes RN (2004) The value of spontaneous alternation behavior (SAB) as a test of retention in pharmacological investigations of memory. Neurosci Biobehav Rev 28(5):497–505. https://doi.org/10.1016/j.neubiorev.2004.06.006. United States

Kose N et al (2007) Altered expression of basement membrane-related molecules in rat brain pericyte, endothelial, and astrocyte cell lines after transforming growth factor-beta1 treatment. Drug Metab Pharmacokinet 22(4):255–266. https://doi.org/10.2133/dmpk.22.255. England

Langen B, Dost R (2011) Comparison of SHR, WKY and Wistar rats in different behavioural animal models: effect of dopamine D1 and alpha2 agonists. Atten Defic Hyperact Disord 3(1):1–12. https://doi.org/10.1007/s12402-010-0034-y. Austria

Lawes CMM et al (2004) Blood pressure and stroke: an overview of published reviews. Stroke 35(4):1024. United States

Leffa DT et al (2019) Systematic review and meta-analysis of the behavioral effects of methylphenidate in the spontaneously hypertensive rat model of attention-deficit/hyperactivity disorder. Neurosci Biobehav Rev 100:166–179. https://doi.org/10.1016/j.neubiorev.2019.02.019. United States

Leger M et al (2013) Object recognition test in mice. Nat Protoc 8(12):2531–2537. https://doi.org/10.1038/nprot.2013.155. England

Lennon MJ et al (2019) Midlife hypertension and alzheimer's disease: a systematic review and meta-analysis. J Alzheimers Dis 71(1):307–316. https://doi.org/10.3233/JAD-190474. Netherlands

Li W et al (1984) Stimulation of retinal capillary pericyte protein and collagen synthesis in culture by high-glucose concentration. Diabetes 33(8):785–789. https://doi.org/10.2337/diab.33.8.785. United States

Lin S-L et al (2008) Pericytes and perivascular fibroblasts are the primary source of collagen-producing cells in obstructive fibrosis of the kidney. Am J Pathol 173(6):1617–1627. https://doi.org/10.2353/ajpath.2008.080433

Manolio TA, Olson J, Longstreth WT (2003) Hypertension and cognitive function: pathophysiologic effects of hypertension on the brain. Curr Hypertens Rep 5(3):255–261. https://doi.org/10.1007/s11906-003-0029-6. United States

McGrath ER et al (2017) Blood pressure from mid- to late life and risk of incident dementia. Neurology 89(24):2447–2454. https://doi.org/10.1212/WNL.0000000000004741

Nation DA et al (2019) Blood-brain barrier breakdown is an early biomarker of human cognitive dysfunction. Nat Med 25(2):270–276. https://doi.org/10.1038/s41591-018-0297-y. United States

Norton S et al (2014) Potential for primary prevention of Alzheimer's disease: an analysis of population-based data. Lancet Neurol 13(8):788–794. https://doi.org/10.1016/S1474-4422(14)70136-X. England

Ohji M, SundarRaj N, Thoft RA (1993) Transforming growth factor-beta stimulates collagen and fibronectin synthesis by human corneal stromal fibroblasts in vitro. Curr Eye Res 12(8):703–709. https://doi.org/10.3109/02713689308995765. England

Paiardi S et al (2009) Immunohistochemical evaluation of microvascular rarefaction in hypertensive humans and in spontaneously hypertensive rats. Clin Hemorheol Microcirc 42(4):259–268. https://doi.org/10.3233/CH-2009-1195. Netherlands

Pantoni L (2010) Cerebral small vessel disease: from pathogenesis and clinical characteristics to therapeutic challenges. Lancet Neurol 9(7):689–701. https://doi.org/10.1016/S1474-4422(10)70104-6. England

Prince M et al (2013) The global prevalence of dementia: a systematic review and metaanalysis. Alzheimers Dement 9(1):63-75.e2. https://doi.org/10.1016/j.jalz.2012.11.007. United States

Roggendorf W, Opitz H, Schuppan D (1988) Altered expression of collagen type VI in brain vessels of patients with chronic hypertension A comparison with the distribution of collagen IV and procollagen III. Acta Neuropathol 77(1):55–60. https://doi.org/10.1007/bf00688243. Germany

Rust R et al (2020) A practical guide to the automated analysis of vascular growth, maturation and injury in the brain. Front Neurosci 14:244. https://doi.org/10.3389/fnins.2020.00244

Schreiber S et al (2012) The pathologic cascade of cerebrovascular lesions in SHRSP: is erythrocyte accumulation an early phase? J Cereb Blood Flow Metab 32(2):278–290. https://doi.org/10.1038/jcbfm.2011.122

Sokolova IA et al (1985) Rarefication of the arterioles and capillary network in the brain of rats with different forms of hypertension. Microvasc Res 30(1):1–9. https://doi.org/10.1016/0026-2862(85)90032-9. United States

Stefanovic B (2013) RNA protein interactions governing expression of the most abundant protein in human body, type I collagen. Wiley Interdiscip Rev RNA 4(5):535–545. https://doi.org/10.1002/wrna.1177

Swislocki A, Tsuzuki A (1993) Insulin resistance and hypertension: glucose intolerance, hyperinsulinemia, and elevated free fatty acids in the lean spontaneously hypertensive rat. Am J Med Sci 306(5):282–286. https://doi.org/10.1097/00000441-199311000-00002. United States

Ueno M et al (2004) Blood-brain barrier is impaired in the hippocampus of young adult spontaneously hypertensive rats. Acta Neuropathol 107(6):532–538. https://doi.org/10.1007/s00401-004-0845-z. Germany

Uspenskaia O et al (2004) Aging is associated with increased collagen type IV accumulation in the basal lamina of human cerebral microvessels. BMC Neurosci 5:37. https://doi.org/10.1186/1471-2202-5-37. BioMed Central

Walsh RN, Cummins RA (1976) The open-field test: a critical review. Psychol Bull 83(3):482–504. United States

Wang Y et al (2018) Blood-brain barrier disruption and perivascular beta-amyloid accumulation in the brain of aged rats with spontaneous hypertension: evaluation with dynamic contrast-enhanced magnetic resonance imaging. Korean J Radiol 19(3):498–507. https://doi.org/10.3348/kjr.2018.19.3.498. Korea (South)

Zudaire E et al (2011) A computational tool for quantitative analysis of vascular networks. PLoS ONE 6(11):e27385. https://doi.org/10.1371/journal.pone.0027385
Acknowledgements
The authors gratefully acknowledge use of the services and facilities of the Koç University Research Center for Translational Medicine (KUTTAM), funded by the Republic of Turkey Ministry of Development. The content is solely the responsibility of the authors and does not necessarily represent the official views of the Ministry of Development. We are also grateful to Prof. Dr. Turgay Dalkara for critically reading the manuscript.
Funding
This research is funded by Koç University – Seed Fund (SF.00051) of Prof. Yasemin Gürsoy Özdemir.
Ethics declarations
Ethical approval
All experiments and procedures were applied according to the protocols and criterions approved by the Institutional Animal Care and Use Committee (IACUC) of Koç University with 2017.HADYEK.003 approval number, according to Directive 2010/63/EU of the European Parliament and of the Council on the Protection of Animals Used for Scientific Purposes. All experiments were reported compliance with the Animal Research: Reporting in Vivo Experiments (ARRIVE) guidelines.
Conflict of interest
Authors declare no conflict of interest.
Additional information
Publisher's note
Springer Nature remains neutral with regard to jurisdictional claims in published maps and institutional affiliations.
The data that support the findings of this study are available on request from the corresponding author.
About this article
Cite this article
Özkan, E., Çetin-Taş, Y., Şekerdağ, E. et al. Blood–brain barrier leakage and perivascular collagen accumulation precede microvessel rarefaction and memory impairment in a chronic hypertension animal model. Metab Brain Dis (2021). https://doi.org/10.1007/s11011-021-00767-8
Received:

Accepted:

Published:
Keywords
Blood–brain barrier

Collagen

Dementia

Pericyte

Spontaneously hypertensive rats

Valsartan