Abstract
Kelch-like ECH associated-protein 1 (Keap1)-nuclear factor erythroid 2-related factor 2 (Nrf2) signaling pathway is thought to be the key regulatory process defensing oxidative stress in multiple organs. Type 2 diabetes mellitus (T2DM) and Alzheimer's disease (AD) are both serious global health problems with high prevalence. A growing number of literatures have suggested a possible link between Keap1-Nrf2 signaling pathway and the pathological changes of T2DM, AD as well as T2DM-related AD. The current review mainly discusses how the damaged Keap1-Nrf2 signaling pathway leads to dysregulated redox molecular signaling, which may contribute to the pathogenesis of AD and T2DM-related cognitive dysfunction, as well as some compounds targeting this pathway. The further exploration of the mechanisms of this pathway could provide novel therapeutic strategies to improve cognitive function, through restoration of expression or translocation of Nrf2 and scavenging excessive free radicals.
Access options
Buy single article
Instant access to the full article PDF.
US$ 39.95
Tax calculation will be finalised during checkout.
Subscribe to journal
Immediate online access to all issues from 2019. Subscription will auto renew annually.
US$ 79
Tax calculation will be finalised during checkout.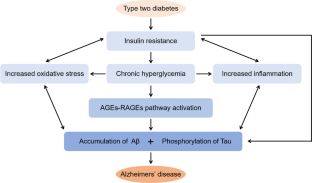 Data availability
All data, models, and code generated or used during the study appear in the submitted article. The data will be available under reasonable request.
Funding
This work was funded by grants from the Key Research and Development Program of Ningxia (2019BFG02017); and the National Natural Science Foundation of China (81703520).
Ethics declarations
Ethical approval
This article does not contain any studies with human participants or animals performed by any of the authors.
Conflict of interest
All the authors declare that they have no conflict of interest.
Additional information
Publisher's note
Springer Nature remains neutral with regard to jurisdictional claims in published maps and institutional affiliations.
About this article
Cite this article
He, L., Sun, Y. The potential role of Keap1-Nrf2 pathway in the pathogenesis of Alzheimer's disease, type 2 diabetes, and type 2 diabetes-related Alzheimer's disease. Metab Brain Dis (2021). https://doi.org/10.1007/s11011-021-00762-z
Received:

Accepted:

Published:
Keywords
Alzheimer's disease

Diabetes mellitus

Oxidative stress

Keap1-Nrf2 signaling pathway

Antioxidant agents