Abstract
Parkinson's disease (PD) is a common neurodegenerative disorder characterized by loss of dopaminergic neurons in substantia nigra region and the presence of α-synuclein aggregates in the striatum and surrounding areas of brain. Evidences suggest that neuroinflammation plays a role in the progression of PD. We examined the neuro-protective effects of Bacopa monnieri (BM) in regulating neuroinflammation. Administration of BM suppressed the level of pro-inflammatory cytokines, decreased the levels of α-synuclein, and reduced reactive oxygen species (ROS) generation in PD animal model. Pre-treatment of BM showed more prominent results as compare to co- and post-treatment. Results suggest that Bacopa can limit inflammation in the different areas of brain, thus, offers a promising source of novel therapeutics for the treatment of many CNS disorders.
Access options
Buy single article
Instant access to the full article PDF.
US$ 39.95
Tax calculation will be finalised during checkout.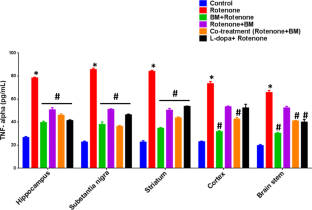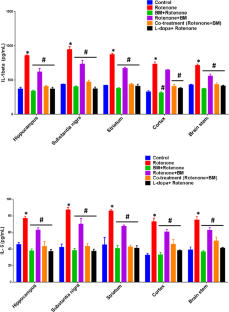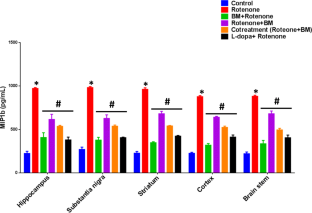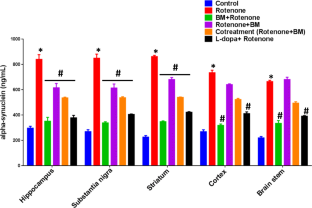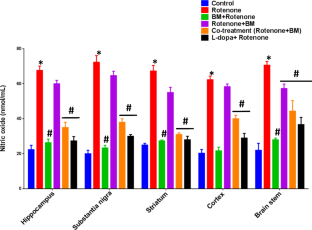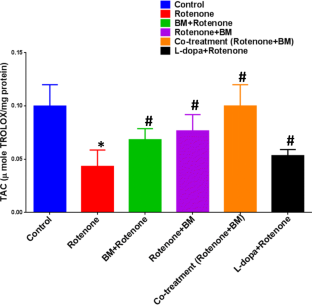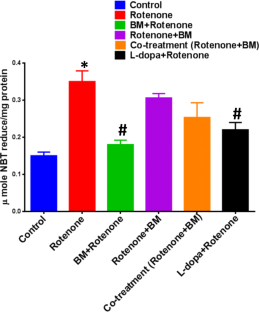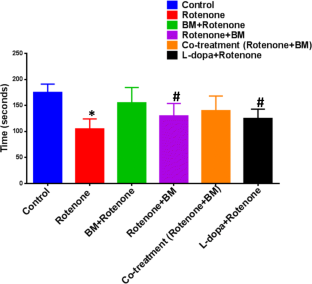 References
Abdul Manap AS, Vijayabalan S, Madhavan P, Chia YY, Arya A, Wong EH, Rizwan F, Bindal U, Koshy S (2019) Bacopa monnieri, a Neuroprotective Lead in Alzheimer disease: a review on its properties, mechanisms of action, and preclinical and clinical studies. Drug Target Insights 13:117739281986641. https://doi.org/10.1177/1177392819866412

Ahn S, Song TJ, Park SU, Jeon S, Kim J, Oh JY, Jang J, Hong S, Song MA, Shin HS, Jung YR, Park HJ (2017) Effects of a combination treatment of KD5040 and L-dopa in a mouse model of Parkinson's disease. BMC Complement Altern Med 17(1):220–214. https://doi.org/10.1186/s12906-017-1731-2

Benner EJ, Banerjee R, Reynolds AD, Sherman S, Pisarev VM, Tsiperson V, Nemachek C, Ciborowski P, Przedborski S, Mosley RL, Gendelman HE (2008) Nitrated alpha-synuclein immunity accelerates degeneration of nigral dopaminergic neurons. PLoS One 3(1):e1376. https://doi.org/10.1371/journal.pone.0001376

Channa S, Dar A, Anjum S, Yaqoob M, Atta Ur R (2006) Anti-inflammatory activity of Bacopa monniera in rodents. J Ethnopharmacol 104(1–2):286–289. https://doi.org/10.1016/j.jep.2005.10.009

Choe IH, Yeo S, Chung KC, Kim SH, Lim S (2013) Decreased and increased cerebral regional homogeneity in early Parkinson's disease. Brain Res 1527:230–237. https://doi.org/10.1016/j.brainres.2013.06.027

Dufek M, Rektorova I, Thon V, Lokaj J, Rektor I (2015) Interleukin-6 may contribute to mortality in Parkinson's disease patients: A 4-year prospective study. Parkinsons Dis 2015:898192. https://doi.org/10.1155/2015/898192

Erel O (2004) A novel automated direct measurement method for total antioxidant capacity using a new generation, more stable ABTS radical cation. Clin Biochem 37(4):277–285. https://doi.org/10.1016/j.clinbiochem.2003.11.015

Herrero MT, Estrada C, Maatouk L, Vyas S (2015) Inflammation in Parkinson's disease: role of glucocorticoids. Front Neuroanat 9:32. https://doi.org/10.3389/fnana.2015.00032

Imamura K, Hishikawa N, Ono K, Suzuki H, Sawada M, Nagatsu T, Yoshida M, Hashizume Y (2005) Cytokine production of activated microglia and decrease in neurotrophic factors of neurons in the hippocampus of Lewy body disease brains. Acta Neuropathol 109(2):141–150. https://doi.org/10.1007/s00401-004-0919-y

Jimenez-Jimenez FJ, Alonso-Navarro H, Herrero MT, Garcia-Martin E, Aqundez J, A. (2016) An update on role of nitric oxide in the neurodegenerative processes of Parkinson's disease. Curr Med Chem 23(24):2666–2679. https://doi.org/10.2174/0929867323666160812151356

Kamesh V, Sumathi T (2012) Antihypercholesterolemic effect of Bacopa monniera linn. on high cholesterol diet induced hypercholesterolemia in rats. Asian Pac J Trop Med 5(12):949–955. https://doi.org/10.1016/S1995-7645(12)60180-1

Kim HJ (2013) Alpha-synuclein expression in patients with Parkinson's disease: a clinical perspective. Exp Neurobiol 22(2):77–83. https://doi.org/10.5607/en.2013.22.2.77

L'Episcopo F, Tirolo C, Caniglia S, Testa N, Serra PA, Impagnatiello F, Morale MC, Marchetti B (2010) Combining nitric oxide release with anti-inflammatory activity preserves nigrostriatal dopaminergic innervation and prevents motor impairment in a 1-methyl-4-phenyl-1,2,3,6-tetrahydropyridine model of Parkinson's disease. J Neuroinflammation 7:83. https://doi.org/10.1186/1742-2094-7-83

McGeer PL, Itagaki S, Boyes BE, McGeer EG (1988) Reactive microglia are positive for HLA-DR in the substantia nigra of Parkinson's and Alzheimer's disease brains. Neurology 38(8):1285–1291

Nagatsu T, Sawada M (2005) Inflammatory process in Parkinson's disease: role for cytokines. Curr Pharm Des 11(8):999–1016

Nemetchek MD, Stierle AA, Stierle DB, Lurie DI (2017) The Ayurvedic plant Bacopa monnieri inhibits inflammatory pathways in the brain. J Ethnopharmacol 197:92–100. https://doi.org/10.1016/j.jep.2016.07.073

Rai SN, Yadav SK, Singh D, Singh SP (2016) Ursolic acid attenuates oxidative stress in nigrostriatal tissue and improves neurobehavioral activity in MPTP-induced Parkinsonian mouse model. J Chem Neuroanat 71:41–49. https://doi.org/10.1016/j.jchemneu.2015.12.002

Rocha NP, de Miranda AS, Teixeira AL (2015) Insights into neuroinflammation in Parkinson's disease: from biomarkers to anti-inflammatory based therapies. Biomed Res Int 2015:628192. https://doi.org/10.1155/2015/628192

Saijo K, Winner B, Carson CT, Collier JG, Boyer L, Rosenfeld MG, Gage FH, Glass CK (2009) A Nurr1/CoREST pathway in microglia and astrocytes protects dopaminergic neurons from inflammation-induced death. Cell 137(1):47–59. https://doi.org/10.1016/j.cell.2009.01.038

Sawada M, Imamura K, Nagatsu T (2006) Role of cytokines in inflammatory process in Parkinson's disease. J Neural Transm Suppl (70):373–381

Shinomol GK, Bharath MM, Muralidhara (2012) Neuromodulatory propensity of Bacopa monnieri leaf extract against 3-nitropropionic acid-induced oxidative stress: in vitro and in vivo evidences. Neurotox Res 22(2):102–114. https://doi.org/10.1007/s12640-011-9303-6

Singh B, Pandey S, Yadav SK, Verma R, Singh SP, Mahdi AA (2017) Role of ethanolic extract of Bacopa monnieri against 1-methyl-4-phenyl-1,2,3,6-tetrahydropyridine (MPTP) induced mice model via inhibition of apoptotic pathways of dopaminergic neurons. Brain Res Bull 135:120–128. https://doi.org/10.1016/j.brainresbull.2017.10.007

Stefanis L (2012) Alpha-synuclein in Parkinson's disease. Cold Spring Harb Perspect Med 2(2):a009399. https://doi.org/10.1101/cfhperspect.a009399

Stocco A, Lebiere C, Anderson JR (2010) Conditional routing of information to the cortex: a model of the basal ganglia's role in cognitive coordination. Psychol Rev 117(2):541–574. https://doi.org/10.1037/a0019077

Tansey MG, McCoy MK, Frank-Cannon TC (2007) Neuroinflammatory mechanisms in Parkinson's disease: potential environmental triggers, pathways, and targets for early therapeutic intervention. Exp Neurol 208(1):1–25. https://doi.org/10.1016/j.expneurol.2007.07.004

Teismann P, Tieu K, Cohen O, Choi DK, Wu DC, Marks D, Vila M, Jackson-Lewis V, Przedborski S (2003) Pathogenic role of glial cells in Parkinson's disease. Mov Disord 18(2):121–129. https://doi.org/10.1002/mds.10332

Vrablic AS, Albright CD, Craciunescu CN, Salganik RI, Zeisel SH (2001) Altered mitochondrial function and overgeneration of reactive oxygen species precede the induction of apoptosis by 1-O-octadecyl-2-methyl-rac-glycero-3-phosphocholine in p53-defective hepatocytes. FASEB J 15(10):1739–1744

Zhang ZN, Zhang JS, Xiang J, Yu ZH, Zhang W, Cai M, Li XT, Wu T, Le WW, Cai DF (2017) Subcutaneous rotenone rat model of Parkinson's disease: dose exploration study. Brain Res 1655:104–113. https://doi.org/10.1016/j.brainres.2016.11.020
Acknowledgements
This study was supported by the funding agency "Council of science and technology, Uttar Pradesh" (UPCST), Lucknow, (U.P.), India.
Ethics declarations
Conflict of interest
The authors declare no conflict of interest.
Additional information
Publisher's note
Springer Nature remains neutral with regard to jurisdictional claims in published maps and institutional affiliations.
About this article
Cite this article
Singh, B., Pandey, S., Rumman, M. et al. Neuroprotective effects of Bacopa monnieri in Parkinson's disease model. Metab Brain Dis 35, 517–525 (2020). https://doi.org/10.1007/s11011-019-00526-w
Received:

Accepted:

Published:

Issue Date:
Keywords
Neurodegeneration

Bacopa monnieri

Cytokines

ROS

Parkinson's disease