Amyloid Beta 25–35 induces blood-brain barrier disruption in vitro
Abstract
The amyloid β-peptide (Aβ) is transported across the blood-brain barrier (BBB) by binding with the receptor for advanced glycation end products (RAGE). Previously, we demonstrated that the Aβ fraction 25–35 (Aβ25–35) increases RAGE expression in the rat hippocampus, likely contributing to its neurotoxic effects. However, it is still debated if the interaction of Aβ with RAGE compromises the BBB function in Alzheimer' disease (AD). Here, we evaluated the effects of Aβ25–35 in an established in vitro model of the BBB. Rat brain microvascular endothelial cells (rBMVECs) were treated with 20 μM active Aβ25–35 or the inactive Aβ35–25 (control), for 24 h. Exposure to Aβ25–35 significantly decreased cell viability, increased cellular necrosis, and increased the production of reactive oxygen species (ROS), which triggered a decrease in the enzyme glutathione peroxidase when compared to the control condition. Aβ25–35 also increased BBB permeability by altering the expression of tight junction proteins (decreasing zonula occludens-1 and increasing occludin). Aβ25–35 induced monolayer disruption and cellular disarrangement of the BBB, with RAGE being highly expressed in the zones of disarrangement. Together, these data suggest that Aβ25–35-induces toxicity by compromising the functionality and integrity of the BBB in vitro.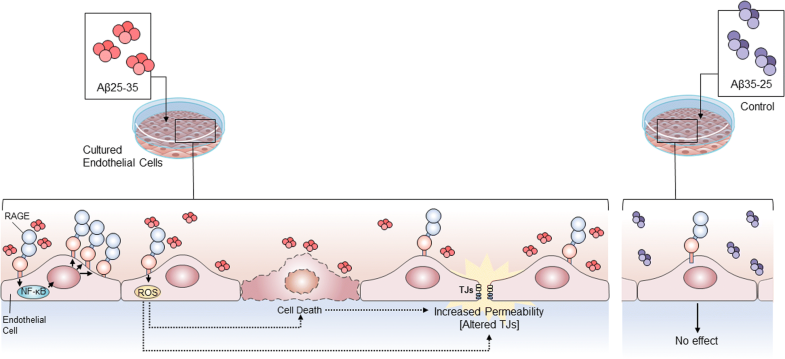 Keywords
Amyloid β fraction 25–35 
Blood-brain barrier 
Oxidative stress 
Permeability 
RAGE 
Zonula occludens 1 
Notes
Acknowledgements
These studies were supported by FDA/NCTR, E0763101, and postdoctoral fellowships from the Oak Ridge Institute for Science and Education through an interagency agreement between the US Department of Energy and the FDA (to E. Cuevas). The authors are grateful to John Talpos for support in preparing this manuscript.
The views and the information in this article is solely the responsibility of the authors and is not a formal dissemination of information by the U.S. Food and Drug Administration and does not represent agency position or policy.
Compliance with ethical standards
Conflict of interest
The authors declare no conflict of interest.
Copyright information
© This is a U.S. Government work and not under copyright protection in the US; foreign copyright protection may apply  2019