Abstract
Previous studies have shown that agmatine, a potential neuromodulator or co-transmitter, exhibited antidepressant-like action in animal models, yet its mechanism, especially the receptor mechanism, remains unclear. In the present study, using efaroxan, a preferential antagonist of I1 imidazoline receptor (I1R) and yohimbine, an antagonist of α2 adrenergic receptor (α2AR), we investigated the roles of I1R and α2AR in agmatine's antidepressant-like effect in acute and sub-acute depression models in mice. We found that in the tail-suspension test (TST) and the forced swimming test (FST), acute administration of agmatine (20 and 40 mg/kg, p.o.) significantly shortened the immobility time. Concurrent administration of efaroxan (1 mg/kg, i.p.) completely abolished the antidepressant-like effects of agmatine (40 mg/kg, p.o.) whereas yohimbine (5 mg/kg, i.p.) failed to exert similar effects, suggesting that the acute antidepressant-like effects of agmatine was mainly mediated by I1R but not α2AR. Additionally, in the learned helplessness (LH) test, repeated administration of agmatine (20 mg/kg, p.o., q.d.) for 5 days significantly decreased the escape latency and the number of escape failure, and these effects were respectively abolished by concurrent administration of efaroxan (0.5 mg/kg,i.p., q.d.) and yohimbine (3 mg/kg, i.p., q.d.) for 5 days, suggesting that the antidepressant-like action of agmatine in the LH test was achieved via the activation of both I1R and α2AR. In summary, we found that the antidepressant-like effects of agmatine in the TST and the FST were mediated by activating I1R and in the sub-acute LH test were mediated by activating both I1R and α2AR.
This is a preview of subscription content, log in to check access.
Access options
Buy single article
Instant access to the full article PDF.
US$ 39.95
Price includes VAT for USA
Subscribe to journal
Immediate online access to all issues from 2019. Subscription will auto renew annually.
US$ 99
This is the net price. Taxes to be calculated in checkout.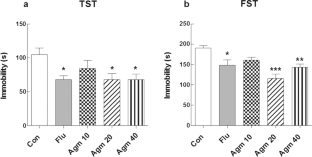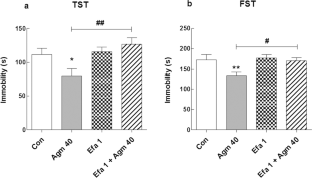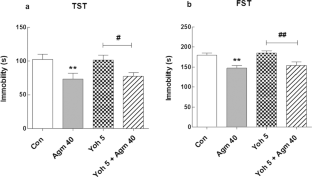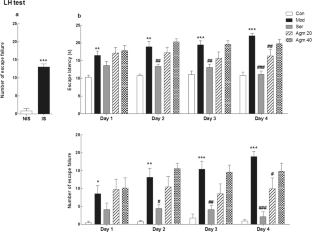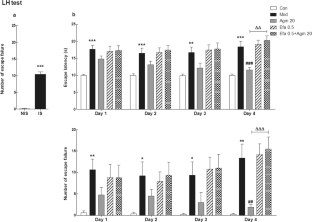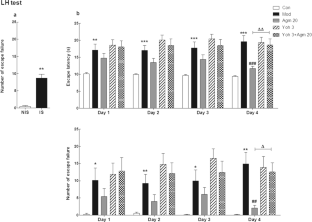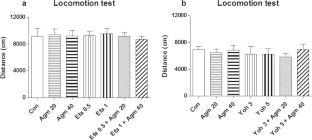 References
Anisman H, Merali Z (2001) Rodent models of depression: learned helplessness induced in mice. Curr Protoc Neurosci Chapter 8: Unit 8 10C

Berndt ER, Koran LM, Finkelstein SN, Gelenberg AJ, Kornstein SG, Miller IM, Thase ME, Trapp GA, Keller MB (2000) Lost human capital from early-onset chronic depression. Am J Psychiatry 157:940–947

Castagne V, Moser P, Roux S, Porsolt RD (2011) Rodent models of depression: forced swim and tail suspension behavioral despair tests in rats and mice. Curr Protoc Neurosci Chapter 8: Unit 8 10A

Chen WQ, Zhang YZ, Yuan L, Li YF, Li J (2014) Neurobehavioral evaluation of adolescent male rats following repeated exposure to chlorpyrifos. Neurosci Lett 570:76–80

Chourbaji S, Zacher C, Sanchis-Segura C, Dormann C, Vollmayr B, Gass P (2005) Learned helplessness: validity and reliability of depressive-like states in mice. Brain Res Brain Res Protoc 15:70–78

Dias Elpo Zomkowski A, Oscar Rosa A, Lin J, Santos AR, Calixto JB, Lucia Severo Rodrigues A (2004) Evidence for serotonin receptor subtypes involvement in agmatine antidepressant like-effect in the mouse forced swimming test. Brain Res 1023:253–263

Ding Y, Zhang R, Zhang K, Lv X, Chen Y, Li A, Wang L, Zhang X, Xia Q (2013) Nischarin is differentially expressed in rat brain and regulates neuronal migration. PLoS One 8:e54563

Gawali NB, Bulani VD, Gursahani MS, Deshpande PS, Kothavade PS, Juvekar AR (2017) Agmatine attenuates chronic unpredictable mild stress-induced anxiety, depression-like behaviours and cognitive impairment by modulating nitrergic signalling pathway. Brain Res 1663:66

Halaris AE, Piletz JE (2003) Relevance of imidazoline receptors and agmatine to psychiatry: a decade of progress. Ann N Y Acad Sci 1009:1–20

Halaris AE, Plietz JE (2007) Agmatine : metabolic pathway and spectrum of activity in brain. CNS Drugs 21:885–900

Halaris AE, Zhu H, Ali J, Nasrallah A, Lindsay De Vane C, Piletz JE (2002) Down-regulation of platelet imidazoline-1-binding sites after bupropion treatment. Int J Neuropsychopharmacol 5:37–46

Han X, Jing MY, Zhao TY, Wu N, Song R, Li J (2017) Role of dopamine projections from ventral tegmental area to nucleus accumbens and medial prefrontal cortex in reinforcement behaviors assessed using optogenetic manipulation. Metab Brain Dis 32:1503–1505

Jiang XZ, Li YF, Zhang YZ, Chen HX, Li J, Wang NP (2008) 5-HT1A/1B receptors, alpha2-adrenoceptors and the post-receptor adenylate cyclase activation in the mice brain are involved in the antidepressant-like action of agmatine. Yao Xue Xue Bao 43:467–473

Jin ZL, Chen XF, Ran YH, Li XR, Xiong J, Zheng YY, Gao NN, Li YF (2017) Mouse strain differences in SSRI sensitivity correlate with serotonin transporter binding and function. Sci Rep 7:8631

Krass M, Wegener G, Vasar E, Volke V (2008) Antidepressant-like effect of agmatine is not mediated by serotonin. Behav Brain Res 188:324–328

Laube G, Bernstein HG (2017) Agmatine: multifunctional arginine metabolite and magic bullet in clinical neuroscience? Biochem J 474:2619–2640

Li YF, Gong ZH, Cao JB, Wang HL, Luo ZP, Li J (2003) Antidepressant-like effect of agmatine and its possible mechanism. Eur J Pharmacol 469:81–88

Maier SF, Seligman ME (1976) Learned helplessness: theory and evidence. J Exp Psychol Gen 105:3

Mccune SK, Voigt MM, Hill JM (1993) Expression of multiple alpha adrenergic receptor subtype messenger RNAs in the adult rat brain. Neuroscience 57:143–151

Neis VB, Moretti M, Manosso LM, Lopes MW, Leal RB, Rodrigues AL (2015) Agmatine enhances antidepressant potency of MK-801 and conventional antidepressants in mice. Pharmacol Biochem Behav 130:9–14

Piletz JE, Halaris AE, Chikkala D, Qu Y (1996) Platelet I1-imidazoline binding sites are decreased by two dissimilar antidepressant agents in depressed patients. J Psychiatr Res 30:169–184

Piletz JE, Ordway GA, Zhu H, Duncan BJ, Halaris A (2000) Autoradiographic Comparison of [3H]-Clonidine Binding to Non-Adrenergic Sites and alpha 2-Adrenergic Receptors in Human Brain. Neuropsychopharmacology Official Publication of the American College of Neuropsychopharmacology 23:697

Piletz JE, Baker R, Halaris AE (2008) Platelet imidazoline receptors as state marker of depressive symptomatology. J Psychiatr Res 42:41–49

Reis DJ, Regunathan S (2000) Is agmatine a novel neurotransmitter in brain? Trends Pharmacol Sci 21:187–193

Seligman ME (1975) Helplessness: On Depression, Development, and Death. A Series of books in psychology. W. H. Freeman, New York, p 250

Seligman ME, Beagley G (1975) Learned helplessness in the rat. J Comp Physiol Psychol 88:534–541

Seligman ME, Maier SF (1967) Failure to escape traumatic shock. J Exp Psychol 74:1–9

Uzbay TI (2012) The pharmacological importance of agmatine in the brain. Neurosci Biobehav Rev 36:502–519

Zeidan MP, Zomkowski AD, Rosa AO, Rodrigues AL, Gabilan NH (2007) Evidence for imidazoline receptors involvement in the agmatine antidepressant-like effect in the forced swimming test. Eur J Pharmacol 565:125–131

Zeng D, Lynch KR (1991) Distribution of α 2 -adrenergic receptor mRNAs in the rat CNS. Brain research. Mol Brain Res 10:219–225

Zomkowski AD, Hammes L, Lin J, Calixto JB, Santos AR, Rodrigues AL (2002) Agmatine produces antidepressant-like effects in two models of depression in mice. Neuroreport 13:387–391

Zomkowski AD, Santos AR, Rodrigues AL (2005) Evidence for the involvement of the opioid system in the agmatine antidepressant-like effect in the forced swimming test. Neurosci Lett 381:279–283
Acknowledgements
The work was supported by National Natural Science Foundation of China (81373385).
Ethics declarations
Conflicts of interest
The authors declare no conflicts of interest.
Ethical approval
All procedures performed in studies involving animals were in accordance with the ethical standards of the institution or practice at which the studies were conducted.
About this article
Cite this article
Chen, Z., Chen, W., Wang, Z. et al. Antidepressant-like action of agmatine in the acute and sub-acute mouse models of depression: a receptor mechanism study. Metab Brain Dis 33, 1721–1731 (2018). https://doi.org/10.1007/s11011-018-0280-9
Received:

Accepted:

Published:

Issue Date:
Keywords
Depression

Agmatine

I1-imidazoline receptor
α2-adrenergic receptor