Abstract
Chronic constipation is often accompanied by emotional disorders such as depression and anxiety. The aim of this study was to determine whether administration of a multispecies probiotic can decrease depressive behaviors through the gut-brain axis and identify any underlying mechanisms. A mouse model of constipation induced by loperamide (5 mg·kg−1,i.p.) was used. For that purpose, 36 ICR male mice were divided into three groups: control, constipation and probiotic groups. The probiotic group received treatment with a probiotic once per day for 14 days via a gavage. All other groups were given an equal volume of normal saline. The fecal parameters and intestinal transit ratio were recorded. The forced swimming test and tail suspension test were used to detect changes in depressive behaviors. Total superoxide dismutase (T-SOD) activity and malondialdehyde (MDA) levels were measured by assay kits. We also detected neuronal survival, as well as phosphorylated Ser/Thr protein kinase (p-AKT), Bcl-2, Bcl-2 associated X protein (Bax) and cleaved caspase-3 levels in the hippocampus. The results showed that administration of a probiotic could ameliorate depressive behaviors and relieve neuronal cell injury in the hippocampal CA3 regions. Moreover, probiotic treatment decreased MDA levels and increased SOD activity. Furthermore, probiotic administration increased p-AKT and Bcl-2 levels in the hippocampus of the constipated mice, while decreasing the concentrations of Bax and cleaved caspase-3, so as to inhibit the neural apoptosis. In the present study, we confirm that probiotics can alleviate depression induced by constipation through protecting neuronal health via activation of the AKT signaling pathway.
Access options
Buy single article
Instant access to the full article PDF.
USD 39.95
Price excludes VAT (USA)
Tax calculation will be finalised during checkout.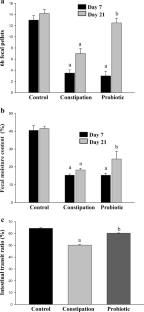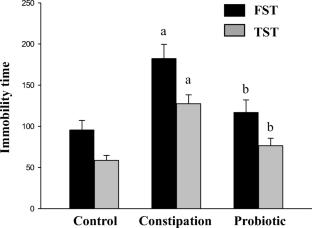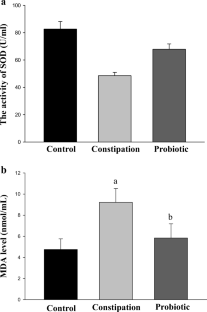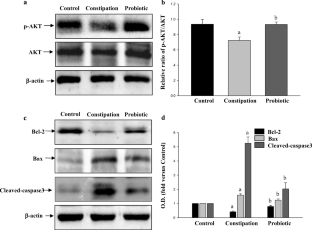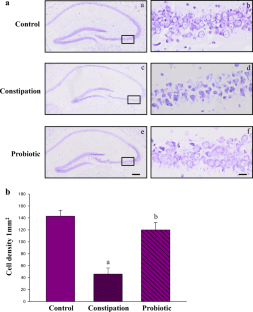 References
Albiani JJ, Hart SL, Katz L, Berian J, Del Rosario A, Lee J, Varma M (2013) Impact of depression and anxiety on the quality of life of constipated patients. J Clin Psychol Med Settings 20:123–132

Arseneault-Breard J, Rondeau I, Gilbert K, Girard SA, Tompkins TA, Godbout R, Rousseau G (2012) Combination of lactobacillus helveticus R0052 and Bifidobacterium longum R0175 reduces post-myocardial infarction depression symptoms and restores intestinal permeability in a rat model. Br J Nutr 107:1793–1799

Burokas A, Moloney RD, Dinan TG, Cryan JF (2015) Microbiota regulation of the mammalian gut-brain axis. Adv Appl Microbiol 91:1–62

Cheng C, Chan AO, Hui WM (2003) Coping strategies, illness perception, anxiety and depression of patients with idiopathic constipation: a population-based study. Aliment Pharmacol Ther 18:319–326

Cory S, Adams JM (2002) The Bcl2 family: regulators of the cellular life-or-death switch. Nat Rev Cancer 2:647–656

Cryan JF, O'Mahony SM (2011) The microbiome-gut-brain axis: from bowel to behaviors. Neurogastroenterol Motil 23:187–192

Czarny P, Wigner P, Galecki P (2017) The interplay between inflammation, oxidative stress, DNA damage, DNA repair and mitochondrial dysfunction in depression. Prog Neuro-Psychopharmacol Biol Psychiatry 80:309–321

Desbonnet L, Garrett L, Clarke G, Kiely B, Cryan JF, Dinan TG (2010) Effects of the probiotic Bifidobacterium infantis in the maternal separation model of depression. Neuroscience 170:1179–1188

Espin JC, Gonzalez-Sarrias A (2017) The gut microbiota: a key factor in the therapeutic effects of (poly)phenols. Biochem Pharmacol 139:82–93

Food and Agriculture Organization of the United Nations and WHO Working Group (2002) Guidelines for the evaluation of probiotic in food. FAO/WHO, Geneva

Gerritsen J, Smidt H, Rijkers GT (2011) Intestinal microbiota in human health and disease: the impact of probiotic. Genes Nutr 6:209–240

Grenham S, Clarke G, Cryan J, Dinan TG (2011) Brain-gut-microbe communication in health and disease. Front Physiol 2:94

Guarner F, Malagelada JR (2003) Gut flora in health and disease. Lancet 361:512–519

Hers I, Vincent EE (2011) Akt signalling in health and disease. Cell Signal 23:1515–1527

Hou ML, Chang LW, Lin CH, Lin LC, Tsai TH (2014) Comparative pharmacokinetics of rhein in normal and loperamide-induced constipated rats and microarray analysis of drug-metabolizing genes. J Ethnopharmacol 155:1291–1299

Jabri MA, Wannes D, Hajji N, Sakly M, Marzouki L, Sebai H (2017) Role of laxative and antioxidant properties of Malva sylvestris leaves in constipation treatment. Biomed Pharmacother 89:29–35

Khalif IL, Quigley EM, Konovitch EA, Maximova ID (2005) Alterations in the colonic flora and intestinal permeability and evidence of immune activation in chronic constipation. Dig Liver Dis 37:838–849

Li Y, Shi L, Yue L, Gao R, Yu ZQ, Yang XH, Liu L, Zheng H (2018) Hippocampal gene expression profiling in a rat model of functional constipation reveals abnormal expression genes associated with cognitive function. Neurosci Lett 675:103–109

Lima IVA, Almeida-Santos AF, Ferreira-Vieira TH, Aguiar DC, Ribeiro FM, Campos AC, de Oliveira ACP (2017) Antidepressant-like effect of valproic acid-possible involvement of PI3K/Akt/mTOR pathway. Behav Brain Res 329:166–171

Logan AC, Katzman M (2005) Major depressive disorder: probiotic may be an adjuvant therapy. Med Hypotheses 64:533–538

Loh KP, Huang SH, De Silva R, Tan BK, Zhu YZ (2006) Oxidative stress: apoptosis in neuronal injury. Curr Alzheimer Res 3:327–337

Maes M, Berk M, Goehler L, Song C, Anderson G, Gałecki P, Leonard B (2012) Depression and sickness behaviors are Janus-faced responses to shared inflammatory pathways. BMC Med 10:66

Mayer EA (2011) Gut feelings: the emerging biology of gut-brain communication. Nat Rev Neurosci 12:453–466

Messaoudi M, Lalonde R, Violle N, Javelot H, Desor D, Nejdi A, Bisson JF, Rougeot C, Pichelin M, Cazaubiel M, Cazaubiel JM (2011) Assessment of psychotropic-like properties of a probiotic formulation (Lactobacillus helveticus R0052 and Bifidobacterium longum R0175) in rats and human subjects. Br J Nutr 105:755–764

Moloney RD, Desbonnet L, Clarke G, Dinan TG, Cryan JF (2014) The microbiome: stress, health and disease. Mamm Genome 25:49–74

Moraga-Amaro R, Gonzalez H, Ugalde V, Donoso-Ramos JP, Quintana-Donoso D, Lara M, Morales B, Rojas P, Pacheco R (2016) Dopamine receptor D5 deficiency results in a selective reduction of hippocampal NMDA receptor subunit NR2B expression and impaired memory. Neuropharmacology 103:222–235

Mugie SM, Benninga MA (2011) Epidemiology of constipation in children and adults: a systematic review. Best Pract Res Clin Gastroenterol 25:3–18

Olveira G, González-Molero I (2016) An update on probiotic, prebiotics and symbiotics in clinical nutrition. Endocrinol Nutr 63:482–494

Proctor C, Thiennimitr P, Chattipakorn N, Chattipakorn SC (2017) Diet, gut microbiota and cognition. Metab Brain Dis 32:1–17

Samad N, Saleem A (2017) Administration of Allium cepa L. bulb attenuates stress-produced anxiety and depression and improves memory in male mice. Metab Brain Dis 2017

Schoenfeld TJ, McCausland HC, Morris HD, Padmanaban V, Cameron HA (2017) Stress and loss of adult neurogenesis differentially reduce hippocampal volume. Biol Psychiatry 82:914–923

Slyepchenko A, Maes M, Jacka FN, Köhler CA, Barichello T, McIntyre RS, Berk M, Grande I, Foster JA, Vieta E, Carvalho AF (2017) Gut microbiota, bacterial translocation, and interactions with diet: pathophysiological links between major depressive disorder and non-communicable medical comorbidities. Psychother Psychosom 86:31–46

Sood R, Ford AC (2016) Diagnosis: Rome IV criteria for FGIDs - an improvement or more of the same? Nat Rev Gastroenterol Hepatol 13:501–502

Staller K, Barshop K, Kuo B (2017) Depression but not symptom severity is associated with work and school absenteeism in refractory chronic constipation. J Clin Gastroenterol 00

Tang DQ, Wei YQ, Gao YY, Yin XX, Yang DZ, Mou J, Jiang XL (2011) Protective effects of rutin on rat glomerular mesangial cells cultured in high glucose conditions. Phytother Res 25:1640–1647

Tang LJ, Li C, Hu SQ, Wu YP, Zong YY, Sun CC, Zhang F, Zhang GY (2012) S-nitrosylation of c-Src via NMDAR-nNOS module promotes c-Src activation and NR2A phosphorylation in cerebral ischemia/reperfusion. Mol Cell Biochem 365:363–377

Tsuboi H, Shimoi K, Kinae N, Oguni I, Hori R, Kobayashi F (2004) Depressive symptoms are independently correlated with lipid peroxidation in a female population: comparison with vitamins and carotenoids. J Psychosom Res 56:53–58

Vermorken AJ, Andres E (2016) Bowel movement frequency, oxidative stress and disease prevention. Mol Clin Oncol 5:339–342

Waters AM, Schilpzand E, Bell C, Walker LS, Baber K (2013) Functional gastrointestinal symptoms in children with anxiety disorders. J Abnorm Child Psychol 41:151–163

Wintola OA, Sunmonu TO (2010) The effect of Aloe ferox Mill. in the treatment of loperamide-induced constipation in Wistar rats. BMC Gastroenterol 10:95

Yang N, Ren Z, Zheng J, Feng L, Li D, Gao K, Zhang L, Liu Y, Zuo P (2016) 5-(4-hydroxy-3-dimethoxybenzylidene)-rhodanine(RD-1)-improved mitochondrial function prevents anxiety- and depressive-like states induced by chronic corticosterone injections in mice. Neuropharmacology 105:587–593

Yu LL, Liao JF, Chen CF (2000) Anti-diarrheal effect of water extract of Evodiae fructus in mice. J Ethnopharmacol 73:39–45

Zhou JF, Lou JG, Zhou SL (2005) Potential oxidative stress in children with chronic constipation. World J Gastroenterol 11:368–371

Zoppi G, Cinquetti M, Luciano A, Benini A, Muner A, Bertazzoni Minelli E (1998) The intestinal ecosystem in chronic functional constipation. Acta Paediatr 87:836–841
Acknowledgements
This research was supported by the National Natural Science Foundation of China (81471994), Jiangsu Privincial Natural Science Foundation (BK20151154), Jiangsu Privincial Medical Talent (ZDRCA2016053), Six talent peaks project of Jiangsu Province (WSN-135), Advanced health talent of six-one project of Jiangsu Province (LGY2016042), and Jiangsu Provincial Commission of Health and Family Planning Research Project (H201631). The authors thank Renxian Tang, Xiaomei Liu, Feng Zhou, Xiaotian Wang of Department of Pathogen Biology and Immunology, Laboratory of Infection and Immunity of Xuzhou Medical University for their support and help during the experiments.
Ethics declarations
Conflict of interest
All authors state that there is no conflict of interest.
About this article
Cite this article
Xu, N., Fan, W., Zhou, X. et al. Probiotics decrease depressive behaviors induced by constipation via activating the AKT signaling pathway. Metab Brain Dis 33, 1625–1633 (2018). https://doi.org/10.1007/s11011-018-0269-4
Received:

Accepted:

Published:

Issue Date:

DOI: https://doi.org/10.1007/s11011-018-0269-4
Keywords
Oxidative stress

AKT

Depression

Probiotic

Constipation

Microbiota-gut-brain axis