Abstract
Targeting neuroinflammatory disturbances has been acknowledged as a potential strategy for treatment of depressive disorder in humans. Over-activation of tryptophan-degrading pathway by pro-inflammatory cytokines resulted in N-methyl-d-aspartate (NMDA)-mediated excitotoxicity, which is implicated in pathophysiology of depression. Gentiopicroside (Gent) has powerful anti-inflammatory property and exhibits promising antidepressant effect in an animal model of pain/depression dyad by down-regulating GluN2B-containing NMDA receptors. Therefore, the present study aimed to investigate the ability of Gent to abolish depressive-like behavior induced by lipopolysaccharide (LPS) in mice. Acute administration of LPS (0.5 mg/kg, i.p.) increased immobility time in both forced swimming test (FST) and tail suspension test (TST) without affecting spontaneous locomotor activity, indicative of depressive-like behavior. Gent (50 mg/kg, i.p.) administered once a day for three consecutive days prevented the development of depressive-like behavior induced by LPS. The antidepressant-like effect was paralleled with restoration of LPS-induced alterations in brain inflammatory mediators (i.e. IL-1β and TNF-α). In addition, Gent prevented over-activation of indoleamine 2,3-double oxygen enzyme (IDO) and recovered GluN2B subunit expression in the PFC challenged by LPS. In conclusion, our results suggested that Gent pretreatment provided protection against LPS-induced depressive-like behavior and the effect appeared to be demonstrated, at least partially, by blocking various steps of tryptophan-degrading pathway.
This is a preview of subscription content, log in to check access.
Access options
Buy single article
Instant access to the full article PDF.
US$ 39.95
Tax calculation will be finalised during checkout.
Subscribe to journal
Immediate online access to all issues from 2019. Subscription will auto renew annually.
US$ 99
Tax calculation will be finalised during checkout.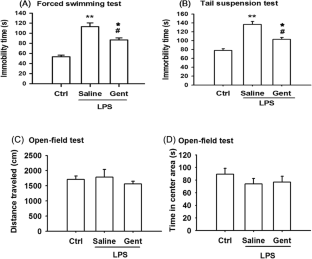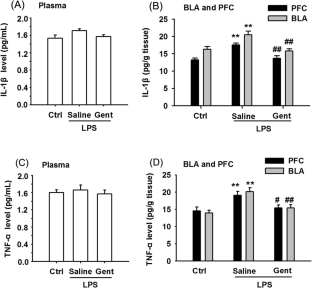 Abbreviations
Gent:

Gentiopicroside

LPS:

Lipopolysaccharide

MDD:

Major depressive disorder

IDO:

Indoleamine 2,3-double oxygen enzyme

FST:

Forced swimming test

TST:

Tail suspension test

OP:

Open field

NMDA:

N-methyl-d-aspartate

CNS:

Central nervous system

BLA:

Basolateral amygdala

PFC:

Prefrontal cortex
References
Bossù P, Cutuli D, Palladino I et al (2012) A single intraperitoneal injection of endotoxin in rats induces long-lasting modifications in behavior and brain protein levels of TNF-α and IL-18. J Neuroinflammation 9(101). https://doi.org/10.1186/1742-2094-9-101

Chen L, Liu JC, Zhang XN et al (2008) Down-regulation of NR2B receptors partially contributes to analgesic effects of Gentiopicroside in persistent inflammatory pain. Neuropharmacology 54:1175–1181. https://doi.org/10.1016/j.neuropharm.2008.03.007

Custodio CS, Mello BS, Cordeiro RC et al (2013) Time course of the effects of lipopolysaccharide on prepulse inhibition and brain nitrite content in mice. Eur J Pharmacol 713:31–38. https://doi.org/10.1016/j.ejphar.2013.04.040

Dobos N, de Vries EF, Kema IP et al (2012) The role of indoleamine 2,3-dioxygenase in a mouse model of neuroinflammation-induced depression. J Alzheimers Dis 28(4):905–915. https://doi.org/10.3233/JAD-2011-111097

Fu X, Zunich SM, O'Connor JC, Kavelaars A, Dantzer R, Kelley KW (2010) Central administration of lipopolysaccharide induces depressive-like behavior in vivo and activates brain indoleamine 2,3 dioxygenase in murine organotypic hippocampal slice cultures. J Neuroinflammation 7:43–54. https://doi.org/10.1186/1742-2094-7-43

Glowinski J, Iversen LL (1966) Regional studies of catecholamines in the rat brain. I. The disposition of [3H]norepinephrine, [3H]dopamine and [3H]dopa in various regions of the brain. J Neurochem 13(8):655–669

Guo J, Lin P, Zhao X et al (2014) Etazolate abrogates the lipopolysaccharide (LPS)-induced downregulation of the cAMP/pCREB/BDNF signaling, neuroinflammatory response and depressive-likebehavior in mice. Neuroscience 263:1–14. https://doi.org/10.1016/j.neuroscience.2014.01.008

Guo Y, Cai H, Chen L et al (2016) Quantitative profiling of neurotransmitter abnormalities in the hippocampus of rats treated with lipopolysaccharide: focusing on kynurenine pathway and implications for depression. J Neuroimmunol 295–296:41–46. https://doi.org/10.1016/j.jneuroim.2016.04.006

Heydarpour P, Salehi-Sadaghiani M, Javadi-Paydar M, Rahimian R, Fakhfouri G, Khosravi M, Khoshkish S, Gharedaghi MH, Ghasemi M, Dehpour AR (2013) Estradiol reduces depressive-like behavior through inhibiting nitric oxide/cyclic GMP pathway in ovariectomized mice. Horm Behav 63(2):361–369. https://doi.org/10.1016/j.yhbeh.2012.12.005

Huang Y, Louie A, Yang Q, Massenkoff N, Xu C, Hunt PW, Gee W (2013) A simple LC-MS/MS method for determination of kynurenine and tryptophan concentrations in human plasma from HIV-infected patients. Bioanalysis 5(11):1397–1407. https://doi.org/10.4155/bio.13.74

Jia N, Chu W, Li Y, Ding L, Duan J, Cui J, Cao S, Zhao C, Wu Y, Wen A (2016) Iridoid glycosides from the flowers of Gentiana macrophylla pall. Ameliorate collagen-induced arthritis in rats. J Ethnopharmacol 189:1–9. https://doi.org/10.1016/j.jep.2016.05.027

Krause DL, Riedel M, Müller N, Weidinger E, Schwarz MJ, Myint AM (2012) Effects of antidepressants and cyclooxygenase-2 inhibitor on cytokines and kynurenines in stimulated in vitro blood culture from depressed patients. Inflammopharmacology 20(3):169–176. https://doi.org/10.1007/s10787-011-0112-6

Lejuez CW, Hopko DR, Acierno R, Daughters SB, Pagoto SL (2011) Ten year revision of the brief behavioral activation treatment for depression: revised treatment manual. Behav Modif 35:111–161. https://doi.org/10.1177/0145445510390929

Liu SB, Zhao R, Li XS, Guo HJ, Tian Z, Zhang N, Gao GD, Zhao MG (2014) Attenuation of reserpine-induced pain/depression dyad by gentiopicroside through downregulation of GluN2B receptors in the amygdala of mice. NeuroMolecular Med 16(2):350–359. https://doi.org/10.1007/s12017-013-8280-8

Mello BS, Monte AS, McIntyre RS et al (2013) Effects of doxycycline on depressive-like behavior in mice after lipopolysaccharide (LPS) administration. J Psychiatr Res 47(10):1521–1529. https://doi.org/10.1016/j.jpsychires.2013.06.008

Mendlewicz J, Kriwin P, Oswald P, Souery D, Alboni S, Brunello N (2006) Shortened onset of action of antidepressants in major depression using acetylsalicylic acid augmentation: a pilot open-label study. Int Clin Psychopharmacol 21(4):227–231

Müller N, Schwarz MJ, Dehning S, Douhe A, Cerovecki A, Goldstein-Müller B, Spellmann I, Hetzel G, Maino K, Kleindienst N, Möller HJ, Arolt V, Riedel M (2006) The cyclooxygenase-2 inhibitor celecoxib has therapeutic effects in major depression: results of a double-blind, randomized, placebo controlled, add-on pilot study to reboxetine. Mol Psychiatry 11(7):680–684

Nguyen KT, Deak T, Owens SM et al (1998) Exposure to acute stress induces brain interleukin-1beta protein in the rat, J Neurosci. 18(6):2239–2246

Niu YT, Zhao YP, Jiao YF, Zheng J, Yang WL, Zhou R, Niu Y, Sun T, Li YX, Yu JQ (2016) Protective effect of gentiopicroside against dextran sodium sulfate induced colitis in mice. Int Immunopharmacol 39:16–22. https://doi.org/10.1016/j.intimp.2016.07.003

O'Connor JC, Lawson MA, André C, Moreau M, Lestage J, Castanon N, Kelley KW, Dantzer R (2009) Lipopolysaccharide-induced depressive-like behavior is mediated by indoleamine 2,3-dioxygenase activation in mice. Mol Psychiatry 14(5):511–522. https://doi.org/10.1038/sj.mp.4002148

Patel A (2013) Review: the role of inflammation in depression. Psychiatr Danub Suppl 2:S216–S223

Rothwell NJ, Luheshi GN (2000) Interleukin 1 in the brain: biology, pathology and therapeutic target. Trends Neurosci 23(12):618–625

Saito K, Markey SP, Heyes MP (1992) Effects of immune activation on quinolinic acid and neuroactive kynurenines in the mouse. Neurosci 51:25–39

Steru L, Chermat R, Thierry B, Simon P (1985) The tail suspension test: a new methodfor screening antidepressants in mice. Psychopharmacology 85:367–370

Tomaz VS, Cordeiro RC, Costa AM (2014) Antidepressant-like effect of nitric oxide synthase inhibitors and sildenafil against lipopolysaccharide-induced depressive-like behavior in mice. Neurosci 268:236–246. https://doi.org/10.1016/j.neuroscience.2014.03.025

Tyring S, Gottlieb A, Papp K, Gordon K, Leonardi C, Wang A, Lalla D, Woolley M, Jahreis A, Zitnik R, Cella D, Krishnan R (2006) Etanercept and clinical outcomes, fatigue, and depression in psoriasis: double-blind placebo-controlled randomised phase III trial. Lancet 367(9504):29–35

Walker AK, Budac DP, Bisulco S, Lee AW, Smith RA, Beenders B, Kelley KW, Dantzer R (2013) NMDA receptor blockade by ketamine abrogates lipopolysaccharide-induceddepressive-like behavior in C57BL/6J mice. Neuropsychopharmacology 38:1609–1616. https://doi.org/10.1038/npp.2013.71

Walker AK, Kavelaars A, Heijnen CJ, Dantzer R (2014) Neuroinflammation and comorbidity of pain and depression. Pharmacol Rev 66:80–101

Wang Z, Zhang Q, Yuan L et al (2014) The effects of curcumin on depressive-like behavior in mice after lipopolysaccharide administration. Behav Brain Res 274:282–290. https://doi.org/10.1016/j.bbr.2014.08.018

Young JJ, Bruno D, Pomara N (2014) A review of the relationship between proinflammatory cytokines and major depressive disorder. J Affect Disord 169:15–20. https://doi.org/10.1016/j.jad.2014.07.032

Zhao L, Ye J, Wu GT, Peng XJ, Xia PF, Ren Y (2015) Gentiopicroside prevents interleukin-1 beta induced inflammation response in rat articular chondrocyte. J Ethnopharmacol 172:100–107. https://doi.org/10.1016/j.jep.2015.06.031
Acknowledgements
This research was supported by National Natural Science Foundation of China, No. 81403064; Doctoral research foundation of Xi'an Medical University, No. 2016DOC23 and Nature science research plan in shannxi province of China, No.2016JM8047.
About this article
Cite this article
Deng, Yt., Zhao, Mg., Xu, Tj. et al. Gentiopicroside abrogates lipopolysaccharide-induced depressive-like behavior in mice through tryptophan-degrading pathway. Metab Brain Dis 33, 1413–1420 (2018). https://doi.org/10.1007/s11011-018-0246-y
Received:

Accepted:

Published:

Issue Date:
Keywords
Gentiopicroside

Depressive-like behavior

LPS

Tryptophan-degrading pathway