Abstract
Increasing evidence suggests that the gut microbiota plays a key role in the central nervous system (CNS), and alterations of the gut microbiota composition due to environmental factors can contribute to neurodevelopmental disorders. Animal modeling may help to identify drugs that can normalize the altered gut microbiota and thereby ameliorate abnormal brain signaling pathways. The purpose of the present study was to investigate the therapeutic potency of probiotics such as Bifidobacteria and Lactobacilli on glutamate excitotoxicity as a neurotoxic effect induced by clindamycin and propionic acid (PPA) in juvenile hamsters. Fifty young golden Syrian hamsters weighing between 60 and 70 g were enrolled in the study. The hamsters were randomly divided into five groups, each with ten hamsters. The hamsters in the control group only received phosphate-buffered saline orally. The PPA-treated group received a neurotoxic dose of 250 mg PPA/kg body weight (BW)/day for three days. The clindamycin-treated group received 30 mg clindamycin/kg BW as a single orogastric dose on the day the experiment started. The two therapeutic groups received the same doses of PPA and clindamycin followed by 0.2 g probiotic/kg BW for three weeks. Biochemical parameters related to glutamate excitotoxicity were investigated in brain homogenates from each group of hamsters. Additionally, the development of pathogenic bacteria was monitored in stool samples from all groups. The microbiology results of the present study revealed descriptive changes in the fecal microbiota and the appearance of Clostridium species in the hamsters treated with clindamycin and PPA. Additionally, the effectiveness of the probiotic in the restoration of the normal gut microbiota was demonstrated. Moreover, clindamycin and PPA were found to induce a significant depletion of Mg2+ and γ-aminobutyric acid (GABA) and a remarkable increase in the Na+/Mg2+ and glutamate/GABA ratios but non-significant changes in the absolute levels of K+, Na+ and glutamate. The bacteria overgrowth induced by PPA and clindamycin in the present study effectively showed signs of neuronal toxicity. The study indicates that probiotics can be used safely to ameliorate glutamate excitotoxicity mostly through increasing depleted GABA and Mg2+ and decreasing the excitatory neurotransmitter, glutamate.
Access options
Buy single article
Instant access to the full article PDF.
USD 39.95
Price excludes VAT (USA)
Tax calculation will be finalised during checkout.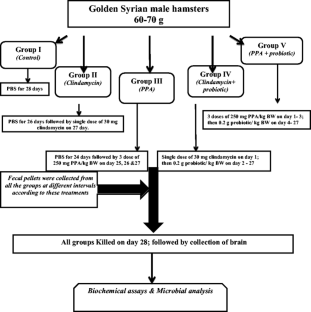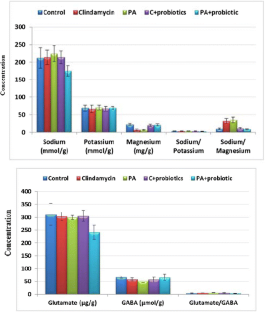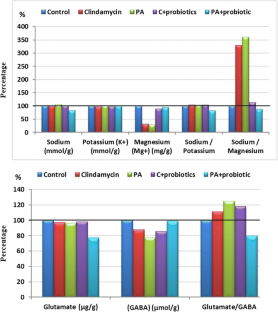 References
Al-Suwailem EA (2016) Understanding glutamate signaling defects in propionic acid-orally administered wistar rat pups as animal model of autism. Biochemistry Department, College of Science, King Saud University, Riyadh, Master thesis

Ault B, Evans RH, Francis AA, Oakes DJ, Watkins JC (1980) Selective depression of excitatory amino acid induced depolarizations by magnesium ions in isolated spinal cord preparations. J Physiol 307:413–428

Blaylock R (1999) Food additive excitotoxins and degenerative brain disorders. Med Sentinel 4:212–215

Brudnak MA (2002) Probiotics as an adjuvant to detoxification protocols. Med Hypotheses 58:382–395

Casanova MF, van Kooten IA, Switala AE, van Engeland H, Heinsen H, Steinbusch HW, Hof PR, Trippe J, Stone J, Schmitz C (2009) Minicolumnar abnormalities in autism. Acta Neuropathol 112:287–303

Daghestani MH, Selim ME, Abd-Elhakim YM, Said EN, Abd El-Hameed NE, Khalil SR, El-Tawil OS (2017) The role of apitoxin in alleviating propionic acid-induced neurobehavioral impairments in rat pups: the expression pattern of Reelin gene. Biomed Pharmacother 93:48–56

de Theije CG, Wopereis H, Ramadan M, van Eijndthoven T, Lambert J, Knol J, Garssen J, Kraneveld AD, Oozeer R (2014) Altered gut microbiota and activity in a murine model of autism spectrum disorders. Brain Behav Immun 37:197–206

Douglas LC, Sanders ME (2008) Probiotics and prebiotics in dietetics practice. J Am Diet Assoc 108:510–521

Dube L, Granry JC (2003) The therapeutic use of magnesium in anesthesiology, intensive care and emergency medicine: a review. Can J Anaesth 50:732–746

Durlach J, Bac P (1997) Mechanisms of action on the nervous system in magnesium deficiency and dementia. In: Yasui M, Strong MJ, Ota K, Verity MA (eds) Mineral and metal neurotoxicology. CRC press, Boca Raton, pp 201–209

El-Ansary (2016) A data of multiple regressions analysis between selected biomarkers related to glutamate excitotoxicity and oxidative stress in Saudi autistic patients. Data Brief 7:111–116

El-Ansary AK, Ben Bacha A, Kotb M (2012) Etiology of autistic features: the persisting neurotoxic effects of propionic acid. J Neuroinflammation 9(74). https://doi.org/10.1186/1742-2094-9-74

El-Ansary A, Shaker G, Siddiqi NJ, Al-Ayadhi LY (2013) Possible ameliorative effects of antioxidants on propionic acid/clindamycin - induced neurotoxicity in Syrian hamsters. Gut Pathog 5:32. https://doi.org/10.1186/1757-4749-5-32

El-Ansary A, Al-Salem HS, Asma A, Al-Dbass A (2017) Glutamate excitotoxicity induced by orally administered propionic acid, a short chain fatty acid can be ameliorated by bee pollen. Lipids Health Dis 16(96):96. https://doi.org/10.1186/s12944-017-0485-7

Fatemi SH, Reutiman TJ, Folsom TD, Thuras PD (2009) GABA(a) receptor downregulation in brains of subjects with autism. J Autism Dev Disord 39:223–230

Filpa V, Moro E, Protasoni M, Crema F, Frigo G, Giaroni C (2016) Role of glutamatergic neurotransmission in the enteric nervous system and brain-gut axis in health and disease. Neuropharmacology 111:14–33

Foley KA, Ossenkopp KP, Kavaliers M, Macfabe DF Pre- and neonatal exposure to lipopolysaccharide or the enteric metabolite, propionic acid, alters development and behavior in adolescent rats in a sexually dimorphic manner. PLoS One. 2014a; 9(1):e87072. https://doi.org/10.1371/journal.pone.0087072. eCollection 2014a

Foley KA, MacFabe DF, Kavaliers M, Ossenkopp KP (2015) Sexually dimorphic effects of prenatal exposure to lipopolysaccharide, and prenatal and postnatal exposure to propionic acid, on acoustic startle response and prepulse inhibition in adolescent rats: relevance to autism spectrum disorders. Behav Brain Res 278:244–256. https://doi.org/10.1016/j.bbr.2014.09.032

Foley KA, MacFabe DF, Vaz A, Ossenkopp KP, Kavaliers M (2014b) Sexually dimorphic effects of prenatal exposure to propionic acid and lipopolysaccharide on social behavior in neonatal, adolescent, and adult rats: implications for autism spectrum disorders. Int J Dev Neurosci 39:68–78. https://doi.org/10.1016/j.ijdevneu.2014.04.001

Gatto CL, Broadie K (2010) Genetic controls balancing excitatory and inhibitory synaptogenesis in neurodevelopmental disorder models. Front Synaptic Neurosci 7:2–4

Han S, Tai C, Westenbroek RE, Yu FH, Cheah CS, Potter GB, Rubenstein JL, Scheuer T, de la Iglesia HO, Catterall WA (2012) Autistic-like behaviour in Scn1a1/− mice and rescue by enhanced GABA-mediated neurotransmission. Nature 489:385–390

Heinemann U, Angamo EA, Liotta A (2017) Non-synaptic mechanisms: modulation of neuronal excitability by changes in extracellular ion composition. Reference Module in Neuroscience and Biobehavioral Psychology. https://doi.org/10.1016/B978-0-12-809324-5.00163-2

Hill C, Guarner F, Reid G, Gibson GR, Merenstein DJ, Pot B, Morelli L, Canani RB, Flint HJ, Salminen S, Calder PC, Sanders ME (2014) Expert consensus document: the international scientific Association for Probiotics and Prebiotics consensus statement on the scope and appropriate use of the term probiotic. Nat Rev Gastroenterol Hepatol 11:506–514

Ito S, Ogiwara I, Yamada K, Miyamoto H, Hensch TK, Osawa M, Yamakawa K (2013) Mouse with Nav1.1 haploinsufficiency, a model for Dravet syndrome, exhibits lowered sociability and learning impairment. Neurobiol Dis 49:29–40

Kim JW, Seung H, Kim KC, Gonzales EL, Oh HA, Yang SM, Ko MJ, Han SH, Banerjee S, Shin CY (2017) Agmatine rescues autistic behaviors in the valproic acid-induced animal model of autism. Neuropharmacology 113(Pt A):71–81

Krnjevic K, Lamour Y, MacDonald JF, Nistri A, Puil E, Werman R (1979) Intracellular divalent cations and neuronal excitability. Can J Physiol Pharmacol 57:957–972

Li Q, Zhou JM (2016) The microbiota-gut-brain axis and its potential therapeutic role in autism spectrum disorder. Neuroscience 324:131–139

Li KX, Lu YM, Xu ZH, Zhang J, Zhu JM, Zhang JM, Cao SX, Chen XJ, Chen Z, Luo JH, Duan S, Li XM (2011) Neuregulin 1 regulates excitability of fast-spiking neurons through Kv1.1 and acts in epilepsy. Nat Neurosci 15:267–273

Li Q, Han Y, Dy ABC, Hagerman RJ (2017) The gut microbiota and autism spectrum disorders. Front Cell Neurosci 11(120). https://doi.org/10.3389/fncel.2017.00120

Liang S, Wang T, Hu X, Luo J, Li W, Wu X, Duan Y, Jin F (2015) Administration of Lactobacillus helveticus NS8 improves behavioral, cognitive, and biochemical aberrations caused by chronic restraint stress. Neuroscience 310:561–577

Liu YW, Liu WH, Wu CC, Juan YC, Wu YC, Tsai HP, Wang S, Tsai YC (2016) Psychotropic effects of lactobacillus plantarum PS128 in early life-stressed and naive adult mice. Brain Res:1631:1–163112

MacFabe DF, Cain DP, Rodriguez-Capote K, Franklin AE, Hoffman JE, Boon F, Taylor AR, Kavaliers M, Ossenkopp KP (2007) Neurobiological effects of intraventricular propionic acid in rats: possible role of short chain fatty acids on the pathogenesis and characteristics of autism spectrum disorders. Behav Brain Res 176:149–169

MacFabe DF, Rodríguez-Capote K, Hoffman JE, Franklin AE, Mohammad-Asef Y, Taylor AR, Boon F, Cain DP, Kavaliers M, Possmayer F, Ossenkopp KP (2008) Novel rodent model of autism: Intraventricular infusions of propionic acid increase locomotor activity and induce neuroinflammation and oxidative stress in discrete regions of adult rat brain. Am J Biochem Biotechnol 4:146–166. https://doi.org/10.3844/ajbbsp.2008.146.166

MacFabe DF, Cain NE, Boon F, Ossenkopp KP, Cain DP (2011) Effects of the enteric bacterial metabolic product propionic acid on object-directed behavior, social behavior, cognition, and neuroinflammation in adolescent rats: relevance to autism spectrum disorder. Behav Brain Res 217:47–54

Michelle M, Susan S, Stuart J, Dale N (2003) Susceptibility of hamsters to human pathogenic clostridium difficile strainB1 following clindamycin, ampicillin or ceftriaxone administration. Anaerobe 9:91–95

Morris ME (1992) Brain and CSF magnesium concentrations during magnesium deficit in animals and humans: neurological symptoms. Magnes Res 5:303–313

Oberman LM (2012) mGluR antagonists and GABA agonists as novel pharmacological agents for the treatment of autism spectrum disorders. Expert Opin Investig Drugs 21:1819–1825

Parracho HMRT, Gibson GR, Knott F, Bosscher D, Kleerebezem M, McCartney AL (2010) A double-blind, placebo controlled, crossover-designed probiotic feeding study in children diagnosed with autistic spectrum disorders. Int J Probiotics Prebiotics 5:69–74

Payne S, Gibson G, Wynne A, Hudspith B, Brostoff J, Tuohy K (2003) In vitro studies on colonization resistance of the human gut microbiota to Candida albicans and the effects of tetracycline and lactobacillus plantarum LPK. Curr Issues Intest Microbiol 4:1–8

Rubenstein JL, Merzenich MM (2003) Model of autism: increased ratio of excitation/inhibition in key neural systems. Genes Brain Behav 2:255–267

Sampson TR, Mazmanian SK (2015) Control of brain development, function, and behavior by the microbiome. Cell Host Microbe 17:565–576

Savignac HM, Kiely B, Dinan TG, Cryan JF (2014) Bifidobacteria exert strain-specific effects on stress-related behavior and physiology in BALB/c mice. Neurogastroenterol Motil 26:1615–1627

Stein DG, Glasier MM (1992) An overview of developments in research on recovery from brain injury. In: Rose FD, Johnson DA (eds) Recovery from brain damage reflections and directions. Plenum press, New York, pp 1–22

Strati F, Cavalieri D, Albanese D, De Felice C, Donati C, Hayek J, Jousson O, Leoncini S, Renzi D, Calabrò A, De Filippo C (2017) New evidences on the altered gut microbiota in autism spectrum disorders. Microbiome 5(1):24

Tan GH, Liu YY, Hu XL, Yin DM, Mei L, Xiong ZQ (2011) Neuregulin 1 represses limbic epileptogenesis through ErbB4 in parvalbuminexpressing interneurons. Nat Neurosci 15:258–266

Vuong HE, Hsiao EY (2017) Emerging roles for the gut microbiome in autism spectrum disorder. Biol Psychiatry 81:411–423

Yasui M, Ota K, Murphy VA (1997) Magnesium-related neurological disorders. In: Yasui M, Strong MJ, Ota K, Verity MA (eds) Mineral and metal neurotoxicology. CRC press, Boca Raton, pp 219–226

Zhang Y, Bonnan A, Bony G, Ferezou I, Pietropaolo S, Ginger M, Sans N, Rossier J, Oostra B, LeMasson G, Frick A (2014) Dendritic channelopathies contribute to neocortical and sensory hyperexcitability in Fmr1(−/y) mice. Nat Neurosci 17:1701–1709

Zhichao Z, Xichun P, Saoting L, Ning Z, Yong W, Hua W (2014) Isolation and identification of quercetin degrading bacteria from human fecal microbes. PLoS One 9:e90531. https://doi.org/10.1371/journal.pone.0090531
Acknowledgements
This research project was supported by the Deanship of Scientific Research, Princess Nora Bint Abdulrahman University, Grant number 38-213. Thanks also are due to Ms. Shaista Arzoo, for her appreciated effort in revising the manuscript.
Ethics declarations
Conflict of interest
The authors declare no potential conflicts of interest with respect to the authorship and/or publication of this article.
Ethical approval
All procedures performed were in accordance with the ethical standards of the institutional and/or national research committee and with the 1964 Helsinki declaration and its later amendments or comparable ethical standards.
About this article
Cite this article
El-Ansary, A., Bacha, A.B., Bjørklund, G. et al. Probiotic treatment reduces the autistic-like excitation/inhibition imbalance in juvenile hamsters induced by orally administered propionic acid and clindamycin. Metab Brain Dis 33, 1155–1164 (2018). https://doi.org/10.1007/s11011-018-0212-8
Received:

Accepted:

Published:

Issue Date:

DOI: https://doi.org/10.1007/s11011-018-0212-8
Keywords
Autism

Propionic acid

Clindamycin

Glutamate

Gamma-aminobutyric acid

Glutamate excitotoxicity