Abstract
Taxifolin is a potent flavonoid with anti-inflammatory activity. Taxifolin has been reported to decrease the accumulation of β-amyloid (Aβ), and reduce Aβ-induced neurotoxicity. However, the detail molecular mechanism of taxifolin against Aβ-induced neurotoxicity is largely unknown. In this study, we revealed the protective effects and the underlying mechanisms of taxifolin on the impairments of cognitive function and synapse formation induced by soluble Aβ oligomers. Our results showed that taxifolin prevented neuronal cell death in a concentration-dependent manner. The recognition memory in novel object recognition tasks and the spatial memory in Morris water maze tests are significantly lower in the Alzheimer's disease (AD) model mice induced by hippocampal injection of Aβ42. Taxifolin treatment prevented the recognitive and spatial memory deficits of the AD mice. 10 mg/kg taxifolin treatment also significantly prevented the decreased expression levels of PSD 95 induced by Aβ42. Live cell imaging study showed that 2 h pre-treatment of taxifolin prevented the decrease in the number of filopodium and spine induced by Aβ42 oligomers. Aβ42 oligomers significantly increased the production of cytosolic phospholipase A2 (cPLA2), a crucial enzyme of pro-inflammatory mediator, and prostaglandin E2 (PGE2), a neuroinflammatory molecule. Taxifolin significantly reduced the content of cPLA2 and PGE2 induced by Aβ42 both in the primary hippocampal neurons and hippocampal tissues. These results indicated that taxifolin might prevent Aβ42 oligomer-induced synapse and cognitive impairments through decreasing cPLA2 and PGE2. Our study provided novel insights into the cellular mechanisms for the protective effects of taxifolin on AD.
Access options
Buy single article
Instant access to the full article PDF.
US$ 39.95
Tax calculation will be finalised during checkout.
Subscribe to journal
Immediate online access to all issues from 2019. Subscription will auto renew annually.
US$ 79
Tax calculation will be finalised during checkout.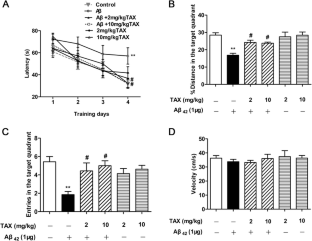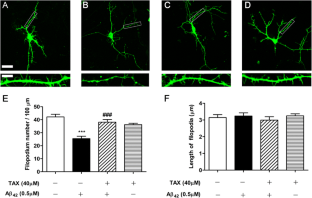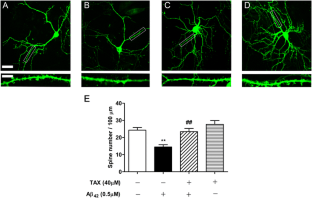 Abbreviations
AD:

Alzheimer's disease

Aβ:

Amyloid-β protein

PGE2 :

Prostaglandin E2

SO Aβ:

Soluble oligomers of Aβ

cPLA2 :

Cytosolic phospholipase A2

AA:

Arachidonic Acid
References
Albert MS (2011) Changes in cognition. Neurobiol Aging 32:58–63

Arbel-Ornath M, Hudry E, Boivin JR, Hashimoto T, Takeda S, Kuchibhotla KV, Hou S, Lattarulo CR, Belcher AM, Shakerdge N, Trujillo PB, Muzikansky A, Betensky RA, Hyman BT, Bacskai BJ (2017) Soluble oligomeric amyloid-beta induces calcium dyshomeostasis that precedes synapse loss in the living mouse brain. Mol Neurodegener 12:27–40

Ballard C, Gauthier S, Corbett A, Brayne C, Aarsland D, Jones E (2011) Alzheimer's disease. J Lancet 377:1019–1031

Bate C, Williams A (2015a) Alpha-Synuclein-induced synapse damage in cultured neurons is mediated by cholesterol-sensitive activation of cytoplasmic phospholipase A2. Biomol Ther 5:178–193

Bate C, Williams A (2015b) cAMP-inhibits cytoplasmic phospholipase a(2) and protects neurons against amyloid-beta-induced synapse damage. Biol (Basel) 4:591–606

Bate C, Tayebi M, Williams A (2010) Phospholipase A2 inhibitors protect against prion and Abeta mediated synapse degeneration. Mol Neurodegener 5:13

Brummett AM, Navratil AR, Bryan JD, Woolard MD (2014) Janus kinase 3 activity is necessary for phosphorylation of cytosolic phospholipase A2 and prostaglandin E2 synthesis by macrophages infected with Francisella tularensis live vaccine strain. Infect Immun 82:970–982

Ford L, Crossley M, Williams T, Thorpe JR, Serpell LC, Kemenes G (2015) Effects of Abeta exposure on long-term associative memory and its neuronal mechanisms in a defined neuronal network. Sci Rep 5:10614–10628

Fowler SW, Chiang AC, Savjani RR, Larson ME, Sherman MA, Schuler DR, Cirrito JR, Lesne SE, Jankowsky JL (2014) Genetic modulation of soluble Abeta rescues cognitive and synaptic impairment in a mouse model of Alzheimer's disease. J Neurosci 34:7871–7885

Hermann PM, Watson SN, Wildering WC (2014) Phospholipase A2 - nexus of aging, oxidative stress, neuronal excitability, and functional decline of the aging nervous system? Insights from a snail model system of neuronal aging and age-associated memory impairment. Front Genet 5:1–18

Jiang L, Huang M, Xu S, Wang Y, An P, Feng C, Chen X, Wei X, Han Y, Wang Q (2016) Bis(propyl)-cognitin prevents beta-amyloid-induced memory deficits as well as synaptic formation and plasticity impairments via the activation of PI3-K pathway. Mol Neurobiol 53:3832–3841

Koch H, Huh SE, Elsen FP, Carroll MS, Hodge RD, Bedogni F, Turner MS, Hevner RF, Ramirez JM (2010) Prostaglandin E2-induced synaptic plasticity in neocortical networks of organotypic slice cultures. J Neurosci 30:11678–11687

Koffie RM, Hyman BT, Spires-Jones TL (2011) Alzheimer's disease: synapses gone cold. Mol Neurodegener 6:63–71

Larson ME, Lesne SE (2012) Soluble Abeta oligomer production and toxicity. J Neurochem 120:125–139

Marjani M, Baghaei P, Fahimic F, Dizajib MK, Tabarsi P, Bayani PG, Velayati AA (2016) Evaluation of Hepatoprotective effect of Silymarin among under treatment tuberculosis patients: a randomized clinical trial. Iran J Pharm Res 15:247–252

Naito Y, Tanabe Y, Lee AK, Hamel E, Takahashi H (2017) Amyloid-beta oligomers interact with Neurexin and diminish Neurexin-mediated excitatory presynaptic organization. Sci Rep 7:42548–42560

Nelson PT, Alafuzoff I, Bigio EH, Bouras C, Braak H, Cairns NJ, Castellani RJ, Crain BJ, Davies P, Del Tredici K, Duyckaerts C, Frosch MP, Haroutunian V, Hof PR, Hulette CM, Hyman BT, Iwatsubo T, Jellinger KA, Jicha GA, Kovari E, Kukull WA, Leverenz JB, Love S, Mackenzie IR, Mann DM, Masliah E, McKee AC, Montine TJ, Morris JC, Schneider JA, Sonnen JA, Thal DR, Trojanowski JQ, Troncoso JC, Wisniewski T, Woltjer RL, Beach TG (2012) Correlation of Alzheimer disease neuropathologic changes with cognitive status: a review of the literature. J Neuropathol Exp Neurol 71:362–381

Ni J, Wu Z, Meng J, Zhu A, Zhong X, Wu S, Nakanishi H (2017) The neuroprotective effects of Brazilian green Propolis on neurodegenerative damage in human neuronal SH-SY5Y cells. Oxid Med Cell Longev 2017:1–13

Park SY, Kim HY, Park HJ, Shin HK, Hong KW, Kim CD (2016) Concurrent treatment with Taxifolin and Cilostazol on the lowering of beta-amyloid accumulation and neurotoxicity via the suppression of P-JAK2/P-STAT3/NF-kappaB/BACE1 signaling pathways. PLoS One 11:e0168286

Price KA, Varghese M, Sowa A, Yuk F, Brautigam H, Dickstein DL (2014) Altered synaptic structure in the hippocampus in a mouse model of Alzheimer's disease with soluble amyloid-β oligomers and no plaque pathology. Mol Neurodegener 9:41–53

Saito S, Yamamoto Y, Maki T, Hattori Y, Ito H, Mizuno K, Harada-Shiba M, Kalaria RN, Fukushima M, Takahashi R, Ihara M (2017) Taxifolin inhibits amyloid-beta oligomer formation and fully restores vascular integrity and memory in cerebral amyloid angiopathy. Acta Neuropathol Commun 5:26

Sato M, Murakami K, Uno M, Ikubo H, Nakagawa Y, Katayama S, Akagi K, Irie K (2013a) Structure-activity relationship for (+)-taxifolin isolated from silymarin as an inhibitor of amyloid beta aggregation. Biosci Biotechnol Biochem 77:1100–1103

Sato M, Murakami K, Uno M, Nakagawa Y, Katayama S, Akagi K, Masuda Y, Takegoshi K, Irie K (2013b) Site-specific inhibitory mechanism for amyloid beta42 aggregation by catechol-type flavonoids targeting the Lys residues. J Biol Chem 288:23212–23224

Schwab C, McGeer PL (2008) Inflammatory aspects of Alzheimer disease and other neurodegenerative disorders. J Alzheimers Dis 13:359–369

Sun GY, Chuang DY, Zong Y, Jiang J, Lee JC, Gu Z, Simonyi A (2014) Role of cytosolic phospholipase A2 in oxidative and inflammatory signaling pathways in different cell types in the central nervous system. Mol Neurobiol 50:6–14

Tan CC, Yu JT, Wang HF, Tan MS, Meng XF, Wang C, Jiang T, Zhu XC, Tan L (2014) Efficacy and safety of donepezil, galantamine, rivastigmine, and memantine for the treatment of Alzheimer's disease: a systematic review and meta-analysis. J Alzheimers Dis 41:615–631

Teich AF, Nicholls RE, Puzzo D, Fiorito J, Purgatorio R, Fa M, Arancio O (2015) Synaptic therapy in Alzheimer's disease: a CREB-centric approach. Neurotherapeutics 12:29–41

Topal F, Nar M, Gocer H, Kalin P, Kocyigit UM, Gulcin I, Alwasel SH (2016) Antioxidant activity of taxifolin: an activity-structure relationship. J Enzyme Inhib Med Chem 31:674–683

Wang Q, Walsh DM, Rowan MJ, Selkoe DJ, Anwyl R (2004) Block of long-term potentiation by naturally secreted and synthetic amyloid beta-peptide in hippocampal slices is mediated via activation of the kinases c-Jun N-terminal kinase, cyclin-dependent kinase 5, and p38 mitogen-activated protein kinase as well as metabotropic glutamate receptor type 5. J Neurosci 24:3370–3378

Wang Q, Wang L, Li G, Ye B (2017) A simple and sensitive method for determination of taxifolin on palladium nanoparticles supported poly (diallyldimethylammonium chloride) functionalized graphene modified electrode. Talanta 164:323–329

Wang-Dietrich L, Funke SA, Kuhbach K, Wang K, Besmehn A, Willbold S, Cinar Y, Bannach O, Birkmann E, Willbold D (2013) The amyloid-beta oligomer count in cerebrospinal fluid is a biomarker for Alzheimer's disease. J Alzheimers Dis 34:985–994

Wyss-Coray T, Rogers J (2012) Inflammation in Alzheimer disease-a brief review of the basic science and clinical literature. Cold Spring Harb Perspect Med 2:a006346–a006368

Xu S, Guan Q, Wang C, Wei X, Chen X, Zheng B, An P, Zhang J, Chang L, Zhou W, Mody I, Wang Q (2014a) Rosiglitazone prevents the memory deficits induced by amyloid-beta oligomers via inhibition of inflammatory responses. Neurosci Lett 578:7–11

Xu S, Liu G, Bao X, Wu J, Li S, Zheng B, Anwyl R, Wang Q (2014b) Rosiglitazone prevents amyloid-beta oligomer-induced impairment of synapse formation and plasticity via increasing dendrite and spine mitochondrial number. J Alzheimers Dis 39:239–251

Yang P, Xu F, Li HF, Wang Y, Li FC, Shang MY, Liu GX, Wang X, Cai SQ (2016) Detection of 191 Taxifolin metabolites and their distribution in rats using HPLC-ESI-IT-TOF-MS(n). Molecules 21:1209–1234
Acknowledgments
This work was supported by grants from The National Natural Science Foundation of China (81771166 and 81471398), Natural Science Foundation of Zhejiang Province (LY16H090001 and LY14H090004), Natural Science Foundation of Ningbo (2015A610211), Ningbo municipal innovation team of life science and health (2015C110026), and the K.C.Wong Magna Fund in Ningbo University.
Ethics declarations
Conflict of interest
The authors have no conflicts of interest.
About this article
Cite this article
Wang, Y., Wang, Q., Bao, X. et al. Taxifolin prevents β-amyloid-induced impairments of synaptic formation and deficits of memory via the inhibition of cytosolic phospholipase A2/prostaglandin E2 content. Metab Brain Dis 33, 1069–1079 (2018). https://doi.org/10.1007/s11011-018-0207-5
Received:

Accepted:

Published:

Issue Date:
Keywords
Taxifolin

Alzheimer's disease

Cognitive impairments

Synapse

Prostaglandin E2
Cytosolic phospholipase A2