Abstract
Hair cortisol is regarded as a promising marker of hypothalamic-pituitary-adrenal axis (HPAA) activity alterations due to stress, somatic and mental health conditions. Hair cortisol was previously reported to be elevated in patients with depression, however the data related to remission and recurrent depressive episodes are different. In this study, levels of hair cortisol were assessed in female patients with major depressive disorder (MDD) and the validity of hair cortisol as a marker of HPAA activity in this condition was evaluated. Hair cortisol was measured in 1 cm hair segments of 21 female patients with MDD and 22 female age-matched controls using enzyme-immunoassay analysis. Concurrently, serum cortisol was assessed and psychological status was evaluated using 17-item Hamilton Depression Rating Scale (HAMD-17), Beck Depression Inventory (BDI) and the Spielberger state trait anxiety inventory (STAI). The levels of hair cortisol were significantly lower in the MDD group, while serum cortisol levels were significantly higher in patients, as compared with controls. A significant negative correlation was found between HAMD-17 scores and hair cortisol. Decreased hair cortisol found in female patients with MDD as compared to controls suggests downregulation of HPAA activity during the preceding month. Further studies are needed to investigate the profiles of hair cortisol at different stages of depressive disorder to establish this parameter as a handy clinical tool.
Access options
Buy single article
Instant access to the full article PDF.
USD 39.95
Price excludes VAT (USA)
Tax calculation will be finalised during checkout.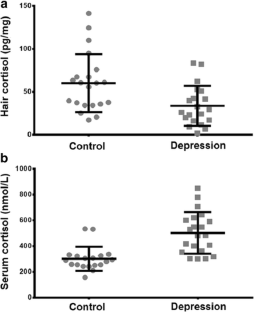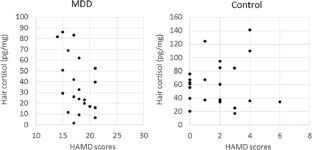 References
Aggernaes H, Kirkegaard C, Krog-Meyer I, Kijne B, Larsen JK, Laursen AL, Lykke-Olesen L, Mikkelsen PL, Rasmussen S, Bjørum N (1983) Dexamethasone suppression test and TRH test in endogenous depression. Acta Psychiatr Scand 67:258–264

Bockting CL, Lok A, Visser I, Assies J, Koeter MW, Schene AH, DELTA study group (2012) Lower cortisol levels predict recurrence in remitted patients with recurrent depression: a 5.5 year prospective study. Psychiatry Res 200:281–287

Booij SH, Bos EH, Bouwmans ME, van Faassen M, Kema IP, Oldehinkel AJ, de Jonge P (2015) Cortisol and α-amylase secretion patterns between and within depressed and non-depressed individuals. PLoS One 10:1–15

Borges S, Gayer-Anderson C, Mondelli V (2012) A systematic review of the activity of the hypothalamic–pituitary–adrenal axis in first episode psychosis. Psychoneuroendocrinology 38:603–611

Brouwer JP, Appelhof BC, Hoogendijk WJ, Huyser J, Endert E, Zuketto C, Schene AH, Tijssen JG, Van Dyck R, Wiersinga WM, Fliers E (2005) Thyroid and adrenal axis in major depression: a controlled study in outpatients. Eur J Endocrinol 152:185–191

Dettenborn L, Muhtz C, Skoluda N, Stalder T, Steudte S, Hinkelmann K, Kirschbaum C, Otte C (2012) Introducing a novel method to assess cumulative steroid concentrations: increased hair cortisol concentrations over 6 months in medicated patients with depression. Stress 15:348–353

Goldberg JF, Harrow M, Whiteside JE (2001) Risk for bipolar illness in patients initially hospitalized for unipolar depression. Am J Psychiatry 158:1265–1270

Grant MM, Friedman ES, Haskett RF, Riso LP, Thase ME (2007) Urinary free cortisol levels among depressed men and women: differential relationships to age and symptom severity? Arch Womens Ment Health 10:73–78

Hellhammer J, Fries E, Schweisthal OW, Schlotz W, Stone AA, Hagemann D (2007) Several daily measurements are necessary to reliably assess the cortisol rise after awakening: state- and trait components. Psychoneuroendocrinology 32:80–86

Henley P, Jahedmotlagh Z, Thomson S, Hill J, Darnell R, Jacobs D, Johnson J, Williams NC, Williams RM, Van Uum S, Bend JR, Koren G (2013) Hair cortisol as a biomarker of stress among a first nation in Canada. Ther Drug Monit 35:595–599

Hinkelmann K, Muhtz C, Dettenborn L, Agorastos A, Wingenfeld K, Spitzer C, Gao W, Kirschbaum C, Wiedemann K, Otte C (2013) Association between childhood trauma and low hair cortisol in depressed patients and healthy control subjects. Biol Psychiatry 74:15–17

Karlén J, Ludvigsson J, Frostell A, Theodorsson E, Faresjö T (2011) Cortisol in hair measured in young adults - a biomarker of major life stressors? BMC Clin Pathol 11:12

Kessler RC, Merikangas KR, Wang PS (2007) Prevalence, comorbidity, and service utilization for mood disorders in the United States at the beginning of the twenty-first century. Annu Rev Clin Psychol 3:137–158

Li H, Gao Z, Wu Q, Huang P, Lin C, Chen G (2013) Relationship of hypothalamus-pituitary-adrenal (HPA) axis function and suicidal behavior in patients with depression. Shanghai Arch Psychiatry 25:32–39

Manenschijn L, van Kruysbergen RG, de Jong FH, Koper JW, van Rossum EF (2011) Shift work at young age is associated with elevated long-term cortisol levels and body mass index. J Clin Endocrinol Metab 96:E1862–E1865

Manenschijn L, Spijker AT, Koper JW, Jetten AM, Giltay EJ, Haffmans J, Hoencamp E, van Rossum EF (2012) Long-term cortisol in bipolar disorder: associations with age of onset and psychiatric co-morbidity. Psychoneuroendocrinology 37:1960–1968

Mason BL, Pariante CM (2006) The effects of antidepressants on the hypothalamic–pituitary–adrenal axis. Drug News Perspect 19:603–608

Miller GE, Chen E, Zhou ES (2007) If it goes up, must it come down? Chronic stress and the hypothalamic-pituitary-adrenocortical axis in humans. Psychol Bull 133:25–45

Oldehinkel AJ, Bouma E (2011) Sensitivity to the depressogenic effect of stress and HPA-axis reactivity in adolescence: a review of gender differences. Neurosci Biobehav Rev 35:1757–1770

Oldehinkel AJ, van den Berg MD, Flentge F, Bouhuys AL, Ter Horst GJ, Ormel J (2001) Urinary free cortisol excretion in elderly persons with minor and major depression. Psychiatry Res 104:39–47

Onufriev MV, Freiman SV, Druzhkov TA, Guekht AB, Gulyaeva NV (2015) Technical approaches to a cortisol assay in hair for retrospective stress evaluation. Neurochem J 9:73–75

Parrott AC, Sands HR, Jones L, Clow A, Evans P, Downey LA, Stalder T (2014) Increased cortisol levels in hair of recent ecstasy/MDMA users. Eur Neuropsychopharmacol 24:369–374

Pereg D, Gow R, Mosseri M, Lishner M, Rieder M, Van Uum S, Koren G (2011) Hair cortisol and the risk for acute myocardial infarction in adult men. Stress 14:73–81

Pereg D, Chan J, Russell E, Berlin T, Mosseri M, Seabrook JA, Koren G, Van Uum S (2013) Cortisol and testosterone in hair as biological markers of systolic heart failure. Psychoneuroendocrinology 38:2875–2882

Piccinelli M, Wilkinson G (2000) Gender differences in depression. Critical review. Br J Psychiatry J Ment Sci 177:486–492

Sauvé B, Koren G, Walsh G, Tokmakejian S, Van Uum SH (2007) Measurement of cortisol in human hair as a biomarker of systemic exposure. Clin Invest Med 30:E183–E191

Skoluda N, Dettenborn L, Stalder T, Kirschbaum C (2012) Elevated hair cortisol concentrations in endurance athletes. Psychoneuroendocrinology 37:611–617

Stalder T, Kirschbaum C, Heinze K, Steudte S, Foley P, Tietze A, Dettenborn L (2010) Use of hair cortisol analysis to detect hypercortisolism during active drinking phases in alcohol-dependentindividuals. Biol Psychol 85:357–360

Staufenbiel SM, Penninx BW, Spijker AT, Elzinga BM, van Rossum EF (2013) Hair cortisol, stress exposure, and mental health in humans: a systematic review. Psychoneuroendocrinology 38:1220–1235

Staufenbiel SM, Penninx BW, de Rijke YB, van den Akker EL, van Rossum EF (2015) Determinants of hair cortisol and hair cortisone concentrations in adults. Psychoneuroendocrinology 60:182–194

Steudte S, Kolassa IT, Stalder T, Pfeiffer A, Kirschbaum C, Elbert T (2011a) Increased cortisol concentrations in hair of severely traumatized Ugandan individuals with PTSD. Psychoneuroendocrinology 36:1193–1200

Steudte S, Stalder T, Dettenborn L, Klumbies E, Foley P, Beesdo-Baum K, Kirschbaum C (2011b) Decreased hair cortisol concentrations in generalised anxiety disorder. Psychiatry Res 186:310–314

Steudte S, Kirschbaum C, Gao W, Alexander N, Schönfeld S, Hoyer J, Stalder T (2013) Hair cortisol as a biomarker of traumatization in healthy individuals and posttraumatic stress disorder patients. Biol Psychiatry 74:639–646

Van Uum SH, Sauvé B, Fraser LA, Morley-Forster P, Paul TL, Koren G (2008) Elevated content of cortisol in hair of patients with severe chronic pain: a novel biomarker for stress. Stress 11:483–488

Vives HA, De Angel V, Papadopoulos A, Strawbridge R, Wise T, Young AH, Arnone D, Cleare AJ (2015) The relationship between cortisol, stress and psychiatric illness: new insights using hair analysis. J Psychiatr Res 70:38–49

Vreeburg SA, Hoogendijk WJ, van Pelt J, Derijk RH, Verhagen JC, van Dyck R, Smit JH, Zitman FG, Penninx BW (2009) Major depressive disorder and hypothalamic-pituitary-adrenal axis activity: results from a large cohort study. Arch Gen Psychiatry 66:617–662

Wei J, Sun G, Zhao L, Yang X, Liu X, Lin D, Li T, Ma X (2015) Analysis of hair cortisol level in first-episodic and recurrent female patients with depression compared to healthy controls. J Affect Disord 175:299–302

Williams JB (1988) A structured interview guide for the Hamilton depression rating scale. Arch Gen Psychiatry 45(8):742–747

Young EA, Haskett RF, Murphy-Weinberg V, Watson SJ, Akil H (1991) Loss of glucocorticoid fast feedback in depression. Arch Gen Psychiatry 48:693–699
Acknowledgements
This study was supported by the Russian Science Foundation, grant #14-25-00136.
Ethics declarations
Conflict of interest
None of the authors has conflict of interest to declare.
Additional information
Ksenia Pochigaeva and Tatiana Druzhkova contributed equally to this study
Natalia Gulyaeva and Alla Guekht share senior authorship
About this article
Cite this article
Pochigaeva, K., Druzhkova, T., Yakovlev, A. et al. Hair cortisol as a marker of hypothalamic-pituitary-adrenal Axis activity in female patients with major depressive disorder. Metab Brain Dis 32, 577–583 (2017). https://doi.org/10.1007/s11011-017-9952-0
Received:

Accepted:

Published:

Issue Date:

DOI: https://doi.org/10.1007/s11011-017-9952-0
Keywords
Hair cortisol

Serum cortisol

Depression

Female patients

HPA axis