Abstract
The present work aims to investigate the anxiolytic activity of 6-styryl-2-pyrone (STY), obtained from Aniba panurensis, in behavioral tests and amino acids dosage on male Swiss mice. The animals were treated with STY (1, 10 or 20 mg), diazepam (DZP 1 or 2 mg/kg) or imipramine (IMI 30 mg/kg). Some groups were administered with flumazenil, 30 min before administration of the STYor DZP. The behavioral tests performed were open field, rota rod, elevated plus maze (EPM), hole-board (HB) and tail suspension test (TST). After behavioral tests, these animals were sacrificed and had their prefrontal cortex (PFC), hippocampus (HC) and striatum (ST) dissected for assaying amino acids (aspartate- ASP, glutamate- GLU, glycine- GLY, taurine- TAU and Gamma-aminobutyric acid- GABA). In EPM test, STY or DZP increased the number of entries and the time of permanence in the open arms, but these effects were reverted by flumazenil. In the HB test, STY increased the number of head dips however this effect was blocked by flumazenil. The effects of the STY on amino acid concentration in PFC showed increased GLU, GABA and TAU concentrations. In hippocampus, STY increased the concentrations of all amino acids studied. In striatum, STY administration at lowest dose reduced GLU concentrations, while the highest dosage caused the opposite effect. GLI, TAU and GABA concentrations increased with STY administration at highest doses. In conclusion, this study showed that STY presents an anxiolytic-like effect in behavioral tests that probably is related to GABAergic mechanism of action.
Access options
Buy single article
Instant access to the full article PDF.
US$ 39.95
Tax calculation will be finalised during checkout.
Subscribe to journal
Immediate online access to all issues from 2019. Subscription will auto renew annually.
US$ 79
Tax calculation will be finalised during checkout.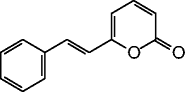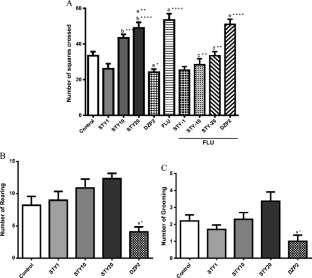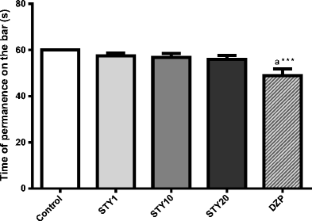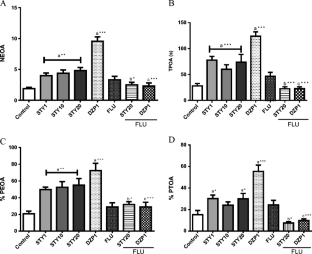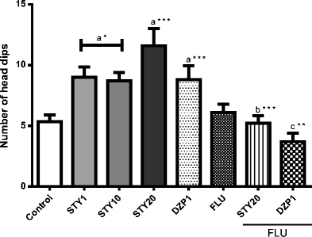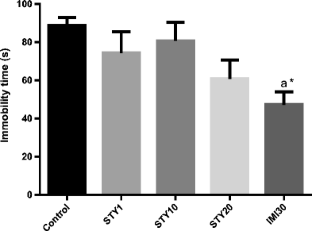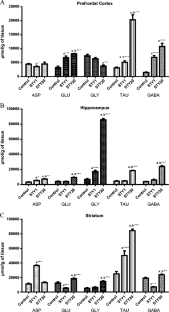 References
Aragão GF, Carneiro LMV, Junior APF, Vieira LC, Bandeira PN, Lemos TLG, Viana GS (2006) A possible mechanism for anxiolytic and antidepressant effects of alpha- and beta-amyrin from Protiu heptaphyllum (Aubl.) Pharmacol Biochem Behav 85(4):827–834

Archer J (1973) Tests for emotionality in rats and mice: a review. Anim Behav 21(2):205–223

Barbosa-Filho JM, Yoshida M, Gottlieb OR, Barbosa RCSBC, Giesbrecht AM, Young MCM (1987) Benzoyl esters and amides, stryrylpyrones and neolignans from the fruits of Aniba riparia. Phytochemistry 26(9):2615–2617

Bittencourt AM, Gottlieb OR, Mors WB, Magalhaes MT, Mageswaran SM, Ollis WD, Sutherland IO (1971) The natural occurrence of 6-styryl-2-pyrones and their synthesis. Tetrahedron 27(5):1043–1048

Chan CY, Sun HS, Shah SM, Agovic MS, Friedman E, Banerjee SP (2014) Modes of direct modulation by taurine of the glutamate NMDA receptor in rat cortex. Eur J Pharmacol 728:167–175

Clark G, Koster AG, Person DW (1971) Exploratory behavior in chronic disulfoton poisoning in mice. Psychopharmacology 20(2):169–171

Crawley JN (1985) Exploratory behaviour models of anxiety in mice. Neurosci Biobehav Rev 9(1):37–44

Di Stasi LC, Hiruma-Lima CA (2003) Medicinal plants in the Amazon and Atlantic forest, 2nd edn. São Paulo, pp 139–143

Dunham NW, Miya TS (1957) A note on a simple apparatus for detecting neurological deficits in rats and mice. J Am Pharm Assoc Am Pharm Assoc 46(3):208–209

Errico F, Rossi S, Napolitano F, Catuogno V, Topo E, Fisone G, D'Aniello A, Centonze D, Usiello A (2008) D-Aspartate prevents corticostriatal long-term depression and attenuates schizophrenia-like symptoms induced by amphetamine and MK-801. J Neurosci 28(41):10404–10414

Etkin A (2009) Functional neuroanatomy of anxiety: a neural circuit perspective. In: Stein MB, Steckler T (eds) Behavioral neurobiology of anxiety and its treatment. Springer Verlag, Berlin, pp 251–277

Francisco ES, Guedes RC (2015) Neonatal taurine and alanine modulate anxiety-like behavior and decelerate cortical spreading depression in rats previously suckled under different litter sizes. Amino Acids 47(11):2437–2445

Griffin CE, Kaye AM, Bueno FR, Kaye AD (2013) Benzodiazepine pharmacology and central nervous system–mediated effects. Ochsner J 13(2):214–223

Junyent F, Utrera J, Camins A, Pallàs M, Romero R, Auladell C (2009) Synthesis, uptake and release of taurine in astrocytes treated with 8-Br-cAMP. Neurosci Lett 467(3):199–202

Kjelstrup KG, Tuvnes FA, Steffenach HA, Murison R, Moser EI, Moser MB (2002) Reduced fear expression after lesions of the ventral hippocampus. Proc Natl Acad Sci U S A 99:10825–10830

Leggio GM, Torrisi SA, Castorina A, Platania CBM, Impellizzeri AAR, Fidilio A, Caraci F, Bucolo C, Drago F (2015) Dopamine D3 receptor-dependent changes in alpha6 GABAA subunit expression in striatum modulate anxiety-like behaviour: responsiveness and tolerance to diazepam. Eur Neuropsychopharmacol 25(9):1427–1436

Lindroth P, Mopper V (1979) High performance liquid chromatographic determination of subpicomole amounts of amino acids by precolumn fluorescence derivatization with o-phthaldialdehyde. Anal Chem 51(11):1667–1674

Lister RG (1987) The use of a plus-maze to measure anxiety in the mouse. Psychopharmacology 92(2):180–185

Magnani P, Conforti A, Zanolin E, Marzotto M, Bellavite P (2010) Dose-effect study of Gelsemium sempervirens in high dilutions on anxiety-related responses in mice. Psychopharmacology 210(4):533–545

Marques CA (2001) Economic importance of the family Lauraceae Lindl. For Environ 8(1):195–206

Maurmann N, Reolon GK, Rech SB, Fett-Neto AG, Roesler R (2011) Valepotriate fraction of Valeriana glechomifolia shows sedative and anxiolytic properties and impairs recognition but not aversive memory in mice. Evid Based Complement Alternat Med 8:1–7

Melo FHC, Venâncio ET, Sousa DP, Fontele MMF, Vasconcelos SMM, Viana SGB (2010) Sousa FC (2010) anxiolytic-like effert of carvacrol (5-isopropyl-2-methyphenol) in mice: involvement with GABAergic transmission. Fundam Clin Pharmacol 24(4):437–443

Mezzomo NJ, Silveira A, Giuliani GS, Quadros VA, Rosemberg DB (2016) The role of taurine on anxiety-like behaviors in zebrafish: a comparative study using the novel tank and the light-dark tasks. Neurosci Lett 613:19–24

Modi S, Rana P, Kaur P, Rani N, Khushu S (2014) Glutamate level in anterior cingulate predicts anxiety in healthy humans: a magnetic resonance spectroscopy study. Psychiatry Res 224(1):34–41

Montgomery KC (1955) The relation between fear induced by novel stimulation and exploratory behavior. J Comp Physiol Psychol 48(4):254–260

Motzkin JC, Philippi CL, Wolf R, Baskaya MK, Koenigs M (2015) Ventromedial prefrontal cortex is critical for the regulation of amygdala activity in humans. Biol Psychiatry 77(3):276–284

Muris P, Simon E, Lijphart H, Bos A, Hale W, Schmeitz K, Wolters (2017) The youth anxiety measure for DSM-5 (YAM-5): development and first psychometric evidence of a new scale for assessing anxiety disorders symptoms of children and adolescents. Child Psychiatry Hum Dev 48(1):1–17

Nielsen S (2015) Benzodiazepines. In: Geyer MA, Ellenbroek BA, Marsden CA, Barnes ThRE (ed) Curr Top Behav Neurosci. Springer, pp 1–19

Nuss P (2015) Anxiety disorders and GABA neurotransmission: a disturbance of modulation. Neuropsychiatr Dis Treat 11:165–175

Oja SS, Saransaari P (1996) Taurine as osmoregulator and neuromodulator in the brain. Metab Brain Dis 11(2):153–164

Pellow S, Chopin P, File SE, Briley M (1985) Validation of open: closed arm entries in an elevated plus maze as a measure of anxiety in the rat. J Neurosci Methods 14(3):149–167

Pereira EC, Lucetti DL, Barbosa-Filho JM, de Brito EM, Monteiro VS, Patrocínio MC, De Moura RR, Leal LK, Macedo DS, de Sousa FC, de Barros Viana GS, Vasconcelos SM (2009) Coumarin effects on amino acid levels in mice prefrontal cortex and hippocampus. Neurosci Lett 454(2):139–142

Phan KL, Fitzgerald DA, Cortese BM, Seraji-Bozorgzad N, Tancer ME, Moore GJ (2005) Anterior cingulate neurochemistry in social anxiety disorder: 1H-MRS at 4 Tesla. Neuroreport 16(2):183–186

Prut L, Belzung C (2003) The open field as a paradigm to measure the effects of drugs an anxiety-like behavior: a review. Eur J Pharmacol 463(1-3):3–33

Rabbani M, Sajjadi SE, Mohammadi A (2008) Evaluation of the anxiolytic effect of Nepeta persica Boiss. in mice. Evid Based Complement Alternat Med 5(2):181–186

Rezende BA, Silva GC, Corradi RG, Teles MM, Barbosa-Filho JM, Lemos VS, Cortes SF (2015) Dihydrogoniothalamin, an Endothelium and NO-Dependent Vasodilator Drug Isolated from Aniba panurensis. Planta Med 81(15):1375–1381

Rodgers RJ, Dalvi A (1997) Anxiety, defense and the elevated plus-maze. Neurosci Biobehav Rev 21(6):801–810

Siegel S, Sanacora G (2012) The roles of glutamate receptors across major neurological and psychiatric disorders. Pharmacol Biochem Behav 100(4):653–555

Silva MCC, Sampaio LR, De Araújo DP, Araújo PV, Monte AS, Rodrigues FT, Woods DJ, de Sousa FC, Fonteles MM, Vasconcelos SM (2014) Central effects of lipoic acid associated with paroxetine in mice. Am J Ther 21(2):85–90

Sirdifield C, Chipchase SY, Owen S, Siriwardena AN (2017) A systematic review and meta-synthesis of patients' experiences and perceptions of seeking and using benzodiazepines and Z-drugs: towards safer prescribing. Patient 10:1

Smith KK, Dharmaratne HR, Feltenstein MW, Broom SL, Roach JT, Nanayakkara NP, Khan IA, Sufka KJ (2001) Anxiolytic effects of kava extract and kavalactones in the chick social separation-stress paradigm. Psychopharmacology 155(1):86–90

Sousa FCF, Melo CTV, Monteiro AP, Lima VTM, Guiterrez SJC, Pereira BA, Barbosa-Filho JM, Vasconcelos SM, Fonteles MF, Viana GS (2004) Antianxiety and antidepressant effects of riparin III from Aniba riparia (Nees) Mez (Lauraceae) in mice. Pharmacol Biochem Behav 78(1):27–33

Sperk G, Schwarzer C, Tsunashima K, Fuchs K, Sieghart W (1997) GABA(A) receptor subunits in the rat hippocampus I: immunocytochemical distribution of 13 subunits. Neuroscience 80:987–1000

Sperk G, Schwarzer C, Tsunashima K, Kandlhofer S (1998) Expression of GABA(A) receptor subunits in the hippocampus of the rat after kainic acid-induced seizures. Epilepsy Res 32(1-2):129–139

Steru L, Chermat R, Thierry B, Simon P (1985) The tail suspension test: a new method for screening antidepressants in mice. Psychopharmacology 85:367–370

Treit D, Fundytus M (1988) Thigmotaxis as a test for anxiolytic activity in rats. Pharmacol Biochem Behav 31(4):959–962

Trevor AJ (2015) Sedativo-hypnotic drugs. In: Katzung BG, Masters SB, Trevor AJ (eds) Basic and clinical pharmacology, 13rd edn. Mc Graw Hill, New York, pp 369–383

Trullas R, Jackson B, Skolnick P (1989) Anxiolytic properties of 1-aminocyclopropanecarboxylic acid, a ligand at strychnine-insensitive glycine receptors. Pharmacol Biochem Behav 34(2):313–316

Vasconcelos SMM, Chaves EM, Cunha NL, Patrocinio MCA, Sampaio LRL, Cordeiro RC, MTV DS, Lucio ASSC, Barbosa-Filho JM, Macedo DS (2012) Effects of the natural 6-styryl-2-pyrone on amino-acid levels in the prefrontal cortex of mice after pentylenetetrazole-induced seizures. Eur Neuropsychopharmacol 22(2):S18

Wu H, Jin Y, Wei J, Jin H, Sha D, Wu J (2005) Mode of action of taurine as a neuroprotector. Brain Res 1038(2):123–131

Zhang WN, Bast T, Xu Y, Feldon J (2014) Temporary inhibition of dorsal or ventral hippocampus by muscimol: distinct effects on measures of innate anxiety on the levated plus-maze, but similar disruption of contextual fear conditioning. Behav Brain Res 262:47–56
Acknowledgements
This work was supported by grants from the National Council for Scientific and Technological Development (CNPq), Brazilian Coordination for Professorship Improvement for Higher Education (CAPES), and Research Foundation of the State of Ceará (FUNCAP), all from Brazil.
About this article
Cite this article
Chaves, E.M.C., Honório-Júnior, J.E.R., Sousa, C.N.S. et al. The anxiolytic-like effect of 6-styryl-2-pyrone in mice involves GABAergic mechanism of action. Metab Brain Dis 33, 139–149 (2018). https://doi.org/10.1007/s11011-017-0139-5
Received:

Accepted:

Published:

Issue Date:
Keywords
6-styryl-2-pyrone

Aniba panurensis

Anxiety

Behavior

Amino acids