Abstract
Troyer Syndrome (TRS) is a rare autosomal recessive complicated spastic paraplegia disorder characterized by various neurological and musculoskeletal manifestations. Pathogenicity stems from mutations in SPG20 which encodes Spartin, a multifunctional protein that is thought to be essential for neuron viability. Here we report on the clinical and molecular characterization of TRS in five patients from an extended consanguineous family in the United Arab Emirates. Molecular analysis involved Whole Exome Sequencing and Sanger sequencing for identification and confirmation of the causative variant respectively. In silico tools including CADD and Polyphen-2 were used to assess pathogenicity of the variant. The clinical description of these patients included spastic paraparesis, motor and cognitive delay, gait abnormalities, musculoskeletal features, as well as white matter abnormalities and emotional liability. Molecular analysis revealed a novel homozygous missense mutation in SPG20 (c.1324G > C; p.Ala442Pro) occurring at an evolutionarily conserved residue in the Plant-Related Senescence domain of Spartin. The mutation segregated with the clinical phenotype in all patients. In silico algorithms predict the mutation to be disease causing, and the variant had not been previously reported in public or ethnic specific variant repositories.
Access options
Buy single article
Instant access to the full article PDF.
US$ 39.95
Tax calculation will be finalised during checkout.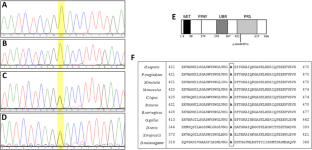 References
Alazami AM, Patel N, Shamseldin HE, Anazi S et al (2015) Accelerating novel candidate gene discovery in neurogenetic disorders via whole-exome sequencing of prescreened multiplex consanguineous families. Cell Rep 10:148–161

Bakowska JC, Wang H, Xin B, Sumner CJ et al (2008) Lack of spartin protein in Troyer syndrome: a loss-of-function disease mechanism? Arch Neurol 65:520–524

Butler S, Helbig KL, Alcaraz W, Seaver LH et al (2016) Three cases of Troyer syndrome in two families of Filipino descent. Am J Med Genet A 170:1780–1785

Capriotti E, Fariselli P, Casadio R (2005) I-Mutant2.0: predicting stability changes upon mutation from the protein sequence or structure. Nucleic Acids Res 33:W306–W310

Cross HE, McKusick VA (1967) The Troyer syndrome. A recessive form of spastic paraplegia with distal muscle wasting. Arch Neurol 16:473–485

Harding AE (1993) Hereditary spastic paraplegias. Semin Neurol 13:333–336

Hensiek A, Kirker S, Reid E (2015) Diagnosis, investigation and management of hereditary spastic paraplegias in the era of next-generation sequencing. J Neurol 262:1601–1612

Joshi DC, Bakowska JC (2011) SPG20 protein spartin associates with cardiolipin via its plant-related senescence domain and regulates mitochondrial Ca2+ homeostasis. PLoS One 6:e19290

Karlsson AB, Washington J, Dimitrova V, Hooper C et al (2014) The role of spartin and its novel ubiquitin binding region in DALIS occurrence. Mol Biol Cell 25:1355–1365

Manzini MC, Rajab A, Maynard TM, Mochida GH et al (2010) Developmental and degenerative features in a complicated spastic paraplegia. Ann Neurol 67:516–525

Patel H, Harlalka G, Crosby A (2004) Troyer syndrome. GeneReviews® [Internet] Available from: https://www.ncbi.nlm.nih.gov/books/NBK1382/

Patel H, Cross H, Proukakis C, Hershberger R et al (2002) SPG20 is mutated in Troyer syndrome, an hereditary spastic paraplegia. Nat Genet 31:347–348

Proukakis C, Cross H, Patel H, Patton MA et al (2004) Troyer syndrome revisited. A clinical and radiological study of a complicated hereditary spastic paraplegia. J Neurol 251:1105–1110

Renvoise B, Stadler J, Singh R, Bakowska JC et al (2012) Spg20−/− mice reveal multimodal functions for Troyer syndrome protein spartin in lipid droplet maintenance, cytokinesis and BMP signaling. Hum Mol Genet 21:3604–3618

Spiegel R, Soiferman D, Shaag A, Shalev S, et al (2017) Novel homozygous missense mutation in SPG20 gene results in Troyer syndrome associated with mitochondrial cytochrome c oxidase deficiency. JIMD Rep 33:55–60

Tawamie H, Wohlleber E, Uebe S, Schmal C et al (2015) Recurrent null mutation in SPG20 leads to Troyer syndrome. Mol Cell Probes 29:315–318
Acknowledgements
Authors would like to thank patients and their families for full cooperation. Thanks also go to Dubai Health Authority and Sheikh Hamdan Bin Rashid Al Maktoum Award for Medical Sciences for continuous and comprehensive support.
Ethics declarations
Ethics approval
All procedures performed in studies involving human participants were in accordance with the ethical standards of the institutional and national research committee as well as the 1964 Helsinki declaration and its later amendments.
Conflicts of interest
Authors declare that there are no conflicts of interest to report.
Consent statement
Samples were obtained from patients and their parents upon informed consent.
About this article
Cite this article
Bizzari, S., Hamzeh, A.R., Nair, P. et al. Novel SPG20 mutation in an extended family with Troyer syndrome. Metab Brain Dis 32, 2155–2159 (2017). https://doi.org/10.1007/s11011-017-0104-3
Received:

Accepted:

Published:

Issue Date:
Keywords
Troyer syndrome

SPG20

Spartin

Novel mutation

In silico

United Arab Emirates