Abstract
A significant association between fructose corn syrup in sweetened beverages consumption and increased risk of detrimental central nervous system effects has been recently reported. We hypothesized that the aspartame and soft drink induced disturbances in energy production and endocrine function, which play a role in the induction of brain damage. Therefore, we aimed to assess the effect of aspartame and soft drink on brain function and the link between energy status in the brain, oxidative stress and molecular pathways of apoptosis. Thirty rats were randomly assigned to drink water, aspartame (240 mg/kg orally) and cola soft drinks (free access) daily for two months. Subchronic intake of aspartame and soft drink significantly disrupted the brain energy production, as indicated by inhibited serum and brain creatine kinase, specifically in soft drink-received rats. Moreover, they substantially altered serum electrolytes (increased Ca and Na, and depleted Cu, Fe, Zn and K levels), and accordingly the related hormonal status (increased T4 and PTH, and lowered T3 and aldosterone levels), particularly in soft drink-received rats reflecting brain damage. Additionally, significant increment of acetylcholine esterase activity concomitant with the reduction of antioxidant molecules (SOD, CAT, GSH-Px and GSH), and induction of malondialdehyde level are precisely indicative of oxidative brain damage. Brain mRNA transcripts of target genes showed that aspartame and soft drink induced upregulation of BAX, Casp3, P27 and Mdm2 (1.5-fold) and down-regulation of Bcl2, suggesting an activation of cellular apoptosis. Collectively, subchronic aspartame and soft drink-induced brain damage in rats may be driven via a mechanism that involves energy production disruption, electrolytes and hormonal imbalance, increased oxidative stress and activation of molecular pathway of neuronal apoptosis.
This is a preview of subscription content,
to check access.
Access this article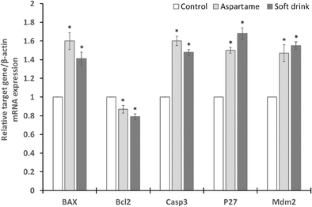 Abbreviations
AChE:

Acetylcholine esterase

ADI:

Acceptable daily intake

ANOVA:

Analysis of variance

BAX:

Bcl-2 like protein 4

Bcl-2:

B-cell lymphoma 2

Casp3:

Caspase-3

CAT:

Catalase

CDNB:

1-chloro-2,4-dinitrobenzene

CK:

Creatine kinase

CK-BB:

Brain-type CK

CK-MB:

Cardiac-type CK

CK-MM:

Muscle-type CK

DTNB:

5,5′-dithiobis 2 nitrobenzoic acid

GSH:

Reduced glutathione

GSH-Px:

Glutathione peroxidase

GST:

Glutathione-S-transferase

H2O2 :

Hydrogen peroxide

MDA:

Malondialdehyde

Mdm2:

Mus musculus transformed mouse 3 T3 cell double minute 2

mPTP:

mitochondrial permeability transition pore

NIH:

National Institutes of Health

P27:

Cyclin-dependent kinase inhibitor 1B (Cdkn1b)

PBS:

Phosphate buffer saline

PK:

Pyruvate kinase

PTH:

Parathyroid hormone

SEM:

Standard error of means

SOD:

Superoxide dismutase

T3:

Triiodothyronine

T4:

Thyroxine
References
Abhilash M, Sauganth Paul MV, Varghese MV, Nair RH (2013) Long-term consumption of aspartame and brain antioxidant defense status. Drug Chem Toxicol 36:135–140. doi:10.3109/01480545.2012.658403

Adaramoye OA, Akanni OO (2016) Effects of long-term administration of aspartame on biochemical indices, lipid profile and redox status of cellular system of male rats. J Basic Clin Physiol Pharmacol 27:29–37. doi:10.1515/jbcpp-2014-0130

Adrogue HJ, Madias NE (2000) Hypernatremia. N Engl J Med 342:1493–1499. doi:10.1056/NEJM200005183422006

Aksenova MV et al. (1999) Oxidation of cytosolic proteins and expression of creatine kinase BB in frontal lobe in different neurodegenerative disorders. Dement Geriatr Cogn Disord 10:158–165 doi:17098

Al-Awwadi NA et al (2005) Extracts enriched in different polyphenolic families normalize increased cardiac NADPH oxidase expression while having differential effects on insulin resistance, hypertension, and cardiac hypertrophy in high-fructose-fed rats. J Agric Food Chem 53:151–157. doi:10.1021/jf048919f

Alkhedaide A, Soliman MM, Ibrahim ZS (2016a) Carbonated soft drinks alter hepatic cytochrome P450 isoform expression in Wistar rats. Biomed Rep 5:607–612. doi:10.3892/br.2016.762

Alkhedaide A, Soliman MM, Salah-Eldin AE, Ismail TA, Alshehiri ZS, Attia HF (2016b) Chronic effects of soft drink consumption on the health state of Wistar rats: A biochemical, genetic and histopathological study. Mol Med Rep 13:5109–5117. doi:10.3892/mmr.2016.5199

Ashok I, Sheeladevi R (2014) Biochemical responses and mitochondrial mediated activation of apoptosis on long-term effect of aspartame in rat brain. Redox Biol 2:820–831. doi:10.1016/j.redox.2014.04.011

Ashok I, Sheeladevi R, Wankhar D (2014) Long-term effect of aspartame (artificial sweetener) on ATPases, antioxidant status and histopathology in the rat brain. Free Radicals and Antioxidants. doi:10.1016/j.fra.2013.09.003

Baquedano E et al (2016) Increased oxidative stress and apoptosis in the hypothalamus of diabetic male mice in the insulin receptor substrate-2 knockout model. Dis Model Mech 9:573–583. doi:10.1242/dmm.023515

Braverman ER et al (2009) Age-related increases in parathyroid hormone may be antecedent to both osteoporosis and dementia. BMC Endocr Disord 9:21. doi:10.1186/1472-6823-9-21

Brewer GJ, Kanzer SH, Zimmerman EA, Celmins DF, Heckman SM, Dick R (2010) Copper and ceruloplasmin abnormalities in Alzheimer's disease. Am. J. Alzheimers Dis. Other Demen 25:490–497. doi:10.1177/1533317510375083

Butchko HH, Kotsonis FN (1991) Acceptable daily intake vs actual intake: the aspartame example. J Am Coll Nutr 10:258–266

Cao G et al (2001) Intracellular Bax translocation after transient cerebral ischemia: implications for a role of the mitochondrial apoptotic signaling pathway in ischemic neuronal death. J Cereb Blood Flow Metab 21:321–333. doi:10.1097/00004647-200104000-00001

Castro GD, Costantini MH, Delgado de Layno AM, Castro JA (2002) Rat liver microsomal and nuclear activation of methanol to hydroxymethyl free radicals. Toxicol Lett 129:227–236

Chen PE et al (2005) Structural features of the glutamate binding site in recombinant NR1/NR2A N-methyl-D-aspartate receptors determined by site-directed mutagenesis and molecular modeling. Mol Pharmacol 67:1470–1484. doi:10.1124/mol.104.008185

Costabeber E, Kessler A, Severo Dutra-Filho C, de Souza Wyse AT, Wajner M, Wannmacher CM (2003) Hyperphenylalaninemia reduces creatine kinase activity in the cerebral cortex of rats. Int J Dev Neurosci 21:111–116

Das S, Paul S (1994) Decrease in beta-adrenergic receptors of cerebral astrocytes in hypothyroid rat brain. Life Sci 54:621–629

Denehy J (2003) The health effects of soft drinks. J Sch Nurs 19:63–64. doi:10.1177/10598405030190020101

Du F, Cooper A, Lukas SE, Cohen BM, Ongur D (2013) Creatine kinase and ATP synthase reaction rates in human frontal lobe measured by (3)(1)P magnetization transfer spectroscopy at 4T. Magn Reson Imaging 31:102–108. doi:10.1016/j.mri.2012.06.018

Düsman E, Berti AP, Soares LC, Vicentini VEP (2013) Cytotoxicity and mutagenicity of cola and grape flavored soft drinks in bone marrow cells of rodents. Food Science and Technology (Campinas) 33:122–126

Dzeja PP, Terzic A (2003) Phosphotransfer networks and cellular energetics. J Exp Biol 206:2039–2047

El-Terras A, Soliman MM, Alkhedaide A, Attia HF, Alharthy A, Banaja AE (2016) Carbonated soft drinks induce oxidative stress and alter the expression of certain genes in the brains of Wistar rats. Mol Med Rep 13:3147–3154. doi:10.3892/mmr.2016.4903

Fernstrom JD (1989) Oral aspartame and plasma phenylalanine: pharmacokinetic difference between rodents and man, and relevance to CNS effects of phenylalanine. Short note J Neural Transm 75:159–164

Habig WH, Pabst MJ, Jakoby WB (1974) Glutathione S-transferases. The first enzymatic step in mercapturic acid formation. J Biol Chem 249:7130–7139

Halestrap AP, Clarke SJ, Javadov SA (2004) Mitochondrial permeability transition pore opening during myocardial reperfusion--a target for cardioprotection. Cardiovasc Res 61:372–385. doi:10.1016/S0008-6363(03)00533-9

Hirasawa T, Nakamura T, Mizushima A, Morita M, Ezawa I, Miyakawa H, Kudo Y (2000) Adverse effects of an active fragment of parathyroid hormone on rat hippocampal organotypic cultures. Br J Pharmacol 129:21–28. doi:10.1038/sj.bjp.0702949

Hogervorst E, Huppert F, Matthews FE, Brayne C (2008) Thyroid function and cognitive decline in the MRC Cognitive Function and Ageing Study. Psychoneuroendocrinology 33:1013–1022. doi:10.1016/j.psyneuen.2008.05.008

Horio Y, Sun Y, Liu C, Saito T, Kurasaki M (2014) Aspartame-induced apoptosis in PC12 cells. Environ Toxicol Pharmacol 37:158–165. doi:10.1016/j.etap.2013.11.021

Humphries P, Pretorius E, Naude H (2008) Direct and indirect cellular effects of aspartame on the brain. Eur J Clin Nutr 62:451–462. doi:10.1038/sj.ejcn.1602866

Hyder F, Patel AB, Gjedde A, Rothman DL, Behar KL, Shulman RG (2006) Neuronal-glial glucose oxidation and glutamatergic-GABAergic function. J Cereb Blood Flow Metab 26:865–877. doi:10.1038/sj.jcbfm.9600263

Jaiswal S, Sharma P (2017) Role and regulation of p27 in neuronal apoptosis. J Neurochem 140:576–588. doi:10.1111/jnc.13918

Kelkitli E et al (2016) Serum zinc levels in patients with iron deficiency anemia and its association with symptoms of iron deficiency anemia. Ann Hematol 95:751–756. doi:10.1007/s00277-016-2628-8

Koufen P, Stark G (2000) Free radical induced inactivation of creatine kinase: sites of interaction, protection, and recovery. Biochim Biophys Acta 1501:44–50

Lebda MA, El-Neweshy MS, El-Sayed YS (2012) Neurohepatic toxicity of subacute manganese chloride exposure and potential chemoprotective effects of lycopene. Neurotoxicology 33:98–104. doi:10.1016/j.neuro.2011.12.008

Lebda MA, Tohamy HG, El-Sayed YS (2017) Long-term soft drink and aspartame intake induces hepatic damage via dysregulation of adipocytokines and alteration of the lipid profile and antioxidant status. Nutr Res 41:47–55. doi:10.1016/j.nutres.2017.04.002

Lemasters JJ (2005) Dying a thousand deaths: redundant pathways from different organelles to apoptosis and necrosis. Gastroenterology 129:351–360

Magnuson BA et al (2007) Aspartame: a safety evaluation based on current use levels, regulations, and toxicological and epidemiological studies. Crit Rev Toxicol 37:629–727. doi:10.1080/10408440701516184

Marklund S, Marklund G (1974) Involvement of the superoxide anion radical in the autoxidation of pyrogallol and a convenient assay for superoxide dismutase. Eur J Biochem 47:469–474

Mohanty P, Hamouda W, Garg R, Aljada A, Ghanim H, Dandona P (2000) Glucose challenge stimulates reactive oxygen species (ROS) generation by leucocytes. J Clin Endocrinol Metab 85:2970–2973. doi:10.1210/jcem.85.8.6854

Moron MS, Depierre JW, Mannervik B (1979) Levels of glutathione, glutathione reductase and glutathione S-transferase activities in rat lung and liver. Biochim Biophys Acta 582:67–78

Multhaup G, Schlicksupp A, Hesse L, Beher D, Ruppert T, Masters CL, Beyreuther K (1996) The amyloid precursor protein of Alzheimer's disease in the reduction of copper(II) to copper(I). Science 271:1406–1409

O'Gorman E, Beutner G, Dolder M, Koretsky AP, Brdiczka D, Wallimann T (1997) The role of creatine kinase in inhibition of mitochondrial permeability transition. FEBS Lett 414:253–257

O'Leary F, Hattersley L, King L, Allman-Farinelli M (2012) Sugary drink consumption behaviours among young adults at university. Nutr. Diet 69:119–123. doi:10.1111/j.1747-0080.2012.01583.x

Ohkawa H, Ohishi N, Yagi K (1979) Assay for lipid peroxides in animal tissues by thiobarbituric acid reaction. Anal Biochem 95:351–358. doi:10.1016/0003-2697(79)90738-3

Parthasarathy NJ, Kumar RS, Manikandan S, Devi RS (2006) Methanol-induced oxidative stress in rat lymphoid organs. J Occup Health 48:20–27

Piñero DJ, Connor JR (2000) Iron in the Brain: An Important Contributor in Normal and Diseased States. Neuroscientist 6:435–453. doi:10.1177/107385840000600607

Prokic M, Paunovic M, Matic M, Djordjevic N, Ognjanovic B, Stajn A, Saicic Z (2015) Effect of aspartame on biochemical and oxidative stress parameters in rat blood. Archives of Biological Sciences 67:535–545. doi:10.2298/abs141009016p

Rao VK, Carlson EA, Yan SS (2014) Mitochondrial permeability transition pore is a potential drug target for neurodegeneration. Biochim Biophys Acta 1842:1267–1272. doi:10.1016/j.bbadis.2013.09.003

Rotruck JT, Pope AL, Ganther HE, Swanson AB, Hafeman DG, Hoekstra WG (1973) Selenium: biochemical role as a component of glutathione peroxidase. Science 179:588–590

Schlattner U, Tokarska-Schlattner M, Wallimann T (2006) Mitochondrial creatine kinase in human health and disease. Biochim Biophys Acta 1762:164–180. doi:10.1016/j.bbadis.2005.09.004

Shindo A, Liang AC, Maki T, Miyamoto N, Tomimoto H, Lo EH, Arai K (2016) Subcortical ischemic vascular disease: Roles of oligodendrocyte function in experimental models of subcortical white-matter injury. J Cereb Blood Flow Metab 36:187–198. doi:10.1038/jcbfm.2015.80

Singh M (2004) Role of micronutrients for physical growth and mental development. Indian J Pediatr 71:59–62

Sinha AK (1972) Colorimetric assay of catalase. Anal Biochem 47:389–394

Sullivan PG, Keller JN, Bussen WL, Scheff SW (2002) Cytochrome c release and caspase activation after traumatic brain injury. Brain Res 949:88–96

Ueda S, Masutani H, Nakamura H, Tanaka T, Ueno M, Yodoi J (2002) Redox control of cell death. Antioxid Redox Signal 4:405–414. doi:10.1089/15230860260196209

Wallimann T (2007) Introduction--creatine: cheap ergogenic supplement with great potential for health and disease. Subcell. Biochem 46:1–16

Wang K, Wang C, Liu B, Jiang S (2010) Effect of copper deficiency on iron metabolism in rats. Wei Sheng Yan Jiu 39:426–429

Wen J, You KR, Lee SY, Song CH, Kim DG (2002) Oxidative stress-mediated apoptosis. The anticancer effect of the sesquiterpene lactone parthenolide. J Biol Chem 277:38954–38964. doi:10.1074/jbc.M203842200

Wilkinson JH (1976) The principles and practice of diagnostic enzymology. E. Arnold; distributed by Year Book Medical Publishers, London

Yuan JS, Reed A, Chen F, Stewart CN Jr (2006) Statistical analysis of real-time PCR data. BMC Bioinf 7:85. doi:10.1186/1471-2105-7-85

Zlokovic BV (2011) Neurovascular pathways to neurodegeneration in Alzheimer's disease and other disorders. Nat Rev Neurosci 12:723–738. doi:10.1038/nrn3114
Acknowledgements
All of the authors declare that they have no competing interests to disclose. This research did not receive any specific grant from funding agencies in the public, commercial, or not-for-profit sectors. The authors are solely responsible for the design and conduct of the study and the collection, management, analysis, and interpretation of the data, and the preparation of the manuscript. All authors had full access to the data and take responsibility for its integrity. All authors have read and agreed with the manuscript as written.
About this article
Cite this article
Lebda, M.A., Sadek, K.M. & El-Sayed, Y.S. Aspartame and Soft Drink-Mediated Neurotoxicity in Rats: Implication of Oxidative Stress, Apoptotic Signaling Pathways, Electrolytes and Hormonal Levels. Metab Brain Dis 32, 1639–1647 (2017). https://doi.org/10.1007/s11011-017-0052-y
Received:

Accepted:

Published:

Issue Date:

DOI: https://doi.org/10.1007/s11011-017-0052-y
Keywords