Abstract
Aluminium (Al), one of the metals implicated in neurodegeneration easily gain access to the nervous system through its presence in many manufactured foods, medicines and drinking water, and causes neurotoxicity utilizing the reactive oxygen specie pathway. The need to curtail these effects on the nervous system motivated the use of the plant Moringa oleifera (MO). This study thus, investigated the neuroprotective effects of MO leaf extract on aluminium-induced temporal cortical degeneration in rats. 24 male albino Wistar rats were grouped (n = 6) into control (1 ml/kg distilled water), l00 mg/kg aluminium chloride (AlCl3), 300 mg/kg MO, and 100 mg/kg AlCl3 and 300 mg/kg MO groups. The administration lasted for 28 days and the rats were sacrificed on day 29 by perfusion-fixation after blood was obtained for serum Al estimation. The brain tissues were then routinely processed for some histological and immunnolabelling studies. There was no significant difference in serum Al in the test groups. Histological results showed atrophied and karyorrhetic cells with loss of Nissl substance in the temporal cortex of the AlCl3 group, while no adverse effect was observed in the cytoarchitecture of the temporal cortex and Nissl substance of the MO group. However, groups which were administered AlCl3 simultaneously with MO extract showed less degenerative features in the cyto-architecture of the temporal cortex with normal Nissl substance staining. There was increased neuron specific enolase (NSE) and glial fibrillary acidic protein (GFAP) expressions in the AlCl3 group, while the MO group also showed increased NSE but decreased GFAP expression. However, the group which were administered AlCl3 simultaneously with MO extract showed less expression of NSE and GFAP. In conclusion, MO protects against Al-induced neurotoxicity of the temporal cortex of rats.
Access options
Buy single article
Instant access to the full article PDF.
USD 39.95
Price includes VAT (USA)
Tax calculation will be finalised during checkout.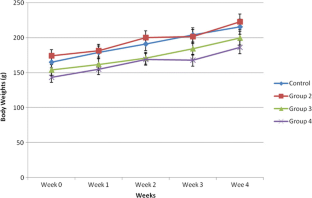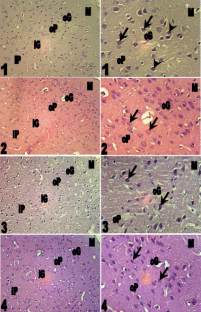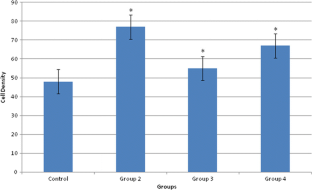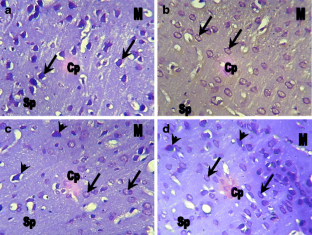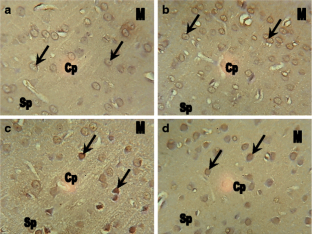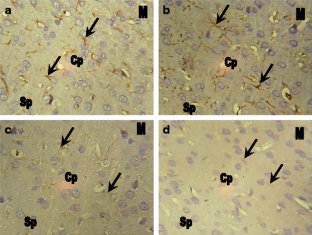 References
Adedapo AA, Mogbojuri OM, Emikpe BO (2009) Safety evaluations of the aqueous extract of the leaves of Moringa oleifera in rats. J Med Plant 3:586–591

Akinrinade ID, Ogundele OM, Memudu AE, Obia S (2013) Cytoarchitecture of the cerebellum in fluoride and aluminium toxicity. J Cell Animal Biol 7(6):67–72

Akunna GG, Ogunmodede OS, Saalu CL, Ogunlade B, Bello AJ, Salawu EO (2012) Ameliorative effect of Moringa oleifera (drumstick) leaf extracts on chromium-induced testicular toxicity in rat testes. World J Life Sci. and Medical Research 2:20

Amjad S, Umesalma S (2015) Protective effect of Centella asiatica against aluminium-induced neurotoxicity in cerebral cortex, striatum, hypothalamus and hippocampus of rat brain-histopathological, and biochemical approach. J Mol Biomarkers Diagn 6:1

Angelov DN, Neiss WF, Gunkel A, Guntinas-Lichius O, Stennert E (1994) Axotomy induces intranuclear immunolocalization of neuron-specific enolase in facial and hypoglossal neurons of the rat. J Neurocytol 23(4):218–233

Anwar F, Latif S, Ashraf M, Gilani AH (2007) Moringa oleifera: a food plant with multiple medicinal uses. Phytother Res 21:17–25

Bakre AG, Aderibigbe AO, Ademowo OG (2013) Studies on neuropharmacological profile of ethanol extract of Moringa oleifera leaves in mice. J Ethnopharmacol 149:783–789

Becaria A, Campbell A, Bondy SC (2002) Aluminium as a toxicant. Toxicol Ind Health 18:309–320

Becaria A, Bondy SC, Campbell A (2003) Aluminium and copper interact in the promotion of oxidative but not inflammatory events: implications for Alzheimer's disease. J Alzheimer Dis 5:31–38

Bock E, Dissing J (1975) Demonstration of enolase activity connected to the brain-specific protein 14-3-2. Standard. J Immunol 4(2):31–36

Buraimoh AA, Ojo SA, Hambolu JO, Adebisi SS (2011a) Behavioural end points of adult Wistar rats, following aluminium chloride exposure. Br J Pharmacol Toxicol 2(5):273–276

Buraimoh AA, Ojo SA, Hambolu JO, Adebisi SS (2011b) Effects of aluminium chloride on anxiety-related behaviour. Am J Neurosci 2(2):65–69

Buraimoh AA, Ojo SA, Hambolu JO, Adebisi SS (2012) Effects of aluminium chloride exposure on the histology of the cerebral cortex of adult Wistar rats. J Biol Life Sci 3:1

Burton EJ, Barber R, Mukaetova-Ladinska EB, Robson J, Perry RH, Jaros E, Kalaria RN, O'Brien JT (2009) Medial temporal lobe atrophy on MRI differentiates Alzheimer's disease from dementia with Lewy bodies and vascular cognitive impairment: a prospective study with pathological verification of diagnosis. Brain 132(1):195–203. doi:10.1093/brain/awn298

Butterfield DA, Lange ML (2009) Multifunctional roles of enolase in Alzheimer's disease brain: beyond altered glucose metabolism. J Neurochem 111:915–933

Cooper EH (1994) Neuron-specific Enolase. Int J Biol Markers 9(4):205–210

Cullen DK, Simon CM, LaPlaca MC (2007) Strain rate-dependent induction of reactive astrogliosis and cell death in three-dimensional neuronal-astrocytic co- cultures. Brain Res 1158:103–115

Daniel S, Limson JL, Dairam A, Watkins GM, Daya S (2004) Through metal binding, curcumin protects against lead- and cadmium-induced lipid peroxidation in rat brain homogenates and against lead-induced tissue damage in rat brain. J Inorg Biochem 98(2):266–275

Ekong MB, Peter AI, Ekanem TB, Osim EE (2015) Determination of elemental composition and median lethal dose of calabash chalk. Int J Biol Med Res 6(2):4902–4906

Ekong MB, Peter AI, Edagha IA, Ekpene UU, Friday DA (2016) Rauwolfia vomitoria inhibits olfaction and modifies olfactory bulb cells. Brain Res Bull 124:206–213

Elujoba AA, Odeleye OM, Ogunyemi CM (2005) Traditional medicine development for medical and dental primary health care delivery system in Africa. Afr J Tradit Complement Altern Med 2(1):46–61

Evans WC (2002) Pharmacognosy, 15th edn. W.B Saunders, Edinburgh, p 585

Fahey JW, Zakmann AT, Talalay P (2001) The chemical diversity and distribution of glucosinolates and isothiocyanates among plants. Phytochemistry 59:200–237

Ganguly R, Guha D (2008) Alteration of brain monoamines and EEG wave pattern in rat model of Alzheimer's disease and protection by Moringa oleifera. Indian J Med Res 128(6):744–751

Ganguly R, Hazra R, Ray K, Guha D (2005) Effect of Moringa oleifera in experimental model of Alzheimer's disease: role of antioxidants. Ann Neurosci 12:36–39

Ghribi O, Dewitt DA, Forbes MS, Herman MM, Savory J (2001) Co-involvement of mitochondria and endoplasmic reticulum in regulation of apoptosis: changes in cytochrome-c, Bcl-2 and Bax in the hippocampus of aluminium treated rabbits. Brain Res 8:66–73

Gilgun-Sherki Y, Melamed E, Offen D (2006) Anti-inflammatory drugs in the treatment of neurodegenerative diseases: current state. Curr Pharm Des 12(27):3509–3519

Goldstein ME, Cooper HS, Bruce J, Carden MJ, Lee VM, Schlaepfer WW (1987) Phosphorylation of neurofilament proteins and Chromolysis following transection of rat sciatic nerve. J Neurosci 5(5):1586–1594

Guyton AC, Hall JE (2006) Textbook of medical physiology, 11th edn. W. B. Saunders Company, Philadelphia, pp 700–825

Henriksson J, Tallkvist J, Tjälve H (1997) Uptake of nickel into the brain via olfactory neurons in rats. Toxicol Lett 91:153–162

Hogen ML (1983) Detection og phosphorus on starch by atomic absorption and the graphite furnace. Cereal Chem 60(5):403–405

Huether SE, McCance KL (2008) Understanding pathophysiology, 4th edn. Mosby/Elsevier, St. Louis Missouri

Kandale VV, Mujawar SN, Preeti J, Welasly PJ, Nimbalkar JM (2014) Development of integrated database of neurodegenerative diseases. Rev Res 2:9

Kassab AR, Bauomy AA (2014) The neuroprotective efficacy of the aqueous extract of clove (Syzygium aromaticum) in aluminium-induced neurotoxicity. Int J Pharm Pharm Sci 6:5

Kawahara M, Kato-Negishi M (2011) Link between aluminum and the pathogenesis of Alzheimer's disease: the integration of the aluminum and amyloid cascade hypotheses. Int J Alzheimers Dis 2011:276393

Khalafalla MM, Abdellatef E, Dafalla HM, Nassrallah AA, Aboul-Enein KM, Lightfoot DA, El-Deeb FE, El-Shemy HA (2010) Active principle from Moringa oleifera lam leaves effective against two leukemias and a hepatocarcinoma. Afr J Biotechnol 9(49):8467–8471

Khalil EA (2011) Evaluation of the possible protective and therapeutic influence of coriander (Coriandum sativum L.) seed aqueous extract on hippocampal pyramidal cells against Alzheimer's disease induced by aluminum chloride in adult male albino rats. Researcher 3(1):22–29

Khanna S, Roy S, Slivka A, Craft TK, Chaki S, Rink C, Notestine MA, DeVries AC, Parinandi NL, Sen CK (2005) Neuroprotective properties of the natural vitamin E Alpha-Tocotrienol. Stroke 36(10):2258–2264

Kirisattayakul W, Wattanathorn J, Tong-Un T, Muchimapura S, Wannanon P (2012) Moringa Oleifera lam mitigates oxidative damage and brain infarct volume in focal cerebral ischemia. Am J Appl Sci 9(9):1457–1463

Kirisattayakul W, Wattanathorn J, Tong-Un T, Muchimapura S, Wannanon P, Jittiwat J (2013) Cerebroprotective effect of Moringa oleifera against focal ischemic stroke induced by middle cerebral artery occlusion. Oxidative Med Cell Longev 2013:951415

Kotz L, Kaiser G, Tschopel P, Tolg G (1972) Theory of sample preparation using acid digestion, pressure digestion and microwave digestion (microwave decomposition). Anal Chem 260:207–209

Kumar A, Dogra S, Prakash A (2009) Protective effect of curcumin (Curcuma longa), against aluminium toxicity: possible behavioral and biochemical alterations in rats. Behav Brain Res 205:384–390

Kumar P, Singh R, Nazmi A, Lakhanpal D, Kataria H, Kaur G (2014) Glioprotective effects of Ashwagandha leaf extract against lead induced toxicity. Biomed Res Int 2014:15

Kurosinski P, Gotz J (2002) Gial cells under physiologic and pathologic conditions. Arch Neurol 59:1524–1528

Madhavi T, Mahitha B, Mallikarjuna K, Sushma J (2013) Therapeutic effect of Bacopa monniera against aluminium induced toxicity in medulla oblongata of albino rats. J Med Sci 13(6):465–470

Mahmoud ME, Elsoadaa SS (2013) Protective effect of ascorbic acid, biopropolis and royal jelly against aluminum toxicity in rats. J Nat Sci Res 3:1

Manal SH, Hussein A, Abd-El-Rahman H, Eman TM (2010) The protective effect of vitamin E against the neurotoxic effect of aluminum cholorid in male albino rat. J Am Sci 6(10):978–991 

Marangos PJ, Paul SM (1981) Brain levels of neuron-specific and Nonneuronal Enolase in Huntington's disease. J Neurochem 5:145–148

Moore KL, Dalley AF (2014) Clinically oriented anatomy (5th edition). Lippincott Williams and Wilkins, Philadelphia, pp 410–429

Nivsarkar M, Banerjee A, Shah D, Trivedi J, Patel M, Cherian B, Padh H (2006) Reduction in aluminum induced oxidative stress by meloxicam in rat brain. Iran Biomed J 10(3):151–155

Organization for Economic Co-operation and Development (2001) Acute oral toxicity-up-and-down procedure. OECD Guidelines for the testing of chemicals, Guideline 425. Paris, pp 1–26

Osman HM, Shayoup ME, Babiker EM, Osman B, Elhassan AM (2012) Effect of ethanolic leaf extract of Moringa oleifera on aluminium-induced anemia in white albino rats. J Biol Sci 5:4

Owolabi JO, Ogunnaike PO (2014) Histological evaluation of the effects of Moringa leaf extract treatment on vital organs of murine models. Merit Res J Med Medical Sci 2(10):245–257

Owolabi J, William F, Olanrewaju J, Etibor T, Fabiyi O (2014) Histomorphological evidences of Moringa oleifera's ameliorative effects against lead toxicity in cerebral cortex. World J Life Sci Med Res 3(2):53–58

Peng Y, Kwok KH, Yang PH, Ng SS, Liu J, Wong OG, He ML, Kung HF, Lin MC (2005) Ascorbic acid inhibits ROS production, NF-kB activation and prevents ethanol-induced growth retardation and microencephaly. Neuropharmacology 48:426–434

Santos LF, Freitas RL, Xavier SM, Saldanha GB, Freitas RM (2008) Neuroprotective actions of vitamin C related to decreased lipid peroxidation and increased catalase activity in adult rats after pilocarpine-induced seizures. Pharmacol Biochem Behav 89(1):1–5

Saxena S, Caroni P (2011) Selective neuronal vulnerability in neurodegenerative diseases: from stressor thresholds to degeneration. Neuron 71(1):35–48

Scarborough EM (1938) Nissl granules in 'fatigued' nerve cells. J Physiol 94:184–185

Sembulingam K, Sembulingam P (2006) Essentials of Medical Physiology (4th edition). Jaypee Brothers Medical Publishing Limited, New Delhi, pp 434–473

Senapati SK, Dey S, Dwivedi SK, Swarup D (2001) Effect of garlic (Allium sativum L.) extract on tissue lead level in rats. Ethnopharmacol 76(3):229–232

Sethi P, Jyoti A, Hussain E, Sharma D (2009) Curcumin attenuates aluminium-induced functional neurotoxicity in rats. Pharmacol Biochem Behav 93(1):31–39

Siddhuraju P, Becker K (2003) Antioxidant properties of various solvent extracts of total phenolic constituents from three different agro-climatic origins of drumstick tree (Moringa oleifera Lam.) leaves. J Agric Food Chem 51:2144–2155

Singla N, Dhawan DK (2014) Infuence of zinc on calcium dependent signal transduction pathways. Mol Neurobiol 50:613–625

Sumner J (2000) The natural history of medicinal plants, 1st edn. Timber Press, Portland, p 235

Sutalangka C, Jintanaporn W, Wipawee T (2013) Moringa oleifera mitigates memory impairment and Neurodegeneration in animal model of age-related dementia. Oxidative Med Cell Longev 2013:695936

Tani M, Glabinski AR, Tuohy VK, Stoler MH, Estes ML, Ransohoff RM (1996) In situ hybridization analysis of glial Fibrillary acidic protein Mrna reveals evidence of biphasic astrocyte activation during acute experimental autoimmune Encephalomyelities. Am J Pathol 148:889–896

Thirunavukkarasu SV, Upadhyay L, Venkataraman S (2012) Effect of Manasamitra vatakam, an Ayurvedic formulation, on aluminium-induced neurotoxicity in rats. Trop J Pharm Res 11(1):75–83

Ujah OF, Ujah IR, Johnson JT, Oka VO (2013) Effect of ethanolic leaf extract of Moringa olifera leaf on haematological and biochemical parameters of wistar rats. J Nat Product Plant Resourc 3(2):10–14

Verstraeten SV, Aimo L, Oteiza PI (2008) Aluminium and lead: molecular mechanisms of brain toxicity. Arch Toxicol 82(11):789–802

Yokel RA (2006) Blood-brain barrier flux of aluminum, manganese, iron and other metals suspected to contribute to metal-induced neurodegeneration. J Alzheimers Dis 10:223–253
Acknowledgements
This is to acknowledge members of the animal facility of the Faculty of Basic Medical Sciences that helped to care for, and also sacrifice the animals. Dr. Afusat Jagun of the Department of Veterinary Pathology, University of Ibadan is also acknowledged for her effort in the analysis of the serum aluminium level.
About this article
Cite this article
Ekong, M.B., Ekpo, M.M., Akpanyung, E.O. et al. Neuroprotective effect of Moringa oleifera leaf extract on aluminium-induced temporal cortical degeneration. Metab Brain Dis 32, 1437–1447 (2017). https://doi.org/10.1007/s11011-017-0011-7
Received:

Accepted:

Published:

Issue Date:
Keywords
Aluminium

Neurodegeneration

Moringa oleifera

Neuroprotection

Immunolabelling