Abstract
Resveratrol, a caloric restriction mimetic, is a naturally occurring polyphenolic compound with antioxidant and anti-inflammatory properties. Oxidative stress has been implicated in the etiology of a number of neuropsychiatric disorders including generalized anxiety and schizophrenia. This study investigated the anxiolytic and antipsychotic potentials of resveratrol in murine models of anxiety and schizophrenia. Mice were pretreated with resveratrol (200 and 400 mg/kg) in 1% carboxymethyl cellulose for 14 days and subjected to behavioural tests on the 15th day. Anxiolytic activity of resveratrol was determined using the hole board and staircase tests while its anti-psychotic property was evaluated via apormorphine induced stereotypy and swim-induced grooming tests. Although resveratrol did not significantly reduce the mean number of head dips at doses used in the hole board test, it significantly (p < 0.01) decreased the mean episodes of rearing without significantly altering the total number of upward steps climbed in the staircase test. Resveratrol significantly (p < 0.05) reduced the mean climbing scores in the first ten minutes of the apormorphine induced stereotypic climbing and significantly decreased (p < 0.01) episodes and total duration of swim induced grooming in mice. Administration of resveratrol at doses used in this study produced anxiolysis and anti-psychotic effects in mice.
Access options
Buy single article
Instant access to the full article PDF.
USD 39.95
Price includes VAT (USA)
Tax calculation will be finalised during checkout.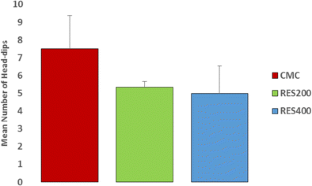 References
Abid M, Hrishikeshavan HJ, Asad M (2006) Pharmacological evaluation of Pachyrrhizus errosus (L) seeds for central nervous system depressant activity. Indian J Physiol Pharmacol 50:143–151

Barger JL, Kayo T, Vann JM, Arias EB, Wang J, Hacker TA et al (2008) A low dose of dietary resveratrol partially mimics caloric restriction and retards aging parameters in mice. PLoS One 3(6):e2264

Barnham KJ, Masters CL, Bush AI (2004) Neurodegenerative diseases and oxidative stress. Nat Rev Drug Discov 3(3):205–214

Barzilai N, Gabriely I (2001) The role of fat depletion in the biological benefits of caloric restriction. J Nutr Sci 131(3):903S–906S

Baur JA, Pearson KJ, Price NL, Jamieson HA, Lerin C, Kalra A et al (2006) Resveratrol improves health and survival of mice on a high-calorie diet. Nature 444(7117):337–342

Chesher GB, Jackson DM (1980) Post-swim grooming in mice inhibited by dopamine receptor antagonists and by cannabinoids. Pharmacol Biochem Behav 13(3):479–481

Chesher GB, Jackson DM (1984) Swim-induced grooming in mice is mediated by a dopaminergic substrate. J Neural Transm 50(1):47–55

Costall B, Naylor RJ, Nohria V (1978) Climbing behaviour-induced by apomorphine in mice: a potent model for the detection of neuroleptic activity. Eur J Pharmacol 50:39–50

Costall B, Naylor RJ, Nohria V (1980) On the importance of mesolimbic mechanisms for the control of apomorphine induced climbing behaviour in the mouse [proceedings]. Br J Pharmacol 68(1):175P–176P

Diniz TC, de Souza-Araújo C, Silva JC, de Oliveira Júnior RG, de Lima-Saraiva SRG, Quntans-Junior LJ et al (2013) Phytochemical screening and central nervous system effects of ethanolic extract of Annona vepretorum (Annonaceae) in mice. J Med Plants Res 7(37):2729–2735

Donnelly LE, Newton R, Kennedy GE, Fenwick PS, Leung RH, Ito K et al (2004) Antiinflammatory effects of resveratrol in lung epithelial cells: molecular mechanisms. Am J Physiol Lung Cell Mol Physiol 287(4):L774–L783

File SE, Pellow S (1985) The anxiogenic action of RO 5-4864 in the social interaction test: effect of chlordiazepoxide, RO 15-1788 and CGS 8216. Naunyn Schmiedeberg's Arch Pharmacol 328(3):225–228

File SE, Wardill AG (1975) The reliability of the hole board apparatus. Psychopharmacologia 44(1):47–51

Frémont L, Belguendouz L, Delpal S (1999) Antioxidant activity of resveratrol and alcohol-free wine polyphenols related to LDL oxidation and polyunsaturated fatty acids. Life Sci 64(26):2511–2521

Gardner DM, Baldessarini RJ, Waraich P (2005) Modern antipsychotic drugs: a critical overview. Can Med Assoc J 172:1703–1711

Juan EM, Vinardell MP, Planas JM (2002) The daily oral administration of high doses of transresveratrol to rats for 28 days is not harmful. J Nutr 132:257–260

Kedves R, Saghy K, Gyertyan I (2008) Comparison of the effects of antipsychotic drugs in two antipsychotic screening assays: swim-induced grooming and apomorphine-induced climbing test in mice. In Proceedings of Measuring behaviour Spink AJ, Ballintijn MR, Bogers ND, Grieco F, Loijen LWS, Noldus LPJJ, Smit G, Zimmerman PH (eds) Maastricht, The Netherlands 2008; 26–29

Kim HS, Rhee GS, Oh S, Park WK (1999) NMDA receptor antagonists inhibit apomorphine induced climbing behaviour not only in intact mice but also in reserpine-treated mice. Behav Brain Res 100(1):135–142

Kim D, Nguyen MD, Dobbin MM, Fischer A, Sananbenesi F, Rodgers JT et al (2007) SIRT1 deacetylase protects against neurodegeneration in models for Alzheimer's disease and amyotrophic lateral sclerosis. EMBO J 26(13):3169–3179

Kliethermes CL, Crabbe JC (2006) Pharmacological and genetic influences on hole board behaviours in mice. Pharmacol Biochem Behav 85(1):57–65

Lepicard EM, Joubert C, Hagneau I, Perez-Diaz F, Chapouthier G (2000) Differences in anxietyrelated behaviour and response to diazepam in BALB/cByJ and C57BL/6 J strains of mice. Pharmacol Biochem Behav 67:739–748

Levay EA, Govic A, Penman J, Paolini AG, Kent S (2007) Effects of adult-onset calorie restriction on anxiety-like behaviour in rats. Physiol Behav 92(5):889–896

Lipska BK, Weinberger DR (2000) To model a psychiatric disorder in animals: schizophrenia as a reality test. Neuropsychopharmacol 23(3):223–229

Magaji MG, Anuka JA, Abdu-Aguye I, Yaro AH, Hussaini IM (2008) Behavioural effects of the methanolic root bark extract of Securinega virosa in rodents. Afr J Tradit Complement Altern Med 5(2):147–153

Magaji MG, Mohammed M, Magaji RA, Musa AM, Abdu-Aguye I, Hussaini IM (2014) Evaluation of the antipsychotic potential of aqueous fraction of Securinega virosa root bark extract in mice. Metab Brain Dis 29(1):161–165

Mahal HS, Mukherjee T (2006) Scavenging of reactive oxygen radicals by resveratrol: antioxidant effect. Res Chem Intermed 32(1):59–71

Mercken EM, Carboneau BA, Krzysik-Walker SM, de Cabo R (2012) Of mice and men: the benefits of caloric restriction, exercise, and mimetics. Ageing Res Rev 11(3):390–398

Moore NA, Axton MS (1988) Production of climbing behaviour in mice requires both D1 and D2 receptors activation. Psychopharmacol 94:261–269

National Institute for Health (2002) Public Health Service Policy on Humane Care and Use of Laboratory Animals. USA

Ølholm J, Paulsen SK, Cullberg KB, Richelsen B, Pedersen SB (2010) Anti-inflammatory effect of resveratrol on adipokine expression and secretion in human adipose tissue explants. Int J Obes 34(10):1546–1553

Pathak, Agrawal Y, Dhir A (2013) Natural polyphenols in the management of major depression. Expert Opin Invest Drugs 22(7):863–880

Pearson KJ, Baur JA, Lewis KN, Peshkin L, Price NL, Labinskyy N et al (2008) Resveratrol delays age-related deterioration and mimics transcriptional aspects of dietary restriction without extending life span. Cell Metab 8(2):157–168

Pollard GT, Howard JL (1986) The staircase test: some evidence of nonspecificity for anxiolytics. Psychopharmacol 89(1):14–19

Seeman P (1980) Brain dopamine receptor. Pharmacol Rev 32:229–313

Simiand J, Keane PE, Moore M (1984) The staircase test in mice: a simple and procedure for screening of anxiolytic agents. J Psychopharmacol 84:48–53

Sinclair DA (2005) Toward a unified theory of caloric restriction and longevity regulation. Mech Ageing Dev 126(9):987–1002

Stoff JC, Kebabian JW (1984) Two dopamine receptor: biochemistry physiology and pharmacology. Life Sci 35:2281–2296

Suzuki T, Inayama M, Misawa M (1990) The effect of diazepam on exploratory behaviour and its strain differences in inbred rats. Japan J Psychopharmacol 10(2):307–314

Takeda H, Tsuji M, Matsumiya T (1998) Changes in head-dipping behaviour in the hole board test reflect the anxiogenic and/or anxiolytic state in mice. Eur J Pharmacol 350(1):21–29

Tsaluchidu S, Cocchi M, Tonello L, Puri BK (2008) Fatty acids and oxidative stress in psychiatric disorders. BMC Psychiatry 8:S1–S5

Udenigwe CC, Ramprasath VR, Aluko RE, Jones PJ (2008) Potential of resveratrol in anticancer and anti-inflammatory therapy. Nutr Rev 66(8):445–454

Wang Z, Gu J, Wang X, Xie K, Luan Q, Wan N et al (2013) Antidepressant-like activity of resveratrol treatment in the forced swim test and tail suspension test in mice: the HPA axis, BDNF expression and phosphorylation of ERK. Pharmacol Biochem Behav 112:104–110

Wolfman C, Viola H, Paladini AC, Dajas D, Medina JH (1994) Possible anxiolytic effects of chrysin, a central benzodiazepine receptor ligand isolated from Passiflora coeruiea. Pharmacol Biochem Behav 47:1–4

Xu Y, Wang Z, You W, Zhang X, Li S, Barish P et al (2010) Antidepressant-like effect of transresveratrol: involvement of serotonin and noradrenaline system. Eur Neuropsychopharmacol 20(6):405–413

Yu Y, Wang R, Chen C, Du X, Ruan L, Sun J et al (2013) Antidepressant-like effect of transresveratrol in chronic stress model: behavioural and neurochemical evidences. J Psychiatr Res 47(3):315–322
Ethics declarations
Conflict of interests
None.
Funding
Personal funds of the authors.
About this article
Cite this article
Magaji, M.G., Iniaghe, L.O., Abolarin, M. et al. Neurobehavioural evaluation of resveratrol in murine models of anxiety and schizophrenia. Metab Brain Dis 32, 437–442 (2017). https://doi.org/10.1007/s11011-016-9927-6
Received:

Accepted:

Published:

Issue Date:
Keywords
Resveratrol

Anxiety

Psychosis

Apormorphine

Caloric restriction

Oxidative stress