Abstract
Mucopolysaccharidosis type IIIA (MPS IIIA, Sanfilippo A) is a neurodegenerative lysosomal storage disorder caused by the deficiency of sulphamidase enzyme (SGSH) leading to accumulation of heparan sulfate (HS). We quantitatively and structurally characterize primary stored HS and other glycosaminoglycans (GAGs) possibly accumulated through a secondary storage in brain, liver, kidney and lung of MPS IIIA mouse model. This analysis was also performed in MPS IIIA mice upon the intravenous treatment with an engineered human sulphamidase (chimeric hSGSH) capable to increase its secretion from the liver and to cross the blood-brain barrier. MPS IIIA animals showed a huge accumulation of HS, from ~15 up to ~24-times higher than wild type and also of hyaluronic acid (HA) (from 2.5 up to ~5.0-times more) and chondroitin sulfate (CS)/dermatan sulfate (DS) (from ~2 up to ~5-times more) in all studied organs. We also observed a significant increase in the overall HS charge density and in particular of 2-O-sulfation in MPS IIIA mice organs. 8 months after a systemic treatment with an engineered SGSH, the enzyme was highly efficient in the reduction of all accumulated GAGs in liver, brain and lung up to values of wild type mice. On the contrary, even if reduced, GAGs levels still remained significantly elevated in kidney. Overall data obtained by this detailed analysis of GAGs in the different organs of affected and treated animals with chimeric hSGSH may have implications for the evaluation of an effective therapeutic option of MPS IIIA and for the reduction of related neuropathology.
Access options
Buy single article
Instant access to the full article PDF.
USD 39.95
Price includes VAT (USA)
Tax calculation will be finalised during checkout.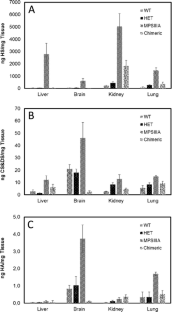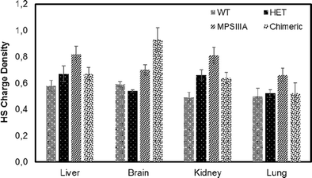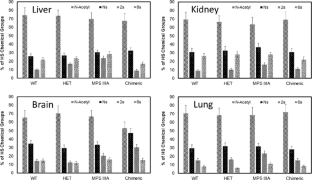 Abbreviations
AAV:

Adeno-associated vector

ApoB:

Apolipoprotein

AMAC:

2-Aminoacridone

BBB:

Blood-brain barrier

BD:

Binding domain

CE:

Capillary electrophoresis

CNS:

Central nervous system

CS:

Chondroitin sulfate

DS:

dermatan sulfate

ERT:

Enzyme replacement therapy

GAG(s):

Glycosaminoglycan(s)

HA:

Hyaluronic acid

HS:

Heparan sulfate

HSCT:

Hematopoietic stem cell transplantation

IDS:

Iduronate-2-sulfatase

KS:

Keratan sulfate

LIF:

Laser induced fluorescence

LSD:

Lysosomal storage disorders

MPS:

Mucopolysaccharidoses

Sp:

Signal peptide

SGSH:

Sulfamidase

WT:

Wild type.
References
Alaniz L, Garcia M, Rizzo M et al (2009) Altered hyaluronan biosynthesis and cancer progression: an immunological perspective. Mini-Rev Med Chem 9:1538–1546

Bhattacharyya R, Gliddon B, Beccari T et al (2001) A novel missense mutation in lysosomal sulfamidase is the basis of MPS III a in a spontaneous mouse mutant. Glycobiology 11:99–103

Bhaumik M, Muller VJ, Rozaklis T et al (1999) A mouse model for mucopolysaccharidosis type III a (Sanfilippo syndrome. Glycobiology 9:1389–1396

Bollyky PL, Bogdani M, Bollyky JB et al (2012) The role of hyaluronan and the extracellular matrix in islet inflammation and immune regulation. Curr Diab Rep 12:471–480

Brady RO, Schiffmann R (2004) Enzyme-replacement therapy for metabolic storage disorders. Lancet Neurol 3:752–756

Coppa GV, Galeotti F, Zampini L et al (2013) Mild mental retardation and low levels of urinary heparan sulphate in a patient with attenuated phenotype of mucopolysaccharidosis type IIIA. Clin Biochem 46:688–690

Fraldi A, Hemsley K, Crawley A et al (2007) Functional correction of CNS lesions in an MPS-IIIA mouse model by intracerebral AAV-mediated delivery of sulfamidase and SUMF1 genes. Hum Mol Genet 16:2693–2702

Galeotti F, Volpi N (2011) Online reverse phase-high-performance liquid chromatography-fluorescence detection-electrospray ionization-mass spectrometry separation and characterization of heparan sulfate, heparin, and low-molecular weight-heparin disaccharides derivatized with 2-aminoacridone. Anal Chem 83:6770–6777

Giugliani R (2012) Mucopolysacccharidoses: from understanding to treatment, a century of discoveries. Genet Mol Biol 35(4 suppl):924–931

Gliddon BL, Hopwood JJ (2004) Enzyme-replacement therapy from birth delays the development of behavior and learning problems in mucopolysaccharidosis type IIIA mice. Pediatr Res 56:65–72

Jiang D, Liang J, Noble PW (2011) Hyaluronan as an immune regulator in human diseases. Physiol Rev 91:221–264

Lamanna WC, Lawrence R, Sarrazin S et al (2011) Secondary storage of dermatan sulfate in Sanfilippo disease. J Biol Chem 286:6955–6962

Misra S, Hascall VC, Markwald RR et al (2015) Interactions between hyaluronan and its receptors (CD44, RHAMM) regulate the activities of inflammation and cancer. Front Immunol 6:201

Neufeld EF, Muenzer J (2007) The mucopolysaccharidoses. In: Valle D, Beaudet AL, Vogelstein B et al (eds) The online metabolic and molecular bases of inherited disease. McGraw-Hill, New York Chapter 136

Petrey AC, de la Motte CA (2014) Hyaluronan, a crucial regulator of inflammation. Front Immunol 5:101

Sorrentino NC, D'Orsi L, Sambri I et al (2013) A highly secreted sulphamidase engineered to cross the blood-brain barrier corrects brain lesions of mice with mucopolysaccharidoses type IIIA. EMBO Mol Med 5:675–690

Valstar MJ, Marchal JP, Grootenhuis M et al (2011) Cognitive development in patients with mucopolysaccharidosis type III (Sanfilippo syndrome). Orphanet J Rare Dis 6:43

Volpi N (2010) High-performance liquid chromatography and on-line mass spectrometry detection for the analysis of chondroitin sulfates/hyaluronan disaccharides derivatized with 2-aminoacridone. Anal Biochem 397:12–23

Volpi N, Galeotti F, Yang B et al (2014) Analysis of glycosaminoglycan-derived, precolumn, 2-aminoacridone-labeled disaccharides with LC-fluorescence and LC-MS detection. Nat Protoc 9:541–558

Walkley SU, Vanier MT (2009) Secondary lipid accumulation in lysosomal disease. Biochim Biophys Acta 1793:726–736

Wilkinson FL, Holley RJ, Langford-Smith KJ et al (2012) Neuropathology in mouse models of mucopolysaccharidosis type I, IIIA and IIIB. PLoS One 7(4):e35787
Acknowledgments
The authors are grateful to Fondazione Mancini for its continuous support.
Authors contributions
N.V. developed the applied methodologies. F.M., V.M., and F.G. performed the experimental procedures and analyses. SNC and FA performed experiments on mice. N.V. designed and developed the experimental design, performed data analysis and wrote the manuscript.
All authors reviewed and approved the study.
Ethics declarations
Conflicts of interest
We declare that we have no conflicts of interest.
Additional information
Maccari F and Sorrentino NC equal contribution
About this article
Cite this article
Maccari, F., Sorrentino, N.C., Mantovani, V. et al. Glycosaminoglycan levels and structure in a mucopolysaccharidosis IIIA mice and the effect of a highly secreted sulfamidase engineered to cross the blood-brain barrier. Metab Brain Dis 32, 203–210 (2017). https://doi.org/10.1007/s11011-016-9895-x
Received:

Accepted:

Published:

Issue Date:
Keywords
Mucopolysaccharidoses IIIA

Engineered sulphamidase

Glycosaminoglycans

Heparan sulfate

Sanfilippo