Abstract
Resveratrol (RESV) and Environmental Enrichment (EE) have been separately reported to protect organisms against various diseases. This study investigated the potential benefit of the combination of RESV and EE on biomarkers of oxidative stress in young healthy mice. Fifty mice of both sexes were randomly divided into five groups of 10 animals each: group I served as control, group II were maintained on alternate day feeding, group III received RESV 50 mg/kg, suspended in caboxymethylcellulose orally per kg/day. Group IV received CMC and kept in an Enriched Environment, group V received RESV + EE. The treatment lasted for 28 days. The animals were sacrificed 24 h after the last treatment and brain samples were collected for biochemical evaluation. The results obtained showed a significant decrease (P < 0.05) in malondialdehyde concentration in EE group and RESV treated group kept EE when compared to the control. A significant decrease was also observed in glutathione peroxidase activity in all the treatment groups when compared to the control. A significant decrease in GPx activities in RESV, EE and RESV + EE treated groups in male and female mice when compared to the control groups respectively. However, a significant increase in GPx activities was observed in EE group in male mice and EODF, RESV groups in female mice when compared to RESV + EE groups respectively. In conclusion, the result of our study indicates that EE possesses antioxidant properties by decreasing MDA concentration and attenuating lipid peroxidation in the brain of young Swiss albino mice.
Access options
Buy single article
Instant access to the full article PDF.
US$ 39.95
Tax calculation will be finalised during checkout.
Subscribe to journal
Immediate online access to all issues from 2019. Subscription will auto renew annually.
US$ 79
Tax calculation will be finalised during checkout.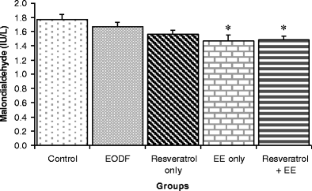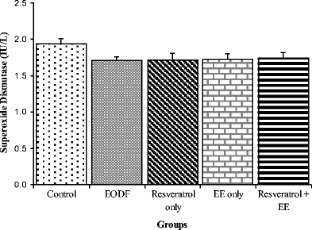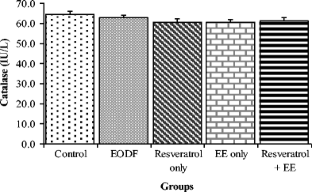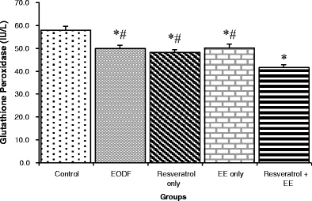 References
Anastasia A, Torre L, De Erausquin GA, Masco DH (2009) Enriched environment protects the nigrostriatal dopaminergic system and induces astroglial reaction in the 6-OHDA rat model of Parkinson's disease. J Neurochem 109:755–765

Balaban RS, Nemoto S, Finkel T (2005) Mitochondria, oxidants, and aging. Cell 120(4):483–495

Bauer JH, Goupil S, Garber GB, Helfand SL (2004) An accelerated assay for the identification of lifespan-extending interventions in Drosophila melanogaster. Proc Natl Acad Sci U S A 101(35):12980–12985

Baur JA, Sinclair DA (2006) Therapeutic potential of resveratrol: the in vivo evidence. Nat Rev Drug Discov 5:493–506

Baur JA, Pearson KJ, Price NL, Jamieson HA, Lerin C, Prabhu VV, Allard JS (2006) Resveratrol improves health and survival of mice on a high-calorie diet. Nature 444:337–342

Beers RF-J, Sizer IW (1952) A Spectrophotometric Method for Measuring the Breakdown of Hydrogen Peroxide by Catalase. J Biol Chem 195:133–140

Bezard E, Dovero S, Belin D, Duconger S, Jackson-Lewis V, Przedborski S, et al. (2003) Enriched environment confers resistance to 1-methyl-4-phenyl-1,2,3,6-tetrahydropyridine and cocaine: involvement of dopamine transporter and trophic factors. J Neurosci 23:10999–11007

Blanchet J, Longpre F, Bureau G, Morissette M, DiPaolo T, Bronchti G, et al. (2008) Resveratrol, a red wine polyphenol, protects doperminergic neurons in MPTP-treated mice. Progress in neuro-Psychopharmacol. Biol Psychiatry 32:1243–1250

Buendia I, Michalska P, Navarro E, Gameiro I, Egea J, León R (2016) Nrf2–ARE pathway: An emerging target against oxidative stress and neuroinflammation in neurodegenerative diseases. Pharmacol and Therap 157:84–104

Cechetti F, Worm PV, Lovatel G, Moysés F, Siqueira IR, Netto CA (2012) Environmental enrichment prevents behavioral deficits and oxidative stress caused by chronic cerebral hypoperfusion in the rat. Life Sci 91:29–36

Das DK, Maulik N (2006) Resveratrol in Cadioprotection: a therapeutic potential in alternative medicine. Mol Interv 6(1):36–47

Das SK, Mukherjee S, Gupta G, Rao DN, Vasudevan DM (2010) Protective effect of resveratrol and vitamin E against ethanol-induced oxidative damage in mice: biochemical and immunological basis. Indian J Biochem Biophys 47:32–37

Faherty CJ, Raviie SK, Herasimtschuk A, Smeyne R (2005) Enviromental enrichment in adulthood eliminates neuronal death in experimental parkinsonism. Mol Brain Res 134:170–179

Freitas RM, Vasconcelos SMM, Souza FCF, Viana GSB, Fonteneles MMF (2005) Oxidative stress in the hippocampus after pilocarpine-induced status epilepticus in Wistar rats. FEBS 272:1307–1312

Gresack JE, Kerr KM, Frick KM (2007) Short-term environmental enrichment decreases the mnemonic response to estrogen in young, but not aged, female mice. Brain Res 1160(1):91–101

Harburger LL, Lambert TJ, Fick KM (2007) Age-dependent effects of environmental enrichment on spatial reference memory in male mice. Behav Brain Res 185(1):43–48

Hattori R, Otani H, Maulik N, Das DK (2002) Pharmacological preconditioning with resveratrol: Role of nitric oxide. Am. J. physiol, Heart circ. physiol 282:1988–1995

Hawley SA, Ross FA, Chevtzoff C, Green KA, Evans A, Fogarty S, et al. (2010) Use of cells expressing gamma subunit variants to identify diverse mechanisms of AMPK activation. Cell Metab 11:554–565

Hosoda K, Kuramoto K, Eruden B, Nishida T, Shioya S (2006) The effects of three herbs as feed supplements on blood metabolites, hormones, antioxidant activity, IgG concentration, and ruminal fermentation in holstein steers. Asian Australas J. Anim. Sci 19(1):35–41

Howitz KT, Bitterman KJ, Cohen HY, Lamming DW, Lavu S, Wood JG, et al. (2013) Small molecule activators of sirtuins extend Saccharomyces cerevisiae lifespan. Nature 425:191–196

Janero DR (1990) Malondialdehyde and thiobarbituric acid-reactivity as diagnostic indices of lipid peroxidation and peroxidative tissue injury. Free Radic Biol Med 9:515–540

Juan ME, Vinardell MP, Planas JM (2002) The daily oral administration of high doses of trans-resveratrol to rats for 28 days is not harmful. J Nutr 132:257–260

Kregel KC, Zhang HJ (2007) An integrated view of oxidative stress in aging: basicmechanisms, functional effects, and pathological considerations. Am J Phys 292(1):18–36

Lagouge M, Argmann C, Gerhart-Hines Z, Meziane H, Lerin C, Daussin F, et al. (2006) Resveratrol improves mitochondrial function and protects against metabolic disease by activating SIRT1 and PGC-1alpha. Cell 127:1109–1122

Lai X, Pei Q, Song X, Zhou X, Yin Z, Jia R, Zou Y, et al. (2016) The enhancement of immune function and activation of NF-κB by resveratrol-treatment in immunosuppressive mice. Internat Immunopharmacol 33:42–47

Laviola G, Hannan AJ, Macri S, Solinas M, Jaber M (2008) Effects of enriched environment on animal models of neurodegenerative diseases and psychiatric disorders. Neurobiol Dis 31:159–168

Li C, XF X, Tab ZH, Wang XJ, Pan YJ (2015) Resveratrol dimers, nutritional components in grape wine, are selective ROS scavengers and weak Nrf2 activators. Food Chem 173:218–223

Luchsinger JA, Mayeux R (2007) Adiposity and Alzheimer's disease. Curr Alzheimer Res 4(2):127–134

Marmol F, Rodrıguez CA, Sanchez J, Chamizo VD (2015) Anti-oxidative effects produced by environmental enrichment in the hippocampus and cerebral cortex of male and female rats. Brain Res 1613:120–129

Martin JP, Dailey M, Sugarman E (1987) Negative and positive assays superoxide dismutase based on hematoxylin autoxidation. Archives of Biochem. Biophys 255:329–336

Miller RA, Harrison DE, Astle CM, Baur JA, Boyd AR, de Cabo R (2011) Rapamycin, but not resveratrol or simvastatin, extends life span of genetically heterogeneous mice. J Gerontol A Biol Sci Med Sci 66(2):191–201

Moreira AC, Silva AM, Santos MS, Sardao VA (2013) Resveratrol affects differently rat liver and brain mitochondrial bioenergetics and oxidative stress in vitro: investigation of the role of gender. Food and Chem. Toxicol 53:18–26

Muhammad MS, Magaji RA, Mohammed A, Isa AS, Magaji MG (2014) Effect of Resveratrol as Caloric Restriction Mimetic and Environmental Enrichment on Neurobehavioural Responses in Young Healthy Mice. Adv Neurosci 7. doi:10.1155/2014/545170

Naderali EK, Ratcliffe SH, Dale MC (2009) Obesity and alzheimer's disease: a link between body weight and cognitive function in old age. Am J Alzheimers Dis Other Demen 24(6):445–449

Nithianantharajah J, Hannan A (2006) Enriched environments, experience-dependent plasticity and disorders of the nervous system. Nature. Rev Neurosci 7:697–709

Noguchi N, Niki E (2000) Phenolic antioxidants: a rationale for design and evaluation of novel antioxidant drug for atherosclerosis. Free Rad Biol Med 28(10):1538–1546

Park SJ, Ahmad F, Philp A, Baar K, Williams T, Luo H, Ke H, et al. (2012) Resveratrol ameliorates aging-related metabolic phenotypes by inhibiting cAMP phosphodiesterases. Cell 148:421–433

Pearson KJ, Baur JA, Lewis KN, Peshkin L, Price NL, Labinskyy N, et al. (2008) Resveratrol delays age-related deterioration and mimics transcriptional aspects of dietary restriction without extending life span. Cell Metab 8:157–168

Rahman I (2008) Dietary polyphenols mediated regulation of oxidative stress and chromatin remodeling in inflammation. Nutr Res 66(1):42–45

Rege RD, Kumar S, Wilson DN, Tamura L, Geetha T, Mathews ST, et al. (2013) Resveratrol protects the brain of obese mice from oxidative damage. Oxid Med Cell Longev 2013. doi:10.1155/2013/419092

Ren JW, Fan CC, Chen N, Huang JG, Yang Q (2011) Resveratrol pretreatment attenuates cerebral ischemic injury by upregulating expression of transcription factor Nrf2 and HO-1 in rats. Neurochem Res 36:2352–2362

Robb EL, Winkelmolen L, Visanji N, Brotchieb J, Stuart JA (2008) Dietary resveratrol administration increases MnSOD expression and activity in mouse brain. Res. Commun. doi:10.1016/j.bbrc.2008.05.028

Soeur J, Eilstein J, Léreaux G, Jones C, Marrot L (2015) Skin resistance to oxidative stress induced by resveratrol: from Nrf2 activation to GSH biosynthesis. Free Radic Biol Med 78:213–223

Spires TL, Grote HE, Varshney NK, Cordery PM, Van Dellen A, Blakemore C, et al. (2004) Environmental enrichment rescues protein deficits in a mouse model of Huntington's disease, indicating a possible disease mechanism. J Neurosci 24:2270–2276

Steiner B, Winter C, Hosman K, Siebert E, Kempermann G, Petrus DS, Kupsch A (2006) Enriched environment induces cellular plasticity in the adult substantia nigra and improves motor behavior function in the 6-OHDA rat model of Parkinson's disease. Exper Neurol 201:1–6

Story MM, Rand JS, Shyan-Norwalt M, Mesch R, Morton JM, Flickinger EA (2012) Effect of resveratrol supplementation on the performance of dogs in an eight-arm radial maze. Open Nutr J 6:80–88

Taguchi K, Motohashi H, Yamamoto M (2011) Molecular mechanisms of the Keap1-Nrf2 pathway in stress response and cancer evolution. Genes Cells 16:123–140

Takebe G (2002) A comparative study on the hydroperoxide and thiol specificity of the glutathione peroxidase family and selenoprotein P. J Biol Chem 277(43):41254–41258

Timmers S, Konings E, Bilet L, Houtkooper RH, Weijer TV, Goossens GH, et al. (2011) Calorie Restriction-like Effects of 30 Days of Resveratrol Supplementation on Energy Metabolism and Metabolic Profile in Obese Humans. Cell Met 14:612–622

Uttara B, Singh AV, Zamboni P, Mahajan RT (2009) Oxidative stress and neurodegenerative diseases: a review of upstream and downstream antioxidant therapeutic options. Curr Neuropharmacol 7(1):65–74

Valenzano DR, Terzibasi E, Genade T, Cattaneo A, Domenici L, Cellerino A (2006) Resveratrol prolongs lifespan and retards the onset of age-related markers in a short-lived vertebrate. Curr Biol 16:296–300

Viswanathan M, Kim SK, Berdichevsky A, Guarente L (2005) A role for SIR-2,1 regulation of ER stress response genes in determining C. elegans life span. Dev Cell 9(5):605–615

Wang G, Amato S, Gilbert J, Man HY (2015) Resveratrol up-regulates AMPA receptor expression via AMP-activated protein kinase-mediated protein translation. Neuropharmacol 95:144–153

Wood JG, Rogina B, Lavu S, Howitz K, Helfand SL, Tatar M, et al. (2004) Sirtuin activators mimic caloric restriction and delay ageing in metazoans. Nature 430(7000):686–689

Zhang HY, Ge N, Zhang ZY (1999) Theoretical elucidation of activity differences of five phenolic antioxidants. Acta Pharmacol Sin 20(4):363–366. doi:10.1155/2014/545170
Acknowledgments
The authors wish to thank Malam Muhammad Mu'azu in the Department of Pharmacology and Therapeutics, Ahmadu Bello University, Zaria, Nigeria, for his assistance in training and handling of the animals, Mr. Olu Aiyegbuisi of the Department of Chemical Pathology, Ahmadu Bello University Teaching Hospital Zaria, Nigeria for biochemical investigations. They also appreciate Gombe State University, Nigeria, for providing financial assistance for the study.
Ethics declarations
All experimental protocols were in accordance with the Ahmadu Bello University Research policy; and ethic and regulations governing the care and use of experimental animals (NIH publication no. 85–23, revised 1996).
Conflict of interest
The authors declare that there is no conflict of interests regarding the publication of this paper.
About this article
Cite this article
Muhammad, M.S., Magaji, R.A., Mohammed, A. et al. Effect of resveratrol and environmental enrichment on biomarkers of oxidative stress in young healthy mice. Metab Brain Dis 32, 163–170 (2017). https://doi.org/10.1007/s11011-016-9891-1
Received:

Accepted:

Published:

Issue Date:
Keywords
Oxidative stress

Environmental enrichment

Resveratrol

Lipid peroxidation

Antioxidant enzymes