Abstract
Magnesium (Mg) is the fourth most abundant biological mineral essential for good health. Neuroprotective, anxiolytic and antidepressant effects of magnesium following stress and brain injuries are well established. In present study, we analyzed the protective effects of magnesium in rats exposed to sub-chronic noise stress. Magnesium Chloride (MgCl2, 100 mg/kg) was administered intraperitoneally once daily for 15 days prior exposure to noise stress. Rats were exposed to noise stress for 4 h after administration of magnesium for 15 days. At the end of treatment behavioral alterations were assessed. Animals were decapitated following behavioral testing and the brains were dissected out for neurochemical estimations by HPLC-EC. Improvement in noise-induced memory deficits as assessed by novel object recognition (NOR) test and elevated plus maze (EPM) test was found in magnesium treated rats. This improvement in noise-induced behavioral deficits following treatment with magnesium may be attributed to a significant decrease (p < 0.01) in dopamine (DA) and serotonin (5-hydroxytryptamine; 5-HT) turnover as compared to control rats observed in present work. These results suggest that treatment with magnesium can attenuate the noise-induced deficits and may be used as a therapy against noise-induced neurodegeneration. Moreover an adequate amount of magnesium in daily diet may help to develop the ability to resist against or cope up with stressful conditions encountered in daily life.
Access options
Buy single article
Instant access to the full article PDF.
USD 39.95
Price excludes VAT (USA)
Tax calculation will be finalised during checkout.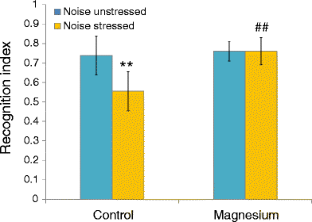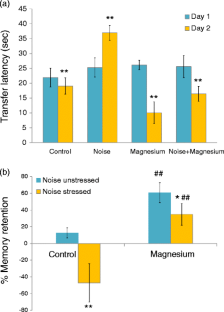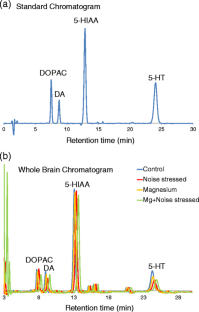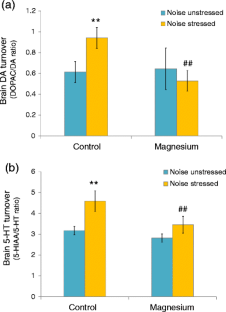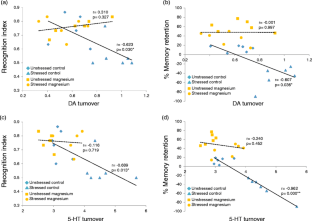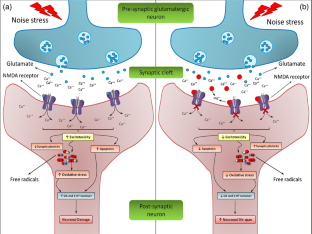 Abbreviations
5-HIAA:

5-hydroxyindoleacetic acid

5-HT:

5-Hydroxytryptamine

DA:

Dopamine

DOPAC:

Dihydroxyphenyl acetic acid

EPM:

Elevated plus maze

NMDA:

N-methyl-D-aspartate

NOR:

Novel object recognition
References
Antkiewicz-Michaluk L, Wasik A, Edyta Mozdzen E, Romanska I, Michaluk J (2014) Antidepressant-like effect of tetrahydroisoquinoline amines in the animal model of depressive disorder induced by repeated administration of a low dose of reserpine: behavioral and neurochemical studies in the rat. Neurotox Res 26(1):85–98

Bianchi P, Kunduzova O, Masini E, Cambon C, Bani D, Raimondi L, Seguelas MH, Nistri S, Colucci W, Leducq N, Parini A (2005) Oxidative stress by monoamine oxidase mediates receptor-independent cardiomyocyte apoptosis by serotonin and postischemic myocardial injury. Circulation 112(21):3297–3305

Billard JM (2006) Ageing, hippocampal synaptic activity and magnesium. Magnes Res 19(3):199–215

Bocarsly ME, Barson JR, Hauca JM, Hoebel BG, Leibowitz SF, Avena NM (2012) Effects of perinatal exposure to palatable diets on body weight and sensitivity to drugs of abuse in rats. Physiol Behav 107(4):568–575

Buha A, Bulat Z, Dukic-Cosic, Matovic V (2012) Effects of oral and intraperitoneal magnesium treatment against cadmium-induced oxidative stress in plasma of rats. Arh Hig Rada Toksikol 63(3):247–254

Bulduk S, Canbeyli R (2004) Effect of inescapable tones on behavioral despair in Wistar rats. Prog Neuropsychopharmacol Biol Psychiatry 28(3):471–475

Cardoso CC, Lobato KR, Binfaré RW, Ferreira PK, Rosa AO, Santos AR, Rodrigues AL (2009) Evidence for the involvement of the monoaminergic system in the antidepressant-like effect of magnesium. Prog Neuropsychopharmacol Biol Psychiatry 33:235–242

Castner SA, Williams GV, Goldman-Rakic PS (2000) Reversal of antipsychotic-induced working memory deficits by short-term dopamine D1 receptor stimulation. Science 287:2020–2022

Cernak I, Savic V, Kotur J, Prokic V, Kuljic B, Grbovic D, Veljovic M (2000) Alteration in magnesium and oxidative status during chronic emotional stress. Magnes Res 13(1):29–36

Cheng SM, Yang DU, Lee CP, Hung-Chuan Pan HC, Lin MT, Chen SH, Cheng FC (2007) Effects of magnesium sulfate on dynamic changes of brain glucose and its metabolites during a short-term forced swimming in gerbils. Eur J Appl Physiol 99(6):695–699

Cohen S (1980) After effects of stress on human performance and social behavior: a review of research and theory. Psychol Bull 88:82–108

Cui B, Wu M, She X (2009) Effects of chronic noise exposure on spatial learning and memory of rats in relation to neurotransmitters and NMDAR2B alterations in the Hippocampus. J Occup Health 1:152–158

Dong XX, Wang Y, Qin ZH (2009) Molecular mechanisms of excitotoxicty and their relevance to pathogenesis of neurodegenerative disease. Acta Pharmacol Sin 30(4):379–387

Drossopoulou G, Antoniou K, Kitraki E, Papathanasiou G, Papalexi E, Dalla C, Papadopoulou–Daifoti Z (2004) Sex differences in behavioral, neurochemical and neuroendocrine effects induced by the forced swim test in rats. Neuroscience 126(4):849–857

Ehrenberger K, Felix D (1995) Receptor pharmacological models for inner ear therapies with emphasis on glutamate receptors: a survey. Acta Otolaryngol 115(2):236–240

Evans GW, Johnson D (2000) Stress and open-office noise. J Appl Psychol 85(5):779–783

Evans GW, Lepore SJ (1993) Non-auditory effects of noise on children: a critical review. Child Environ 10:31–51

Evans GW, Bullinger M, Hygge S (1998) Chronic noise exposure and physiological response: a prospective study of children living under environmental stress. Psychol Sci 9:75–77

Fan MM, Raymond LA (2007) N-methyl-D-aspartate (NMDA) receptor function and excitotoxicity in Huntington's disease. Prog Neurobiol 81(5–6):272–293

Garcia L, Dejong S, Martin S, Smith RS, Buettner G, Kerber RE (1998) Magnesium reduces free radicals in an in vivo coronary occlusion-reperfusion model. J Am Coll Cardiol 32(2):536–539

Goldman-Rakic PS (1998) The cortical dopamine system: role in memory and cognition. Adv Pharmacol 42:707–711

Haider S, Khaliq S, Ahmed SP, Haleem DJ (2006) Long-term tryptophan administration enhances cognitive performance and increases 5-HT metabolism in the hippocampus of female rats. Amino Acids 31:421–425

Haider S, Tabassum S, Perveen T, Ali S, Saleem S, Khan AK, Haleem DJ (2011) Age-related decrease in Striatal DA produces cognitive deficits in male rats. J Pharm Nutr Sci 1:20–27

Haider S, Naqvi F, Batool Z, Tabassum S, Perveen T, Saleem S, Haleem DJ (2012) Decreased hippocampal 5-HT and DA levels following sub-chronic exposure to noise stress: Impairment in both spatial and recognition memory in male rats. Sci Pharm 80(4):1001–1011

Haider S, Liaquat L, Shahzad S, Sadir S, Madiha S, Batool Z, Tabassum S, Saleem S, Naqvi F, Perveen T (2015) A high dose of short term exogenous D-galactose administration in young male rats produces symptoms simulating the natural aging process. Life Sci 124:110–119

Haines MM, Stansfeld SA, Brentnall S, Head J, Berry B, Jiggins M, Hygge S (2001) The West London Schools Study: the effects of chronic aircraft noise exposure on child health. Psychol Med 31(8):1385–1396

Haleem DJ, Naz H, Parveen T, Haider S, Ahmed SP, Khan NH, Haleem MA (2002) Serotonin and serotonin 1-A receptors in the failure of ethanol-treated rats to adapt to a repeated stress schedule. J Stud Alcohol 63(4):389–396

Haleem DJ, Samad N, Perveen T, Haider S, Haleem MA (2007) Role of serotonin-1A receptors in restraint-induced behavioral deficits and adaptation to repeated restraint stress. Int J Neurosci 117(2):243–257

Hans CP, Chaudhary DP, Bansal DD (2003) Effect of magnesium supplementation on oxidative stress in alloxanic diabetic rats. Magnes Res 16(1):13–19

Hoane MR (2007) Assessment of cognitive function following magnesium therapy in the traumatically injured brain. Magnes Res 20(4):229–236

Hoane MR, Barth TM (2001) The behavioral and anatomical effects of MgCl2 therapy in an electrolytic lesion model of cortical injury in the rat. Magnes Res 14:51–63

Hori H, Ozeki Y, Teraishi T, Matsuo J, Kawamoto Y, Kinoshita Y, Suto S, Terada S, Higuchi T, Kunugi H (2010) Relationships between psychological distress, coping styles, and HPA axis reactivity in healthy adults. J Psychiatr Res 44(14):865–873

Inoue T, Tsuchiya K, Koyama T (1994) Regional changes in dopamine and serotonin activation with various intensity of physical and psychological stress in the rat brain. Pharmacol Biochem Behav 49(4):911–920

Itoh J, Nabeshima T, Kameyama T (1990) Utility of an elevated-plus maze for the evaluation of memory in mice: effects of nootropics, scopolamine and electroconvulsive shock. Psychopharmacology (Berlin) 101(1):27–33

Jung KH, Chu K, Lee ST, Park HK, Kim JH, Kang KM, Kim M, Lee SK, Roh JK (2009) Augmentation of nitrite therapy in cerebral ischemia by NMDA receptor inhibition. Biochem Biophys Res Commun 378(3):507–512

Konig O, Winter E, Fuchs J, Haupt H, Mazurek B, Weber N, Gross J (2003) Protective effect of magnesium and MK 801 on hypoxia-induced hair cell loss in new-born rat cochlea. Magnes Res 16(2):98–105

Lowry CA, Moore FL (2006) Regulation of behavioral responses by corticotrophin-releasing factor. Gen Comp Endocrinol 146(1):19–27

Lowy MT, Gault L, Yamamoto BK (1993) Adrenalectomy attenuates stress-induced elevations in extracellular glutamate concentrations in the hippocampus. J Neurochem 61(5):1957–1960

Luine V (2015) Recognition memory tasks in neuroendocrine research. Behav Brain Res 285:158–164

Matheson MP, Stansfeld SA, Haines MM (2003) The effects of chronic aircraft noise exposure on children's cognition and health: 3 field studies. Noise Health 5(19):31–40

Mocci F, Canalis P, Tomasi PA, Caus F, Pettinato S (2001) The effect of noise on serum and urinary magnesium and catecholamines in humans. Occup Med 51(1):56–61

Murck H (2002) Magnesium and affective disorders. Nutr Neurosci 5(6):375–389

Murck H, Steiger A (1998) Mg2+ reduces ACTH secretion and enhances spindle power without changing delta power during sleep in men - possible therapeutic implications. Psychopharmacology (Berlin) 137(3):247–252

Murphy BL, Arnsten AF, Jentsch JD, Roth RH (1996) Dopamine and spatial working memory in rats and monkeys: pharmacological reversal of stress-induced impairment. J Neurosci 16(23):7768–7775

Nakamura H, Moroji T, Nohara S, Nakamura H, Okada A (1992) Activation of central dopaminergic system by noise and whole-body vibration. Environ Res 57(1):10–18

Naqvi F, Haider S, Batool Z, Perveen T, Darakhshan DJ (2012) Sub-chronic exposure to noise affects locomotor activity and produces anxiogenic and depressive like behavior in rats. Pharmacol Rep 64(1):64–69

Ndountse LT, Chan HM (2009) Role of N-methyl-D-aspartate receptors in polychlorinated biphenyl mediated neurotoxicity. Toxicol Lett 184(1):50–55

Nieoullon A (2002) Dopamine and the regulation of cognition and attention. Prog Neurobiol 67(1):53–83

Okuda S, Roozendaal B, McGaugh JL (2004) Glucocorticoid effects on object recognition memory require training-associated emotional arousal. Proc Natl Acad Sci U S A 101:853–858

Parle M, Dhingra D, Kulkarni SK (2004) Memory-strengthening activity of Glycyrrhiza glabra in exteroceptive and interoceptive behavioral models. J Med Food 7:462–466

Patki G, Solanki N, Atrooz F, Allam F, Salim S (2013) Depression, anxiety-like behavior and memory impairment are associated with increased oxidative stress and inflammation in a rat model of social stress. Brain Res 1539:85–88

Perveen T, Batool Z, Haider S, Haleem DJ (2011) Enhancement of memory by lithium in animal model of stress. J Basic Appl Sci 7:85–88

Poleszak E (2007) Modulation of antidepressant-like activity of magnesium by serotonergic system. J Neural Transm 114(9):1129–1134

Poleszak E, Wlaz P, Szewczyk B, Wyska E, Librowski T, Oleksiak JS, Fidecka S, Pilc A, Nowak G (2005) Enhancement of antidepressant-like activity by joint administration of imipramine and magnesium in the forced swim test: behavioral and pharmacokinetic studies in mice. Pharmacol Biochem Behav 81(3):524–529

Poleszak E, Wlay P, Kêdzierska E, Nieoczym D, Wyska E, Szymura-Oleksiak J, Fidecka S, Radziwoñ-Zaleska M, Nowak G (2006) Immobility stress induces depression-like behavior in the forced swim test in mice: effect of magnesium and imipramine. Pharmacol Rep 58(5):746–752

Poleszak E, Wlaź P, Wróbel A, Fidecka S, Nowak G (2008) NMDA/glutamate mechanism of magnesium-induced anxiolytic-like behavior in mice. Pharmacol Rep 60(5):655–663

Ravindran R, Rathinasamy SD, Samson J, Senthilvelan M (2005) Noise stress induced brain neurotransmitter changes and the effect of Ocimum sanctum (Linn) treatment in albino rats. J Pharmacol Sci 98(4):354–360

Rothstein JD (1996) Excitotoxicity hypothesis. Neurology 47(4 Suppl 2):S19–S25

Rylander R (2004) Noise, stress and annoyance. J Sound Vib 277:471–478

Samson J, Sheela Devi R, Ravindran R, Senthilvelan M (2006) Biogenic amine changes in brain regions and attenuating action of Ocimum sanctum in noise exposure. Pharmacol Biochem Behav 83(1):67–75

Saris NE, Mervaala E, Karppanen H, Khawaja JA, Lewenstam A (2000) Magnesium. An update on physiological, clinical and analytical aspects. Clin Chim Acta 294:1–26

Scheibe F, Haupt H, Ising H (2000) Preventive effect of magnesium supplement on noise induced hearing loss in guinea pig. Eur Arch Otorhinolaryngol 257(1):10–16

Scheibe F, Haupt H, Mazurek B, König O (2001) Therapeutic effect of magnesium on noise-induced hearing loss. Noise Health 3(11):79–84

Singewald N, Sinner C, Hetzenauer A, Sartori SB, Murck H (2004) Magnesium-deficient diet alters depression- and anxiety-related behavior in mice--influence of desipramine and Hypericum perforatum extract. Neuropharmacology 47(8):1189–1197

Stansfeld SA, Berglund B, Clark C, Lopez-Barrio I, Fischer P, Ohrström E, Haines MM, Head J, Hygge S, van Kamp I, Berry BF (2005) Aircraft and road traffic noise and children's cognition and health: a cross national study. Lancet 365:1942–1949

Varty GB, Morgan CA, Cohen-Williams ME, Coffin VL, Carey GJ (2002) The gerbil elevated plus-maze I: behavioral characterization and pharmacological validation. Neuropsychopharmacology 27(3):357–370

Vink R, Cernak I (2000) Regulation of intracellular free magnesium in central nervous system injury. Front Biosci 5:D656–D665

Wester PO (1987) Magnesium. Am J Clin Nutr 45:1305–1312

Wingenfeld K, Wolf OT (2011) HPA axis alterations in mental disorders: impact on memory and its relevance for therapeutic interventions. CNS Neurosci Ther 17(6):714–722

Xu Z-P, Li L, Bao J, Wang Z-H, Zeng J, Liu E-J, Li X-G, Huang R-X, Gao D, Li M-Z, Zhang Y, Liu G-P, Wang J-Z (2014) Magnesium protects cognitive functions and synaptic plasticity in streptozotocin-induced sporadic Alzheimer's model. PLoS ONE 9(9), e108645
Acknowledgments
The authors are thankful to the University of Karachi, Pakistan and Higher Education Commission, Pakistan, for funding this project. The first author dedicates this paper to the memory of Mrs. Sumera Sajjad, whose life was a source of inspiration.
Ethics declarations
Conflict of interest
The authors declare no conflict of interest.
About this article
Cite this article
Haider, S., Sadir, S., Naqvi, F. et al. Magnesium treatment palliates noise-induced behavioral deficits by normalizing DAergic and 5-HTergic metabolism in adult male rats. Metab Brain Dis 31, 815–825 (2016). https://doi.org/10.1007/s11011-016-9811-4
Received:

Accepted:

Published:

Issue Date:

DOI: https://doi.org/10.1007/s11011-016-9811-4
Keywords