Abstract
This research sought to investigate the possible neuroprotective effects of honey against lead (Pb)-induced neurotoxicity. Twenty four male Wistar rats were divided into four groups: Control group that received 1 ml/kg distilled orally for 28 days; while groups II-IV received 0.2 % lead in drinking water and 1 ml/kg of distilled water, 1 ml/kg of honey, 1.5 ml/kg of honey respectively for 28 days. Anxiety and exploratory activities were determined in the open field test. Memory function was determined using Morris water maze after which the animals were sacrificed. The brains were then excised, homogenized and Lipid peroxidation (MDA), Superoxide dismutase (SOD), Catalase, Glutathione (GSH) and Glutathione –S- Transferase (GST) activities were determined in the brains. Results showed that lead exposure causes decrease in locomotor and exploratory activities; increase anxiety, memory impairment, lipid peroxidation and decrease antioxidant activities. However, co-administration of honey with lead inhibited neurotoxicity as indicated by the improvement in memory function as evidenced by decreased latency period and increased in time spent in target quadrant in honey-fed rats compared to the lead-exposed animals. Furthermore, honey increased locomotion, exploration and decreased anxiety in lead-exposed rats as indicated by the frequency of rearing, freezing duration and the number of line crossed by animals. Also administration of honey improves antioxidant activities as shown by increased brain SOD, GST and GSH activities compared to the lead-treated groups but no significant effect on MDA level. It can be concluded that honey has neuroprotective effects against lead-induced cognitive deficit probably by enhancing antioxidant activities.
Access options
Buy single article
Instant access to the full article PDF.
US$ 39.95
Tax calculation will be finalised during checkout.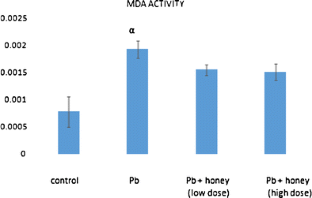 References
Abubakar MB, Abdullah WZ, Sulaiman SA, Uboh FE, Ang BS (2013) Effect of honey supplementation on toxicity of gasoline vapor exposure in rats. IJARNP 6(4):16–22

Adhami VM, Husain R, Agarwal AK, Seth PK (2000) Intrahippocampal cholinergic-rich transplants restored lead-induced deficits: a preliminary study in rats. Neurotoxicol Teratol 22:41–53

Afroz R, Tanvir EM, Hossain MF, Gan SH, Parvez M, Aminul IM, Khalil I (2014) Protective effect of sundarban honey against acetaminophen-induced acute hepatonephrotoxicity in rats. Evid Based Complement Altern Med 4:1–8

Ahamed M, Siddiqui MK (2007) Environmental lead toxicity and nutritional factors. Clin Nutr 26:400–408

Alvarez-Suarez JM, Tulipani S, D'ıaz D, Estevez Y, Romandini S, Giamperi F, Damiani E, Astolfi P, Bompadre S, Battino M (2010) Antioxidant and antimicrobial capacity of several monofloral Cuban honeys and their correlation with color, polyphenol content and other chemical compounds. Food Chem Toxicol 48(8–9):2490–2499

Beers RF, Sizer IW (1952) A spectrophotometric rnethod for measuring breakdown of hydrogen peroxide by catalase. J Biol Chem 195:133–140

Bouayed J, Rammal H, Younos C, Soulimani R (2007) Positive correlation between peripheral blood granulocyte oxidative status and level of anxiety in mice. Eur J Pharmacol 564(1–3):146–149

Brown RE, Corey SC, Moore AK (1999) Differences in measures of exploration and fear in MHC-congenic C57BL/6Jand B6-H-2 K mice. Behav Gene 26:263–271

Cantarelli MA, Pellerano RG, Marchevsky EJ, Camiña JM (2008) Quality of honey from Argentina: study of chemical composition and trace elements. J Argent Chem Soc 96(2):33–41

Dorea JG (2004) Mercury and lead during breast-feeding. Br J Nutr 92:21–40

El-Masry TA, Emara MA, El-shitany AN (2011) Possible protective effect of prpolis against lead-induced neurotoxicity in animal model. J Evol Biol Res 3(1):4–11

Elmenoufy GAM (2012) Bee honey dose-dependently ameliorates lead acetate- mediated hepatorenal toxicity in rats. Life Sci J 9(4):780–788

Ercal N, Gurer-Orhan H, Aykin-Burns N (2001) Toxic metals and oxidative stress. Part 1. Mechanisms involved in metal-induced oxidative damage. Curr Top Med Chem 1:529–539

Erejuwa OO, Sulaiman SA, Wahab MSA, Sirajudeen KNS, Salleh MSM, Gurtu S (2011) Differential responses to blood pressure and oxidative stress in streptozotocin-induced diabetic wistar-Kyoto rats and spontaneously hypertensive rats: effects of antioxidant (honey) treatment. Int J Mol Sci 12(3):1888–1907

Erejuwa OO, Sulaiman SA, AbWahab MS (2012) Honey: a novel antioxidant. Molecules 17(4):4400–4423

Flora SJS, Mittal M, Mehta A (2009) Heavy metal induced oxidative stress and its possible reversal by chelation therapy. Indian J Med Res 128:501–523

Gilley J, Coffer PJ, Ham J (2003) FOXO transcription factors directly activate bim gene expression and promote apoptosis in sympathetic neurons. J Cell Biol 162:613–622

Guilarte TR, Opler M, Pletnikov M (2012) Is lead exposure in early life an environmental risk factor for schizophrenia? Neurobiological Connect Testable Hypotheses Neurotoxicol 33:560–574

Gurer H, Ozgunes H, Neal R, Spitz D, Ercal N (1998) Antioxidant effects of N-acetylcysteine and succimer in red blood cells from lead-exposed. Toxicology 128:181–189

Habig WH, Pabst MJ, Jakoby WB (1974) Glutathione –S-transferases. The First enzymatic Step in Mercapturic Acid Formation. J Biol Chem 249:7130–7139

Halawa HM, El-Nefiawy NE, Makhlouf NA, Mady AA (2009) Evaluation of honey protective effect on lead induced oxidative stress in rats. JASMR 4(2):197–208

Jollow DJ, Thorgeirsson SS, Potter WZ, Hashimoto M, Mitchell JR (1974) Acetaminophen-induced hepatic necrosis. VI Metab Dispos Toxic non-Toxic Doses Acetaminophen Pharmacol 12(4–5):251–271

Khodamoradi N, Komaki A, Salehi I, Shahidi S, Sarihi A (2015) Effect of vitamin E on lead exposure-induced learning and memory impairment in rats. Physiol Behav 144:90–94

Kulikowska-Karpinska E, Kleszczewska E (2001) Studies on lead (II) complexes with L-ascorbic acid by spectrophotometric method. Ekologiai Tech 9:114–116

Kuloglu M, Atmaca M, Tezcan E, Gecici O, Tunckol H, Ustundag B (2002) Antioxidant enzyme activities and malondialdehyde levels in patients with obsessivecompulsive disorder. Neuropsychobiology 46:27–32

Lowry OH, Rosebrough NJ, Farr AL, Randall RJ (1951) Protein measurement with the folin phenol reagent. J Biol Chem 193(1):265–275

Markowitz ME, Clemente I, Rosen JF (1997) Children with moderately elevated blood lead levels: a role for other diagnostic tests? Environ Health Perspect Med Chem 1:529–539

Masood A, Nadeem A, Mustafa SJ, O'Donnell JM (2008) Reversal of oxidative stress induced anxiety by inhibition of phosphodiesterase-2 in mice. J Pharmacol Exp Ther 326(2):369–379

McIlwain KL, Merriweather MY, Yuva-Paylor LA, Paylor R (2001) The use of behavioral test batteries: effects of training history. Physiol Behav 73:705–717

Misra HP, Fridovich I (1972) The role of superoxide anion in the autoxidation of epinephrine and simple assay for superoxide dismutase. J Biol Chem 247:3170–3175

Moreira EG, Vassilieff I, Vassilieff VS (2001) Developmental lead exposure:behavioral alterations in the short and long term. Neurotoxicol Teratol 23:489–495

Morris RGM, Garrud P, Rawlins JNP, O, Keefe J (1982) Place-navigation impaired in ratswith hippocampal lesions. Nature 297:681-683

Olopade JO, Connor JR (2011) Vanadium and neurotoxicity. A review. Curr Top Toxicol 7:33–39

Oyefuga HO, Ajani EO, Salau BA, Agboola F, Adebawo OO (2012) Honey consumption and its anti-ageing potency in white wistar albino rats. Sch J Biol Sci 1(2):15–19

Oyekunle OA, Akanmu MA, Ogundeji TP (2010) Evaluation of anxiolytic and novelty induced behaviours following bee-honey consumption in rats. J Neurosci Behav Health 2(4):38–43

Papanikolaou CN, Hatzidaki GE, Belivanis S, Tzanakakis GN, Tsatsakis MA (2005) Lead toxicity update. A brief review. Med Sci Monit 11:329–336

Patra RC, Swarup D, Dwivedi SK (2001) Antioxidant effects of a-tocopherol, ascorbic acid and L-methionine on lead induced oxidative stress to the liver, kidney and brain in rats. Toxicology 2001; 162:81–8

Pawlas N, Broberg K, Olewinska E, Prokopowicz A, Skerfving S, Pawlas K (2012) Modification by the genes ALAD and VDR of lead-induced cognitive effects in children. Neurotoxicology 33:37–43

Prasanthi RPJ, Devi CB, Basha DC, Reddy NS, Reddy GR (2010) Calcium and zinc supplementation protects lead (Pb)-induced perturbations in antioxidant enzymes and lipid peroxidation in developing mouse brain. Int J Dev Neurosci 28:161–167

Rahman A, Khan KM, Al-Khaledi G, Khan I, Al-Shemary T (2012) Over activation of hippocampal serine/threonine protein phosphatases PP1 and PP2A is involved in lead induced deficits in learning and memory in young rats. Neurotoxicology 33(3):370–383

Rajabzadeh A, Saki GH, Hemadi M, Alli K, Alli R (2012) Evaluation of effect of honey and vitamin E on apoptosis in testes of rat exposed to noise stress. Jentashapir 3(1169):523–532

Reckziegel P, Dias TV, Benvegnú B, Boufleur N, Barcelos RCS, Segat HJ, Pase CS, dos Santos CMM, Flores EMM, Bürger ME (2011) Locomotor damage and brain oxidative stress induced by lead exposure are attenuated by Gallic acid treatment. Toxicol Lett 203:74–81

Reilly CA, Aust SD (1999) Measurement of lipid peroxidation. In: Bus JS et al. (eds) Curr Protoc Toxicol. Academic Press, San Diego, pp 2.4.1–2.4.13

Salim S, Sarraj N, Taneja M, Saha K, Tejada-Simon MV, Chugh G (2010) Moderate treadmill exercise prevents oxidative stress-induced anxiety-like behavior in rats. Behav Brain Res 208:545–552

Sanders T, Liu Y, Buchner V, Tchounwou PB (2009) Neurotoxic effects and biomarkers of lead exposure: a review. Rev Environ Health 24(1):15–45

Sansar W, Bouyatas MM, Ahboucha S, Gamrani H (2012) Effects of chroniclead intoxication on rat serotoninergic system and anxiety behavior. Acta Histochem 114:41–45

Schwartz BS, Lee BK, Lee GS, Stewart WF, Simon D, Kelsey K (2000) Associations of blood lead, dimercaptosuccinic acid-chelatable lead and tibia lead with polymorphisms in the vitamin D receptor and [delta]-aminolevulinic acid dehydrase genes. Environ. Health Perspect 108:949–954

Soeiro AC, Gouvêa TS, Moreira EG (2007) Behavioral effects induced bysubchronic exposure to Pb and their reversion are concentration and gender dependent. Hum Exp Toxicol 26:733–739

Soodi M, Naghdia N, Sharifzadeh M (2008) Effect of lead. Iran J Pharm Res 7(1):43–51

Takatsu H, Owada K, Abe K, Nakano M, Urano S (2009) Effect of vitamin E on learning and memory deficit in aged rats. J Nutr Sci Vitaminol (Tokyo) 55(5):389–393

Tuzcu M, Baydas G (2006) Effect of melatonin and vitamin E on diabetes-induced learning and memory impairment in rats. Eur J Pharmacol 537:106–110

Vázquez A, Peña de Ortiz S (2004) Lead impairs long-term memory and blocks learning-induced increases in hippocampal protein kinase C activity. Toxicol Appl Pharmacol 200:27–39

Villeda-Hernandez J, Barroso R, Mendez M, Nava C, Huerta R, Rios C (2001) Enhanced brain regional lipid peroxidation in developing rats exposed to low level lead acetate. Brain Res Bull 55(2):247–251

Walsh RH, Cummins RA (1976) The open field test: A critical review. Psychol Bull 83:482–504

White LD, Cory-Slechta DA, Gilbert ME, Tiffany-Castiglioni E, Zawia NH, Virgolini M, Rossi-George A, Lasley SM, Qian YC, Basha MR (2007) New and evolving concepts in the neurotoxicology of lead. Toxicol Appl Pharmacol 225:1–27

Zaid SSM, Othman S, Kassim NM (2014) Potential protective effect of tualang honey on BPA-induced ovarian toxicity in prepubertal rats. BMC Complement Alternat Med 14:509–520
About this article
Cite this article
Abdulmajeed, W.I., Sulieman, H.B., Zubayr, M.O. et al. Honey prevents neurobehavioural deficit and oxidative stress induced by lead acetate exposure in male wistar rats- a preliminary study. Metab Brain Dis 31, 37–44 (2016). https://doi.org/10.1007/s11011-015-9733-6
Received:

Accepted:

Published:

Issue Date:
Keywords
Anxiety

Honey

Locomotion

Memory

Neurotoxicity