Abstract
Parkinson's disease (PD) is a chronic neurodegenerative disease of the central nervous system (CNS), characterized by a loss of dopaminergic neurons, which is thought to be caused by both genetic and environmental factors. Recent findings suggest that neuroinflammation may be a pathogenic factor in the onset and progression of sporadic PD. Here we explore the potential therapeutic effect of lipoic acid (LA) on a lipolysaccharide (LPS)-induced inflammatory PD model. Our results for the first time showed that LA administration improved motor dysfunction, protected dopaminergic neurons loss, and decreased α-synuclein accumulation in the substantia nigra (SN) area of brain. Further, LA inhibited the activation of nuclear factor-κB (NF-κB) and expression of pro-inflammatory molecules in M1 microglia. Taken together, these results suggest that LA may exert a profound neuroprotective effect and is thus a promising anti-neuroinflammatory and anti-oxidative agent for halting the progression of PD. Interventions aimed at either blocking microglia-derived inflammatory mediators or modulating the polarization of microglia may be potentially useful therapies that are worth further investigation.
This is a preview of subscription content, log in to check access.
Access options
Buy single article
Instant access to the full article PDF.
US$ 39.95
Price includes VAT for USA
Subscribe to journal
Immediate online access to all issues from 2019. Subscription will auto renew annually.
US$ 99
This is the net price. Taxes to be calculated in checkout.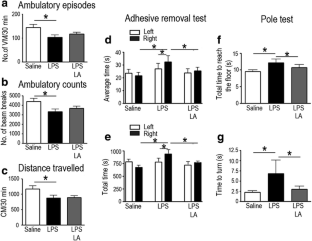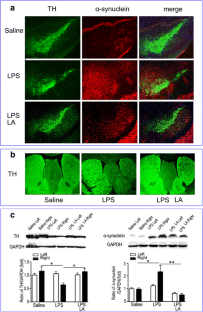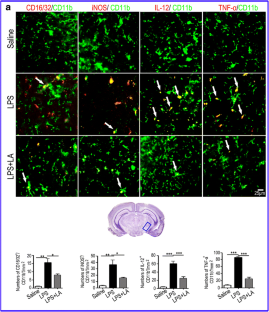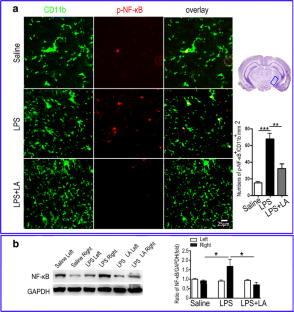 References
Biewenga GP, Haenen GR, Bast A (1997) The pharmacology of the antioxidant lipoic acid. Gen Pharmacol 29(3):315–331

Bilska A, Wlodek L (2005) Lipoic acid—the drug of the future? Pharmacol Rep 57:570–577

Choi DH, Cristóvão AC, Guhathakurta S et al (2012) NADPH oxidase 1-mediated oxidative stress leads to dopamine neuron death in Parkinson's disease. Antioxid Redox Signal 16:1033–1045

Choi KH, Park MS, Kim HS et al (2015) Alpha-lipoic acid treatment is neurorestorative and promotes functional recovery after stroke in rats. Mol Brain 8:9

Connell BJ, Saleh M, Khan BV et al (2011) Lipoic acid protects against reperfusion injury in the early stages of cerebral ischemia. Brain Res 1375:128–136

Doeppner TR, Kaltwasser B, Bähr M et al (2014) Effects of neural progenitor cells on post-stroke neurological impairment-a detailed and comprehensive analysis of behavioral tests. Front Cell Neurosci 8:338

Dorsey ER, Constantinescu R, Thompson JP et al (2007) Projected number of people with Parkinson disease in the most populous nations, 2005 through 2030. Neurology 68(5):384–386

Dutta G, Zhang P, Liu B (2008) The lipopolysaccharide Parkinson's disease animal model: mechanistic studies and drug discovery. Fundam Clin Pharmacol 2008; 22: 453–456

Duty S, Jenner P (2011) Animal models of Parkinson's disease: a source of novel treatments and clues to the cause of the disease. Br J Pharmacol 164(4):1357–1391

Gębka A, Serkies-Minuth E, Raczyńska D (2014) Effect of the administration of alpha-lipoic acid on contrast sensitivity in patients with type 1 and type 2 diabetes. Mediat Inflamm

Glass CK, Saijo K, Winner B et al (2010) Mechanisms underlying inflammation in neurodegeneration. Cell 140:918–934

Goraca A, Asłanowicz-Antkowiak K (2009) Prophylaxis with alpha-lipoic acid against lipopolysaccharide-induced brain injury in rats. Arch Immunol Ther Exp 57:141–146

Gorąca A, Huk-Kolega H, Piechota A et al (2011) Lipoic acid - biological activity and therapeutic potential. Pharmacol Rep 63(4):849–858

Hall ED, Vaishnav RA, Mustafa AG (2010) Antioxidant therapies for traumatic brain injury. J Am Soc Exp NeuroTher 7:51–61

He Q, Yu W, Wu J et al (2013) Intranasal LPS-mediated Parkinson's model challenges the pathogenesis of nasal cavity and environmental toxins. PLoS ONE 8:e78418

Jariwalla RJ, Lalezari J, Cenko D et al (2008) Restoration of blood total glutathione status and lymphocyte function following alpha-lipoic acid supplementation in patients with HIV infection. J Altern Complement Med 14(2):139–146

Jiang S, Zhu W, Li C et al (2013) α-Lipoic acid attenuates LPS-induced cardiac dysfunction through a PI3K/Akt-dependent mechanism. Int Immunopharmacol 16(1):100–107

Khalili M, Azimi A, Izadi V et al (2014) Does Lipoic Acid Consumption Affect the Cytokine Profile in Multiple Sclerosis Patients: A Double-Blind. Placebo-Controlled, Randomized Clinical Trial. Neuroimmunomodulation

Kiemer AK, Müller C, Vollmar AM (2002) Inhibition of LPS-induced nitric oxide and TNF-alpha production by alpha-lipoic acid in rat Kupffer cells and in RAW 264.7murine macrophages. Immunol Cell Biol 80(6):550–557

Koriyama Y, Nakayama Y, Matsugo S et al (2013a) Anti-inflammatory effects of lipoic acid through inhibition of GSK-3β in lipopolysaccharide-induced BV-2 microglial cells. Neurosci Res 77:87–96

Koriyama Y, Nakayama Y, Matsugo S, Kato S (2013b) Protective effect of lipoic acid against oxidative stress is mediated by Keap1/Nrf2-dependent heme oxygenase-1 induction in the RGC-5 cellline. Brain Res 1499:145–157

Li DW, Li GR, Lu Y et al (2013) α-lipoic acid protects dopaminergic neurons against MPP-induced apoptosis by attenuating reactive oxygen species formation. Int J Mol Med 32(1):108–114

Li Y, Ma QG, Zhao LH et al (2014) Effects of lipoic acid on immune function, the antioxidant defense system, and inflammation-related genes expression of broiler chickens fed aflatoxin contaminated diets. Int J Mol Sci 15(4):5649–5662

Liu M, Bing G (2011) Lipopolysaccharide animal models for Parkinson's disease. Parkinson's Dis 2011:327089

McGeer PL, McGeer EG. Glial reactions in Parkinson's disease. Mov Disord 2008; 23: 474–483

McGeer PL, Itagaki S, Boyes BE, McGeer EG (1988) Reactive microglia are positive for HLA-DR in the substantia nigra of Parkinson's and Alzheimer's disease brains. Neurology 38:1285–1291

Noworyta-Sokołowska K, Górska A, Gołembiowska K (2013) LPS-induced oxidative stress and inflammatory reaction in the rat striatum. Pharmacol Rep 65(4):863–869

Padmalayam I (2012) Targeting mitochondrial oxidative stress through lipoic acid synthase: a novel strategy to manage diabetic cardiovascular disease. Cardiovasc Hematol Agents Med Chem 10(3):223–233

Qin L, Liu Y, Hong JS et al (2013) NADPH oxidase and aging drive microglial activation, oxidative stress, and dopaminergic neurodegeneration following systemic LPS administration. Glia 61(6):855–868

Rabbani M, Ghannadi A, Malekian N (2014) Evaluation of the effect of Cyperus rotundus L. in scopolamine-induced learning deficit in mice. Adv Biomed Res 3:217

Richardson JR, Hossain MM (2013) Microglial ion channels as potential targets for neuroprotection in Parkinson's disease. Neural Plast 2013:587418

Saijo K, Winner B, Carson CT et al (2009) A Nurr1/CoREST pathway in microglia and astrocytes protects dopaminergic neurons from inflammation-induced death. Cell 137:47–59

Sancheti H, Akopian G, Yin F et al (2013a) Age-dependent modulation of synaptic plasticity and insulin mimetic effect of lipoic acid on a mouse model of Alzheimer's disease. PLoS One 8(7):e69830

Sancheti H, Akopian G, Yin F, Brinton RD, Walsh JP, Cadenas E (2013b) Age-dependent modulation of synaptic plasticity and insulin mimetic effect of lipoic acid on a mouse model of Alzheimer's disease. PLoS ONE 8:e69830

Shinto L, Quinn J, Montine T et al (2014) A randomized placebo-controlled pilot trial of omega-3 fatty acids and alpha lipoic acid in Alzheimer's disease. J Alzheimers Dis 38(1):111–120

Smith AR, Shenvi SV, Widlansky M et al (2004) Lipoic acid as a potential therapy for chronic diseases associated with oxidative stress. Curr Med Chem 11:1135–1146

Song DY, Yu HN, Park CR et al (2013) Down-regulation of microglial activity attenuates axotomized nigral dopaminergic neuronal cell loss. BMC Neurosci 14:112

Suh SH, Lee KE, Kim IJ et al Alpha-lipoic acid attenuates lipopolysaccharide-induced kidney injury. Clin Exp Nephrol. 2014.

Taetzsch T, Block ML (2013) Pesticides, microglial NOX2, and Parkinson's disease. J Biochem Mol Toxicol 27:137–149

Tanaka S, Ishii A, Ohtaki H et al (2013) Activation of microglia induces symptoms of Parkinson's disease in wild-type, but not in IL-1 knockout mice. J Neuroinflammation 10:143

Tien LT, Kaizaki A, Pang Y et al (2013) Neonatal exposure to lipopolysaccharide enhances accumulation of α-synuclein aggregation and dopamine transporter protein expression in the substantia nigra in responses to rotenone challenge in later life. Toxicology 308:96–103

Trudler D, Weinreb O, Mandel SA et al (2014) DJ-1 deficiency triggers microglia sensitivity to dopamine toward a pro-inflammatory phenotype that is attenuated by rasagiline. J Neurochem 129:434–447

Yamasaki M, Iwase M, Kawano K et al (2014) α-Lipoic acid suppresses migration and invasion via downregulation of cell surface β1-integrin expression in bladder cancer cells. J Clin Biochem Nutr 54(1):18–25

Zhang L, Xing GQ, Barker JL et al (2001) Alpha-lipoic acid protects rat cortical neurons against cell death induced by amyloid and hydrogen peroxide through the Akt signalling pathway. Neurosci Lett 312(3):125–128

Zhang WJ, Wei H, Hagen T et al (2007) Alpha-lipoic acid attenuates LPS-induced inflammatory responses by activating the phosphoinositide 3-kinase/Akt signaling pathway. Proc Natl Acad Sci U S A 104(10):4077–4082

Zhang Z, Hou L, Song JL et al (2014) Pro-inflammatory cytokine-mediated ferroportin down-regulation contributes to the nigral iron accumulation in lipopolysaccharide-induced Parkinsonian models. Neuroscience 257:20–30

Zhao RR, Xu F, Xu XC et al (2015) Effects of alpha-lipoic acid on spatial learning and memory, oxidative stress, and central cholinergic system in a rat model of vascular dementia. Neurosci Lett 587:113–119
Acknowledgment
This work was supported by grants from the National Natural Science Foundation of China (Nos. 81,272,163, 81,070,957 and 81,371,414), the Natural Science Foundation of Shanxi (2,012,021,034–2), the Department of Science and Technology, Shanxi Province of China (No. 2,013,081,058) and the Shanxi University of Traditional Chinese Medicine (No. 2011PY-1). We thank Katherine Regan, Department of Neurology, Thomas Jefferson University, Philadelphia, USA, for editorial assistance.
Disclosure
None of the authors has any conflict of interest related to this manuscript.
Additional information
Yan-Hua Li and Qing He contributed equally to this work.
About this article
Cite this article
Li, Y., He, Q., Yu, J. et al. Lipoic acid protects dopaminergic neurons in LPS-induced Parkinson's disease model. Metab Brain Dis 30, 1217–1226 (2015). https://doi.org/10.1007/s11011-015-9698-5
Received:

Accepted:

Published:

Issue Date:
Keywords
LPS-induced PD model

Lipoic acid

Microglia