Abstract
The central nervous system is one of the most vulnerable organs affected by mercury toxicity. Both acute and chronic exposure to mercury is also known to cause a variety of neurological or psychiatric disorders. Here, the neuroprotective effect of berberine (BN; 100 mg/kg bwt) on mercuric chloride (HgCl2; 0.4 mg/kg bwt) induced neurotoxicity and oxidative stress was examined in rats. Adult male albino Wistar rats were injected with HgCl2 for 7 days. HgCl2 treatment induced oxidative stress by increasing lipid peroxidation (LPO) and nitrite/nitrate (nitric oxide; NO) production along with a concomitant decrease in glutathione (GSH) and various antioxidant enzymes, namely superoxide dismutase, catalase, glutathione peroxidase and glutathione reductase. Pre-treatment of rats with BN inhibited LPO and NO production, whereas it increased GSH content. Activities of antioxidant enzymes were also restored concomitantly when compared to the control rats after BN administration. Berberine also caused decrease in TNF-α level and caspase-3 activity which was higher with HgCl2. Furthermore, treatment with BN inhibited apoptosis, as indicated by the reduction of Bax/Bcl-2 ratio in brain tissue. These data indicated that BN augments antioxidant defense with anti-inflammatory and anti-apoptotic activities against HgCl2-induced neurotoxicity and provides evidence that it has a therapeutic potential as neuroprotective agent.
Access options
Buy single article
Instant access to the full article PDF.
USD 39.95
Price excludes VAT (USA)
Tax calculation will be finalised during checkout.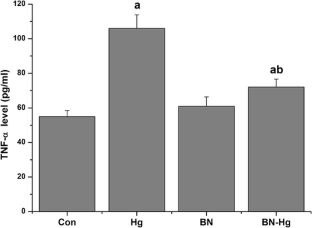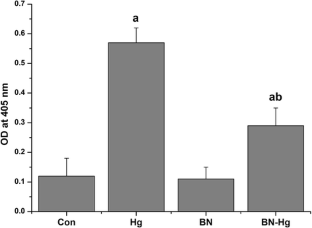 References
Abdel Moneim AE (2012) Evaluating the potential role of pomegranate peel in aluminum-induced oxidative stress and histopathological alterations in brain of female rats. Biol Trace Elem Res 150:328–336. doi:10.1007/s12011-012-9498-2

Abdel Moneim AE, Bauomy AA, Diab MM, Shata MT et al (2014) The protective effect of Physalis peruviana L. against cadmium-induced neurotoxicity in rats. Biol Trace Elem Res 160:392–399. doi:10.1007/s12011-014-0066-9

Aebi H (1984) Catalase in vitro. Methods Enzymol 105:121–126

Ballatori N, Clarkson TW (1982) Developmental changes in the biliary excretion of methylmercury and glutathione. Science 216:61–63

Bhutada P, Mundhada Y, Bansod K, Tawari S et al (2011) Protection of cholinergic and antioxidant system contributes to the effect of berberine ameliorating memory dysfunction in rat model of streptozotocin-induced diabetes. Behav Brain Res 220:30–41

Blais V, Rivest S (2004) Effects of TNF-alpha and IFN-gamma on nitric oxide-induced neurotoxicity in the mouse brain. J Immunol 172:7043–7052

Branco V, Canario J, Lu J, Holmgren A, Carvalho C (2012) Mercury and selenium interaction in vivo: effects on thioredoxin reductase and glutathione peroxidase. Free Radic Biol Med 52:781–793

Bridges CC, Zalups RK (2010) Transport of inorganic mercury and methylmercury in target tissues and organs. J Toxicol Environ Health B Crit Rev 13:385–410. doi:10.1080/10937401003673750

Chai YS, Yuan ZY, Lei F, Wang YG et al (2014) Inhibition of retinoblastoma mRNA degradation through Poly (A) involved in the neuroprotective effect of berberine against cerebral ischemia. PLoS One 9:e90850. doi:10.1371/journal.pone.0090850

Close AH, Guo TL, Shenker BJ (1999) Activated human T lymphocytes exhibit reduced susceptibility to methylmercury chloride-induced apoptosis. Toxicol Sci 49:68–77

Ellman GL (1959) Tissue sulfhydryl groups. Arch Biochem Biophys 82:70–77

Factor VM, Kiss A, Woitach JT, Wirth PJ et al (1998) Disruption of redox homeostasis in the transforming growth factor-alpha/c-myc transgenic mouse model of accelerated hepatocarcinogenesis. J Biol Chem 273:15846–15853

Farina M, Rocha JB, Aschner M (2011) Mechanisms of methylmercury-induced neurotoxicity: evidence from experimental studies. Life Sci 89:555–563

Franco JL, Braga HC, Stringari J, Missau FC et al (2007) Mercurial-induced hydrogen peroxide generation in mouse brain mitochondria: protective effects of quercetin. Chem Res Toxicol 20:1919–1926. doi:10.1021/tx7002323

Franco JL, Posser T, Missau F, Pizzolatti MG et al (2010) Structure-activity relationship of flavonoids derived from medicinal plants in preventing methylmercury-induced mitochondrial dysfunction. Environ Toxicol Pharmacol 30:272–278. doi:10.1016/j.etap.2010.07.003

Glaser V, Nazari EM, Müller YM, Feksa L et al (2010) Effects of inorganic selenium administration in methylmercury-induced neurotoxicity in mouse cerebral cortex. Int J Dev Neurosci 28:631–637

Green LC, Wagner DA, Glogowski J, Skipper PL et al (1982) Analysis of nitrate, nitrite, and [15N]nitrate in biological fluids. Anal Biochem 126:131–138

Hansen JM, Zhang H, Jones DP (2006) Differential oxidation of thioredoxin-1, thioredoxin-2, and glutathione by metal ions. Free Radic Biol Med 40:138–145

Holmes P, James KA, Levy LS (2009) Is low-level environmental mercury exposure of concern to human health? Sci Total Environ 408:171–182

Hsu YY, Tseng YT, Lo YC (2013) Berberine, a natural antidiabetes drug, attenuates glucose neurotoxicity and promotes Nrf2-related neurite outgrowth. Toxicol Appl Pharmacol 272:787–796

Ji HF, Shen L (2012) Molecular basis of inhibitory activities of berberine against pathogenic enzymes in Alzheimer's disease. Sci World J 2012:823201. doi:10.1100/2012/823201

Kim SH, Sharma RP (2004) Mercury-induced apoptosis and necrosis in murine macrophages: role of calcium-induced reactive oxygen species and p38 mitogen-activated protein kinase signaling. Toxicol Appl Pharmacol 196:47–57. doi:10.1016/j.taap.2003.11.020

Li H, Li XL, Zhang M, Xu H et al (2014) Berberine ameliorates experimental autoimmune neuritis by suppressing both cellular and humoral immunity. Scand J Immunol 79:12–19. doi:10.1111/sji.12123

Lowry OH, Rosebrough NJ, Farr AL, Randall RJ (1951) Protein measurement with the Folin phenol reagent. J Biol Chem 193:265–275

Lucena GM, Franco JL, Ribas CM, Azevedo MS et al (2007) Cipura paludosa extract prevents methyl mercury-induced neurotoxicity in mice. Basic Clin Pharmacol Toxicol 101:127–131

Lv XX, Yu XH, Wang HD, Yan YX et al (2013) Berberine inhibits norepinephrine-induced apoptosis in neonatal rat cardiomyocytes via inhibiting ROS-TNF-alpha-caspase signaling pathway. Chin J Integr Med 19:424–431. doi:10.1007/s11655-011-0856-2

Makani S, Gollapudi S, Yel L, Chiplunkar S et al (2002) Biochemical and molecular basis of thimerosal-induced apoptosis in T cells: a major role of mitochondrial pathway. Genes Immunol 3:270–278. doi:10.1038/sj.gene.6363854

Mieiro CL, Pacheco M, Pereira ME, Duarte AC (2009) Mercury distribution in key tissues of fish (Liza aurata) inhabiting a contaminated estuary-implications for human and ecosystem health risk assessment. J Environ Monit 11:1004–1012. doi:10.1039/b821253h

Mieiro CL, Pereira ME, Duarte AC, Pacheco M (2011) Brain as a critical target of mercury in environmentally exposed fish (Dicentrarchus labrax)–bioaccumulation and oxidative stress profiles. Aquat Toxicol 103:233–240

Nakaizumi A, Horie T, Kida T, Kurimoto T et al (2012) Nitric oxide potentiates TNF-alpha-induced neurotoxicity through suppression of NF-kappaB. Cell Mol Neurobiol 32:95–106. doi:10.1007/s10571-011-9739-5

Nishikimi M, Appaji N, Yagi K (1972) The occurrence of superoxide anion in the reaction of reduced phenazine methosulfate and molecular oxygen. Biochem Biophys Res Commun 46:849–854

Ohkawa H, Ohishi N, Yagi K (1979) Assay for lipid peroxides in animal tissues by thiobarbituric acid reaction. Anal Biochem 95:351–358

Othman MS, Safwat G, Aboulkhair M, Abdel Moneim AE (2014) The potential effect of berberine in mercury-induced hepatorenal toxicity in albino rats. Food Chem Toxicol 69C:175–181. doi:10.1016/j.fct.2014.04.012

Paglia DE, Valentine WN (1967) Studies on the quantitative and qualitative characterization of erythrocyte glutathione peroxidase. J Lab Clin Med 70:158–169

Pan LR, Tang Q, Fu Q, Hu BR et al (2005) Roles of nitric oxide in protective effect of berberine in ethanol-induced gastric ulcer mice. Acta Pharmacol Sin 26:1334–1338. doi:10.1111/j.1745-7254.2005.00186.x

Park HJ, Youn HS (2013) Mercury induces the expression of cyclooxygenase-2 and inducible nitric oxide synthase. Toxicol Ind Health 29:169–174

Roos DH, Puntel RL, Santos MM, Souza DO et al (2009) Guanosine and synthetic organoselenium compounds modulate methylmercury-induced oxidative stress in rat brain cortical slices: involvement of oxidative stress and glutamatergic system. Toxicol In Vitro 23:302–307

Sharma B, Singh S, Siddiqi NJ (2014) Biomedical implications of heavy metals induced imbalances in redox systems. Biomed Res Int 2014:640754. doi:10.1155/2014/640754

Shenker BJ, Guo TL, I O, Shapiro IM (1999) Induction of apoptosis in human T-cells by methyl mercury: temporal relationship between mitochondrial dysfunction and loss of reductive reserve. Toxicol Appl Pharmacol 157:23–35

Simoes Pires EN, Frozza RL, Hoppe JB, Menezes Bde M, Salbego CG (2014) Berberine was neuroprotective against an in vitro model of brain ischemia: survival and apoptosis pathways involved. Brain Res 1557:26–33

Sindhu G, Manoharan S (2010) Anti-clastogenic effect of berberine against DMBA-induced clastogenesis. Basic Clin Pharmacol Toxicol 107:818–824

Singh IP, Mahajan S (2013) Berberine and its derivatives: a patent review (2009 - 2012). Expert Opin Ther Pathol 23:215–231. doi:10.1517/13543776.2013.746314

Siow YL, Sarna L, Karmin O (2011) Redox regulation in health and disease—Therapeutic potential of berberine. Food Res Int 44:2409–2417. doi:10.1016/j.foodres.2010.12.038

Stringari J, Nunes AK, Franco JL, Bohrer D et al (2008) Prenatal methylmercury exposure hampers glutathione antioxidant system ontogenesis and causes long-lasting oxidative stress in the mouse brain. Toxicol Appl Pharmacol 227:147–154

Sutton DJ, Tchounwou PB (2006) Mercury-induced externalization of phosphatidylserine and caspase 3 activation in human liver carcinoma (HepG2) cells. Int J Environ Res Public Health 3:38–42

Vijayaprakash S, Langeswaran K, Gowtham Kumar S, Revathy R et al (2013) Nephro-protective significance of kaempferol on mercuric chloride induced toxicity in Wistar albino rats. Biomed Aging Pathol 3:119–124. doi:10.1016/j.biomag.2013.05.004

Wang X, Wang R, Xing D, Su H et al (2005) Kinetic difference of berberine between hippocampus and plasma in rat after intravenous administration of Coptidis rhizoma extract. Life Sci 77:3058–3067

Wang Y, Huang Y, Lam KS, Li Y et al (2009) Berberine prevents hyperglycemia-induced endothelial injury and enhances vasodilatation via adenosine monophosphate-activated protein kinase and endothelial nitric oxide synthase. Cardiovasc Res 82:484–492

Wang FM, Yang Y, Ll M, Tian X, He Y (2014) Berberine ameliorates renal interstitial fibrosis induced by unilateral ureteral obstruction in rats. Nephrology 19:542–551. doi:10.1111/nep.12271

Xu F, Farkas S, Kortbeek S, Zhang F-X et al (2012) Mercury-induced toxicity of rat cortical neurons is mediated through N-methyl-D-Aspartate receptors. Mol Brain 5:30. doi:10.1186/1756-6606-5-30

Zhang S, Zhang B, Dai W, Zhang X (2011) Oxidative damage and antioxidant responses in Microcystis aeruginosa exposed to the allelochemical berberine isolated from golden thread. J Plant Physiol 168:639–643
About this article
Cite this article
Abdel Moneim, A.E. The neuroprotective effect of berberine in mercury-induced neurotoxicity in rats. Metab Brain Dis 30, 935–942 (2015). https://doi.org/10.1007/s11011-015-9652-6
Received:

Accepted:

Published:

Issue Date:

DOI: https://doi.org/10.1007/s11011-015-9652-6
Keywords