Abstract
The mechanisms that promote brain dysfunction after acute liver failure (ALF) are not clearly understood. The small noncoding RNAs known as microRNAs (miRNAs) significantly control mRNA translation and thus normal and pathological functions in the mammalian body. To understand their significance in ALF, we currently profiled the expression of miRNAs in the cerebral cortex of mice sacrificed at coma stage following treatment with azoxymethane. Of the 470 miRNAs profiled using microarrays, 37 were significantly altered (20 up-and 17 down-regulated) in their expression in the ALF group compared to sham group. In silico analysis showed that the ALF-responsive miRNAs target on average 231 mRNAs/miRNA (range: 3 to 840 targets). Pathways analysis showed that many miRNAs altered after ALF target multiple mRNAs that are part of various biological and molecular pathways. Glutamatergic synapse, Wnt signaling, MAP-kinase signaling, axon guidance, PI3-kinase-AKT signaling, T-cell receptor signaling and ubiquitin-mediated proteolysis are the top pathways targeted by the ALF-sensitive miRNAs. At least 28 ALF-responsive miRNAs target each of the above pathways. We hypothesize that alterations in miRNAs and their down-stream mRNAs of signaling pathways might play a role in the induction and progression of neurological dysfunction observed during ALF.
Access options
Buy single article
Instant access to the full article PDF.
US$ 39.95
Tax calculation will be finalised during checkout.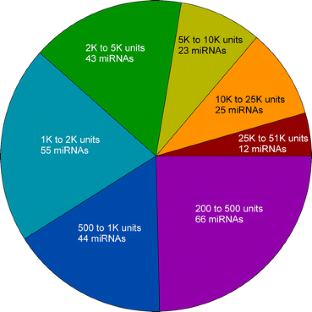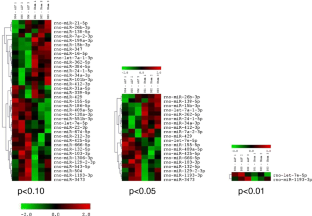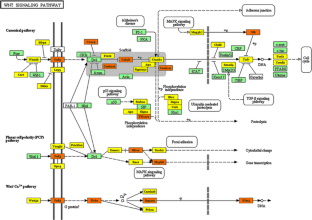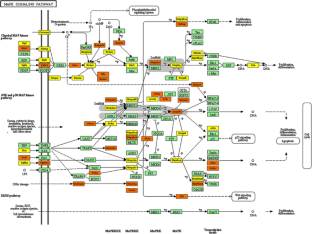 References
Bartel DP (2009) MicroRNAs: target recognition and regulatory functions. Cell 136:215–233

Belanger M, Cote J, Butterworth RF (2006) Neurobiological characterization of an azoxymethane mouse model of acute liver failure. Neurochem Int 48:434–440

Bemeur C, Butterworth RF (2013) Liver-brain proinflammatory signalling in acute liver failure: role in the pathogenesis of hepatic encephalopathy and brain edema. Metab Brain Dis 28:145–150

Bernal W, Wendon J (2013) Acute liver failure. N Eng J Med 369:2525–2534

Betel D, Wilson M, Gabow A, Marks DS, Sander C (2008) The microRNA.org resource: targets and expression. Nucl Acid Res 36:D149–153

Bolstad BM, Irizarry RA, Astrand M, Speed TP (2003) A comparison of normalization methods for high density oligonucleotide array data based on variance and bias. Bioinformatics 19:185–193

Caldeira MV, Salazar IL, Curcio M, Canzoniero LM, Duarte CB (2014) Role of the ubiquitin-proteasome system in brain ischemia: friend or foe? Prog Neurobiol 112:50–69

Campbell A, Ziparo V, James JH, Fischer JE (1979) Loss of day-night rhythm in rats after portacaval shunt. Surg Forum 30:388–390

Chen HJ, Jiao Y, Zhu XQ, Zhang HY, Liu JC, Wen S, Teng GJ (2013) Brain dysfunction primarily related to previous overt hepatic encephalopathy compared with minimal hepatic encephalopathy: resting-state functional MR imaging demonstration. Radiology 266:261–270

Chen S, Guttridge DC, You Z, Zhang Z, Fribley A, Mayo MW, Kitajewski J, Wang CY (2001) Wnt-1 signaling inhibits apoptosis by activating beta-catenin/T cell factor-mediated transcription. J Cell Biol 152:87–96

Cordoba J, Blei AT (1996) Brain edema and hepatic encephalopathy. Semin Liver Dis 16:271–280

Cordoba J, Cabrera J, Lataif L, Penev P, Zee P, Blei AT (1998) High prevalence of sleep disturbance in cirrhosis. Hepatology 27:339–345

Cui W, Sun CM, Liu P (2013) Alterations of blood–brain barrier and associated factors in acute liver failure. Gastroenterol Res Pract 2013:841707

Detry O, Gaspar Y, Cheramy-Bien JP, De Roover A, Honore P, Meurisse M, Defraigne JO, Pincemail J (2005) Oxidative stress in the liver and the brain of rats in fulminant hepatic failure. Transpl Proc 37:2883–2885

Dharap A, Bowen K, Place R, Li LC, Vemuganti R (2009) Transient focal ischemia induces extensive temporal changes in rat cerebral microRNAome. J Cereb Blood Flow Metab 29:675–687

Goodall EF, Heath PR, Bandmann O, Kirby J, Shaw PJ (2013) Neuronal dark matter: the emerging role of microRNAs in neurodegeneration. Front Cell Neurosci 7:178

Gove CD, Hughes RD, Ede RJ, Williams R (1997) Regional cerebral edema and chloride space in galactosamine-induced liver failure in rats. Hepatology 25:295–301

Hazell AS, Butterworth RF (1999) Hepatic encephalopathy: An update of pathophysiologic mechanisms. Proc Soc Exp Biol Med 222:99–112

Jalan R (2003) Intracranial hypertension in acute liver failure: pathophysiological basis of rational management. Semin Liver Dis 23:271–282

Jayakumar AR, Valdes V, Tong XY, Shamaladevi N, Gonzalez W, Norenberg MD (2014) Sulfonylurea receptor 1 contributes to the astrocyte swelling and brain edema in acute liver failure. Transl Stroke Res 5:28–37

Jiang W, Desjardins P, Butterworth RF (2009) Direct evidence for central proinflammatory mechanisms in rats with experimental acute liver failure: protective effect of hypothermia. J Cereb Blood Flow Metab 29:944–952

Jayakumar AR, Ruiz-Cordero R, Tong XY, Norenberg MD (2013) Brain edema in acute liver failure: role of neurosteroids. Arch Biochem Biophys 536:171–175

Johnson GL, Lapadat R (2002) Mitogen-activated protein kinase pathways mediated by ERK, JNK, and p38 protein kinases. Science 298:1911–1912

Kato M, Hughes RD, Keays RT, Williams (1992) Electron microscopic study of brain capillaries in cerebral edema from fulminant hepatic failure. Hepatology 15:1060–1066

Knecht K, Michalak A, Rose C, Rothstein JD, Butterworth RF (1997) Decreased glutamate transporter (GLT-1) expression in frontal cortex of rats with acute liver failure. Neurosci Lett 229:201–203

Lai JC, Cooper AJ (1986) Brain alpha-ketoglutarate dehydrogenase complex: kinetic properties, regional distribution, and effects of inhibitors. J Neurochem 47:1376–1386

Lewis BP, Burge CB, Bartel DP (2005) Conserved seed pairing, often flanked by adenosines, indicates that thousands of human genes are microRNA targets. Cell 120:15–20

Matkowskyj KA, Marrero JA, Carroll RE, Danilkovich AV, Green RM, Benya RV (1999) Azoxymethane-induced fulminant hepatic failure in C57BL/6 J mice: characterization of a new animal model. Amer J Physiol 277:G455–462

McKhann GM, Tower DB (1961) Ammonia toxicity and cerebral oxidative metabolism. Amer J Physiol 200:420–424

Michalak A, Knecht K, Butterworth RF (1997) Hepatic encephalopathy in acute liver failure: role of the glutamate system. Adv Exp Med Biol 420:35–43

Montagnese S, De Pitta C, De Rui M, Corrias M, Turco M, Merkel C, Amodio P, Costa R, Skene DJ, Gatta A (2014) Sleep-wake abnormalities in patients with cirrhosis. Hepatology 59:705–712

Papadopoulos GL, Alexiou P, Maragkakis M, Reczko M, Hatzigeorgiou AG (2009) DIANA-mirPath: Integrating human and mouse microRNAs in pathways. Bioinformatics 25:1991–1993

Patel D, McPhail MJ, Cobbold JF, Taylor-Robinson SD (2012) Hepatic encephalopathy. Br J Hosp Med (Lond) 73:79–85

Potvin M, Finlayson MH, Hinchey EJ, Lough JO, Goresky CA (1984) Cerebral abnormalities in hepatectomized rats with acute hepatic coma. Lab Invest 50:560–564

Rao KV, Brahmbhatt M, Norenberg MD (2013) Microglia contribute to ammonia-induced astrocyte swelling in culture. Metab Brain Dis 28:139–143

Sathyasaikumar KV, Swapna I, Reddy PV, Murthy Ch R, Dutta Gupta A, Senthilkumaran B, Reddanna P (2007) Fulminant hepatic failure in rats induces oxidative stress differentially in cerebral cortex, cerebellum and pons medulla. Neurochem Res 32:517–524

Scott TR, Kronsten VT, Hughes RD, Shawcross DL (2013) Pathophysiology of cerebral oedema in acute liver failure. World J Gastroenterol 19:9240–9255

Skowronska M, Albrecht J (2013) Oxidative and nitrosative stress in ammonia neurotoxicity. Neurochem Int 62:731–737

Traber PG, Dal Canto M, Ganger DR, Blei AT (1987) Electron microscopic evaluation of brain edema in rabbits with galactosamine-induced fulminant hepatic failure: ultrastructure and integrity of the blood–brain barrier. Hepatology 7:1272–1277

Tranah TH, Vijay GK, Ryan JM, Shawcross DL (2013) Systemic inflammation and ammonia in hepatic encephalopathy. Metab Brain Dis 28:1–5

Truesdell SS, Mortensen RD, Seo M, Schroeder JC, Lee JH, LeTonqueze O, Vasudevan S (2012) MicroRNA-liated mRNA translation activation in quiescent cells and oocytes involves recruitment of a nuclear microRNP. Sci Rep 2:842

Vadysirisack DD, Ellisen LW (2012) mTOR activity under hypoxia. Meth Molec Biol 821:45–58

Vagin VV, Sigova A, Li C, Seitz H, Gvozdev V, Zamore PD (2006) A distinct small RNA pathway silences selfish genetic elements in the germline. Science 313:320–324

Vemuganti R (2013) All's well that transcribes well: non-coding RNAs and post-stroke brain damage. Neurochem Int 63:438–449

Yan BX, Ma JX (2012) Promoter-associated RNAs and promoter-targeted RNAs. Cell Molec Life Sci 69:2833–2842
Acknowledgments
This study was partially supported by a grant (2011/02263-3) to ASH from Fundação de Amparo à Pesquisa do Estado de São Paulo (FAPESP). RV is partially supported by NIH grants NS074444, NS079585, NS 082957 and NS083007 and the Department of Neurological Surgery, University of Wisconsin Medical School. VRS is the recipient of a doctoral scholarship from FAPESP (2012/15660-3). ASH is a Visiting Professor in the Department of Neurology at Universidade Estadual de Campinas (UNICAMP), São Paulo, Brazil. His laboratory at the University of Montreal is supported by the Canadian Institutes of Health Research.
About this article
Cite this article
Vemuganti, R., Silva, V.R., Mehta, S.L. et al. Acute liver failure-induced hepatic encephalopathy is associated with changes in microRNA expression profiles in cerebral cortex of the rat. Metab Brain Dis 29, 891–899 (2014). https://doi.org/10.1007/s11011-014-9545-0
Received:

Accepted:

Published:

Issue Date:
Keywords
Liver disease

miRNA

Non-coding RNA

Hepatic encephalopathy

Neuroprotection, Molecular signaling