Abstract
Alzheimer's disease is the leading cause of dementia and the most prevalent neurodegenerative disease. It is an aging-related multi-factorial disorder and growing evidence support the contribution of metabolic factors to what was formerly thought to be a centrally mediated process. Obesity has already been recognized as an important player in the pathogenesis of this type of dementia, independently of insulin resistance or other vascular risk factors. Although the exact underlying mechanisms are still unknown, adipocyte dysfunction and concomitant alteration in adipocyte-derived protein secretion seem to be involved, since these adipocytokines can cross the blood–brain barrier and influence cognitive-related structures. Very few studies have assessed the role of adipocytokines dysfunction on cognitive impaired patients and yielded contradictory results. Interestingly, extensive research on the central effects of leptin in Alzheimer's disease-transgenic mice has demonstrated its capacity to enhance synaptic plasticity and strength, as well as to prevent beta-amyloid deposition and tau phosphorylation. In addition, adiponectin, the most abundant adipocytokine whose levels are inversely correlated to adiposity, has shown to be neuroprotective to hippocampal cells. Many other adipose-derived cytokines have mainly pro-inflammatory properties, being able to trigger and/or enhance central inflammatory cascades and also to influence the secretion of other adipocytokines involved in cognition. This paper pretends to review the existing evidence on the contribution of adipocytokines dysfunction to the increased risk of dementia associated with mid-life obesity, unraveling its insulin-independent effects on cognition.
Access options
Buy single article
Instant access to the full article PDF.
US$ 39.95
Tax calculation will be finalised during checkout.
Subscribe to journal
Immediate online access to all issues from 2019. Subscription will auto renew annually.
US$ 79
Tax calculation will be finalised during checkout.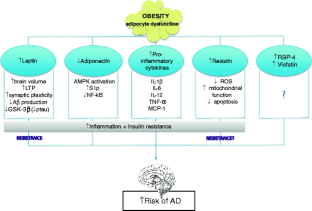 References
Adams JD Jr (2008) Alzheimer's disease, ceramide, visfatin and NAD. CNS Neurol Disord Drug Targets 7(6):492–498

Al-Suhaimi EA, Shehzad A (2013) Leptin, resistin and visfatin: the missing link between endocrine metabolic disorders and immunity. Eur J Med Res 18:12

Banks WA, Kastin AJ, Huang W, Jaspan JB, Maness LM (1996) Leptin enters the brain by a saturable system independent of insulin. Peptides 17(2):305–311

Beydoun MA, Beydoun HA, Wang Y (2008) Obesity and central obesity as risk factors for incident dementia and its subtypes: a systematic review and meta-analysis. Obes Rev 9(3):204–218

Bigalke B, Schreitmüller B, Sopova K, Paul A, Stransky E, Gawaz M, Stellos K, Laske C (2011) Adipocytokines and CD34 progenitor cells in Alzheimer's disease. PLoS One 6(5):e20286

Bonda DJ, Stone JG, Torres SL, Siedlak SL, Perry G, Kryscio R, Jicha G, Casadesus G, Smith MA, Zhu X, Lee HG (2014) Dysregulation of leptin signaling in Alzheimer disease: evidence for neuronal leptin resistance. J Neurochem 128(1):162–172

Cereda E, Sansone V, Meola G, Malavazos AE (2007) Increased visceral adipose tissue rather than BMI as a risk factor for dementia. Age Ageing 36(5):488–491

Chan KH, Lam KS, Cheng OY, Kwan JS, Ho PW, Cheng KK, Chung SK, Ho JW, Guo VY, Xu A (2012) Adiponectin is protective against oxidative stress induced cytotoxicity in amyloid-beta neurotoxicity. PLoS One 7(12):e52354

Corcoran JP, So PL, Maden M (2004) Disruption of the retinoid signalling pathway causes a deposition of amyloid beta in the adult rat brain. Eur J Neurosci 20(4):896–902

Durakoglugil M, Irving AJ, Harvey J (2005) Leptin induces a novel form of NMDA receptor-dependent long- term depression. J Neurochem 95(2):396–405

Duvnjak L, Duvnjak M (2009) The metabolic syndrome - an ongoing story. J Physiol Pharmacol 60(Suppl 7):19–24

Erol A (2008) An integrated and unifying hypotesis for the metabolic basis of sporadic Alzheimer's disease. JAD 13(3):241–253

Fewlass DC, Noboa K, Pi-Sunyer FX, Johnston JM, Yan SD, Tezapsidis N (2004) Obesity-related leptin regulates Alzheimer's Abeta. FASEB J 18(15):1870–1878

Fruebis J, Tsao TS, Javorschi S, Ebbets-Reed D, Erickson MR, Yen FT, Bihain BE, Lodish HF (2001) Proteolytic cleavage product of 30-kDa adipocyte complement-related protein increases fatty acid oxidation in muscle and causes weight loss in mice. Proc Natl Acad Sci U S A 98(4):2005–2010

Goodman AB (2006) Retinoid receptors, transporters, and metabolizers as therapeutic targets in late onset Alzheimer disease. J Cell Physiol 209(3):598–603

Gorospe EC, Dave JK (2007) The risk of dementia with increased body mass index. Age Ageing 36(1):23–29

Greco SJ, Sarkar S, Casadesus G, Zhu X, Smith MA, Ashford JW, Johnston JM, Tezapsidis N (2009) Leptin inhibits glycogen synthase kinase-3beta to prevent tau phosphorylation in neuronal cells. Neurosci Lett 455(3):191–194

Guerreiro RJ, Santana I, Brás JM, Santiago B, Paiva A, Oliveira C (2007) Peripheral inflammatory cytokines as biomarkers in Alzheimer's disease and mild cognitive impairment. Neurodegener Dis 4(6):406–412

Gustafson D (2006) Adiposity indices and dementia. Lancet Neurol 5(8):713–720

Gustafson DR (2010) Adiposity hormones and dementia. J Neurol Sci 299(1–2):30–34

Holden KF, Lindquist K, Tylavsky FA, Rosano C, Harris TB, Yaffe K (2009) Serum leptin level and cognition in the elderly: findings from the Health ABC study. Neurobiol Aging 30(9):1483–1489

Holland WL, Miller RA, Wang ZV et al (2011) Receptor-mediated activation of ceramidase activity initiates the pleiotropic actions of adiponectin. Nat Med 17(1):55–63

Husson M, Enderlin V, Delacourte A, Ghenimi N, Alfos S, Pallet V, Higueret P (2006) Retinoic acid normalizes nuclear receptor mediated hypo-expression of proteins involved in beta-amyloid deposits in the cerebral cortex of vitamin A deprived rats. Neurobiol Dis 23(1):1–10

Jeon BT, Shin HJ, Kim JB et al (2009) Adiponectin protects hippocampal neurons against kainic acid-induced excitotoxicity. Brain Res Rev 61(2):81–88

Kamogawa K, Kohara K, Tabara Y, Uetani E, Nagai T, Yamamoto M, Igase M, Miki T (2010) Abdominal fat, adipose-derived hormones and mild cognitive impairment: the J-SHIPP Study. Dement Geriatr Cogn Disord 30(5):432–439

Kershaw EE, Flier JS (2004) Adipose tissue as an endocrine organ. J Clin Endocrinol Metab 89(6):2548–2556

Kim SM, Song J, Kim S, Han C, Park MH, Koh Y, Jo SA, Kim YY (2011) Identification of peripheral inflammatory markers between normal control and Alzheimer's disease. BMC Neurol 11:51

Kurrimbux D, Gaffen Z, Farrell CL, Martin D, Thomas SA (2004) The involvement of the blood-brain and the blood-cerebrospinal fluid barriers in the distribution of leptin into and out of the rat brain. Neuroscience 123(2):527–536

Lane MA, Bailey SJ (2005) Role of retinoid signalling in the adult brain. Prog Neurobiol 75(4):275–293

Leboucher A, Laurent C, Fernandez-Gomez FJ et al (2013) Detrimental effects of diet-induced obesity on τ pathology is independent of insulin resistance in τ transgenic mice. Diabetes 62(5):1681–1688

Li J, Deng J, Sheng W, Zuo Z (2012) Metformin attenuates Alzheimer's disease-like neuropathology in obese, leptin-resistant mice. Pharmacol Biochem Behav 101(4):564–574

Lieb W, Beiser AS, Vasan RS et al (2009) Association of plasma leptin levels with incident Alzheimer's disease and MRI measures of brain aging: the Framingham study. JAMA 302(23):2565–2572

Liu J, Chi N, Chen H, Zhang J, Bian Y, Cui G, Xiu C (2013) Resistin protection against endogenous Aβ neuronal cytotoxicity from mitochondrial pathway. Brain Res 1523:77–84

Liu LY, Wang F, Zhang XY, Huang P, Lu YB, Wei EQ, Zhang WP (2012) Nicotinamide phosphoribosyltransferase may be involved in age-related brain diseases. PLoS One 7(10):e44933

Lu DY, Chen JH, Tan TW, Huang CY, Yeh WL, Hsu HC (2013) Resistin protects against 6-hydroxydopamine-induced cell death in dopaminergic-like MES23.5 cells. J Cell Physiol 228(3):563–571

Luchsinger JA, Tang MX, Shea S, Mayeux R (2004) Hyperinsulinemia and risk of Alzheimer disease. Neurology 63(7):1187–1192

Luchsinger JA (2008) Adiposity, hyperinsulinemia, diabetes and Alzheimer's disease. An epidemiological perspective. Eur J Pharmacol 585(1):119–129

Maury E, Brichard SM (2010) Adipokine dysregulation, adipose tissue inflammation and metabolic syndrome. Mol Cel Endocrinol 314(1):1–16

McNeilly AD, Williamson R, Balfour DJ, Stewart CA, Sutherland C (2012) A high-fat-diet-induced cognitive deficit in rats that is not prevented by improving insulin sensitivity with metformin. Diabetologia 55(11):3061–3070

Misiak B, Leszek J, Kiejna A (2012) Metabolic syndrome, mild cognitive impairment and Alzheimer's disease - The emerging role of systemic low-grade inflammation and adiposity. Brain Res Bull 89(3–4):144–149

Misner DL, Jacobs S, Shimizu Y, de Urquiza AM, Solomin L, Perlmann T, De Luca LM, Stevens CF, Evans RM (2001) Vitamin A deprivation results in reversible loss of hippocampal long-term synaptic plasticity. Proc Natl Acad Sci U S A 98(20):11714–11719

Morris DL, Rui L (2009) Recent advances in understanding leptin signaling and leptin resistance. Am J Physiol Endocrinol Metab 297(6):E1247–E1259

Pákáski M, Fehér A, Juhász A, Drótos G, Fazekas OC, Kovács J, Janka Z, Kálmán J (2014) Serum adipokine levels modified by donepezil treatment in Alzheimer's disease. J Alzheimers Dis 38(2):371–377

Qiu G, Wan R, Hu J, Mattson MP et al (2011) Adiponectin protects rat hippocampal neurons against excitotoxicity. Age 33(2):155–165

Raguso CA, Kyle U, Kossovsky MP, Roynette C, Paoloni-Giacobino A, Hans D, Genton L, Pichard C (2006) A 3-year longitudinal study on body composition changes in the elderly: role of physical exercise. Clin Nutr 25(4):573–580

Rajagopalan P, Toga AW, Jack CR, Weiner MW, Thompson PM (2013) Fat-mass-related hormone, plasma leptin, predicts brain volumes in the elderly. Neuroreport 24(2): 58–62

Rocha M, Bañuls C, Bellod L, Rovira-Llopis S, Morillas C, Solá E, Vítor VM, Hernández-Mijares A (2013) Association of serum retinol binding protein 4 with atherogenic dyslipidemia in morbid obese patients. PLoS ONE 8(11):e78670

Satoh N, Naruse M, Usui T, Tagami T, Suganami T, Yamada K, Kuzuya H, Shimatsu A, Ogawa Y (2004) Leptin-to-adiponectin ratio as a potential atherogenic index in obese type 2 diabetic patients. Diabetes Care 27:2488

Schrijvers EM, Witteman JC, Sijbrands EJ, Hofman A, Koudstaal PJ, Breteler MM (2010) Insulin metabolism and the risk of Alzheimer disease: the Rotterdam Study. Neurology 75(22):1982–1987

Shanley LJ, Irving AJ, Harvey J (2001) Leptin enhances NMDA receptor function and modulates hippocampal synaptic plasticity. J Neurosci 21(24):RC186

Son SM, Shin HJ, Mook-Jung I (2011) Insulin Resistance and Alzheimer's Disease. In: Zimering MB (ed) Topics in the prevention, treatment and complications of Type 2 Diabetes, 1st edn. Intech pp 53–64

Steppan CM, Bailey ST, Bhat S, Brown EJ, Banerjee RR, Wright CM, Patel HR, Ahima RS, Lazar MA (2001) The hormone resistin links obesity to diabetes. Nature 409(6818):307–312

Takemura Y, Ouchi N, Shibata R, Aprahamian T, Kirber MT, Summer RS, Kihara S, Walsh K (2007) Adiponectin modulates inflammatory reactions via calreticulin receptor-dependent clearance of early apoptotic bodies. J Clin Invest 117(2):375–386

Turer AT, Scherer PE (2012) Adiponectin: mechanistic insights and clinical implications. Diabetologia 55(9):2319–2326

Teixeira AL, Diniz BS, Campos AC, Miranda AS, Rocha NP, Talib LL, Gattaz WF, Forlenza OV (2013) Decreased levels of circulating adiponectin in mild cognitive impairment and Alzheimer's disease. Neuromol Med 15(1):115–121

Une K, Takei YA, Tomita N, Asamura T, Ohrui T, Furukawa K, Arai H (2011) Adiponectin in plasma and cerebrospinal fluid in MCI and Alzheimer's disease. Eur J Neurol 18(7):1006–1009

Warren MW, Hynan LS, Weiner MF (2012) Lipids and adipokines as risk factors for Alzheimer's disease. J Alzheimers Dis 29(1):151–157

Wayner MJ, Armstrong DL, Phelix CF, Oomura Y (2004) Orexin-A (Hypocretin-1) and leptin enhance LTP in the dentate gyrus of rats in vivo. Peptides 25(6):991–996

Westin K, Buchhave P, Nielsen H, Minthon L, Janciauskiene S, Hansson O (2012) CCL2 is associated with a faster rate of cognitive decline during early stages of Alzheimer's disease. PLoS One 7(1):e30525

Whitmer RA, Gustafson DR, Barrett-Connor E, Haan MN, Gunderson EP, Yaffe K (2008) Central obesity and increased risk of dementia more than three decades later. Neurology 71(14):1057–1064

Yang Q, Graham TE, Mody N, Preitner F, Peroni OD, Zabolotny JM, Kotani K, Quadro L, Kahn BB (2005) Serum retinol binding protein 4 contributes to insulin resistance in obesity and type 2 diabetes. Nature 436(7049):356–362

Zhang Y, Proenca R, Maffei M, Barone M, Leopold L, Friedman JM (1994) Positional cloning of the mouse obese gene and its human homologue. Nature 372(6505):425–432
Conflict of interest
The authors declare that they have no conflicts of interest.
About this article
Cite this article
Letra, L., Santana, I. & Seiça, R. Obesity as a risk factor for Alzheimer's disease: the role of adipocytokines. Metab Brain Dis 29, 563–568 (2014). https://doi.org/10.1007/s11011-014-9501-z
Received:

Accepted:

Published:

Issue Date:
Keywords
Obesity

Adiposity

Adipocytokines

Dementia

Alzheimer's disease