Abstract
Evidences suggest that glucocorticoids results in depression and is a risk factor for type 2 diabetes. Further diabetes induces oxidative stress and hippocampal dysfunction resulting in cognitive decline. Traditionally Urtica dioica has been used for diabetes mellitus and cognitive dysfunction. The present study investigated the effect of the hydroalcoholic extract of Urtica dioica leaves (50 and 100 mg/kg, p.o.) in dexamethasone (1 mg/kg, i.m.) induced diabetes and its associated complications such as depressive like behavior and cognitive dysfunction. We observed that mice administered with chronic dexamethasone resulted in hypercortisolemia, oxidative stress, depressive like behavior, cognitive impairment, hyperglycemia with reduced body weight, increased water intake and decreased hippocampal glucose transporter-4 (GLUT4) mRNA expression. Urtica dioica significantly reduced hyperglycemia, plasma corticosterone, oxidative stress and depressive like behavior as well as improved associative memory and hippocampal GLUT4 mRNA expression comparable to rosiglitazone (5 mg/kg, p.o.). Further, Urtica dioica insignificantly improved spatial memory and serum insulin. In conclusion, Urtica dioica reversed dexamethasone induced hyperglycemia and its associated complications such as depressive like behavior and cognitive dysfunction.
Access options
Buy single article
Instant access to the full article PDF.
USD 39.95
Price excludes VAT (USA)
Tax calculation will be finalised during checkout.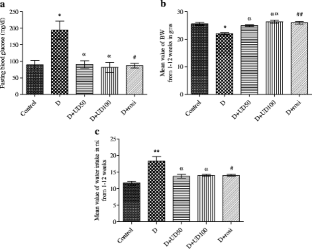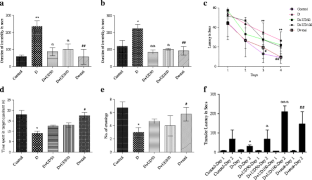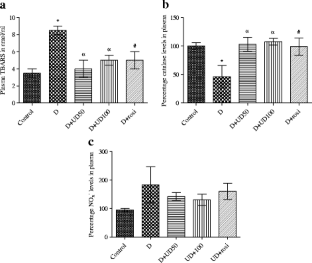 References
Adeghate E, Ponery AS, Pallot D, Parvez SH, Singh J (1999) Distribution of serotonin and its effect on insulin and glucagon secretion in normal and diabetic pancreatic tissues in rat. Neuro Endocrinol Lett 20:315–322

Alipour M, Salehi I, Ghadiri Soufi F (2012) Effect of exercise on diabetes-induced oxidative stress in the rat hippocampus. Iran Red Crescent Med J 14:222–228

Ambrogi Lorenzini CG, Baldi E, Bucherelli C, Sacchetti B, Tassoni G (1999) Neural topography and chronology of memory consolidation: a review of functional inactivation findings. Neurobiol Learn Mem 71:1–18

Berr C, Balansard B, Arnaud J, Roussel AM, Alperovitch A (2000) Cognitive decline is associated with systemic oxidative stress: the EVA study Etude du Vieillissement Arteriel. J Am Geriatr Soc 48:1285–1291

Bnouham M, Merhfour FZ, Ziyyat A, Mekhfi H, Aziz M, Legssyer A (2003) Antihyperglycemic activity of the aqueous extract of Urtica dioica. Fitoterapia 74:677–681

Brunton LL, Lazo JS, Parker KL (2006) Goodman & Gilman's the pharmacological basis of therapeutics. McGraw-Hill, New York

Capra JC, Cunha MP, Machado DG, Zomkowski AD, Mendes BG, Santos AR, Pizzolatti MG, Rodrigues AL (2010) Antidepressant-like effect of scopoletin, a coumarin isolated from Polygala sabulosa (Polygalaceae) in mice: evidence for the involvement of monoaminergic systems. Eur J Pharmacol 643:232–238

Carvalho E, Kotani K, Peroni OD, Kahn BB (2005) Adipose-specific overexpression of GLUT4 reverses insulin resistance and diabetes in mice lacking GLUT4 selectively in muscle. Am J Physiol Endocrinol Metab 289:E551–E561

Churi SB, Abdel-Aleem OS, Tumber KK, Scuderi-Porter H, Taylor BK (2008) Intrathecal rosiglitazone acts at peroxisome proliferator-activated receptor-gamma to rapidly inhibit neuropathic pain in rats. J Pain 9:639–649

Claiborne A (1985) Handbook of method of oxygen free radical research. CRC Press, Florida

Collier HO, Chesher GB (1956) Identification of 5-hydroxytryptamine in the sting of the nettle (Urtica dioica). Br J Pharmacol Chemother 11:186–189

Colvin ES, Ma HY, Chen YC, Hernandez AM, Fueger PT (2013) Glucocorticoid-induced suppression of beta-cell proliferation is mediated by Mig6. Endocrinology 154:1039–1046

Cowen P, Sherwood AC (2013) The role of serotonin in cognitive function: evidence from recent studies and implications for understanding depression. J Psychopharmacol 27:575–583

Eissa Ahmed AA, Al-Rasheed NM (2009) Antidepressant-like effects of rosiglitazone, a PPARgamma agonist, in the rat forced swim and mouse tail suspension tests. Behav Pharmacol 20:635–642

Ghaisas M, Navghare V, Takawale A, Zope V, Tanwar M, Deshpande A (2009) Effect of Tectona grandis Linn. on dexamethasone-induced insulin resistance in mice. J Ethnopharmacol 122:304–307

Grillo CA, Piroli GG, Hendry RM, Reagan LP (2009) Insulin-stimulated translocation of GLUT4 to the plasma membrane in rat hippocampus is PI3-kinase dependent. Brain Res 1296:35–45

Haynes LE, Griffiths MR, Hyde RE, Barber DJ, Mitchell IJ (2001) Dexamethasone induces limited apoptosis and extensive sublethal damage to specific subregions of the striatum and hippocampus: implications for mood disorders. Neuroscience 104:57–69

Hornick A, Lieb A, Vo NP, Rollinger JM, Stuppner H, Prast H (2011) The coumarin scopoletin potentiates acetylcholine release from synaptosomes, amplifies hippocampal long-term potentiation and ameliorates anticholinergic- and age-impaired memory. Neuroscience 197:280–292

Huang CC, Lee CC, Hsu KS (2010) The role of insulin receptor signaling in synaptic plasticity and cognitive function. Chang Gung Med J 33:115–125

Iizuka H, Kishimoto A, Nakamura J, Mizukawa R (1996) Clinical effects of cortisol synthesis inhibition on treatment-resistant depression. Nihon Shinkei Seishin Yakurigaku Zasshi 16:33–36

Im SS, Kwon SK, Kim TH, Kim HI, Ahn YH (2007) Regulation of glucose transporter type 4 isoform gene expression in muscle and adipocytes. IUBMB Life 59:134–145

Jatwa R, Parmar HS, Panda S, Kar A (2007) Amelioration of corticosteroid-induced type 2 diabetes mellitus by rosiglitazone is possibly mediated through stimulation of thyroid function and inhibition of tissue lipid peroxidation in mice. Basic Clin Pharmacol Toxicol 101:177–180

Kadan S, Saad B, Sasson Y, Zaid H (2013) In vitro evaluations of cytotoxicity of eight antidiabetic medicinal plants and their effect on GLUT4 translocation. Evid Based Complement Alternat Med 2013:549345

Kandis H, Karapolat S, Yildirim U, Saritas A, Gezer S, Memisogullari R (2010) Effects of Urtica dioica on hepatic ischemia-reperfusion injury in rats. Clinics (Sao Paulo) 65:1357–1361

Karnieli E, Armoni M (2008) Transcriptional regulation of the insulin-responsive glucose transporter GLUT4 gene: from physiology to pathology. Am J Physiol Endocrinol Metab 295:E38–E45

Kolak M, Yki-Järvinen H, Kannisto K, Tiikkainen M, Hamsten A, Eriksson P, Fisher RM (2007) Effects of chronic rosiglitazone therapy on gene expression in human adipose tissue in vivo in patients with type 2 diabetes. J Clin Endocrinol Metab 92:720–724

Kuhad A, Chopra K (2007) Curcumin attenuates diabetic encephalopathy in rats: behavioral and biochemical evidences. Eur J Pharmacol 576:34–42

Kulkarni SK, Mehta AK (1985) Purine nucleoside-mediated immobility in mice: reversal by antidepressants. Psychopharmacology (Berl) 85:460–463

Lambillotte C, Gilon P, Henquin JC (1997) Direct glucocorticoid inhibition of insulin secretion- An in vitro study of dexamethasone effects in mouse islets. J Clin Invest 99:414–423

Marshall C, Hitman GA, Cassell PG, Turner MD (2007) Effect of glucolipotoxicity and rosiglitazone upon insulin secretion. Biochem Biophys Res Commun 356:756–762

Martinez L, Berenguer M, Bruce MC, Le Marchand-Brustel Y, Govers R (2010) Rosiglitazone increases cell surface GLUT4 levels in 3T3-L1 adipocytes through an enhancement of endosomal recycling. Biochem Pharmacol 79:1300–1309

Nahata A, Dixit VK (2012) Ameliorative effects of stinging nettle (Urtica dioica) on testosterone-induced prostatic hyperplasia in rats. Andrologia 44:396–409

Nassiri-Asl M, Zamansoltani F, Abbasi E, Daneshi MM, Zangivand AA (2009) Effects of Urtica dioica extract on lipid profile in hypercholesterolemic rats. Zhong Xi Yi Jie He Xue Bao 7:428–433

Ohkawa H, Ohishi N, Yagi K (1979) Assay for lipid peroxides in animal tissues by thiobarbituric acid reaction. Anal Biochem 95:351–358

Otles S, Yalcin B (2012) Phenolic compounds analysis of root, stalk, and leaves of nettle. ScientificWorldJournal 2012:564367

Park AR, La HO, Cho BS, Kim SJ, Lee BK, Rhie JY, Gwak HS (2013) Comparison of budesonide and dexamethasone for local treatment of oral chronic graft-versus-host disease. Am J Health Syst Pharm 70:1383–1391

Patel SS, Udayabanu M (2013) Effect of Urtica dioica on memory dysfunction and hypoalgesia in an experimental model of diabetic neuropathy. Neurosci Lett 552:114–119

Phan V, Blydt-Hansen T, Feber J et al (2013) Skeletal findings in the first 12 months following initiation of glucocorticoid therapy for pediatricnephrotic syndrome. Osteoporos Int. doi:10.1007/s00198-013-2466-7

Pipatpiboon N, Pratchayasakul W, Chattipakorn N, Chattipakorn SC (2012) PPARgamma agonist improves neuronal insulin receptor function in hippocampus and brain mitochondria function in rats with insulin resistance induced by long term high-fat diets. Endocrinology 153:329–338

Piroli GG, Grillo CA, Reznikov LR, Adams S, McEwen BS, Charron MJ, Reagan LP (2007) Corticosterone impairs insulin-stimulated translocation of GLUT4 in the rat hippocampus. Neuroendocrinology 85:71–80

Rafacho A, Marroqui L, Taboga SR et al (2010) Glucocorticoids in vivo induce both insulin hypersecretion and enhanced glucose sensitivity of stimulus-secretion coupling in isolated rat islets. Endocrinology 151:85–95

Sharma AN, Elased KM, Lucot JB (2012) Rosiglitazone treatment reversed depression- but not psychosis-like behavior of db/db diabetic mice. J Psychopharmacol 26:724–732

Sheikh N, Ahmad A, Siripurapu KB, Kuchibhotla VK, Singh S, Palit G (2007) Effect of Bacopa monniera on stress induced changes in plasma corticosterone and brain monoamines in rats. J Ethnopharmacol 111:671–676

Shukla V, Mishra SK, Pant HC (2011) Oxidative stress in neurodegeneration. Adv Pharmacol Sci 2011:572634

Steru L, Chermat R, Thierry B, Simon P (1985) The tail suspension test: a new method for screening antidepressants in mice. Psychopharmacology (Berl) 85:367–370

Sullivan MD, Katon WJ, Lovato LC et al (2013) Association of depression with accelerated cognitive decline among patients with type 2 diabetes in the ACCORD-MIND trial. JAMA Psychiatry. doi:10.1001/jamapsychiatry.2013.1965

Suwanjang W, Abramov AY, Govitrapong P, Chetsawang B (2013) Melatonin attenuates dexamethasone toxicity-induced oxidative stress, calpain and caspase activation in human neuroblastoma SH-SY5Y cells. J Steroid Biochem Mol Biol 138C:116–122

Tongjaroenbuangam W, Ruksee N, Chantiratikul P, Pakdeenarong N, Kongbuntad W, Govitrapong P (2011) Neuroprotective effects of quercetin, rutin and okra (Abelmoschus esculentus Linn.) in dexamethasone-treated mice. Neurochem Int 59:677–685

Torres RC, Batista MM, Pons AH, Silva AR, Cordeiro RS, Martins MA, E Silva PM, Carvalho VF (2012) Activation of PPARgamma by restores mast cell numbers and reactivity in alloxan-diabetic rats by reducing the systemic glucocorticoid levels. Eur J Pharmacol 691:261–267

Udayabanu M, Kumaran D, Nair RU, Srinivas P, Bhagat N, Aneja R, Katyal A (2008) Nitric oxide associated with iNOS expression inhibits acetylcholinesterase activity and induces memory impairment during acute hypobaric hypoxia. Brain Res 1230:138–149

Udayabanu M, Kumaran D, Katyal A (2012) Free chelatable zinc modulates the cholinergic function during hypobaric hypoxia-induced neuronal damage: an in vivo study. Neuroscience 202:434–445

Wessler I, Kilbinger H, Bittinger F, Kirkpatrick CJ (2001) The biological role of non-neuronal acetylcholine in plants and humans. Jpn J Pharmacol 85:2–10

Yu H, Zhang ZL, Chen J, Pei A, Hua F, Qian X, He J, Liu CF, Xu X (2012) Carvacrol, a food-additive, provides neuroprotection on focal cerebral ischemia/reperfusion injury in mice. PLoS One 7:e33584

Zhang WY, Lee JJ, Kim Y, Kim IS, Park JS, Myung CS (2010) Amelioration of insulin resistance by scopoletin in high-glucose-induced, insulin-resistant HepG2 cells. Horm Metab Res 42:930–935

Zisman A, Peroni OD, Abel ED, Michael MD, Mauvais-Jarvis F, Lowell BB, Wojtaszewski JF, Hirshman MF, Virkamaki A, Goodyear LJ, Kahn CR, Kahn BB (2000) Targeted disruption of the glucose transporter 4 selectively in muscle causes insulin resistance and glucose intolerance. Nat Med 6:924–928

Zotti M, Colaianna M, Morgese MG, Tucci P, Schiavone S, Avato P, Trabace L (2013) Carvacrol: from ancient flavoring to neuromodulatory agent. Molecules 18:6161–6172
Acknowledgements
Authors would like to thank Council of Scientific & Industrial Research, New Delhi for financial assistance as Senior Research Fellowship and Jaypee University of Information Technology, Waknaghat, India.
About this article
Cite this article
Patel, S.S., Udayabanu, M. Urtica dioica extract attenuates depressive like behavior and associative memory dysfunction in dexamethasone induced diabetic mice. Metab Brain Dis 29, 121–130 (2014). https://doi.org/10.1007/s11011-014-9480-0
Received:

Accepted:

Published:

Issue Date:

DOI: https://doi.org/10.1007/s11011-014-9480-0
Keywords