Abstract
Identifying the optimal dose of ritonavir therapy overcomes the chemical resistance may exhibit in some cases due to poor prognosis of imprecise staging. Dose modeling was performed by analyzing previously published data of ritonavir cancer growth inhibition in vitro and in vivo. In-vitro 3H-Thymidine-based cell proliferation assay was performed on samples of the GL15 cell line incubated with 0, 1, 10 and 100 μ M of ritonavir. Proliferation inhibition was quantified to identify energy of the used doses as described before in earlier studies. Models involving in-vivo growth of established breast cancer tumor (MDA-MB-231), KSIMM tumor and EL4-T cell thymomas in mice were used. The effects of 40 mg/kg/day for 52 days, 30 mg/kg/day for 15 days and 8.8 mg/mouse/day for about 1 week of ritonavir in those xenograft growths respectively were monitored and quantified to identify energy of those doses as described before in earlier studies. Ritonavir demonstrated an in-vitro reduction in proliferation rate in dose dependent manner. The energy of the in-vitro influences following ritonavir therapy were perfectly correlated (r = 1) with ritonavir dose, allowed to establish an efficient energy-model with a perfect fit (R2=1) describes the energy yield by ritonavir doses, enables to administer the appropriate dose. Ritonavir had also a significant influence in-vivo on all sizes of treated tumors compared to the control animals such that the energy yield by the administered drug as derived from the energy-model was 100 % identical to the induced influence in tumor energy. The in-vitro determination of inhibition to proliferation by ritonavir doses is useful to characterize the response of cancer to ritonavir therapy targeting patient-personalized cancer medicine. The molecular method of response determination by 3H-TDR incorporation and ritonavir dose-energy model are reliable to avoid chemo-resistance by identifying the optimal dosing regimens and schedules prior therapy allowing the use of much lower dose of ritonavir and thus decreases the drug side effects and risks of relapse.
Access options
Buy single article
Instant access to the full article PDF.
US$ 39.95
Tax calculation will be finalised during checkout.
Subscribe to journal
Immediate online access to all issues from 2019. Subscription will auto renew annually.
US$ 79
Tax calculation will be finalised during checkout.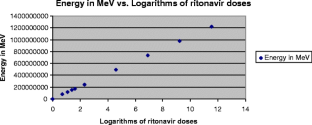 References
Andre P, Groettrup M, Klenerman P et al (1998) An inhibitor of HIV-1 protease modulates proteasome activity, antigen presentation, and T cell responses. Proc Natl Acad Sci U S A 95:13120–13124

Barbalace K (2011) Periodic table of elements–H–Hydrogen. EnvironmentalChemistry.com. 1995–2011. Accessed on-line: 12/21/2011 http://EnvironmentalChemistry.com/yogi/periodic/H-pg2.html

Bocchini V, Casalone R, Collini P, Rebel G, Lo Curto F (1991) Changes in glial fibrillary acidic protein and karyotype during culturing of two cell lines established from human glioblastoma multiforme. Cell Tissue Res 265:73–81

Bower M, Fox P, Fife K et al (1999) Highly active anti-retroviral therapy (HAART) prolongs time to treatment failure in Kaposi's sarcoma. AIDS 13:2105–2111

Collier AC (1996) Efficacy of combination antiretroviral therapy. Adv Exp Med Biol 394:355–372

Collier AC, Coombs RW, Schoenfeld DA et al (1996) Treatment of human immunodeficiency virus infection with saquinavir, zidovudine, and zalcitabine. AIDS Clinical Trials Group. N Engl J Med 334:1011–1017

Cornetta K, Moore A, Johannessohn M, Sledge GW (1994) Clonal dominance detected in metastases but not primary tumors of retrovirally marked human breast carcinoma injected into nude mice. Clin Exp Metastasis 12:3–12

Gaedicke S, Firat-Geier E, Constantiniu O et al (2002) Antitumor effect of the human immunodeficiency virus protease inhibitor ritonavir: induction of tumor-cell apoptosis associated with perturbation of proteasomal proteolysis. Cancer Res 62:6901–6908

Goldberg AL, Rock K (2002) Not just research tools—proteasome inhibitors offer therapeutic promise. Nat Med 8:338–340

Helbig G, Christopherson KW II, Bhat-Nakshatri P et al (2003) NF-κB promotes breast cancer cell migration and metastasis by inducing the expression of the chemokine receptor CXCR4. J Biol Chem 278:21631–21638

Kyriazis AP, Kyriazis AA, Scarpelli DG, Fogh J, Rao MS, Lepera R (1982) Human pancreatic adenocarcinoma line Capan-1 in tissue culture and the nude mouse: morphologic, biologic, and biochemical characteristics. Am J Pathol 106:250–260

Laurent N, de Bouard S, Guillamo JS et al (2004) Effects of the proteasome inhibitor ritonavir on glioma growth in vitro and in vivo. Mol Cancer Ther 3:129–136

Levitz SM (1998) Improvement in CD4_ cell counts despite persistently detectable HIV load. N Engl J Med 338:1074–1075

Moawad E (2010) Isolated system towards a successful radiotherapy treatment. Nucl Med Mol Imaging 44:123–136

Moawad EY (2011) Radiotherapy and risks of tumor regrowth or inducing second cancer. Cancer Nanotechnol 2:81–93

Moawad EY (2012) Pathologic cancer staging by measuring cell growth energy, basic science and technology. 18:04 WCIO. doi:10.1016/j.jvir.2012.04.029

Moawad EY (2012b) Clinical and pathological staging of the cancer at the nanoscale. Cancer Nano 3:37–46

Moawad EY (2012c) Reconciliation between the clinical and pathological staging of cancer. Comp Clin Pathol. doi:10.1007/s00580-012-1603-6

Moawad EY (2012d) Optimizing bioethanol production through regulating yeast growth energy. Syst Synth Biol 6:61–68

Moawad EY (2013a) Administering the optimum dose of L-Arginine in regional tumor therapy. Indian J Clin Biochem. doi:10.1007/s12291-013-0379-z

Moawad EY (2013b) Induction of multiple sclerosis and response to tyrosine kinase inhibitors. Indian J Clin Biochem. doi:10.1007/s12291-013-0387-z

Moawad EY (2013c) Growth energy of bacteria and the associated electricity generation in fuel cells. Bioeng Biosci 1:5–10. doi:10.13189/bb.2013.010102

Moawad EY (2013d) Nuclear transmutation and cancer in the biological cell. Int J Biochem Biophys 1:1–8. doi:10.13189/ijbb.2013.010101

Moawad EY (2013e) Safe doses and cancer treatment evaluation. Cancer Oncol Res 1:6–11. doi:10.13189/cor.2013.010102

Nguyen HQ, Magaret AS, Kitahata MM et al (2008) Persistent Kaposi sarcoma in the era of highly active antiretroviral therapy: characterizing the predictors of clinical response. AIDS 22:937–945

Pajonk F, Himmelsbach J, Riess K et al (2002) The human immunodeficiency virus (HIV)-1 protease inhibitor saquinavir inhibits proteasome function and causes apoptosis and radiosensitization in non-HIV-associated human cancer cells. Cancer Res 62:5230–5235

Pati S, Pelser CB, Dufraine J, Bryant JL, Reitz MS Jr, Weichold FF (2002) Antitumorigenic effects of HIV protease inhibitor ritonavir: inhibition of Kaposi sarcoma. Blood 99(10):3771–3779

Perrin L, Telenti A (1998) HIV treatment failure: testing for HIV resistance in clinical practice. Science 280:1871–1873

Sgadari C et al (2003) Use of HIV protease inhibitors to block Kaposi's sarcoma and tumour growth. Lancet Oncol 4(9):537–547

Sloand EM, Kumar PN, Zella D, Young NS, Gallo RC, Weichold FF (1997) HIV-1 protease inhibitor modulates activation of peripheral blood derived CD4+ T-cells and decreases their susceptibility to apoptosis in vitro [abstract]. Blood 90:2568

Sriranga MA, Milani M, Mitra R, Guo Z, Rodriguez M et al (2011) The human immunodeficiency virus protease inhibitor ritonavir inhibits lung cancer cells, in part, by inhibition of survivin. J Thorac Oncol 6:661–670

Srirangam A, Mitra R, Wang M et al (2006) Effects of HIV protease inhibitor ritonavir on Akt-regulated cell proliferation in breast cancer. Clin Cancer Res 12:1883–1896

Talmadge JE et al (2007) Murine models to evaluate novel and conventional therapeutic strategies for cancer. Am J Pathol 170(3):793

Torre-Cisneros J, Pozo F, Serrano R et al (2000) Patterns of lymphotropic herpesvirus viraemia in HIV-infected patients with Kaposi's sarcoma treated with highly active antiretroviral therapy and liposomal daunorubicin. AIDS 14:2215–2217

Weichold FF, Bryant JL, Pati S et al (1999) HIV-1 protease inhibitor ritonavir modulates susceptibility to apoptosis of uninfected T cells. J Hum Virol 2:261–269
Conflict of interest
The author declares that there is no conflict of interest concerning this paper.
Additional information
A member of the Korean Society of Nuclear Medicine and of the World Conference of Interventional Oncology (WCIO) USA
About this article
Cite this article
Moawad, E.Y. Identifying the optimal dose of ritonavir in the treatment of malignancies. Metab Brain Dis 29, 533–540 (2014). https://doi.org/10.1007/s11011-013-9448-5
Received:

Accepted:

Published:

Issue Date:
Keywords
Nude mouse tumor models

In vitro cell proliferation assay

Apoptosis

Histologic grade