Abstract
There are conflicting results from behavioural studies regarding whether the activation or inhibition of the cGMP-nitric oxide (NO) pathway induces anxiolytic-like behaviour. Sildenafil, an inhibitor of cGMP-selective phosphodiesterase-5, increases anxiety acutely, but previous evidence suggests that its chronic administration may be anxiolytic, and could involve a cholinergic interaction. We used the Flinders Sensitive Line (FSL) rat, a genetic model of depression that presents with increased anxiety- and depression-like behaviour, to investigate the action of chronic treatment with the PDE5 inhibitors sildenafil or tadalafil, with/without atropine on social interaction behaviour, a correlate for anxiety. Fluoxetine was used as positive control, with validation performed using Flinders Resistant Line (FRL) rats. In order to relate behavioural changes to brain penetration, we determined the concentration of sildenafil in cortex and hippocampus of rats following the schedule above using LC-MS/MS. FSL rats displayed significantly reduced social interactive behaviour than FRL rats, while sildenafil, tadalafil, and fluoxetine significantly reversed these deficits. Atropine did not exert effects on social interactive behaviour, nor did it modulate the effects of sildenafil or tadalafil. Sildenafil was present in cortex and hippocampus regions in lower nanomolar concentrations after chronic treatment, in agreement with the binding to PDE5 required for pharmacological effects. This study emphasizes the complicated regulation of anxiety by the cGMP-NO system, and provides supporting evidence for an anxiolytic action after the chronic activation of this pathway. As far as we know this is also the first report to formally demonstrate that sildenafil effectively crosses the blood–brain barrier to elicit central effects.
Access options
Buy single article
Instant access to the full article PDF.
USD 39.95
Price includes VAT (USA)
Tax calculation will be finalised during checkout.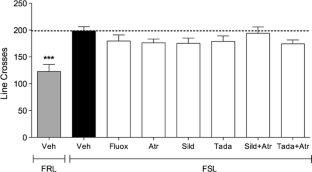 References
Brink CB, Clapton JD, Eagar BE, Harvey BH (2008) Appearance of antidepressant-like effect by sildenafil in rats after central muscarinic receptor blockade: evidence from behavioural and neuro-receptor studies. J Neural Transm 115(1):117–125

Eroglu L, Caglayan B (1997) Anxiolytic and antidepressant properties of methylene blue in animal models. Pharmacol Res Off J Ital Pharmacol Soc 36(5):381–385

File SE, Seth P (2003) A review of 25 years of the social interaction test. Eur J Pharmacol 463(1–3):35–53

Gilhotra N, Dhingra D (2009) Involvement of NO-cGMP pathway in anti-anxiety effect of aminoguanidine in stressed mice. Prog Neuropsychopharmacol Biol Psychiatry 33(8):1502–1507

Gupta M, Kovar A, Meibohm B (2005) The clinical pharmacokinetics of phosphodiesterase-5 inhibitors for erectile dysfunction. J Clin Pharmacol 45(9):987–1003

Harvey BH (1997) The neurobiology and pharmacology of depression. A comparative overview of serotonin selective antidepressants. S Afr Med J = Suid-Afrikaanse tydskrif vir geneeskunde 87(4 Suppl):540–550, 552

Lee SK, Kim Y, Kim TK, Im GJ, Lee BY, Kim DH, Jin C, Yoo HH (2009) Determination of mirodenafil and sildenafil in the plasma and corpus cavernous of SD male rats. J Pharm Biomed Anal 49(2):513–518

Liebenberg N, Harvey BH, Brand L, Brink CB (2010) Antidepressant-like properties of phosphodiesterase type 5 inhibitors and cholinergic dependency in a genetic rat model of depression. Behav Pharmacol 21(5–6):540–547

Overstreet DH, Griebel G (2004) Antidepressant-like effects of CRF1 receptor antagonist SSR125543 in an animal model of depression. Eur J Pharmacol 497(1):49–53

Prickaerts J, de Vente J, Honig W, Steinbusch HW, Blokland A (2002) cGMP, but not cAMP, in rat hippocampus is involved in early stages of object memory consolidation. Eur J Pharmacology 436(1–2):83–87

Rybalkina IG, Tang XB, Rybalkin SD (2010) Multiple affinity states of cGMP-specific phosphodiesterase for sildenafil inhibition defined by cGMP-dependent and cGMP-independent mechanisms. Mol Pharmacol 77(4):670–677

Schwab M, Bauer R, Zwiener U (1997) The distribution of normal brain water content in Wistar rats and its increase due to ischemia. Brain Research 749(1):82–87

Solis AA, Bethancourt JA, Britton GB (2008) Chronic sildenafil (Viagra) administration reduces anxiety in intact and castrated male rats. Psicothema 20(4):812–817

Spiacci A Jr, Kanamaru F, Guimaraes FS, Oliveira RM (2008) Nitric oxide-mediated anxiolytic-like and antidepressant-like effects in animal models of anxiety and depression. Pharmacol Biochem Behav 88(3):247–255

Vale AL, Green S, Montgomery AM, Shafi S (1998) The nitric oxide synthesis inhibitor L-NAME produces anxiogenic-like effects in the rat elevated plus-maze test, but not in the social interaction test. J Psychopharmacol 12(3):268–272

Volke V, Soosaar A, Koks S, Bourin M, Mannisto PT, Vasar E (1997) 7-Nitroindazole, a nitric oxide synthase inhibitor, has anxiolytic-like properties in exploratory models of anxiety. Psychopharmacology 131(4):399–405

Volke V, Wegener G, Vasar E (2003) Augmentation of the NO-cGMP cascade induces anxiogenic-like effect in mice. J Physiol Pharmacol Off J Pol Physiol Soc 54(4):653–660
Acknowledgements
Fluoxetine was provided by Aspen (Port Elizabeth, South Africa), sildenafil was kindly by Pfizer (Kent, United Kingdom) and tadalafil was provided by Eli Lilly (Indianapolis IN, United States of America.). The authors wish to express sincere gratitude to Prof Jan du Preez and Mr Francois Viljoen of the Central Analytical Laboratory, Unit for Drug Research and Development, North-West University, South Africa for tissue preparation and measurement of the sildenafil concentration in rat brain using LC-MS/MS. The project was funded by the National Research Foundation (NRF - grant no. FA2005022800003).
About this article
Cite this article
Liebenberg, N., Harvey, B.H., Brand, L. et al. Chronic treatment with the phosphodiesterase type 5 inhibitors sildenafil and tadalafil display anxiolytic effects in Flinders Sensitive Line rats. Metab Brain Dis 27, 337–340 (2012). https://doi.org/10.1007/s11011-012-9284-z
Received:

Accepted:

Published:

Issue Date:
Keywords
cGMP

Flinders sensitive line

Sildenafil

Tadalafil

Phosphodiesterase 5

Social interaction

Anxiety

Anxiolytic