Abstract
Electromagnetic radiation (EMR) is emitted from electromagnetic fields that surround power lines, household appliances and mobile phones. Research has shown that there are connections between EMR exposure and cancer and also that exposure to EMR may result in structural damage to neurons. In a study by Salford et al. (Environ Health Perspect 111:881–883, 2003) the authors demonstrated the presence of strongly stained areas in the brains of rats that were exposed to mobile phone EMR. These darker neurons were particularly prevalent in the hippocampal area of the brain. The aim of our study was to further investigate the effects of EMR. Since the hippocampus is involved in learning and memory and emotional states, we hypothesised that EMR will have a negative impact on the subject's mood and ability to learn. We subsequently performed behavioural, histological and biochemical tests on exposed and unexposed male and female rats to determine the effects of EMR on learning and memory, emotional states and corticosterone levels. We found no significant differences in the spatial memory test, and morphological assessment of the brain also yielded non-significant differences between the groups. However, in some exposed animals there were decreased locomotor activity, increased grooming and a tendency of increased basal corticosterone levels. These findings suggested that EMR exposure may lead to abnormal brain functioning.
Access options
Buy single article
Instant access to the full article PDF.
USD 39.95
Price excludes VAT (USA)
Tax calculation will be finalised during checkout.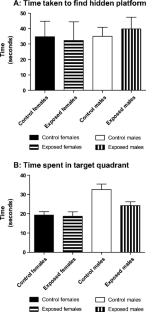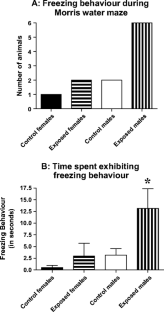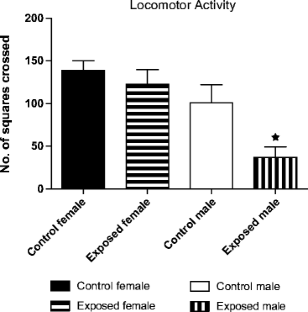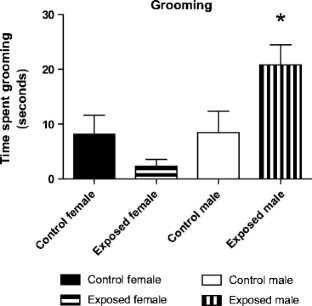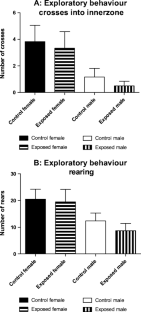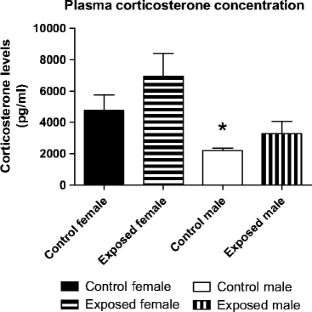 References
Daniels WMU, Pietersen CY, Carstens ME, Stein DJ (2004) Maternal separation in rats leads to anxiety behaviour, and a blunted ACTH response and altered neurotransmitter levels in response to a subsequent stressor. Metab Brain Dis 19(1/2):13–24

Daniels WMU, Uys JDK, Van Vuuren P, Stein DJ (2008) The development of behavioral and endocrine abnormalities in rats after repeated exposure to direct and indirect stress. Neuropsychiatr Dis Treat 4(2):451–464

D'Hooge R, De Deyn PP (2001) Applications of the Morris water maze in the study of learning and memory. Brain Res Rev 36(1):60–90

Eberhardt JL, Persson BR, Brun AE, Salford LG, Malmgren LO (2008) Blood-brain barrier permeability and nerve cell damage in rat brain 14 and 28 days after exposure to microwaves from GSM mobile phones. Electromagn Biol Med 27(3):215–229

Gewirtz J, McNish K, Davis M (2000) Is the hippocampus necessary for contextual fear learning? Behav Brain Res 110(1–2):83–95

Gold PW, Drevets WC, Charney DS (2002) New insights into the role of cortisol and the glucocorticoid receptor in severe depression. Biol Psych 52(5):381–385

Heim C, Owens MJ, Plotsky PM, Nemeroff CB (1997) The role of early adverse life events in the etiology of depression and posttraumatic stress disorder. Focus on corticotropin-releasing factor. Ann NY Acad Sci 821:194–207

Jezová D, Skultétyová I, Makatsori A, Moncek F, Duncko R (2002) Hypothalamo-pituitary- adrenocortical axis function and hedonic behaviour in adult male and female rats and prenatally stressed by maternal food restriction. Stress 5:177–183

Kellner M, Wiedemann K (2008) Mineralocorticoid receptors in brain, in health and disease: possibilities for new pharmacotherapy. Eur J Pharmacol 583(2–3):372–378

Marmendal M, Eriksson C, Fahlke CJ (2006) Early deprivation increases exploration and locomotion in adult male Wistar offspring. Pharmacol Biochem Behav 85(3):535–544

Morris R (1984) Developments of a water-maze procedure for studying spatial learning in the rat. J Neurosci Methods 11:47–60

Nemeroff CB (2004) Early-life adversity, CRF dysregulation, and vulnerability to mood and anxiety disorders. Psychopharmacol Bull 38(1):14–20

Porsolt RD, Le Pichon M, Jalfre M (1977) Depression: a new animal model sensitive to antidepressant treatments. Nature 266(5604):730–732

Prut L, Belzung C (2003) The open field as a paradigm to measure the effects of drugs oon anxiety-like behaviours: a review. Eur J Pharmacol 463(1–3):3–33

Salford LG, Brun AE, Eberhardt JL, Malmgren L, Persson BR (2003) Nerve cell damage in mammalian brain after exposure to microwaves from GSM mobile phones. Environ Health Perspect 111(7):881–883

Sapolsky R, Krey L, McEwen B (1984) Glucocorticoid-sensitive hippocampal neurons are involved in terminating the adreocortical stress response. PNAS 81:6174–6177

Sullivan R, Wilson DA, Feldon J, Yee BK, Meyer U, Richter-Levin G, Avi A, Michael T, Gruss M, Bock J, Helmeke C, Braun K (2006) The international society for developmental psychobiology annual meeting symposium: impact of early life experience on brain and behavioural development. Dev Psychobiol 48(7):583–602

Wals M, Verhulst F (2005) Child and adolescent antecedents of adult mood disorders. Curr Opin Psychiatry 18(1):15–19

WHO (2006) Research agenda for radio frequency fields. World Health Organisation, Geneva http://www.who.int/pehemf/research/rf_research_agenda_2006.pdf

Ziegler D, Herman J (2002) Neurocircuitry of stress integration: anatomical pathways regulating the hypothalamic-pituitary-adrenal axis of the rat. Integr Comp Biol 42:541–551
Acknowledgements
The authors wish to thank the staff of the Biomedical Resource Unit of the University of Kwazulu-Natal for technical assistance.
About this article
Cite this article
Daniels, W.M.U., Pitout, I.L., Afullo, T.J.O. et al. The effect of electromagnetic radiation in the mobile phone range on the behaviour of the rat. Metab Brain Dis 24, 629–641 (2009). https://doi.org/10.1007/s11011-009-9164-3
Received:

Accepted:

Published:

Issue Date:

DOI: https://doi.org/10.1007/s11011-009-9164-3
Keywords
Electromagnetic radiation

Brain development

Behaviour

Hippocampus

HPA axis

Mood disorders