Abstract
The persistence of fetal cells in the mother (fetal microchimerism (FMc)) has been described in maternal tissues essential to the newborn. FMc is associated with several diseases that start or worsen in pregnancy or postpartum. This exploratory study reports—for the first time—the presence of FMc in the olfactory neuroepithelium (ON) of both healthy and depressed women with male offspring. However, depressed women had fewer microchimeric cells (digital PCR). The existence of FMc in the ON could facilitate mother–child bonding. These findings open new pathways to study FMc in the ON, female depression, and mother–child bonding.
This is a preview of subscription content,
to check access.
Access this article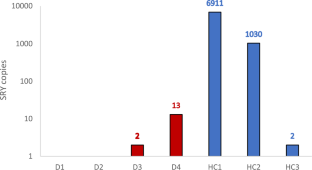 Similar content being viewed by others
Data availability
The datasets generated during and/or analysed during the current study are not publicly available due to the fact that this study is descriptive in nature but are available from the corresponding author on reasonable request.
References
Boddy AM, Fortunato A, Wilson Sayres M, Aktipis A (2015) Fetal microchimerism and maternal health: review and evolutionary analysis of cooperation and conflict beyond the womb. BioEssays 37(10):1106–1118. https://doi.org/10.1002/bies.201500059

Borgmann-Winter K, Willard SL, Sinclair D, Mirza N, Turetsky B, Berretta S, Hahn CG (2015) Translational potential of olfactory mucosa for the study of neuropsychiatric illness. Transl Psychiatry 5(3):e527. https://doi.org/10.1038/tp.2014.141

Broestl L, Rubin JB, Dahiya S (2018) Fetal microchimerism in human brain tumors. Brain Pathol 28(4):484–494. https://doi.org/10.1111/bpa.12557

Chan WF, Gurnot C, Montine TJ, Sonnen JA, Guthrie KA, Nelson JL (2012) Male microchimerism in the human female brain. PLoS ONE 7(9):e45592. https://doi.org/10.1371/journal.pone.0045592

Croy I, Mohr T, Weidner K, Hummel T, Junge-Hoffmeister J (2019) Mother-child bonding is associated with the maternal perception of the child's body odor. Physiol Behav 198:151–157. https://doi.org/10.1016/j.physbeh.2018.09.014

Demirbek B, Yurt E (2011) Can microchimerism find itself a place in psychiatric research? Psikiyatr Guncel Yaklasimlar Curr Approache Psychia 3:296–308

Guinart D, Moreno E, Galindo L, Cuenca-Royo A, Barrera-Conde M, Pérez EJ, Fernández-Avilés C, Correll CU, Canela EI, Casadó V, Cordomi A, Pardo L, de la Torre R, Pérez V, Robledo P (2020) Altered signaling in CB1R-5-HT2AR heteromers in olfactory neuroepithelium cells of schizophrenia patients is modulated by cannabis use. Schizophr Bull 46:1547–1557. https://doi.org/10.1093/schbul/sbaa038

Kinder JM, Stelzer IA, Arck PC, Way SS (2017) Immunological implications of pregnancy-induced microchimerism. Nat Rev Immunol 17(8):483–494. https://doi.org/10.1038/nri.2017.38

Salk RH, Hyde JS, Abramson LY (2017) Gender differences in depression in representative national samples: meta-analyses of diagnoses and symptoms. Psychol Bull 143:783–822. https://doi.org/10.1037/bul0000102

Bianchi DW, Khosrotehrani K, Way SS, MacKenzie TC, Bajema I, O'Donoghue K (2021) Forever connected: the lifelong biological consequences of fetomaternal and maternofetal microchimerism. Clin Chem 67(2):351–362. https://doi.org/10.1093/clinchem/hvaa304

Durante MA, Kurtenbach S, Sargi ZB, Harbour JW, Choi R, Kurtenbach S, Goss GM, Matsunami H, Goldstein BJ (2020) Single-cell analysis of olfactory neurogenesis and differentiation in adult humans. Nat Neurosci 23(3):323–326. https://doi.org/10.1038/s41593-020-0587-9

Slomian J, Honvo G, Emonts P, Reginster JY, Bruyère O (2019) Consequences of maternal postpartum depression: a systematic review of maternal and infant outcomes. Womens Health (Lond) 15:1745506519844044

Viguera AC, Tondo L, Koukopoulos AE, Reginaldi D, Lepri B, Baldessarini RJ (2011) Episodes of mood disorders in 2252 pregnancies and postpartum periods. Am J Psychiatry 168(11):1179–1185. https://doi.org/10.1176/appi.ajp.2011.11010148

Wisner KL, Sit DK, McShea MC, Rizzo DM, Zoretich RA, Hughes CL, Eng HF, Luther JF, Wisniewski SR, Costantino ML, Confer AL, Moses-Kolko EL, Famy CS, Hanusa BH (2013) Onset timing, thoughts of self-harm, and diagnoses in postpartum women with screen-positive depression findings. JAMA Psychiat 70(5):490–498. https://doi.org/10.1001/jamapsychiatry.2013.87

Zeng XX, Tan KH, Yeo A, Sasajala P, Tan X, Xiao ZC, Dawe G, Udolph G (2010) Pregnancy associated progenitor cells differentiate and mature into neurons in the maternal brain. Stem Cells Dev 19:1819–1830. https://doi.org/10.1089/scd.2010.0046

Marin C, Alobid I, Fuentes M, López-Chacón M, Mullol J (2023) Olfactory dysfunction in mental illness. Curr Allergy Asthma Rep 23(3):153–164. https://doi.org/10.1007/s11882-023-01068-z

Negoias S, Croy I, Gerber J, Puschmann S, Petrowski K, Joraschky P, Hummel T (2010) Reduced olfactory bulb volume and olfactory sensitivity in patients with acute major depression. Neuroscience 169(1):415–421. https://doi.org/10.1016/j.neuroscience.2010.05.012

Rottstädt F, Han P, Weidner K, Schellong J, Wolff-Stephan S, Strauß T, Kitzler H, Hummel T, Croy I (2018) Reduced olfactory bulb volume in depression—a structural moderator analysis. Hum Brain Mapp 39(6):2573–2582. https://doi.org/10.1002/hbm.24024

Hasegawa Y, Ma M, Sawa A, Lane AP, Kamiya A (2022) Olfactory impairment in psychiatric disorders: does nasal inflammation impact disease psychophysiology? Transl Psychiatry 12(1):314. https://doi.org/10.1038/s41398-022-02081-y

Olivier B, Breuer ME, Vinkers CH, Olivier JDA (2023) Olfaction and depression: does the olfactory bulbectomized rat reflect a translational model for depression? In: Palermo S, Olivier B (eds) COVID-19 pandemic, mental health and neuroscience—new scenarios for understanding and treatment. IntechOpen, London
Funding
This research was supported by CIBER—Consorcio Centro de Investigación Biomédica en Red (21 Group), Instituto de Salud Carlos III, Ministerio de Ciencia e Innovación and Unión Europea—European Regional Development Fund—(PI15/0039) and unrestricted funding of the Secretaria d'Universitatts i Recerca del Departament d'Economia i Coneixement de la Generalitat de Catalunya Government of Catalonia (SGR_00101, 2021 SGR_00253).
Ethics declarations
Competing interests
Beatriz Bellosillo received honoraria for speaker, consultancy or advisory role from Amgen, Astra-Zeneca, Biocartis, Janssen, Lilly, Merck-Serono, Novartis, Qiagen, Roche Diagnostics, Roche Pharma, ThermoFisher, Pfizer and BMS. The other declare no competing interests.
Additional information
Publisher's Note
Springer Nature remains neutral with regard to jurisdictional claims in published maps and institutional affiliations.
Rights and permissions
Springer Nature or its licensor (e.g. a society or other partner) holds exclusive rights to this article under a publishing agreement with the author(s) or other rightsholder(s); author self-archiving of the accepted manuscript version of this article is solely governed by the terms of such publishing agreement and applicable law.
About this article
Cite this article
Álvarez, P., Bellosillo, B., Colom, F. et al. Y-chromosome in the olfactory neuroepithelium as a potential biomarker of depression in women with male offspring: an exploratory study. Mol Cell Biochem (2023). https://doi.org/10.1007/s11010-023-04807-y
Received:

Accepted:

Published:

DOI: https://doi.org/10.1007/s11010-023-04807-y
Keywords