Abstract
Periodontitis is defined as a multifactorial polymicrobial infection accompanied by inflammatory reactions. Porphyromonas gingivalis (Pg) is known as a major pathogen in the initiation and progression of periodontitis, and a major virulence factor is Pg lipopolysaccharide (LPS). Molecular hydrogen (H2) has been reported to act as a gaseous antioxidant, which suppresses periodontitis progression by decreasing gingival oxidative stress. However, no human periodontitis model has examined the anti-inflammatory effects of H2. In this study, we examined the effects of H2 on Pg LPS-induced secretion of 8 types of inflammation markers in a human periodontitis model using human gingival cells with enzyme-linked immunosorbent assays. Our results demonstrated that Pg LPS increased interleukin (IL) 1 alpha (IL-1α) and IL-6 secretion, but H2 significantly suppressed the secretion of both cytokines without cytotoxicity. H2 can suppress the production of IL-1α and IL-6, which are identified as cytokines involved in inflammatory reactions in periodontal disease. Thus, H2 may provide therapeutic applications for periodontitis.
Access options
Buy single article
Instant access to the full article PDF.
US$ 39.95
Tax calculation will be finalised during checkout.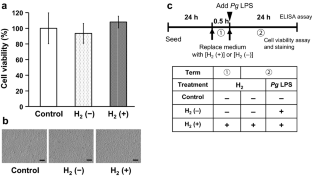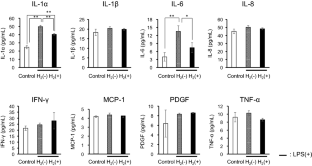 Data availability
The datasets generated during and/or analyzed during the current study are available from the corresponding author on reasonable request.
References
1.

Ito AK, Ishihara K, Tomita S, Kato T, Yamada S (2010) Investigation of subgingival profile of periodontopathic bacteria using polymerase chain reaction. Bull Tokyo Dent Coll 51:139–144. https://doi.org/10.2209/tdcpublication.51.139

2.

Jia L, Han N, Du J, Guo L, Luo Z, Liu Y (2019) Pathogenesis of important virulence factors of Porphyromonas gingivalis via toll-like receptors. Front Cell Infect Microbiol 9:262. https://doi.org/10.3389/fcimb.2019.00262

3.

Ohsawa I, Ishikawa M, Takahashi K, Watanabe M, Nishimaki K, Yamagata K, Katsura K, Katayama Y, Asoh S, Ohta S (2007) Hydrogen acts as a therapeutic antioxidant by selectively reducing cytotoxic oxygen radicals. Nat Med 13:688–694. https://doi.org/10.1038/nm1577

4.

Kato S, Matsuoka D, Miwa N (2015) Antioxidant activities of nano-bubble hydrogen-dissolved water assessed by ESR and 2,2′-bipyridyl methods. Mater Sci Eng C Mater Biol Appl 53:7–10. https://doi.org/10.1016/j.msec.2015.03.064

5.

Iida A, Nosaka N, Yumoto T, Knaup E, Naito H, Nishiyama C, Yamakawa Y, Tsukahara K, Terado M, Sato K, Ugawa T, Nakao A (2016) The clinical application of hydrogen as a medical treatment. Acta Med Okayama 70:331–337. https://doi.org/10.18926/AMO/54590

6.

Ohta S (2015) Molecular hydrogen as a novel antioxidant: overview of the advantages of hydrogen for medical applications. Methods Enzymol 555:289–317. https://doi.org/10.1016/bs.mie.2014.11.038

7.

Ge L, Yang M, Yang NN, Yin XX, Song WG (2017) Molecular hydrogen: a preventive and therapeutic medical gas for various diseases. Oncotarget 8:102653–102673. https://doi.org/10.18632/oncotarget.21130

8.

Kawamura T, Higashida K, Muraoka I (2020) Application of molecular hydrogen as a novel antioxidant in sports science. Oxid Med Cell Longev 2020:2328768. https://doi.org/10.1155/2020/2328768

9.

Begum R, Kim CS, Fadriquela A, Bajgai J, Jing X, Kim DH, Kim SK, Lee KJ (2020) Molecular hydrogen protects against oxidative stress-induced RAW 264.7 macrophage cells through the activation of Nrf2 and inhibition of MAPK signaling pathway. Mol Cell Toxicol 16:103–118. https://doi.org/10.1007/s13273-020-00074-w

10.

Ohta S (2014) Molecular hydrogen as a preventive and therapeutic medical gas: initiation, development and potential of hydrogen medicine. Pharmacol Ther 144:1–11. https://doi.org/10.1016/j.pharmthera.2014.04.006

11.

Saitoh Y, Harata Y, Mizuhashi F, Nakajima M, Miwa N (2010) Biological safety of neutral-pH hydrogen-enriched electrolyzed water upon mutagenicity, genotoxicity and subchronic oral toxicity. Toxicol Ind Health 26:203–216. https://doi.org/10.1177/0748233710362989

12.

Kasuyama K, Tomofuji T, Ekuni D, Tamaki N, Azuma T, Irie K, Endo Y, Morita M (2011) Hydrogen-rich water attenuates experimental periodontitis in a rat model. J Clin Periodontol 38:1085–1090. https://doi.org/10.1111/j.1600-051X.2011.01801.x

13.

Tomofuji T, Kawabata Y, Kasuyama K, Endo Y, Yoneda T, Yamane M, Azuma T, Ekuni D, Morita M (2014) Effects of hydrogen-rich water on aging periodontal tissues in rats. Sci Rep 4:5534. https://doi.org/10.1038/srep05534

14.

Azuma T, Yamane M, Ekuni D, Kawabata Y, Kataoka K, Kasuyama K, Maruyama T, Tomofuji T, Morita M (2015) Drinking hydrogen-rich water has additive effects on non-surgical periodontal treatment of improving periodontitis: a pilot study. Antioxidants 4:513–522. https://doi.org/10.3390/antiox4030513

15.

Yoneda T, Tomofuji T, Kunitomo M, Ekuni D, Irie K, Azuma T, Machida T, Miyai H, Fujimori K, Morita M (2017) Preventive effects of drinking hydrogen-rich water on gingival oxidative stress and alveolar bone resorption in rats fed a high-fat diet. Nutrients 9:64. https://doi.org/10.3390/nu9010064

16.

Xiao L, Miwa N (2017) Hydrogen-rich water achieves cytoprotection from oxidative stress injury in human gingival fibroblasts in culture or 3D-tissue equivalents, and wound-healing promotion, together with ROS-scavenging and relief from glutathione diminishment. Hum Cell 30:72–87. https://doi.org/10.1007/s13577-016-0150-x

17.

Saitoh Y, Ikeshima M, Kawasaki N, Masumoto A, Miwa N (2016) Transient generation of hydrogen peroxide is responsible for carcinostatic effects of hydrogen combined with platinum nanocolloid, together with increases intracellular ROS, DNA cleavages, and proportion of G2/M-phase. Free Radic Res 50:385–395. https://doi.org/10.3109/10715762.2015.1131823

18.

Saitoh Y, Yamaguchi Y, Okada Y (2021) Protective effects of dissolved molecular hydrogen against hydrogen peroxide-, hydroperoxide-, and glyoxal-induced injuries to human skin keratinocytes. Mol Cell Biochem 476:3613–3622. https://doi.org/10.1007/s11010-021-04189-z

19.

Saitoh Y, Umezaki T, Yonekura N, Nakawa A (2020) Resveratrol potentiates intracellular ascorbic acid enrichment through dehydroascorbic acid transport and/or its intracellular reduction in HaCaT cells. Mol Cell Biochem 467:57–64. https://doi.org/10.1007/s11010-020-03700-2

20.

Kato S, Asada R, Kageyama K, Saitoh Y, Miwa N (2011) Anticancer effects of 6-O-palmitoyl-ascorbate combined with a capacitive-resistive electric transfer hyperthermic apparatus as compared with ascorbate in relation to ascorbyl radical generation. Cytotechnology 63:425–435. https://doi.org/10.1007/s10616-011-9363-8

21.

Nativel B, Couret D, Giraud P, Meilhac O, d'Hellencourt CL, Viranaïcken W, Da Silva CR (2017) Porphyromonas gingivalis lipopolysaccharides act exclusively through TLR4 with a resilience between mouse and human. Sci Rep 7:15789. https://doi.org/10.1038/s41598-017-16190-y

22.

Komiya Ito A, Ishihara K, Tomita S, Kato T, Yamada S (2010) Investigation of subgingival profile of periodontopathic bacteria using polymerase chain reaction. Bull Tokyo Dent Coll 51:139–144. https://doi.org/10.2209/tdcpublication.51.139

23.

Gomes-Filho IS, Balinha IDSCE, da Cruz SS, Trindade SC, Cerqueira EMM, Passos-Soares JS, Coelho JMF, Ladeia AMT, Vianna MIP, Hintz AM, de Santana TC, Dos Santos PP, Figueiredo ACMG, da Silva ICO, Scannapieco FA, Barreto ML, Loomer PM (2020) Moderate and severe periodontitis are positively associated with metabolic syndrome. Clin Oral Investig 25:3719–3727. https://doi.org/10.1007/s00784-020-03699-2

24.

Huang CY, Shih CM, Tsao NW, Lin YW, Shih CC, Chiang KH, Shyue SK, Chang YJ, Hsieh CK, Lin FY (2016) The GroEL protein of Porphyromonas gingivalis regulates atherogenic phenomena in endothelial cells mediated by upregulating toll-like receptor 4 expression. Am J Transl Res 8:384–404

25.

Olsen I, Kell DB, Pretorius E (2020) Is Porphyromonas gingivalis involved in Parkinson's disease? Eur J Clin Microbiol Infect Dis 39:2013–2018. https://doi.org/10.1007/s10096-020-03944-2

26.

Poole S, Singhrao SK, Kesavalu L, Curtis MA, Crean S (2013) Determining the presence of periodontopathic virulence factors in short-term postmortem Alzheimer's disease brain tissue. J Alzheimers Dis 36:665–677. https://doi.org/10.3233/JAD-121918

27.

Ramadan DE, Hariyani N, Indrawati R, Ridwan RD, Diyatri I (2020) Cytokines and chemokines in periodontitis. Eur J Dent 14:483–495. https://doi.org/10.1055/s-0040-1712718

28.

Caldeira FID, Hidalgo MAR, De Carli Dias ML, Scarel-Caminaga RM, Pigossi SC (2021) Systematic review of ratios between disease /health periodontitis modulators and meta-analysis of their levels in gingival tissue and biological fluids. Arch Oral Biol 127:105147. https://doi.org/10.1016/j.archoralbio.2021.105147

29.

Ichihara M, Sobue S, Ito M, Ito M, Hirayama M, Ohno K (2015) Beneficial biological effects and the underlying mechanisms of molecular hydrogen-comprehensive review of 321 original articles. Med Gas Res 5:1–21. https://doi.org/10.1186/s13618-015-0035-1

30.

Kura B, Bagchi AK, Singal PK, Barancik M, LeBaron TW, Valachova K, Šoltes L, Slezak J (2018) Molecular hydrogen: potential in mitigating oxidative-stress-induced radiation injury. Can J Physiol Pharmacol 97:287–292. https://doi.org/10.1139/cjpp-2018-0604

31.

Kobayashi EH, Suzuki T, Funayama R, Nagashima T, Hayashi M, Sekine H, Tanaka N, Moriguchi T, Motohashi H, Nakayama K, Yamamoto M (2016) Nrf2 suppresses macrophage inflammatory response by blocking proinflammatory cytokine transcription. Nat Commun 7:11624. https://doi.org/10.1038/ncomms11624

32.

Naruishi K, Nagata T (2018) Biological effects of interleukin-6 on gingival fibroblasts: cytokine regulation in periodontitis. J Cell Physiol 233:6393–6400. https://doi.org/10.1002/jcp.26521

33.

Yang L, Li D, Chen S (2016) Hydrogen water reduces NSE, IL-6, and TNF-alpha levels in hypoxic-ischemic encephalopathy. Open Med 11:399–406. https://doi.org/10.1515/med-2016-0072

34.

Zhu C, Zhao Y, Wu X, Qiang C, Liu J, Shi J, Gou J, Pei D, Li A (2020) The therapeutic role of baicalein in combating experimental periodontitis with diabetes via Nrf2 antioxidant signaling pathway. J Periodont Res 55:381–391. https://doi.org/10.1111/jre.12722

35.

Bugueno IM, Batool F, Keller L, Kuchler-Bopp S, Benkirane-Jessel N, Huck O (2018) Porphyromonas gingivalis bypasses epithelial barrier and modulates fibroblastic inflammatory response in an in vitro 3D spheroid model. Sci Rep 8:14914. https://doi.org/10.1038/s41598-018-33267-4

36.

Saitoh Y, Yoshimura Y, Nakano K, Miwa N (2009) Platinum nanocolloid-supplemented hydrogendissolved water inhibits growth of human tongue carcinoma cells preferentially over normal cells. Exp Oncol 31:156–162

37.

Saitoh Y, Kawasaki N, Eguchi N, Ikeshima M (2021) Combined treatment with dissolved hydrogen molecule and platinum nanocolloid exerts carcinostatic/carcinocidal effects by increasing hydrogen peroxide generation and cell death in the human gastric cancer cell line NUGC-4. Free Radic Res 55:211–220. https://doi.org/10.1080/10715762.2021.1902514

38.

Saitoh Y, Okayasu H, Xiao L, Harata Y, Miwa N (2008) Neutral pH hydrogen-enriched electrolyzed water achieves tumor-preferential clonal growth inhibition over normal cells and tumor invasion inhibition concurrently with intracellular oxidant repression. Oncol Res 17:247–255. https://doi.org/10.3727/096504008786991620
Funding
This work was partly supported by Fukuyama city support project for research & development and market development [Grant Number #236, 2018] and JSPS KAKENHI Grant Number 20K11627.
Ethics declarations
Conflict of interest
YS and NY declare that they have no conflict of interest. DM and AM are employees of Hiroshima Kasei, Ltd.
Additional information
Publisher's Note
Springer Nature remains neutral with regard to jurisdictional claims in published maps and institutional affiliations.
Supplementary Information
Below is the link to the electronic supplementary material.
Supplementary file1 Supplementary Fig. 1 Time-dependent change in H2 concentration in cell culture condition. Culture medium containing dissolved H2 was produced, and incubated at 37 °C in a humidified atmosphere of 95% air and 5% CO2 as same condition of the cell culture. Thereafter, the time-dependent change in H2 concentration was measured for 3 h. Results are expressed as mean ± SD (n = 3). Significant differences from the control, **p < 0.01. Supplementary Fig. 2 The effect of Pg LPS treatment on intracellular oxidative stress level. Intracellular oxidative stress level was determined using a fluorescent assay performed using 6-carboxy-2′,7′-dichlorodihydrofluorescein diacetate, di (acetoxymethyl ester) (CDCFH-DA). Briefly, cells were rinsed with cell culture medium, then incubated for 30 min at 37 °C in the medium containing 10 µM CDCFH-DA. After Pg LPS treatment and incubation for 24 h, cells were washed with medium and the oxidative stress-derived fluorescence was measured using a fluorescence microscope reader with excitation and emission wavelengths of 485 nm and 530 nm, respectively. Then, cell number was counted in each well. Results are expressed as mean ± SD (n = 5) (PPTX 46 kb)
About this article
Cite this article
Saitoh, Y., Yonekura, N., Matsuoka, D. et al. Molecular hydrogen suppresses Porphyromonas gingivalis lipopolysaccharide-induced increases in interleukin-1 alpha and interleukin-6 secretion in human gingival cells. Mol Cell Biochem (2021). https://doi.org/10.1007/s11010-021-04262-7
Received:

Accepted:

Published:
Keywords
Periodontitis

Molecular hydrogen

Human gingival cell

Porphyromonas gingivalis

Interleukin-1α

Interleukin-6