Abstract
To investigate whether forskolin, a protein kinase A agonist, regulates toll-like receptor 4 actions on retinal endothelial cell permeability in vitro. We also evaluated whether PKA could regulate TLR4 signaling independent of exchange protein activated by cAMP in REC in culture. REC were grown in normal (5 mM) or high (25 mM) glucose. Cells were treated with forskolin to increase PKA levels, siRNA against TLR4, siRNA against myeloid differentiation primary response 88, siRNA against translocating chain associated membrane protein 1, siRNA against epac1, or scrambled siRNA, or a combination of these treatments. Western blotting was done for zonula occludens 1 and occludin protein levels, as well as TLR4 signaling cascade proteins. Permeability measurements were done for REC in culture following inhibition of TLR4 or its signaling cascades. Forskolin restored high glucose-associated decreases in ZO-1 and occludin, which was associated with improved in vitro permeability levels. Both forskolin and TLR4 inhibition reduced high glucose-induced increases in REC permeability, but the actions were not cooperative. Forskolin regulated both MyD88-dependent and -independent signaling pathways, independent of Epac1. Finally, blockade of MyD88 or TRAM1 reduced permeability in REC grown in high glucose. A PKA agonist regulated TLR4 signaling independent of Epac1. PKA agonism or TLR4 inhibition is effective at reducing high glucose-induced permeability in REC in vitro. These studies offer new avenues for therapeutic development.
This is a preview of subscription content,
to check access.
Access this article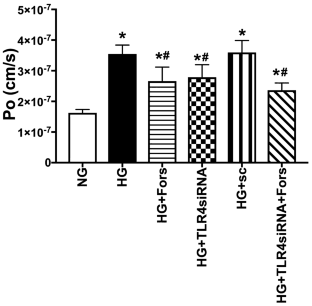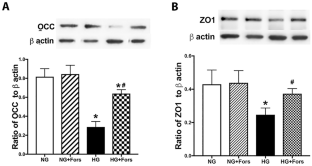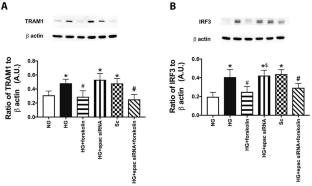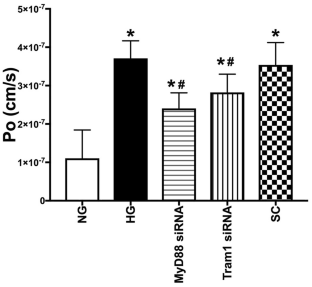 Similar content being viewed by others
Data availability
All data are contained in the text or supplemental figures.
References
Tang J, Kern TS (2011) Inflammation in diabetic retinopathy. Prog Retinal Eye Res 30:343–58

Ulloa L, Messmer D (2006) High-mobility group box 1 (HMGB1) protein: friend and foe. Cytokine Growth Factor Rev 17:189–201

Vaure C, Liu Y (2014) A comparative review of toll-like receptor 4 expression and functionality in different animal species. Front Immunol 5:316

Palsson-McDermott EM, O'Neill LA (2004) Signal transduction by the lipopolysaccharide receptor, Toll-like receptor-4. Immunology 113:153–62

Dasu MR, Devaraj S, Park S, Jialal I (2010) Increased toll-like receptor (TLR) activation and TLR ligands in recently diagnosed type 2 diabetic subjects. Diabetes Care 33:861–8

Devaraj S, Tobias P, Jialal I (2011) Knockout of toll-like receptor-4 attenuates the pro-inflammatory state of diabetes. Cytokine 55:441–5

Berger EA, Carion TW, Jiang Y et al (2016) beta-adrenergic receptor agonist, Compound 49b, inhibits TLR4 signaling pathway in diabetic retina. Immunol Cell Biol 94:656–661

Jiang Y, Liu L, Steinle JJ (2017) Compound 49b Regulates ZO-1 and occludin levels in human retinal endothelial cells and in mouse retinal vasculature. Invest Ophthalmol Vis Sci 58:185–189

Seidel A, Liu L, Jiang Y, Steinle JJ (2021) Loss of TLR4 in endothelial cells but not Muller cells protects the diabetic retina. Expt Eye Res 206:108557

Zhang Q, Guy K, Pagadala J et al (2012) Compound 49b prevents diabetes-induced apoptosis through increased IGFBP-3 levels. Invest Ophthalmol Vis Sci 53:3004–13

Liu L, Patel P, Steinle JJ (2018) PKA regulates HMGB1 through activation of IGFBP-3 and SIRT1 in human retinal endothelial cells cultured in high glucose. Inflamm Res 67:1013–1019

Liu L, Jiang Y, Steinle JJ (2021) Forskolin eye drops improve retinal damage from ischemia/reperfusion. Mol Vision 27:365–369

Liu L, Jiang Y, Steinle JJ (2017) Toll-Like Receptor 4 Reduces Occludin and Zonula Occludens 1 to Increase Retinal Permeability Both in vitro and in vivo. J Vasc Res 54:367–375

Antonetti DA, Wolpert EB, DeMaio L, Harhaj NS, Scaduto RC Jr (2002) Hydrocortisone decreases retinal endothelial cell water and solute flux coincident with increased content and decreased phosphorylation of occludin. J Neurochem 80:667–77

Chang YS, Munn LL, Hillsley MV et al (2000) Effect of vascular endothelial growth factor on cultured endothelial cell monolayer transport properties. Microvasc Res 59:265–77

Joussen AM, Poulaki V, Le ML et al (2004) A central role for inflammation in the pathogenesis of diabetic retinopathy. FASEB J 18:1450–2

Buraczynska M, Zukowski P, Ksiazek K, Wacinski P, Dragan M (2016) The effect of Toll-like receptor 4 gene polymorphism on vascular complications in type 2 diabetes patients. Diabetes Res Clin Pract 116:7–13

Steinle JJ (2020) Role of HMGB1 signaling in the inflammatory process in diabetic retinopathy. Cell Signal 73:109687

Yang H, Wang H, Andersson U (2020) Targeting inflammation driven by HMGB1. Front Immuno 11:484
Funding
This work was funded by R01EY030284 (JJS), P30EY04068 (LDH), and an Unrestricted Grant to the Department of Ophthalmology from Research to Prevent Blindness (Kresge Eye Institute). The funders did not influence the design or execution of these studies.
Ethics declarations
Conflict of interest
No authors have any conflicts with these findings.
Ethical approval
No animals were used for these studies.
Additional information
Publisher's Note
Springer Nature remains neutral with regard to jurisdictional claims in published maps and institutional affiliations.
Supplementary Information
Below is the link to the electronic supplementary material.
Supplemental Figure 1. MyD88-dependent and -independent signaling both regulate REC permeability. Western blot showing successful knockdown by siRNA of MyD88 (A) and TRAM (B). Data are from retinal endothelial cells (REC) grown in normal glucose (NG), high glucose (HG) alone or high glucose+ MyD88 siRNA, high glucose+TRAM siRNA, or high glucose+ scrambled siRNA. *P<0.05 vs. NG, #P<0.05 vs. HG. N=5-10. (JPG 90 kb)
About this article
Cite this article
Liu, L., Jiang, Y. & Steinle, J.J. Forskolin regulates retinal endothelial cell permeability through TLR4 actions in vitro. Mol Cell Biochem 476, 4487–4492 (2021). https://doi.org/10.1007/s11010-021-04252-9
Received:

Accepted:

Published:

Issue Date:

DOI: https://doi.org/10.1007/s11010-021-04252-9
Keywords