Abstract
In the present era, cellular phones have changed the life style of human beings completely and have become an essential part of their lives. The number of cell phones and cell towers are increasing in spite of their disadvantages. These cell towers transmit radiation continuously without any interruption, so people living within 100s of meters from the tower receive 10,000 to 10,000,000 times stronger signal than required for mobile communication. In the present study, we have examined superoxide dismutase (SOD) enzyme activity, catalase (CAT) enzyme activity, lipid peroxidation assay, and effect of functional polymorphism of SOD and CAT antioxidant genes against mobile tower-induced oxidative stress in human population. From our results, we have found a significantly lower mean value of manganese superoxide dismutase (MnSOD) enzyme activity, catalase (CAT) enzyme activity, and a high value of lipid peroxidation assay in exposed as compared to control subjects. Polymorphisms in antioxidant MnSOD and CAT genes significantly contributed to its phenotype. In the current study, a significant association of genetic polymorphism of antioxidant genes with genetic damage has been observed in human population exposed to radiations emitted from mobile towers.
Access options
Buy single article
Instant access to the full article PDF.
US$ 39.95
Tax calculation will be finalised during checkout.
Subscribe to journal
Immediate online access to all issues from 2019. Subscription will auto renew annually.
US$ 119
Tax calculation will be finalised during checkout.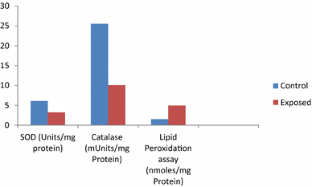 References
1.

Blank M, Goodman R (2011) DNA is a fractal antenna in electromagnetic fields. Int J Radiat Biol 87(4):409–415

2.

Burlaka A, Tsybulin O, Sidorik E, Lukin S, Polishuk V, Tsehmistrenko S, Yakymenko I (2013) Overproduction of free radical species in embryonal cells exposed to low intensity radiofrequency radiation. Exp Oncol 35(3):219–225

3.

Desai N, Kesari KK, Agarwal A (2009) Pathophysiology of cell phone radiation: oxidative stress and carcinogenesis with focus on male reproductive system. Reprod Biol Endocrinol 7:114

4.

Bandyopadhyay U, Das D, Banerjee RK (2000) Reactive oxygen species: oxidative and pathogenesis. Current Sci 77:658–666

5.

De Iuliis GN, Newey RJ, King BV, Aitken RJ (2009) Mobile phone radiation induces reactive oxygen species production and DNA damage in human spermatozoa in vitro. PLoS ONE 4:6446

6.

Kesari KK, Siddiqui MH, Meena R, Verma HN, Kumar S (2013) Cell phone radiation exposure on brain and associated biological systems. Indian J Exp Biol 51:187–200

7.

Furtado-Filho OV, Borba JB, Dallegrave A, Pizzolato TM, Henriques JA, Moreira JC, Saffi J (2013) Effect of 950 MHz UHF electromagnetic radiation on biomarkers of oxidative damage, metabolism of UFA and antioxidants in the livers of young rats of different ages. Int J Radiat Biol 119(2):159–168

8.

Powell CL, Swenberg JA, Rusyn I (2005) Expression of base excision DNA repair genes as a biomarker of oxidative DNA damage. Cancer Lett 229:1–11

9.

Dalle-Donne I, Giustarini D, Colombo R, Rossi R, Milzani A (2003) Protein carbonylation in human diseases. Trends Mol Med 9:169–176

10.

Sikka SC (1999) Testicular toxicology in endocrine and hormonal toxicology. In: Harvey P, Cock Burn A (eds). Chap 5, Wiley, West Sussex, pp 91–110

11.

Morabito F, Cristani M, Saija A, Stelitano C, Callea V, Tomaino A, Minciullo PL, Gangemi S (2004) Lipid peroxidation and protein oxidation in patients affected by Hodgkin's lymphoma. Mediat Inflamm 13:381–383

12.

Seljeskog E, Hervig T, Mansoor MA (2006) A novel HPLC method for the measurement of thiobarbituric acid reactive substances (TBARS): a comparison with a commercially available kit. Clin Biochem 39:947–954

13.

Guler G, Tomruk A, Ozgur E, Seyhan N (2010) The effect of radiofrequency radiation on DNA and lipid damage in non-pregnant and pregnant rabbits and their newborns. Gen Physiol Biophys 29:59–66

14.

Zelko IN, Mariani TJ, Folz RJ (2002) Superoxide dismutase multigene family: a comparison of the cuzn-sod (sod1), mn-sod (sod2), and ec-sod (sod3) gene structures, evolution, and expression. Free Radic Biol Med 33(3):337–349

15.

Salvatore C, Adriana MS, Giuseppe MC, Angela D, Angela A, Maria C, Carlo S, Amalia L, Antonino S, Alberto C (2005) Extracellular superoxide dismutase (EC SOD) gene mutations screening in a sample of Mediterranean population. Mutation Res 578(12):143–148

16.

Warner DS, Sheng H, Batinic-Haberle I (2004) Oxidants, antioxidants and the ischemic brain. J Exp Biol 207:3221–3231

17.

Ng F, Berk M, Dean O, Bush AI (2008) Oxidative stress in psychiatric disorders: evidence base and therapeutic implications. Int J Neuropsychopharmacol 11(6):851–876

18.

Al-Abrash ASA, Al-Quobaili FA, Al-Akhras GN (2000) Catalase evaluation in different human diseases associated with oxidative stress. Saud Med J 21(9):826–830

19.

Goth L, Lenkey A, Bigler WN (2001) Blood catalase deficiency and diabetes in Hungary. Diabetes Care 24(10):1839–1840

20.

Ambrosone CB, Ahn J, Singh KK et al (2005) Polymorphisms in genes related to oxidative stress (MPO, MnSOD, CAT) and survival after treatment for breast cancer. Cancer Res 65(3):1105–1111

21.

Ahn J, Nowell S, McCann SE et al (2006) Associations between catalase phenotype and genotype: modification by epidemiologic factors. Cancer Epidemiol Biomark Prev 15(6):1217–1222

22.

Marklund S, Marklund G (1974) Involvement of the superoxide anion radical in the autoxidation of pyrogallol and a convenient assay for superoxide dismutase. Eur J Biochem 47(3):469–474

23.

Aebi H (1984) Catalase in vitro. Methods Enzymol 105:121–126

24.

Beauge JA, Aust SD (1978) Microsomal lipid peroxidation. Methods Enzymol 52:302–310

25.

Rahman SH, Nanny C, Ibrahim K, O'Reilly D, Larvin M, Kingsnorth AJ, McMahon MJ (2005) Genetic polymorphisms of GSTT1, GSTM1, GSTP1, MnSOD, and catalase in nonhereditary chronic pancreatitis: evidence of xenobiotic stress and impaired antioxidant capacity. Dig Dis Sci 50(7):376–1383

26.

Gulati S, Yadav A, Kumar N, Priya K, Aggarwal NK, Kumar R, Gupta R (2015) Effect of GSTM1 and GSTT1 polymorphisms on genetic damage in humans populations exposed to radiation from mobile towers. Arch Environ Contam Toxicol 69(2):1–11

27.

Wolf R, Wolf D (2007) Increased incidence of cancer near a cellphone transmitted station. In: Columbus F (ed) Trends in cancer prevention. Nova Science Publishers, New York, pp 1–8

28.

Kumar S, Kesari KK, Behari J (2011) The therapeutic effect of a pulsed electromagnetic field on the reproductive patterns of male Wistar rats exposed to a 2.45 GHz microwave field. Clinics 66(7):1237–1245

29.

Paulraj R, Behari J (2006) Single strand DNA breaks in rat brain cells exposed to microwave radiation. Mutation Res 596:76–80

30.

Kumar S, Kesari KK, Behari J (2011) Influence of microwave exposure on fertility of male rats. Fertil Steril 95(4):1500–1502

31.

Agarwal A, Deepinder F, Sharma RK, Ranga G, Li J (2008) Effect of cell phone usage on semen analysis in men attending infertility clinic: an observational study. Fertil Steril 89(1):124–128

32.

Fejes I, Zavaczki Z, Szollosi J, Koloszar S, Daru J, Kovacs L et al (2005) Is there a relationship between cell phone use and semen quality? Arch Androl 51:385–393

33.

Kesari KK, Behari J (2009) Fifty gigahertz microwave exposure effect of radiation on rat brain. Appl Biochem Biotech 158:126–139

34.

Kesari KK, Kumar S, Behari J (2010) Mobile phone use and male infertility in Wistar rats. Indian J Exp Biol 47:987–992

35.

Oktem F, Ozguner F, Mollaoglu H, Koyu A, Uz E (2005) Oxidative damage in the kidney induced by 900-MHz-emitted mobile phone: protection by melatonin. Arch Med Res 36:350–355

36.

Santini R, Santini P, Danze JM, Le Ruz P, Seigne M (2002) Study of the health of people living in the vicinity of mobile phone base stations: incidence according to distance and sex. Pathol Biol 50(6):369–373

37.

Liubimova NE, Vorobtsova IE (2007) The effect of age and low dose irradiation on the chromosomal aberration frequency in human lymphocytes. Radiat Biol Radioecol 47(1):80–85

38.

Huang X, Halicka H, Traganos F, Tanaka T, Kurose A, Darzynkiewicz Z (2005) Cytometric assessment of DNA damage in relation to cell cycle phase and apoptosis. Cell Prolif 38:223–243

39.

Maes A, Gorp VU, Verschaeve L (2006) Cytogenetic investigation of subjects professionally exposed to radiofrequency radiation. Mutagenesis 21:139–142

40.

Bishop JB, Witt KL, Sloane RA (1997) Genetic toxicities of human teratogens. Mutation Res 396:9–43

41.

Maluf SW, Erdtmann B (2000) Evaluation of occupational risk in a Brazilian hospital. Genet Mol Biol 23:485–488

42.

Dittberner U, Schmetzer B, Golzer P, Eisenbrand G, Zankl H (1997) Genotoxic effects of 2-trans-hexenal in human buccal mucosa cells in vivo. Mutation Res 390:161–165

43.

Behrendt L, Jonsson ME, Goldstone JV, Stegeman JJ (2010) Induction of cytochrome P450 1 genes and stress response genes in developing zebrafish exposed to ultraviolet radiation. Aquat Toxicol 98(1):74–82

44.

Carlsten C, Sagoo GS, Frodsham AJ, Burke W, Higgins JPT (2008) Glutathione S-transferase M1 (GSTM1) polymorphisms and lung cancer: a literature-based systematic HuGE review and meta-analysis. Am J Epidemiol 167(7):759–774

45.

Hiyama T, Yoshihara M, Tanaka S, Chayama K (2008) Genetic polymorphisms and head and neck cancer risk (Review). Int J Oncol 32:945–973

46.

Shi X, Zhou S, Wang Z et al (2007) CYP1A1 and GSTM1 polymorphisms and lung cancer risk in Chinese populations: a meta-analysis. Lung Cancer 59(2):155–163
Acknowledgements
We are thankful to the Science and Engineering Research Board, Department of Science and Technology (DST), New Delhi, India for funding through Grant No. SR/FT/LS-146/2011 and to all blood donors for their voluntary participation in our study.
Ethics declarations
Conflict of interest
The authors declare that they have no conflict of interest.
Ethical approval
The research protocol was approved by the institutional human ethics committee of Kurukshetra University, Kurukshetra (Haryana).
Informed consent
Informed consent was obtained from all subjects.
About this article
Cite this article
Gulati, S., Yadav, A., Kumar, N. et al. Phenotypic and genotypic characterization of antioxidant enzyme system in human population exposed to radiation from mobile towers. Mol Cell Biochem 440, 1–9 (2018). https://doi.org/10.1007/s11010-017-3150-6
Received:

Accepted:

Published:

Issue Date:
Keywords
Antioxidant gene polymorphism

Electromagnetic fields (EMFs)

Mobile tower base stations

Oxidative stress

Reactive oxygen species