Abstract
Vascular calcification is associated with cardiovascular disease as a complication of hypertension, hyperlipidemia, diabetes mellitus, and chronic kidney disease. Vitamin K2 (VK2) delays vascular calcification by an unclear mechanism. Moreover, apoptosis modulates vascular smooth muscle cell (VSMC) calcification. This paper aimed to study VK2-modified VSMC calcification and survival cell signaling mediated by growth arrest-specific gene 6 (Gas6) and its tyrosine kinase receptor Axl. Primary-cultured VSMCs were dose-dependently treated with VK2 in the presence of calcification medium for 8 days, or pre-treated for 1 h with/without the Axl inhibitor R428 (2 μmol/L) or the caspase inhibitor Z-VAD-fmk (20 μmol/L) followed by treatment with VK2 (10 μmol/L) or rmGas6 (200 nmol/L) in calcification medium for 8 days. Calcium deposition was determined by the o-cresolphthalein complexone assay and Alizarin Red S staining. Apoptosis was determined by TUNEL and flow cytometry using Annexin V-FITC and propidium iodide staining. Western blotting detected the expressions of Axl, Gas6, p-Akt, Akt, and Bcl2. VK2 significantly inhibited CaCl2- and β-sodium glycerophosphate (β-GP)-induced VSMC calcification and apoptosis, which was dependent on restored Gas6 expression and activated downstream signaling by Axl, p-Akt, and Bcl2. Z-VAD-fmk significantly inhibited CaCl2- and β-GP-induced VSMC calcification and apoptosis. Augmented recombinant mouse Gas6 protein (rmGas6) expression significantly reduced VSMC calcification and apoptosis. Furthermore, the Gas6/Axl interaction was inhibited by R428, which abolished the preventive effect of VK2 on CaCl2- and β-GP-induced apoptosis and calcification. These results suggest that Gas6 is critical in VK2-mediated functions that attenuate CaCl2- and β-GP-induced VSMC calcification by blocking apoptosis.
This is a preview of subscription content, log in to check access.
Access options
Buy single article
Instant access to the full article PDF.
US$ 39.95
Price includes VAT for USA
Subscribe to journal
Immediate online access to all issues from 2019. Subscription will auto renew annually.
US$ 199
This is the net price. Taxes to be calculated in checkout.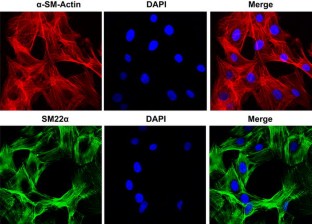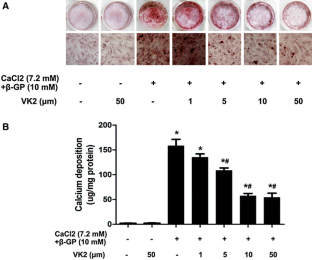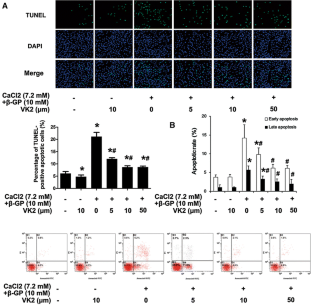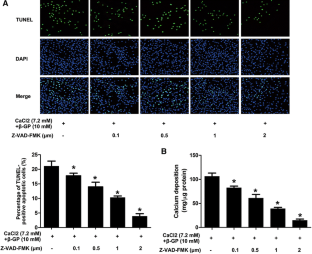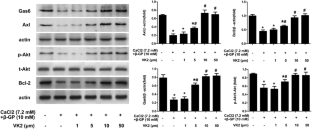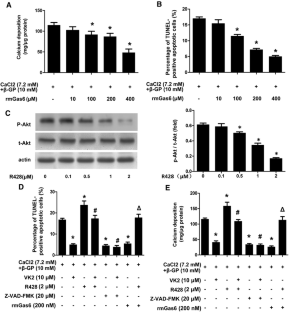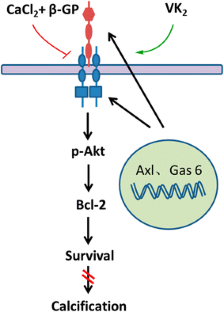 References
1.

Liberman M, Pesaro AEP, Carmo LS, Serrano CV Jr (2013) Vascular calcification: pathophysiology and clinical implications. Einstein (Sao Paulo) 11(3):376–382

2.

Dalmeijer GW, van der Schouw YT, Vermeer C, Magdeleyns EJ, Schurgers LJ, Beulens JW (2013) Circulating matrix Gla protein is associated with coronary artery calcification and vitamin K status in healthy women. J Nutr Biochem 24(4):624–628

3.

Sage AP, Tintut Y, Demer LL (2010) Regulatory mechanisms in vascular calcification. Nat Rev Cardiol 7(9):528–536

4.

Wu M, Rementer C, Giachelli CM (2013) Vascular calcification: an update on mechanisms and challenges in treatment. Calcif Tissue Int 93(4):365–373

5.

Burton D, Matsubara H, Ikeda K (2010) Pathophysiology of vascular calcification: pivotal role of cellular senescence in vascular smooth muscle cells. Exp Gerontol 45(11):819–824

6.

Liao X-B, Peng Y-Q, Zhou X-M, Yang B, Zheng Z, Liu L-M, Song F-L, Li J-M, Zhou K, Meng J-C (2010) Taurine restores Axl/Gas6 expression in vascular smooth muscle cell calcification model. Amino Acids 39(2):375–383

7.

Proudfoot D, Skepper JN, Hegyi L, Bennett MR, Shanahan CM, Weissberg PL (2000) Apoptosis regulates human vascular calcification in vitro evidence for initiation of vascular calcification by apoptotic bodies. Circ Res 87(11):1055–1062

8.

Son B-K, Kozaki K, Iijima K, Eto M, Kojima T, Ota H, Senda Y, Maemura K, Nakano T, Akishita M (2006) Statins protect human aortic smooth muscle cells from inorganic phosphate-induced calcification by restoring Gas6-Axl survival pathway. Circ Res 98(8):1024–1031

9.

Dam H (1935) The antihaemorrhagic vitamin of the chick. Biochem J 29(6):1273

10.

Dam H, Schönheyder F (1934) A deficiency disease in chicks resembling scurvy. Biochem J 28(4):1355

11.

Schønheyder F (1936) The quantitative determination of vitamin K. I. Biochem J 30(5):890

12.

Dam H, Schønheyder F (1936) The occurrence and chemical nature of vitamin K. Biochem J 30(5):897

13.

El Asmar MS, Naoum JJ, Arbid EJ (2014) Vitamin k dependent proteins and the role of vitamin k2 in the modulation of vascular calcification: a review. Oman Med J 29(3):172

14.

Schurgers LJ (2013) Vitamin K: key vitamin in controlling vascular calcification in chronic kidney disease. Kidney Int 83(5):782–784

15.

Flore R, Ponziani FR, Di Rienzo TA, Zocco MA, Flex A, Gerardino L, Lupascu A, Santoro L, Santoliquido A, Di Stasio E (2013) Something more to say about calcium homeostasis: the role of vitamin K2 in vascular calcification and osteoporosis. Eur Rev Med Pharmacol Sci 17(18):2433–2440

16.

Clauser S, Meilhac O, Bieche I, Raynal P, Bruneval P, Michel J-B, Borgel D (2012) Increased secretion of Gas6 by smooth muscle cells in human atherosclerotic carotid plaques. Thromb Haemost 107(1):140–149

17.

Jiang X, Tao H, Qiu C, Ma X, Li S, Guo X, Lv A, Li H (2016) Vitamin K2 regression aortic calcification induced by warfarin via Gas6/Axl survival pathway in rats. Eur J Pharmacol 786:10–18

18.

Melaragno MG, Cavet ME, Yan C, Tai L-K, Jin Z-G, Haendeler J, Berk BC (2004) Gas6 inhibits apoptosis in vascular smooth muscle: role of Axl kinase and Akt. J Mol Cell Cardiol 37(4):881–887

19.

Hasanbasic I, Rajotte I, Blostein M (2005) The role of γ-carboxylation in the anti-apoptotic function of gas6. J Thromb Haemost 3(12):2790–2797

20.

Kim H, Kim HJ, Lee K, Kim JM, Kim HS, Kim JR, Ha CM, Choi YK, Lee SJ, Kim JY (2012) α-Lipoic acid attenuates vascular calcification via reversal of mitochondrial function and restoration of Gas6/Axl/Akt survival pathway. J Cell Mol Med 16(2):273–286

21.

Kaesler N, Immendorf S, Ouyang C, Herfs M, Drummen N, Carmeliet P, Vermeer C, Floege J, Krüger T, Schlieper G (2016) Gas6 protein: its role in cardiovascular calcification. BMC Nephrol 17(1):1

22.

Danziger J (2008) Vitamin K-dependent proteins, warfarin, and vascular calcification. Clin J Am Soc Nephrol 3(5):1504–1510

23.

Li H, Tao Hr HuT, Fan Yh, Rq Zhang, Jia G, Hc Wang (2010) Atorvastatin reduces calcification in rat arteries and vascular smooth muscle cells. Basic Clin Pharmacol Toxicol 107(4):798–802

24.

Chang X, Zhang B, Lihua L, Feng Z (2016) T3 inhibits the calcification of vascular smooth muscle cells and the potential mechanism. Am J Transl Res 8(11):4694–4704

25.

Chang JR, Duan XH, Zhang BH, Teng X, Zhou YB, Liu Y, Yu YR, Zhu Y, Tang CS, Qi YF (2013) Intermedin1-53 attenuates vascular smooth muscle cell calcification by inhibiting endoplasmic reticulum stress via cyclic adenosine monophosphate/protein kinase A pathway. Exp Biol Med (Maywood) 238(10):1136–1146. doi:10.1177/1535370213502619

26.

Schurgers L, Spronk H, Skepper J, Hackeng T, Shanahan C, Vermeer C, Weissberg P, Proudfoot D (2007) Post-translational modifications regulate matrix Gla protein function: importance for inhibition of vascular smooth muscle cell calcification. J Thromb Haemost 5(12):2503–2511

27.

Konishi A, Aizawa T, Mohan A, Korshunov VA, Berk BC (2004) Hydrogen peroxide activates the Gas6-Axl pathway in vascular smooth muscle cells. J Biol Chem 279(27):28766–28770

28.

Reynolds JL, Joannides AJ, Skepper JN, McNair R, Schurgers LJ, Proudfoot D, Jahnen-Dechent W, Weissberg PL, Shanahan CM (2004) Human vascular smooth muscle cells undergo vesicle-mediated calcification in response to changes in extracellular calcium and phosphate concentrations: a potential mechanism for accelerated vascular calcification in ESRD. J Am Soc Nephrol 15(11):2857–2867

29.

Persy V, D'Haese P (2009) Vascular calcification and bone disease: the calcification paradox. Trends Mol Med 15(9):405–416

30.

Cao X, Li H, Tao H, Wu N, Yu L, Zhang D, Lu X, Zhu J, Lu Z, Zhu Q (2013) Metformin inhibits vascular calcification in female rat aortic smooth muscle cells via the AMPK-eNOS-NO pathway. Endocrinology 154(10):3680–3689

31.

Shanahan CM, Crouthamel MH, Kapustin A, Giachelli CM (2011) Arterial calcification in chronic kidney disease: key roles for calcium and phosphate. Circ Res 109(6):697–711

32.

Crouthamel MH, Lau WL, Leaf EM, Chavkin NW, Wallingford MC, Peterson DF, Li X, Liu Y, Chin MT, Levi M (2013) Sodium-dependent phosphate cotransporters and phosphate-induced calcification of vascular smooth muscle cells redundant roles for PiT-1 and PiT-2. Arterioscler Thromb Vasc Biol 33(11):2625–2632

33.

Takemura A, Iijima K, Ota H, Son B-K, Ito Y, Ogawa S, Eto M, Akishita M, Ouchi Y (2011) Sirtuin 1 retards hyperphosphatemia-induced calcification of vascular smooth muscle cells. Arterioscler Thromb Vasc Biol 31(9):2054–2062

34.

Watanabe Y, Suzuki M, Oyama Y, Kusano E, Tamba K, Iimura O, Ito C, Imai M, Asano Y (2002) Cellular component of vascular calcification. Nephron 92(4):840–845

35.

Saito E, Wachi H, Sato F, Sugitani H, Seyama Y (2007) Treatment with vitamin K2 combined with bisphosphonates synergistically inhibits calcification in cultured smooth muscle cells. J Atheroscler Thromb 14(6):317–324

36.

Shroff RC, McNair R, Skepper JN, Figg N, Schurgers LJ, Deanfield J, Rees L, Shanahan CM (2010) Chronic mineral dysregulation promotes vascular smooth muscle cell adaptation and extracellular matrix calcification. J Am Soc Nephrol 21(1):103–112

37.

Llacuna L, Bárcena C, Bellido-Martín L, Fernández L, Stefanovic M, Marí M, García-Ruiz C, Fernández-Checa JC, García de Frutos P, Morales A (2010) Growth arrest–specific protein 6 is hepatoprotective against murine ischemia/reperfusion injury. Hepatology 52(4):1371–1379

38.

Goruppi S, Ruaro E, Varnum B, Schneider C (1999) Gas6-mediated survival in NIH3T3 cells activates stress signalling cascade and is independent of Ras. Oncogene 18(29):4224–4236

39.

Goruppi S, Ruaro E, Schneider C (1996) Gas6, the ligand of Axl tyrosine kinase receptor, has mitogenic and survival activities for serum starved NIH3T3 fibroblasts. Oncogene 12(3):471–480

40.

Zuo P-Y, Chen X-L, Lei Y-H, Liu C-Y, Liu Y-W (2014) Growth arrest-specific gene 6 protein promotes the proliferation and migration of endothelial progenitor cells through the PI3 K/AKT signaling pathway. Int J Mol Med 34(1):299–306

41.

Lijnen HR, Christiaens V (2011) Growth arrest-specific protein 6 receptor antagonism impairs adipocyte differentiation and adipose tissue development in mice. J Pharmacol Exp Ther 337(2):457–464

42.

Holland SJ, Pan A, Franci C, Hu Y, Chang B, Li W, Duan M, Torneros A, Yu J, Heckrodt TJ (2010) R428, a selective small molecule inhibitor of Axl kinase, blocks tumor spread and prolongs survival in models of metastatic breast cancer. Cancer Res 70(4):1544–1554

43.

Ghosh AK, Secreto C, Boysen J, Sassoon T, Shanafelt TD, Mukhopadhyay D, Kay NE (2011) The novel receptor tyrosine kinase Axl is constitutively active in B-cell chronic lymphocytic leukemia and acts as a docking site of nonreceptor kinases: implications for therapy. Blood 117(6):1928–1937
Acknowledgements
This work was supported by the National Science Foundation of China (Nos. 81170256 and 81070698) and the Development Project of Scientific and Technological Research of Shanxi Province (2009K13-01).
Funding
This work was supported by the National Science Foundation of China (Nos. 81170256 and 81070698) and the Development Project of Scientific and Technological Research of Shanxi Province (No. 2009K13-01).
Ethics declarations
Conflicts of interest
The authors declare that they have no conflict of interest.
Ethical approval
The experiments were performed in accordance with the National Institutes of Health Guidelines for the Use of Laboratory Animals and were approved by the Institutional Review Board (IRB) of the Fourth Military Medical University.
Electronic supplementary material
Below is the link to the electronic supplementary material.
About this article
Cite this article
Qiu, C., Zheng, H., Tao, H. et al. Vitamin K2 inhibits rat vascular smooth muscle cell calcification by restoring the Gas6/Axl/Akt anti-apoptotic pathway. Mol Cell Biochem 433, 149–159 (2017). https://doi.org/10.1007/s11010-017-3023-z
Received:

Accepted:

Published:

Issue Date:
Keywords
Vitamin K2

Growth arrest-specific gene 6 (Gas-6)

Apoptosis

Vascular calcification

Vascular smooth muscle cells