Abstract
Dental stem cells such as human dental follicle cells (DFCs) have opened new promising treatment alternatives for today's dental health issues such as periodontal tissue regeneration. However, cellular senescence represents a restricting factor to cultured stem cells, resulting in limited lifespan and reduced cell differentiation potential. Therefore, this study evaluated if and how DFCs exhibit features of cellular senescence after being expanded in cell culture. The cell proliferation of DFCs decreased, while the cell size increased during prolonged cell culture. Moreover, DFCs expressed the senescence-associated β-galactosidase after a prolonged cell culture. The onset of senescence inhibited both the induction of osteoblast markers RUNX2 and osteopontin and the biomineralization of DFCs after stimulation of the osteogenic differentiation. In conclusion, we showed that a prolonged cell culture induces cellular senescence and inhibits the osteogenic differentiation in DFCs.
Access options
Buy single article
Instant access to the full article PDF.
USD 39.95
Price includes VAT (USA)
Tax calculation will be finalised during checkout.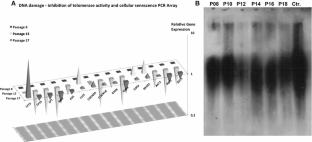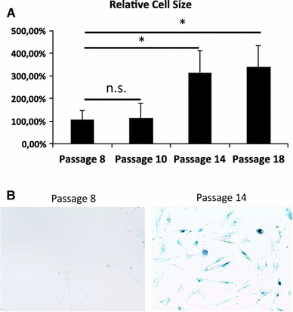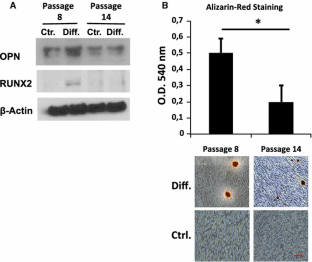 References
1.

Miura M, Gronthos S, Zhao M et al (2003) SHED: stem cells from human exfoliated deciduous teeth. Proc Natl Acad Sci USA 100:5807–5812. doi:10.1073/pnas.0937635100

2.

Seo B-M, Miura M, Sonoyama W et al (2005) Recovery of stem cells from cryopreserved periodontal ligament. J Dent Res 84:907–912

3.

Sonoyama W, Liu Y, Fang D et al (2006) Mesenchymal Stem cell-mediated functional tooth regeneration in swine. PLoS ONE. doi:10.1371/journal.pone.0000079

4.

Morsczeck C, Götz W, Schierholz J et al (2005) Isolation of precursor cells (PCs) from human dental follicle of wisdom teeth. Matrix Biol J Int Soc Matrix Biol 24:155–165. doi:10.1016/j.matbio.2004.12.004

5.

Mao JJ (2008) Stem cells and the future of dental care. N Y State Dent J 74:20–24

6.

Feng F, Akiyama K, Liu Y et al (2010) Utility of PDL progenitors for in vivo tissue regeneration: a report of 3 cases. Oral Dis 16:20–28

7.

Chen F-M, Gao L-N, Tian B-M et al (2016) Treatment of periodontal intrabony defects using autologous periodontal ligament stem cells: a randomized clinical trial. Stem Cell Res Ther 7:33. doi:10.1186/s13287-016-0288-1

8.

Arora V, Arora P, Munshi AK (2009) Banking stem cells from human exfoliated deciduous teeth (SHED): saving for the future. J Clin Pediatr Dent 33:289–294

9.

Rai S, Kaur M, Kaur S (2013) Applications of stem cells in interdisciplinary dentistry and beyond: an overview. Ann Med Health Sci Res 3:245–254. doi:10.4103/2141-9248.113670

10.

Estrada JC, Torres Y, Benguria A et al (2013) Human mesenchymal stem cell-replicative senescence and oxidative stress are closely linked to aneuploidy. Cell Death Dis 4:e691. doi:10.1038/cddis.2013.211

11.

Wagner W, Horn P, Castoldi M et al (2008) Replicative senescence of mesenchymal stem cells: a continuous and organized process. PLoS ONE. doi:10.1371/journal.pone.0002213

12.

Wagner W, Ho AD, Zenke M (2010) Different facets of aging in human mesenchymal stem cells. Tissue Eng Part B Rev 16:445–453. doi:10.1089/ten.TEB.2009.0825

13.

Gharibi B, Farzadi S, Ghuman M, Hughes FJ (2014) Inhibition of Akt/mTOR attenuates age-related changes in mesenchymal stem cells. Stem Cells Dayt Ohio 32:2256–2266. doi:10.1002/stem.1709

14.

Gharibi B, Hughes FJ (2012) Effects of medium supplements on proliferation, differentiation potential, and in vitro expansion of mesenchymal stem cells. Stem Cells Transl Med 1:771–782. doi:10.5966/sctm.2010-0031

15.

Hayflick L (1965) The limited in vitro lifetime of human diploid cell strains. Exp Cell Res 37:614–636. doi:10.1016/0014-4827(65)90211-9

16.

Rodier F, Campisi J (2011) Four faces of cellular senescence. J Cell Biol 192:547–556. doi:10.1083/jcb.201009094

17.

Saugspier M, Felthaus O, Viale-Bouroncle S et al (2010) The differentiation and gene expression profile of human dental follicle cells. Stem Cells Dev 19:707–717. doi:10.1089/scd.2009.0027

18.

Signer RAJ, Morrison SJ (2013) Mechanisms that regulate stem cell aging and life span. Cell Stem Cell 12:152–165. doi:10.1016/j.stem.2013.01.001

19.

Vaziri H, Dragowska W, Allsopp RC et al (1994) Evidence for a mitotic clock in human hematopoietic stem cells: loss of telomeric DNA with age. Proc Natl Acad Sci USA 91:9857–9860

20.

Fesahat F, Sheikhha MH, Rasti A et al (2014) An investigation on mitochondrial DNA deletions and telomere shortening during multiple passages of adult stem cells. Avicenna J Med Biotechnol 6:156–162

21.

Campisi J, d'Adda di Fagagna F (2007) Cellular senescence: when bad things happen to good cells. Nat Rev Mol Cell Biol 8:729–740. doi:10.1038/nrm2233

22.

Arai Y, Martin-Ruiz CM, Takayama M et al (2015) Inflammation, but not telomere length, predicts successful ageing at extreme old age: a longitudinal study of semi-supercentenarians. EBioMedicine 2:1549–1558. doi:10.1016/j.ebiom.2015.07.029

23.

Debacq-Chainiaux F, Erusalimsky JD, Campisi J, Toussaint O (2009) Protocols to detect senescence-associated beta-galactosidase (SA-betagal) activity, a biomarker of senescent cells in culture and in vivo. Nat Protoc 4:1798–1806. doi:10.1038/nprot.2009.191

24.

Dimri GP, Lee X, Basile G et al (1995) A biomarker that identifies senescent human cells in culture and in aging skin in vivo. Proc Natl Acad Sci USA 92:9363–9367

25.

Mehrazarin S, Oh JE, Chung CL et al (2011) Impaired odontogenic differentiation of senescent dental mesenchymal stem cells is associated with loss of Bmi-1 expression. J Endod 37:662–666. doi:10.1016/j.joen.2011.02.009

26.

Viale-Bouroncle S, Völlner F, Möhl C et al (2011) Soft matrix supports osteogenic differentiation of human dental follicle cells. Biochem Biophys Res Commun 410:587–592. doi:10.1016/j.bbrc.2011.06.031

27.

Felthaus O, Gosau M, Klein S et al (2014) Dexamethasone-related osteogenic differentiation of dental follicle cells depends on ZBTB16 but not Runx2. Cell Tissue Res 357:695–705. doi:10.1007/s00441-014-1891-z
Acknowledgments
We thank Anja Reck and Johann Donhauser for technical support.
About this article
Cite this article
Morsczeck, C., Gresser, J. & Ettl, T. The induction of cellular senescence in dental follicle cells inhibits the osteogenic differentiation. Mol Cell Biochem 417, 1–6 (2016). https://doi.org/10.1007/s11010-016-2708-z
Received:

Accepted:

Published:

Issue Date:
Keywords
Dental follicle cells

Cellular senescence

β-galactosidase

Telomere length

Osteogenic differentiation