Abstract
Normal human embryonic stem cells (hESCs) can develop neoplastic cancer stem cell (CSC) properties after coculture with transformed hESCs in vitro. In the present study, the influence of the tumor microenvironment on malignant transformation of bone marrow stromal cells (BMSCs) was studied after allografting a mixture of enhanced green fluorescent protein (EGFP)-labeled BMSCs and C6 glioma cells into the rat brain to understand the influence of the cellular environment, especially the tumor environment, on the transformation of grafted BMSCs in the rat brain. We performed intracerebral transplantation in the rat brain using EGFP-labeled BMSCs coinjected with C6 tumor cells. After transplantation, the EGFP-labeled cells were isolated from the tumor using fluorescence-activated cell sorting, and the characteristics of the recovered cells were investigated. Glioma-specific biomarkers of the sorted cells and the biological characteristics of the tumors were analyzed. The BMSCs isolated from the cografts were transformed into glioma CSCs, as indicated by the marked expression of the glioma marker GFAP in glioma cells, and of Nestin and CD133 in neural stem cells and CSCs, as well as rapid cell growth, decreased level of the tumor suppressor gene p53, increased level of the oncogene murine double minute gene 2 (MDM2), and recapitulation of glioma tissues in the brain. These data suggest that BMSCs can be transformed into CSCs, which can be further directed toward glioma formation under certain conditions, supporting the notion that the tumor microenvironment is involved in transforming normal BMSCs into glial CSCs.
Access options
Buy single article
Instant access to the full article PDF.
USD 39.95
Price excludes VAT (USA)
Tax calculation will be finalised during checkout.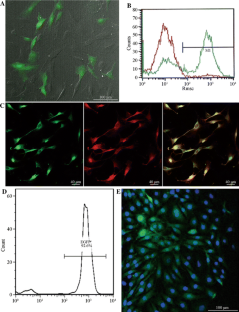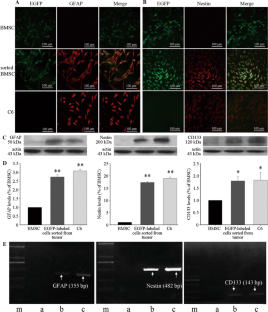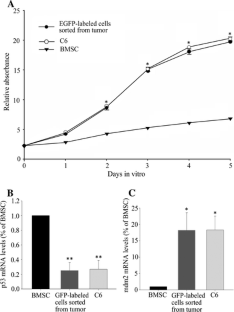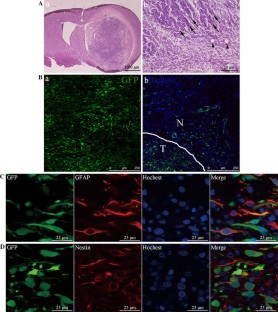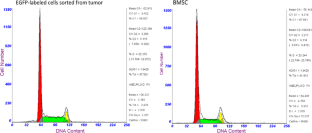 Abbreviations
BMSC:

Bone marrow stromal cells

CSC:

Cancer stem cells

EGFP:

Enhanced green fluorescent protein

FACS:

Fluorescence-activated cell sorting

GFAP:

Glial fibrillary acidic protein
References
Delude C (2011) Tumorigenesis: testing ground for cancer stem cells. Nature 480:S43–45

D'Angelo RC, Wicha MS (2010) Stem cells in normal development and cancer. Prog Mol Biol Transl Sci 95:113–158

Gao JX (2008) Cancer stem cells: the lessons from pre-cancerous stem cells. J Cell Mol Med 12:67–96

Beachy PA, Karhadkar SS, Berman DM (2004) Tissue repair and stem cell renewal in carcinogenesis. Nature 432:324–331

Yang YM, Chang JW (2008) Current status and issues in cancer stem cell study. Cancer Invest 26:741–755

Clarke MF, Fuller M (2006) Stem cells and cancer: two faces of eve. Cell 124:1111–1115

Dirks P (2010) Cancer stem cells: invitation to a second round. Nature 466:40–41

Ponti D, Costa A, Zaffaroni N, Pratesi G, Petrangolini G, Coradini D, Pilotti S, Pierotti MA, Daidone MG (2005) Isolation and in vitro propagation of tumorigenic breast cancer cells with stem/progenitor cell properties. Cancer Res 65:5506–5511

Meszoely IM, Means AL, Scoggins CR, Leach SD (2001) Developmental aspects of early pancreatic cancer. Cancer J 7:242–250

Hope KJ, Jin L, Dick JE (2004) Acute myeloid leukemia originates from a hierarchy of leukemic stem cell classes that differ in self-renewal capacity. Nat Immunol 5:738–743

Sell S, Dunsford HA (1989) Evidence for the stem cell origin of hepatocellular carcinoma and cholangiocarcinoma. Am J Pathol 134:1347–1363

Collins AT, Berry PA, Hyde C, Stower MJ, Maitland NJ (2005) Prospective identification of tumorigenic prostate cancer stem cells. Cancer Res 65:10946–10951

Doucette T, Rao G, Yang Y, Gumin J, Shinojima N, Bekele BN, Qiao W, Zhang W, Lang FF (2011) Mesenchymal stem cells display tumor-specific tropism in an RCAS/Ntv-a glioma model. Neoplasia 13:716–725

Roger M, Clavreul A, Venier-Julienne MC, Passirani C, Sindji L, Schiller P, Montero-Menei C, Menei P (2010) Mesenchymal stem cells as cellular vehicles for delivery of nanoparticles to brain tumors. Biomaterials 31:8393–8401

Liu C, Chen Z, Chen Z, Zhang T, Lu Y (2006) Multiple tumor types may originate from bone marrow-derived cells. Neoplasia 8:716–724

Stiles CD, Rowitch DH (2008) Glioma stem cells: a midterm exam. Neuron 58:832–846

Dirks PB (2010) Brain tumor stem cells: the cancer stem cell hypothesis writ large. Mol Oncol 4:420–430

Glantz M, Kesari S, Recht L, Fleischhack G, Van Horn A (2009) Understanding the origins of gliomas and developing novel therapies: cerebrospinal fluid and subventricular zone interplay. Semin Oncol 36:S17–24

Prockop DJ, Gregory CA, Spees JL (2003) One strategy for cell and gene therapy: harnessing the power of adult stem cells to repair tissues. Proc Natl Acad Sci U S A 100:11917–11923

Studeny M, Marini FC, Dembinski JL, Zompetta C, Cabreira-Hansen M, Bekele BN, Champlin RE, Andreeff M (2004) Mesenchymal stem cells: potential precursors for tumor stroma and targeted-delivery vehicles for anticancer agents. J Natl Cancer Inst 96:1593–1603

Nakamizo A, Marini F, Amano T, Khan A, Studeny M, Gumin J, Chen J, Hentschel S, Vecil G, Dembinski J, Andreeff M, Lang FF (2005) Human bone marrow-derived mesenchymal stem cells in the treatment of gliomas. Cancer Res 65:3307–3318

Brazelton TR, Rossi FM, Keshet GI, Blau HM (2000) From marrow to brain: expression of neuronal phenotypes in adult mice. Science 290:1775–1779

Williams AR, Hare JM (2011) Mesenchymal stem cells: biology, pathophysiology, translational findings, and therapeutic implications for cardiac disease. Circ Res 109:923–940

Salem HK, Thiemermann C (2010) Mesenchymal stromal cells: current understanding and clinical status. Stem Cells 28:585–596

Saulnier N, Lattanzi W, Puglisi MA, Pani G, Barba M, Piscaglia AC, Giachelia M, Alfieri S, Neri G, Gasbarrini G, Gasbarrini A (2009) Mesenchymal stromal cells multipotency and plasticity: induction toward the hepatic lineage. Eur Rev Med Pharmacol Sci 13:71–78

Egusa H, Schweizer FE, Wang CC, Matsuka Y, Nishimura I (2005) Neuronal differentiation of bone marrow-derived stromal stem cells involves suppression of discordant phenotypes through gene silencing. J Biol Chem 280:23691–23697

Jiang Y, Jahagirdar BN, Reinhardt RL et al (2002) Pluripotency of mesenchymal stem cells derived from adult marrow. Nature 418:41–49

Sanchez-Ramos J, Song S, Cardozo-Pelaez F, Hazzi C, Stedeford T, Willing A, Freeman TB, Saporta S, Janssen W, Patel N, Cooper DR, Sanberg PR (2000) Adult bone marrow stromal cells differentiate into neural cells in vitro. Exp Neurol 164:247–256

Roth TM, Ramamurthy P, Ebisu F, Lisak RP, Bealmear BM, Barald KF (2007) A mouse embryonic stem cell model of Schwann cell differentiation for studies of the role of neurofibromatosis type 1 in Schwann cell development and tumor formation. Glia 55:1123–1133

Serakinci N, Guldberg P, Burns JS, Abdallah B, Schrødder H, Jensen T, Kassem M (2004) Adult human mesenchymal stem cell as a target for neoplastic transformation. Oncogene 23:5095–5098

Li H, Fan X, Kovi RC et al (2007) Spontaneous expression of embryonic factors and p53 point mutations in aged mesenchymal stem cells: a model of age-related tumorigenesis in mice. Cancer Res 67:10889–10898

Xu W, Qian H, Zhu W, Chen Y, Shao Q, Sun X, Hu J, Han C, Zhang X (2004) A novel tumor cell line cloned from mutated human embryonic bone marrow mesenchymal stem cells. Oncol Rep 12:501–508

Houghton J, Stoicov C, Nomura S, Rogers AB, Carlson J, Li H, Cai X, Fox JG, Goldenring JR, Wang TC (2004) Gastric cancer originating from bone marrow-derived cells. Science 306:1568–1571

Bakhtiary M, Marzban M, Mehdizadeh M, Joghataei MT, Khoei S, Pirhajati Mahabadi V, Laribi B, Tondar M, Moshkforoush A (2010) Comparison of transplantation of bone marrow stromal cells (BMSC) and stem cell mobilization by granulocyte colony stimulating factor after traumatic brain injury in rat. Iran Biomed J 14:142–149

Nishida H, Nakayama M, Tanaka H, Kitamura M, Hatoya S, Sugiura K, Harada Y, Suzuki Y, Ide C, Inaba T (2010) Safety of autologous bone marrow stromal cell transplantation in dogs with acute spinal cord injury. Vet Surg 41:437–442

Badie B, Schartner JM (2000) Flow cytometric characterization of tumor-associated macrophages in experimental gliomas. Neurosurgery 46:957–961; discussion 961–952

Zurita M, Bonilla C, Otero L, Aguayo C, Vaquero J (2008) Neural transdifferentiation of bone marrow stromal cells obtained by chemical agents is a short-time reversible phenomenon. Neurosci Res 60:275–280

Karaoz E, Aksoy A, Ayhan S, Sariboyaci AE, Kaymaz F, Kasap M (2009) Characterization of mesenchymal stem cells from rat bone marrow: ultrastructural properties, differentiation potential and immunophenotypic markers. Histochem Cell Biol 132:533–546

Vinores SA, Marangos PJ, Bonnin JM, Rubinstein LJ (1984) Immunoradiometric and immunohistochemical demonstration of neuron-specific enolase in experimental rat gliomas. Cancer Res 44:2595–2599

Aizawa T, Hasegawa K, Ohkumo T, Haga S, Ikeda K, Yoshikawa K (2011) Neural stem cell-like gene expression in a mouse ependymoma cell line transformed by human BK polyomavirus. Cancer Sci 102:122–129

Bexell D, Gunnarsson S, Tormin A, Darabi A, Gisselsson D, Roybon L, Scheding S, Bengzon J (2009) Bone marrow multipotent mesenchymal stroma cells act as pericyte-like migratory vehicles in experimental gliomas. Mol Ther 17:183–190

Wang X, Willenbring H, Akkari Y, Torimaru Y, Foster M, Al-Dhalimy M, Lagasse E, Finegold M, Olson S, Grompe M (2003) Cell fusion is the principal source of bone-marrow-derived hepatocytes. Nature 422:897–901

Rizvi AZ, Swain JR, Davies PS, Bailey AS, Decker AD, Willenbring H, Grompe M, Fleming WH, Wong MH (2006) Bone marrow-derived cells fuse with normal and transformed intestinal stem cells. Proc Natl Acad Sci U S A 103:6321–6325
Acknowledgments
This study was supported by a grant from the National Basic Research Program of China (No. 2007CB947704).
Ethics declarations
Conflict of interest
The authors declare that there is no conflict of interest.
Additional information
Qiuping He and Xifeng Zou have contributed equally to this work.
About this article
Cite this article
He, Q., Zou, X., Duan, D. et al. Malignant transformation of bone marrow stromal cells induced by the brain glioma niche in rats. Mol Cell Biochem 412, 1–10 (2016). https://doi.org/10.1007/s11010-015-2602-0
Received:

Accepted:

Published:

Issue Date:

DOI: https://doi.org/10.1007/s11010-015-2602-0
Keywords
Bone marrow stromal cell

Transformation

Glioma

Cancer stem cell

C6