Abstract
Cell swelling and retardation in DNA replication are always observed in senescent cells. When DNA replication is slowed down with RNA and protein syntheses unchanged in proliferating cells, it causes a phenomenon known as unbalanced growth. The purpose of this study is to assess the role of cell swelling in unbalanced growth in terms of senescence and investigate the mechanism underlying this phenomenon. We tried to induce cell swelling with minimum damage to cells in this study. We perturbed the osmoregulatory functions to induce cell swelling under hypotonic and hypertonic conditions in normal human fibroblasts. Addition of excess NaCl was found to induce significant cell and nuclear swelling in dose- and time-dependent manners. Excess NaCl immediately retarded DNA replication, accumulated cells at G1 phase of the cell cycle, and eventually deprived division potential of the cells. Such cells showed typical senescent cell shape followed by expression of the typical senescence-associated genes. Excess NaCl also activated ERK1/2, p38, and JNK of the mitogen activated protein kinase family. Addition of U0126, an inhibitor of ERK1/2, prevented appearance of senescent features induced by excess NaCl. These results suggest that hypertonic conditions induce cell swelling due to unbalanced growth, thereby leading to cellular senescence.
This is a preview of subscription content, log in to check access.
Access options
Buy single article
Instant access to the full article PDF.
US$ 39.95
Price includes VAT for USA
Subscribe to journal
Immediate online access to all issues from 2019. Subscription will auto renew annually.
US$ 199
This is the net price. Taxes to be calculated in checkout.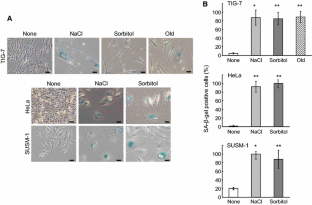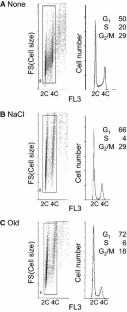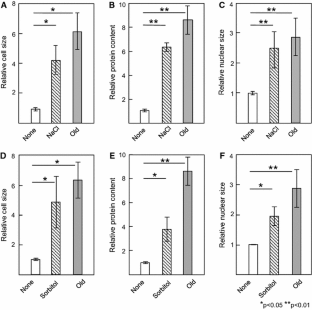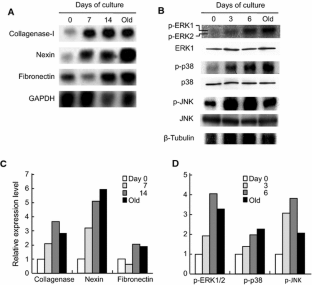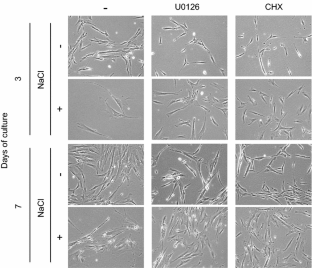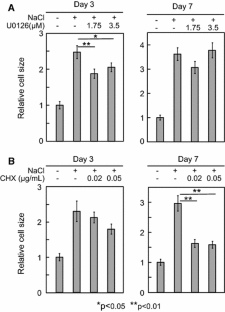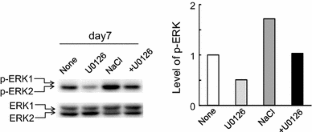 References
1.

Hayflick L, Moorehead PS (1961) The serial cultivation of human diploid cell strains. Exp Cell Res 25:585–621

2.

Campisi J (1997) The biology of replicative senescence. Eur J Cancer 33:703–709

3.

Young J, Smith JR (2000) Epigenetic aspects of cellular senescence. Exp Gerontol 35:23–32

4.

Michishita E, Nakabayashi K, Suzuki T, Kaul SC, Ogino H, Fujii M, Mitsui Y, Ayusawa D (1999) 5-Bromodeoxyuridine induces senescence-like phenomena in mammalian cells regardless of cell type or species. J Biochem 126:1052–1059

5.

Sumikawa E, Matsumoto Y, Sakemura R, Fujii M, Ayusawa D (2005) Prolonged unbalanced growth induces cellular senescence markers linked with mechano transduction in normal and tumor cells. Biochem Biophys Res Commun 335:558–565. doi:10.1016/j.bbrc.2005.07.106

6.

Miki K, Shimizu M, Fujii M, Hossain MN, Ayusawa D (2008) 5-Bromouracil disrupts nucleosome positioning by inducing A-form-like DNA conformation in yeast cells. Biochem Biophys Res Commun 35:662–669

7.

Kobayashi Y, Lee SS, Arai R, Miki K, Fujii M, Ayusawa D (2012) ERK1/2 mediates unbalanced growth leading to senescence induced by excess thymidine in human cells. Biochem Biophys Res Commun 425:897–901. doi:10.1016/j.bbrc.2012.08.006

8.

Ross DW (1983) Unbalanced cell growth and increased protein synthesis induced by chemotherapeutic agents. Blood Cells 9:57–68

9.

Anna JAD, Crissman HA, Jackson PJ, Tobey R (1985) Time-dependent changes in H1 content, H1 turnover, DNA elongation, and the survival of cells blocked in early S phase by hydroxyurea, aphidicolin, or 5-fluorodeoxyuridine. Biochemistry 24:5020–5026

10.

Yamakami Y, Miki K, Yonekura R, Kudo I, Fujii M, Ayusawa D (2014) Molecular basis for premature senescence induced by surfactants in normal human cells. Biosci Biotechnol Biochem 8:1–8. doi:10.1080/09168451.2014.946391

11.

Hoffmann EK, Dunham PB (1995) Membrane mechanisms and intracellular signalling in cell volume regulation. Int Rev Cytol 161:173–262

12.

Hamill OP, Martinac B (2001) Molecular basis of mechanotransduction in living cells. Physiol Rev 81:685–740

13.

Hallows KR, Knauf PA (1994) Regulatory volume decrease in HL-60 cells: importance of rapid changes in permeability of Cl- and organic solutes. Am J Physiol 267:C1045–C1056

14.

Hoffmann EK (1992) Cell swelling and volume regulation. Can J Physiol Pharmacol 70:S310–S313

15.

Burg MB, Ferraris JD, Dmitrieva NI (2007) Cellular response to hyperosmotic stresses. Physiol Rev 87:1441–1474

16.

Jakab M, Furst J, Gschwentner M, Botta G, Garavaglia ML, Bazzini C, Rodighiero S, Meyer G, Eichmueller S, Woll E, Chwatal S, Ritter M, Paulmichl M (2002) Mechanisms sensing and modulating signals arising from cell swelling. Cell Physiol Biochem 12:235–258

17.

Kawamura S, Miyamoto S, Brown JH (2003) Initiation and transduction of stretch-induced RhoA and Rac1 activation through caveolae: cytoskeletal regulation of ERK translocation. J Biol Chem 278:31111–31117

18.

Papakonstanti EA, Vardaki EA, Stournaras C (2000) Actin cytoskeleton: a signaling sensor in cell volume regulation. Cell Physiol Biochem 10:257–264

19.

Kultz D, Burg M (1998) Evolution of osmotic stress signaling via MAP kinase cascades. J Exp Biol 201:3015–3021

20.

Perez-Pinera P, Menendez-Gonzalez M, Valle Md, Vega JA (2006) Sodium chloride regulates Extracellular Regulated Kinase 1/2 in different tumor cell lines. Mol Cell Biochem 293:93–101

21.

Samarakoon R, Higgins PJ (2002) MEK/ERK pathway mediates cell-shape-dependent plasminogen activator inhibitor type 1 gene expression upon drug-induced disruption of the microfilament and microtubule networks. J Cell Sci 115:3093–3103

22.

Shen MR, Chou CY, Browning JA, Wilkins RJ, Ellory JC (2001) Human cervical cancer cells use Ca2+ signalling, protein tyrosine phosphorylation and MAP kinase in regulatory volume decrease. J Physiol 537:347–362

23.

Balzarini J, De Clercq E, Ayusawa D, Seno T (1984) Thymidylate synthetase-deficient mouse FM3A mammary carcinoma cell line as a tool for studying the thymidine salvage pathway and the incorporation of thymidine analogues into host cell DNA. Biochem J 217:245–252

24.

Dimri GP, Lee X, Basile G, Acosta M, Scott G, Roskelley C, Medrano EE, Linskens M, Rubelj I, Pereira-Smith O et al (1995) A biomarker that identifies senescent human cells in culture and in aging skin in vivo. Proc Natl Acad Sci U S A 92:9363–9367

25.

Suzuki T, Minagawa S, Michishita E, Ogino H, Fujii M, Mitsui Y, Ayusawa D (2001) Induction of senescence-associated genes by 5-bromodeoxyuridine in HeLa cells. Exp Gerontol 36:465–474

26.

Minagawa S, Fujii M, Scherer SW, Ayusawa D (2004) Functional and chromosomal clustering of genes responsive to 5-bromodeoxyuridine in human cells. Exp Gerontol 39:1069–1078

27.

Irarrazabal CE, Liu JC, Burg MB, Ferraris JD (2004) ATM, a DNA damage-inducible kinase, contributes to activation by high NaCl of the transcription factor TonEBP/OREBP. Proc Natl Acad Sci U S A 101:8809–8814. doi:10.1073/pnas.0403062101

28.

Tang D, Wu D, Hirao A, Lahti JM, Liu L, Mazza B, Kidd VJ, Mak TW, Ingram AJ (2002) ERK activation mediates cell cycle arrest and apoptosis after DNA damage independently of p53. J Biol Chem 277:12710–12717. doi:10.1074/jbc.M111598200

29.

Wu D, Chen B, Parihar K, He L, Fan C, Zhang J, Liu L, Gillis A, Bruce A, Kapoor A, Tang D (2006) ERK activity facilitates activation of the S-phase DNA damage checkpoint by modulating ATR function. Oncogene 25:1153–1164. doi:10.1038/sj.onc.1209148

30.

Cimprich KA, Cortez D (2008) ATR: an essential regulator of genome integrity. Nat Rev Mol Cell Biol 9:616–627. doi:10.1038/nrm2450

31.

Kobayashi Y, Sakemura R, Kumagai A, Sumikawa E, Fujii M, Ayusawa D (2008) Nuclear swelling occurs during premature senescence mediated by MAP kinases in normal human fibroblasts. Biosci Biotechnol Biochem 72:1122–1125
Additional information
Yoshimi Yamakami and Ryuzo Yonekura have contributed equally to this work.
Electronic supplementary material
Below is the link to the electronic supplementary material.
About this article
Cite this article
Yamakami, Y., Yonekura, R., Matsumoto, Y. et al. High concentrations of NaCl induce cell swelling leading to senescence in human cells. Mol Cell Biochem 411, 117–125 (2016). https://doi.org/10.1007/s11010-015-2573-1
Received:

Accepted:

Published:

Issue Date:
Keywords
Cell swelling

Cellular senescence

Hypertonic stress

Unbalanced growth