Abstract
Molecular hydrogen (H2) is an agent with potential applications in oxidative stress-related and/or inflammatory disorders. H2 is usually administered by inhaling H2-containing air (HCA) or by oral intake of H2-rich water (HRW). Despite mounting evidence, the molecular mechanism underlying the therapeutic effects and the optimal method of H2 administration remain unclear. Here, we investigated whether H2 affects signaling pathways and gene expression in a dosage- or dose regimen-dependent manner. We first examined the H2 concentrations in blood and organs after its administration and found that oral intake of HRW rapidly but transiently increased H2 concentrations in the liver and atrial blood, while H2 concentrations in arterial blood and the kidney were one-tenth of those in the liver and atrial blood. In contrast, inhalation of HCA increased H2 equally in both atrial and arterial blood. We next examined whether H2 alters gene expression in normal mouse livers using DNA microarray analysis after administration of HCA and HRW. Ingenuity Pathway Analysis revealed that H2 suppressed the expression of nuclear factor-kappa B (NF-κB)-regulated genes. Western blot analysis showed that H2 attenuated ERK, p38 MAPK, and NF-κB signaling in mouse livers. Finally, we evaluated whether the changes in gene expression were influenced by the route of H2 administration and found that the combination of both HRW and HCA had the most potent effects on signaling pathways and gene expression in systemic organs, suggesting that H2 may act not only through a dose-dependent mechanism but also through a complex molecular network.
Access options
Buy single article
Instant access to the full article PDF.
US$ 39.95
Tax calculation will be finalised during checkout.
Subscribe to journal
Immediate online access to all issues from 2019. Subscription will auto renew annually.
US$ 119
Tax calculation will be finalised during checkout.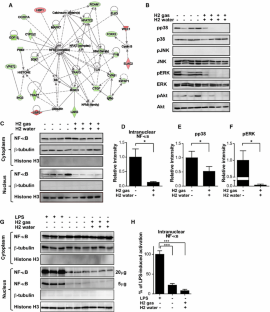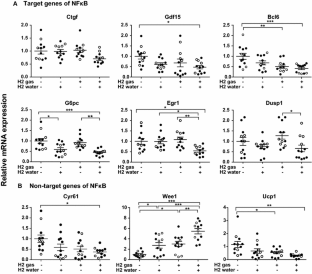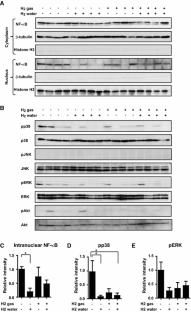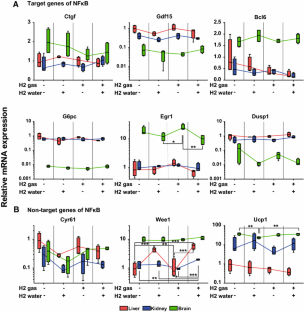 References
1.

Nakao A, Sugimoto R, Billiar TR, McCurry KR (2009) Therapeutic antioxidant medical gas. J Clin Biochem Nutr 44:1–13. doi:10.3164/jcbn.08-193R

2.

Ohsawa I, Ishikawa M, Takahashi K, Watanabe M, Nishimaki K, Yamagata K, Katsura K, Katayama Y, Asoh S, Ohta S (2007) Hydrogen acts as a therapeutic antioxidant by selectively reducing cytotoxic oxygen radicals. Nat Med 13:688–694. doi:10.1038/nm1577

3.

Ohno K, Ito M, Ichihara M, Ito M (2012) Molecular hydrogen as an emerging therapeutic medical gas for neurodegenerative and other diseases. Oxid Med Cell Longev 2012:353152. doi:10.1155/2012/353152

4.

Ohta S (2014) Molecular hydrogen as a preventive and therapeutic medical gas: initiation, development and potential of hydrogen medicine. Pharmacol Ther. doi:10.1016/j.pharmthera.2014.04.006

5.

Fukuda K, Asoh S, Ishikawa M, Yamamoto Y, Ohsawa I, Ohta S (2007) Inhalation of hydrogen gas suppresses hepatic injury caused by ischemia/reperfusion through reducing oxidative stress. Biochem Biophys Res Commun 361:670–674. doi:10.1016/j.bbrc.2007.07.088

6.

Hayashida K, Sano M, Ohsawa I, Shinmura K, Tamaki K, Kimura K, Endo J, Katayama T, Kawamura A, Kohsaka S, Makino S, Ohta S, Ogawa S, Fukuda K (2008) Inhalation of hydrogen gas reduces infarct size in the rat model of myocardial ischemia-reperfusion injury. Biochem Biophys Res Commun 373:30–35. doi:10.1016/j.bbrc.2008.05.165

7.

Fujita K, Seike T, Yutsudo N, Ohno M, Yamada H, Yamaguchi H, Sakumi K, Yamakawa Y, Kido MA, Takaki A, Katafuchi T, Tanaka Y, Nakabeppu Y, Noda M (2009) Hydrogen in drinking water reduces dopaminergic neuronal loss in the 1-methyl-4-phenyl-1,2,3,6-tetrahydropyridine mouse model of Parkinson's disease. PLoS One 4:e7247. doi:10.1371/journal.pone.0007247

8.

Itoh T, Hamada N, Terazawa R, Ito M, Ohno K, Ichihara M, Nozawa Y, Ito M (2011) Molecular hydrogen inhibits lipopolysaccharide/interferon gamma-induced nitric oxide production through modulation of signal transduction in macrophages. Biochem Biophys Res Commun 411:143–149. doi:10.1016/j.bbrc.2011.06.116

9.

Xu XF, Zhang J (2013) Saturated hydrogen saline attenuates endotoxin-induced acute liver dysfunction in rats. Physiol Res 62:395–403

10.

Cardinal JS, Zhan J, Wang Y, Sugimoto R, Tsung A, McCurry KR, Billiar TR, Nakao A (2010) Oral hydrogen water prevents chronic allograft nephropathy in rats. Kidney Int 77:101–109. doi:10.1038/ki.2009.421

11.

Kawamura T, Wakabayashi N, Shigemura N, Huang CS, Masutani K, Tanaka Y, Noda K, Peng X, Takahashi T, Billiar TR, Okumura M, Toyoda Y, Kensler TW, Nakao A (2013) Hydrogen gas reduces hyperoxic lung injury via the Nrf2 pathway in vivo. Am J Physiol Lung Cell Mol Physiol. doi:10.1152/ajplung.00164.2012

12.

Ito M, Hirayama M, Yamai K, Goto S, Ito M, Ichihara M, Ohno K (2012) Drinking hydrogen water and intermittent hydrogen gas exposure, but not lactulose or continuous hydrogen gas exposure, prevent 6-hydorxydopamine-induced Parkinson's disease in rats. Med Gas Res 2:15. doi:10.1186/2045-9912-2-15

13.

Sobue S, Murakami M, Banno Y, Ito H, Kimura A, Gao S, Furuhata A, Takagi A, Kojima T, Suzuki M, Nozawa Y, Murate T (2008) v-Src oncogene product increases sphingosine kinase 1 expression through mRNA stabilization: alteration of AU-rich element-binding proteins. Oncogene 27:6023–6033. doi:10.1038/onc.2008.198

14.

Ambade A, Catalano D, Lim A, Mandrekar P (2012) Inhibition of heat shock protein (molecular weight 90 kDa) attenuates proinflammatory cytokines and prevents lipopolysaccharide-induced liver injury in mice. Hepatology 55:1585–1595. doi:10.1002/hep.24802

15.

Kajiyama S, Hasegawa G, Asano M, Hosoda H, Fukui M, Nakamura N, Kitawaki J, Imai S, Nakano K, Ohta M, Adachi T, Obayashi H, Yoshikawa T (2008) Supplementation of hydrogen-rich water improves lipid and glucose metabolism in patients with type 2 diabetes or impaired glucose tolerance. Nutr Res 28:137–143. doi:10.1016/j.nutres.2008.01.008

16.

Kamimura N, Nishimaki K, Ohsawa I, Ohta S (2011) Molecular hydrogen improves obesity and diabetes by inducing hepatic FGF21 and stimulating energy metabolism in db/db mice. Obesity 19:1396–1403. doi:10.1038/oby.2011.6

17.

http://www.bu.edu/nf-kb/gene-resources/target-genes/. Accessed 25 Jan 2015

18.

http://bioinfo.lifl.fr/NF-KB/. Accessed 25 Jan 2015

19.

Pahl HL (1999) Activators and target genes of Rel/NF-kappaB transcription factors. Oncogene 18:6853–6866. doi:10.1038/sj.onc.1203239

20.

Feuerhake F, Kutok JL, Monti S, Chen W, LaCasce AS, Cattoretti G, Kurtin P, Pinkus GS, de Leval L, Harris NL, Savage KJ, Neuberg D, Habermann TM, Dalla-Favera R, Golub TR, Aster JC, Shipp MA (2005) NFkappaB activity, function, and target-gene signatures in primary mediastinal large B-cell lymphoma and diffuse large B-cell lymphoma subtypes. Blood 106:1392–1399. doi:10.1182/blood-2004-12-4901

21.

Bunting K, Rao S, Hardy K, Woltring D, Denyer GS, Wang J, Gerondakis S, Shannon MF (2007) Genome-wide analysis of gene expression in T cells to identify targets of the NF-kappa B transcription factor c-Rel. J Immunol 178:7097–7109

22.

Naamane N, van Helden J, Eizirik DL (2007) In silico identification of NF-kappaB-regulated genes in pancreatic beta-cells. BMC Bioinform 8:55. doi:10.1186/1471-2105-8-55

23.

Takase O, Marumo T, Hishikawa K, Fujita T, Quigg RJ, Hayashi M (2008) NF-kappaB-dependent genes induced by proteinuria and identified using DNA microarrays. Clin Exp Nephrol 12:181–188. doi:10.1007/s10157-008-0038-5

24.

Nagata K, Nakashima-Kamimura N, Mikami T, Ohsawa I, Ohta S (2009) Consumption of molecular hydrogen prevents the stress-induced impairments in hippocampus-dependent learning tasks during chronic physical restraint in mice. Neuropsychopharmacology 34:501–508. doi:10.1038/npp.2008.95

25.

Liu C, Kurokawa R, Fujino M, Hirano S, Sato B, Li XK (2014) Estimation of the hydrogen concentration in rat tissue using an airtight tube following the administration of hydrogen via various routes. Sci Rep 4:5485. doi:10.1038/srep05485

26.

Nakai Y, Sato B, Ushiama S, Okada S, Abe K, Arai S (2011) Hepatic oxidoreduction-related genes are upregulated by administration of hydrogen-saturated drinking water. Biosci Biotechnol Biochem 75:774–776

27.

Luedde T, Beraza N, Kotsikoris V, van Loo G, Nenci A, De Vos R, Roskams T, Trautwein C, Pasparakis M (2007) Deletion of NEMO/IKKgamma in liver parenchymal cells causes steatohepatitis and hepatocellular carcinoma. Cancer Cell 11:119–132. doi:10.1016/j.ccr.2006.12.016

28.

Campbell JS, Argast GM, Yuen SY, Hayes B, Fausto N (2011) Inactivation of p38 MAPK during liver regeneration. Int J Biochem Cell Biol 43:180–188. doi:10.1016/j.biocel.2010.08.002

29.

Imai J, Katagiri H, Yamada T, Ishigaki Y, Suzuki T, Kudo H, Uno K, Hasegawa Y, Gao J, Kaneko K, Ishihara H, Niijima A, Nakazato M, Asano T, Minokoshi Y, Oka Y (2008) Regulation of pancreatic beta cell mass by neuronal signals from the liver. Science 322:1250–1254. doi:10.1126/science.1163971

30.

Matsumoto A, Yamafuji M, Tachibana T, Nakabeppu Y, Noda M, Nakaya H (2013) Oral 'hydrogen water' induces neuroprotective ghrelin secretion in mice. Sci Rep 3:3273. doi:10.1038/srep03273
Acknowledgments
We thank Takae Hiraide, Taeko Nagano, and Ken-ichi Yoshida for technical assistance. This work was supported by Grants-in-aid from the Ministry of Education, Culture, Sports, Science, and Technology of Japan.
Additional information
Sayaka Sobue and Kazuaki Yamai contributed equally to this work.
Electronic supplementary material
Below is the link to the electronic supplementary material.
About this article
Cite this article
Sobue, S., Yamai, K., Ito, M. et al. Simultaneous oral and inhalational intake of molecular hydrogen additively suppresses signaling pathways in rodents. Mol Cell Biochem 403, 231–241 (2015). https://doi.org/10.1007/s11010-015-2353-y
Received:

Accepted:

Published:

Issue Date:
Keywords
Molecular hydrogen

Gene expression

NF-κB

p38

ERK