Abstract
Endothelial progenitor cells (EPCs) clinical applications have been well reported. However, due to low number of EPCs that could be isolated, EPCs expansion study became one of the main focuses. Some optimized mediums to culture EPCs were currently available. However, the proliferation signaling pathway is not clearly disclosed yet. Peripheral blood was collected from eight healthy subjects, followed by mononuclear cells (MNCs) isolation. MNCs were then prepared and cultured for 2 days. After that, non-adherent cells were harvested and further cultured for 3 days. Resulted colony-forming unit (CFU)-Hill colonies were documented and enumerated under an inverted light microscope. To detect membrane markers, immunofluorescence was performed to detect CD34, VEGFR-2, and CD133. Cell documentation was conducted under a fluorescence microscope. To check cell proliferation, XTT Cell Proliferation Assay Kit was used according to kit insert. To detect possible activation of p44/42 MAPK, western blot was performed to detect p44/42 MAPK and phosphorylated p44/42 MAPK. All visualized bands were captured and quantified. Our results showed that EPCs markers (CD34, CD133 and VEGFR-2) were detected in 3 days culture. From XTT cell proliferation assay and CFU enumeration results, we found that EPCs proliferated significantly (p = 0.012) with addition of supplement. Phosphorylated-p42 MAPK expression of EPCs treated with supplement was significantly higher than the one of EPCs without treatment. Significant inhibition of p42 MAPK phosphorylation by U0126 was observed (p = 0.012). By pretreatment of U0126, number of viable cells and CFUs treated with supplement was significantly decreased (p = 0.012). Our results showed that MEK-dependent p42 MAPK pathway might play an important role in EPCs proliferation.
This is a preview of subscription content, log in to check access.
Access options
Buy single article
Instant access to the full article PDF.
US$ 39.95
Price includes VAT for USA
Subscribe to journal
Immediate online access to all issues from 2019. Subscription will auto renew annually.
US$ 199
This is the net price. Taxes to be calculated in checkout.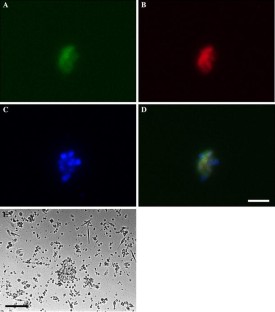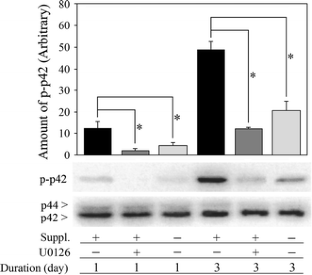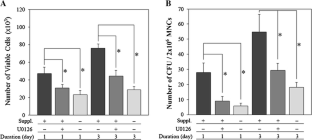 References
1.

Lois N, McCarter RV, O'Neill C, Medina RJ, Stitt AW (2014) Endothelial Progenitor Cells in Diabetic Retinopathy. Front Endocrinol (Lausanne) 5:44. doi:10.3389/fendo.2014.00044

2.

Asahara T, Murohara T, Sullivan A, Silver M, van der Zee R, Li T, Witzenbichler B, Schatteman G, Isner JM (1997) Isolation of putative progenitor endothelial cells for angiogenesis. Science 275:964–967

3.

Schmidt-Lucke C, Fichtlscherer S, Aicher A, Tschöpe C, Schultheiss HP, Zeiher AM, Dimmeler S (2010) Quantification of circulating endothelial progenitor cells using the modified ISHAGE protocol. PLoS One 5:e13790. doi:10.1371/journal.pone.0013790

4.

Kawamoto A, Losordo DW (2008) Endothelial progenitor cells for cardiovascular regeneration. Trends Cardiovasc Med 18:33–37. doi:10.1016/j.tcm.2007.11.004

5.

Britten MB, Abolmaali ND, Assmus B, Lehmann R, Honold J, Schmitt J, Vogl TJ, Martin H, Schächinger V, Dimmeler S, Zeiher AM (2003) Infarct remodeling after intracoronary progenitor cell treatment in patients with acute myocardial infarction (TOPCARE-AMI): mechanistic insights from serial contrast-enhanced magnetic resonance imaging. Circulation 108:2212–2218

6.

Tanaka R, Masuda H, Kato S, Imagawa K, Kanabuchi K, Nakashioya C, Yoshiba F, Fukui T, Ito R, Kobori M, Wada M, Asahara T, Miyasaka M (2014) Autologous G-CSF-mobilized peripheral blood CD34+ cell therapy for diabetic patients with chronic nonhealing ulcer. Cell Transplant 23:167–179. doi:10.3727/096368912X658007

7.

Grisar JC, Haddad F, Gomari FA, Wu JC (2011) Endothelial progenitor cells in cardiovascular disease and chronic inflammation: from biomarker to therapeutic agent. Biomark Med 5:731–744. doi:10.2217/bmm.11.92

8.

Fabbri-Arrigoni FI, Clarke L, Wang G, Charakida M, Ellins E, Halliday N, Brogan PA, Deanfield JE, Halcox JP, Klein N (2012) Levels of circulating endothelial cells and colony-forming units are influenced by age and dyslipidemia. Pediatr Res 72:299–304. doi:10.1038/pr.2012.76

9.

Campioni D, Zauli G, Gambetti S, Campo G, Cuneo A, Ferrari R, Secchiero P (2013) In vitro characterization of circulating endothelial progenitor cells isolated from patients with acute coronary syndrome. PLoS One 8:e56377. doi:10.1371/journal.pone.0056377

10.

Cribbs SK, Sutcliffe DJ, Taylor WR, Rojas M, Easley KA, Tang L, Brigham KL, Martin GS (2012) Circulating endothelial progenitor cells inversely associate with organ dysfunction in sepsis. Intensive Care Med 38:429–436. doi:10.1007/s00134-012-2480-9

11.

Khoo CP, Pozzilli P, Alison MR (2008) Endothelial progenitor cells and their potential therapeutic applications. Regen Med 3:863–876. doi:10.2217/17460751.3.6.863

12.

Meier P, Gloekler S, Oezdemir B, Indermuehle A, Traupe T, Vogel R, de Marchi S, Seiler C (2013) G-CSF induced arteriogenesis in humans: molecular insights into a randomized controlled trial. Curr Vasc Pharmacol 11:38–46

13.

Kimura H, Okubo N, Chosa N, Kyakumoto S, Kamo M, Miura H, Ishisaki A (2013) EGF positively regulates the proliferation and migration, and negatively regulates the myofibroblast differentiation of periodontal ligament-derived endothelial progenitor cells through MEK/ERK- and JNK-dependent signals. Cell Physiol Biochem 32:899–914. doi:10.1159/000354493

14.

Takahashi M, Okubo N, Chosa N, Takahashi N, Ibi M, Kamo M, Mizuki H, Ishisaki A, Kyakumoto S (2012) Fibroblast growth factor-1-induced ERK1/2 signaling reciprocally regulates proliferation and smooth muscle cell differentiation of ligament-derived endothelial progenitor cell-like cells. Int J Mol Med 29:357–364. doi:10.3892/ijmm.2011.847

15.

Qiu C, Xie Q, Zhang D, Chen Q, Hu J, Xu L (2014) GM-CSF Induces Cyclin D1 Expression and Proliferation of Endothelial Progenitor Cells via PI3 K and MAPK Signaling. Cell Physiol Biochem 33:784–795. doi:10.1159/000358652

16.

Yang L, Guo XG, Du CQ, Yang JX, Jiang DM, Li B, Zhou WJ, Zhang FR (2012) Interleukin-1 beta increases activity of human endothelial progenitor cells: involvement of PI3K-Akt signaling pathway. Inflammation 35:1242–1250. doi:10.1007/s10753-012-9434-9

17.

Katz M, Amit I, Yarden Y (2007) Regulation of MAPKs by growth factors and receptor tyrosine kinases. Biochim Biophys Acta 1773:1161–1176

18.

Graves LM, Guy HI, Kozlowski P, Huang M, Lazarowski E, Pope RM, Collins MA, Dahlstrand EN, Earp HS 3rd, Evans DR (2000) Regulation of carbamoyl phosphate synthetase by MAP kinase. Nature 403:328–332

19.

Vantaggiato C, Formentini I, Bondanza A, Bonini C, Naldini L, Brambilla R (2006) ERK1 and ERK2 mitogen-activated protein kinases affect Ras-dependent cell signaling differentially. J Biol 5:14
Acknowledgments
Authors are thankful to National Cardiovascular Center Harapan Kita for human sample collection, PT. Prodia Stemcell Indonesia for laboratory support, Dr. Budi Bakti Jasa Darmajati for invaluable support in this project, and Dr. Ika Christine for statistical analyses.
Conflict of interests
The authors declare that they have no conflict of interests.
About this article
Cite this article
Sandra, F., Oktaviono, Y.H., Widodo, M.A. et al. Endothelial progenitor cells proliferated via MEK-dependent p42 MAPK signaling pathway. Mol Cell Biochem 400, 201–206 (2015). https://doi.org/10.1007/s11010-014-2276-z
Received:

Accepted:

Published:

Issue Date:
Keywords
Endothelial progenitor cell

EPC

p42

Erk2

MAPK

Proliferation